Choosing the best analytics tool is not easy. It is at the core of your MarTech stack, and your marketing decisions are rooted in it.
We have already picked the best tool from the Amplitude and MixPanel comparison. As a technology partner of Amplitude, we'll now also compare Amplitude to Adobe Analytics. 
G2 has picked their winner, and so have we. But we won't impose our choice on you. Instead, we'll provide you with detailed insights and real-life examples of both tools to help you choose the most effective one for you and your MarTech stack.
What Is Amplitude Analytics Best For?
Amplitude Analytics is great for uncovering customer journeys and user behavior data. It aims to help you understand the context and predict what will happen next. Awarded #1 in Product Analytics by G2, Amplitude is used by leaders such as PayPal and HBO, and the new startups you'll hear about tomorrow. Thanks to its origins in product analytics, Today, Amplitude is a sought-after solution for product and marketing teams that want to dig deep into marketing analytics and remain agile.
Why Should You Choose Amplitude over Adobe Analytics?
Amplitude is primarily known for its at-your-service reputation. Among all the analytics tools available in the market, it stands out with the most thorough yet quick and easy-to-do custom reporting. Amplitude helps you make better marketing decisions and take prompt action. 
As a part of your MarTech stack, Amplitude also gives you the following benefits:
Visualizing the end-to-end customer experience help you plan strategies to convert new users into high-value customers or to upsell and cross-sell them. We also find that the user journey reporting in Amplitude is a big facilitator of retention rate improvements.

Behavioral cohorting lets you define flexible user segments for a specific date range.

User flow reports help you

increase your user retention rate

.

Funnel drop-off reports are

amazing for AB testing

. They help you test the drop-off at every step, while other tools only force you to evaluate the outcome.

Custom reporting lets you analyze the data just how you like. Whether you are a product manager, marketer, engineer, executive, or analyst, Amplitude Analytics adapts to your needs thanks to Event Segmentation, Funnel Analysis, Anomaly Detection, Cohort Definition, Executive Report, and many other segments.

Amplitude can quickly deliver insights. Instead of days, developers and data scientists can now get data insight in minutes or hours. This can add fuel to the fire of your work.

The rich insights that are easy to access can help the clients

improve ROI and ROAS

. This is partly thanks to democratizing the user data and bringing it to a broader group in your team.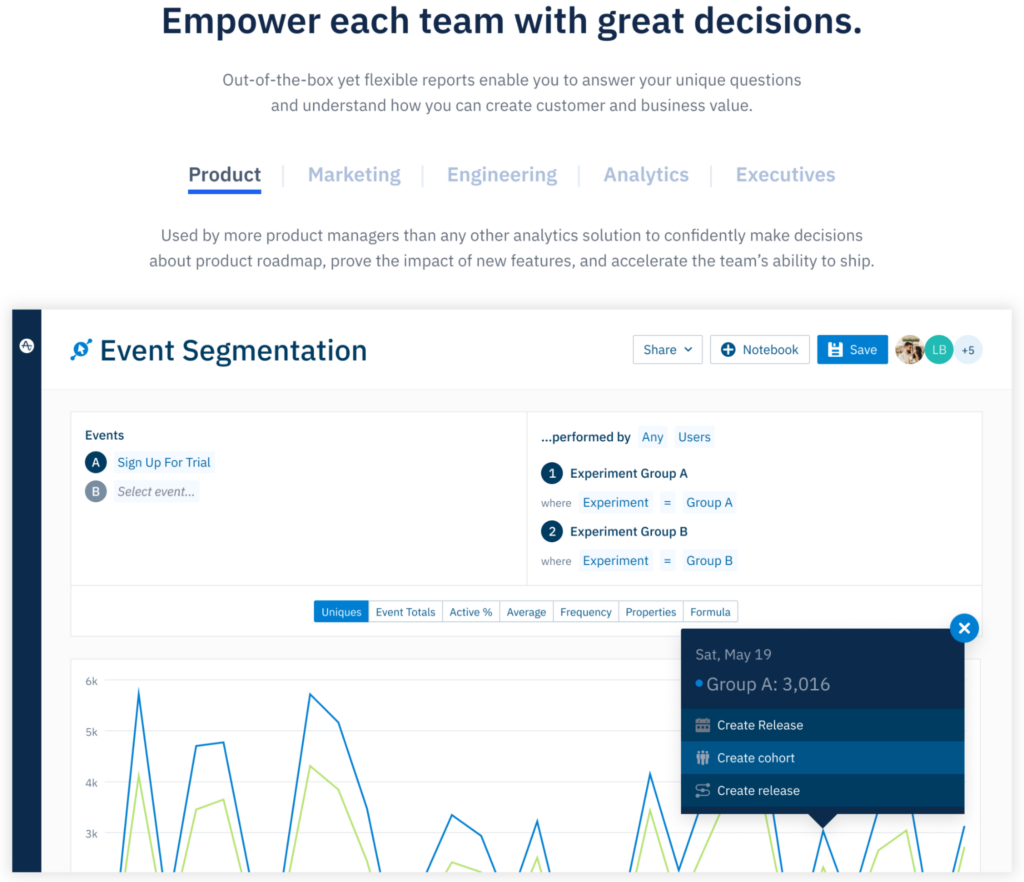 Amplitude's Unique Features
Amplitude's standout features are its customized product analytics and how customer data is handled in marketing campaigns. Here are the features that make it possible:
1. Amplitude Recommend
Amplitude Recommend combines product analytics and automated machine learning to customize every touchpoint without additional technical resources. You can identify the right users through behavioral segmentation and send them personalized messages.
2. Amplitude Experiment 
Amplitude Experiment uses product analytics with customer behavior data for A/B testing. The integrated end-to-end workflow helps you serve bespoke experiences to the new and current users.
3. Data Management
Data Management offers a connected and rich data ecosystem. It helps you boost your analytics process, resolve identities, gain full control over data, and provide flexible permissions to your team members.
4. Data Connections
Data Connections unify, analyze, and activate customer data present anywhere in the digital environment. By breaking down the data silos, you can learn more about your customers, integrate third-party tools, and figure out the trigger points that will help you generate leads.  
Technology Integrations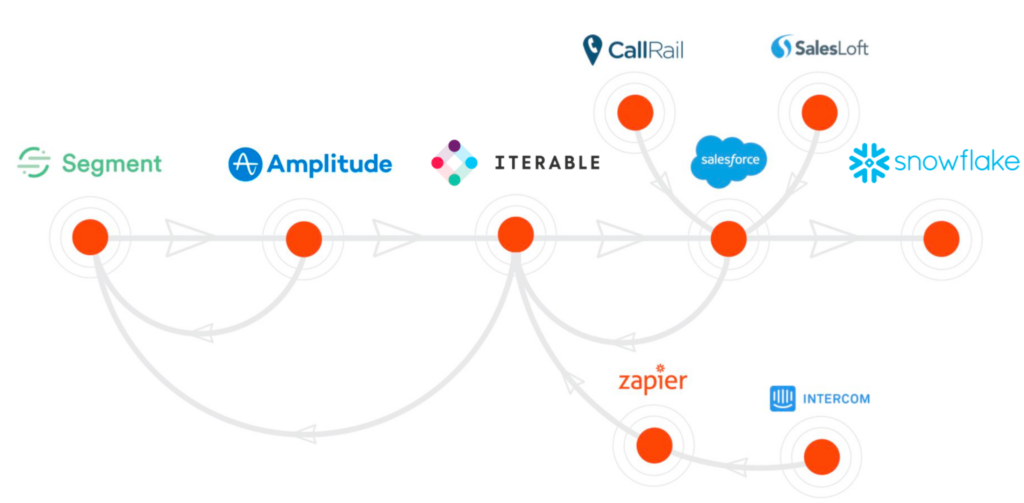 Amplitude is built to integrate with almost all the MarTech tools you've ever heard of, even Adobe Analytics. Some of their integration partners are Amazon Web Services, Airbridge, Google, Facebook, HubSpot, and Salesforce. 
Its seamless integration lets you sync with ad networks, attribution tools, customer data platforms, location service tools, and other marketing tools. 
To get another point of view on Amplitude and how the community perceives them, we recommend that you check out this crowd-sourced review of Amplitude's features by Cusperra.
What is Adobe Analytics Best For?
Adobe Analytics
is an analytics tool for website and mobile app performance measurement. It is a part of the Adobe Experience Cloud (AEC). The AEC is built to be the core of business processes. Similar to Amplitude, Adobe Analytics also focuses on customer data, and it integrates with the rest of the Experience Cloud. The tool is best known for its predictive analysis and a circular customer view that helps make better enterprise decision-making.
Why Use Adobe Analytics Instead of Amplitude?
Adobe Analytics is an early adopter of advanced analytics methods such as event tracking and custom reporting. Some people also feel that the new Google Analytics 4 is shifting towards Adobe-style analytics (more in GA4 vs Amplitude). Adobe Analytics also gives you the following benefits: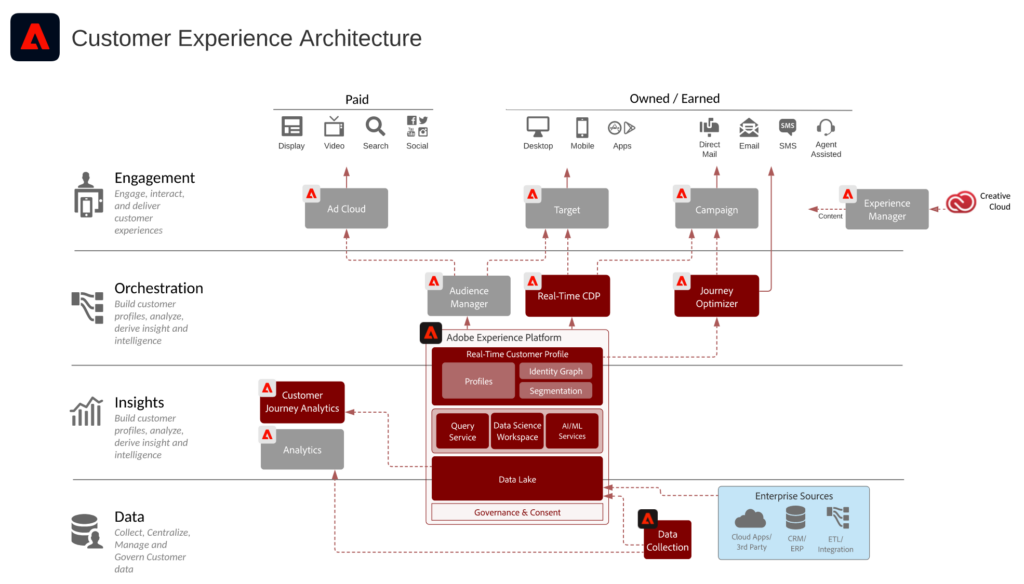 You can bring your data from any channel to Adobe Experience Cloud. The data remains protected inside their ecosystem. This can also be a disadvantage, as your data may be siloed inside Adobe, making it harder to get out if you decide to change tools. Also, you may not want to be married to Adobe tools only. But it's impressive that Adobe can build an entire ecosystem of its own.



Potentially, you can improve your ROI through rules-based and advanced

attribution models

that track the user journey. Adobe has invested in AI,

machine learning

, and predictive modeling and has been at the forefront of making multi-touch attribution actionable.



You can predict your customers' behavior with

predictive analytics

and the integration with Adobe Sensei. We find its decision tree builder impressive in how it visualizes the different choices, and how they result in different customer journeys.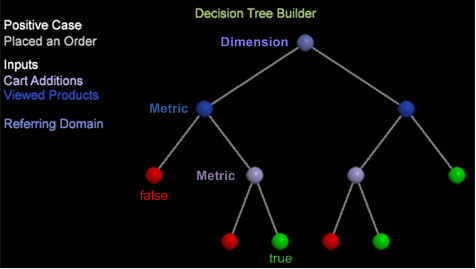 Adobe's Unique Features
Known mainly for web analytics, Adobe is making a name for themselves with the following unique features:
1. Customer Journey Analytics
Customer Journey Analytics uses the Experience Data Model (XDM) to organize customer data and then implement Experience Query Services to filter and manipulate it. It removed the limitations of Adobe Analytics' previous versions, so you can now bring all the data under one roof and combine it into a single reporting view to get deep insights and customer journey analysis.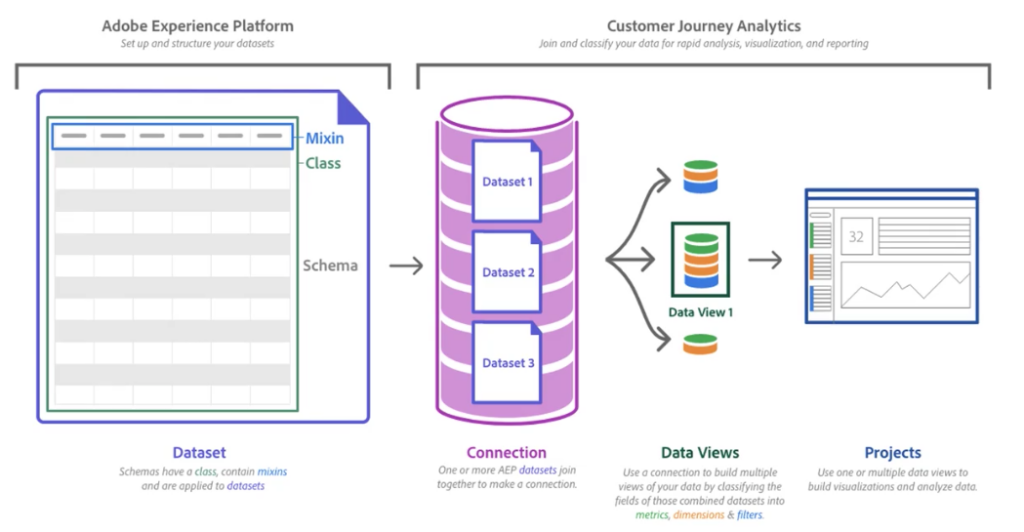 2. Journey IQ
Journey IQ is a set of features offering fully customizable visualizations to understand the individual customer experience. Its features include cohort analysis to figure out churn rate, flow analysis to learn customer's previous, present, and subsequent visits, and fallout analysis to capture customer's disengagement. It also uses context-aware sessions to keep the current visit instead of creating new ones when the visit times out.

3. Adobe Experience Manager
Adobe Experience Manager (AEM) lets you create personalized content for each customer, manage marketing assets across channels, create responsive forms for customers, and upgrade your cloud security to enterprise-grade level. 
Technology Integrations
Adobe Analytics integrates with other Adobe products, limiting the number of other MarTech tools you can use. To help you manage your overall marketing content and digital assets, it integrates with Adobe Experience Manager. You can also get information about link clicks, video usage, and the number of page visits. 
Another useful integration is with Adobe Target, also called Analytics for Target (A4T). A4T injects Analytics data into Target so you can direct your customers based on their individual experiences. The solution is effective enough to maximize the revenue for your website, mobile apps, social media, and other digital channels. 
Let's ask you a question: does it seem that Amplitude and Adobe look similar? They are both business analytics tools that deal with your customer data and fuel your decision-making. Amplitude users can even build reports with Adobe data. To make it simpler, let us walk you through their similarities, differences, and use cases.
Build Your Perfect MarTech Stack
Enter your domain into our stack builder and get an instant visualization of your tools. Along with a budgeting interface
Amplitude and Adobe Analytics as Strong Alternatives to Google Analytics
Both analytics tools share some similar features. Let's explore them.
1. Fostering Technical Know-How
Amplitude and Adobe use data and APIs to run A/B testing, evaluate customer behavior, and offer personalized recommendations. 
2. Popular Among Mobile Teams
Both Amplitude and Adobe provide event-based mobile app analytics and a rich list of metrics and flows often used by teams that build and optimize mobile apps.
3. Machine Learning
Amplitude and Adobe both implement ML to pinpoint the most promising scenarios so that you can predict trends and prepare your marketing strategy in advance. 
4. Easy Data Handling and Beautiful Reporting
Both analytics tools have solid visual reporting capabilities. You can leverage customized user segments and data filters, figure out the users with the higher engagement ratio, users that can be converted into high-value customers, where drop-offs happen, and which users need to be prompted for upselling or retaining.
5. Identity Resolution for Attribution Reporting
Both tools emphasize tracking user journeys. Even though they have different tech, both are efficient in using first-party data for building identity graphs to identify the users across touchpoints, platforms, and devices.
6. Ease of Integration with APIs and Third-Party Tools
Amplitude and Adobe integrate with other tools. Amplitude can integrate with any modern MarTech tools; Adobe focuses on integrating with other Adobe products.
Now, let's see the differences to make a better buying decision. To make it even easier, we'll also offer our recommendation. 
Amplitude Analytics and Adobe as Alternatives to Each Other
Time to dig under the surface and see which analytics tool is the right for you.
Factors
Amplitude Analytics
Adobe Analytics
User Base

SMEs to enterprise

Mostly enterprise

Customer Insights & ROI Decisions

End-to-end customer journeys thanks to amazing identity graph technology that can backfill user profiles. This holds even when the user interacts over time, across touchpoints, devices, and platforms. You make budget allocation decisions based on a detailed view of what the customers have been doing.

Adobe's identity graph is highly recognized, but we find that the tool's users mostly make decisions for increasing ROI based on what the predictive analytics determines. The predictive features are a sort of an alternative to marketing attribution.

Integrations

Integrates into the

modern, open MarTech stack

, making it easy to choose data streams and marketing personalization tools such as Marketo.

Integrates seamlessly with Adobe's other tools.

Pricing

Free starter plan that gets you far and lets you run  advanced analytics work via Event Segmentation, Funnel Analysis, or Retention Analysis.

Priced plans only, in enterprise packages. If you're heavily in the Adobe ecosystem, Adobe Analytics can deliver a lot. If you aren't invested in other Adobe products, the cost may be too much, and you won't be able to get value from it.
Amplitude Analytics: 3 Use Cases
Amplitude and Adobe both work with leading customers. We have picked three use cases for each.
With customers like Ford, Walmart, HubSpot,
Amplitude is a powerhouse for marketers
. Here is how some of Amplitude's customers achieved remarkable retention rates within a short amount of time.
NBC Universal Doubles Viewership Retention

NBC searched for a product intelligence solution that could empower more people across its teams, relieve pressure off its data scientists, and handle their massive dataset with ease. With Amplitude Analytics, NBC achieved its objectives and reduced its response time from days or weeks to a few hours. Within seven days, they gained a double retention rate and improved their viewership by 10%. They got these amazing results by using Amplitude features like Cohorts, Conversion Drivers, Engagement Matrix, and AB Test View.
Calm Improves Product Retention 3X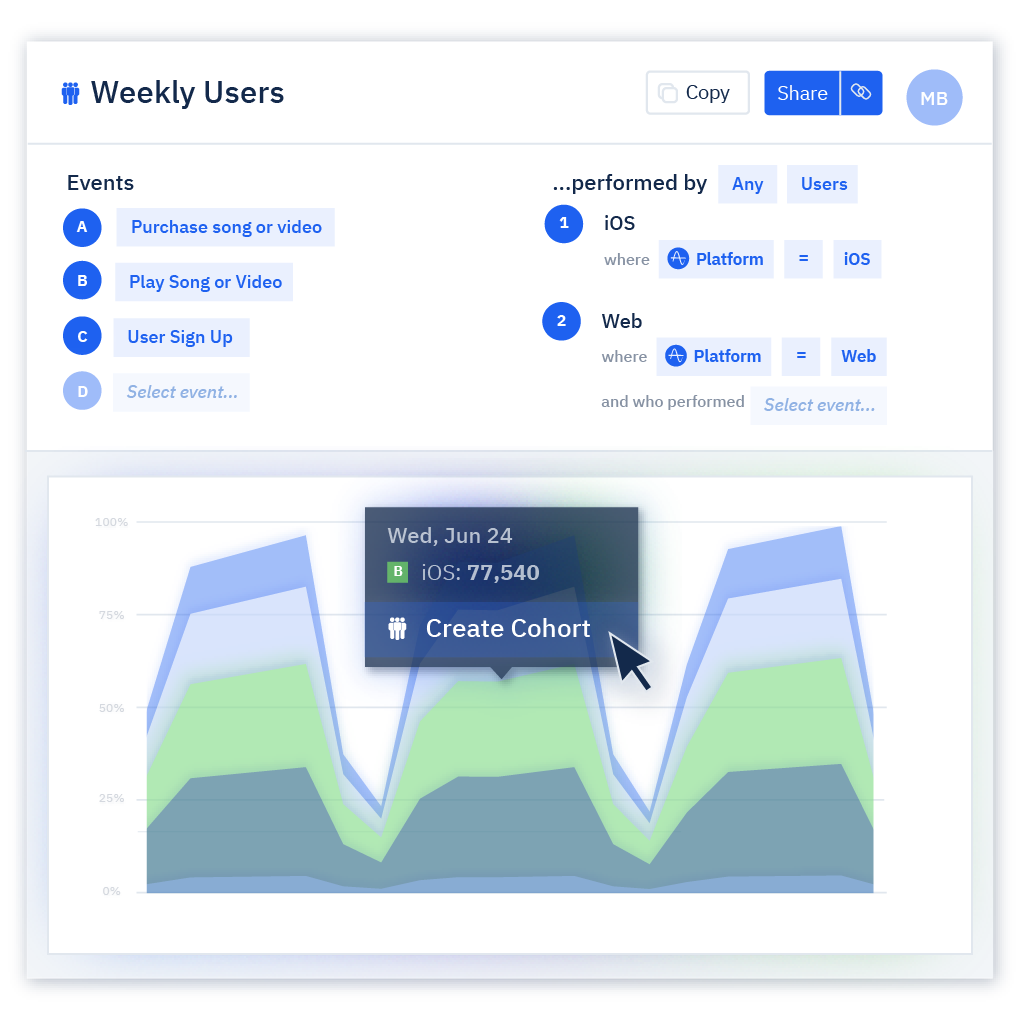 Calm's earlier analytics tool couldn't offer insights into "what factors were driving the retention and what they can do to improve it." With Amplitude's behavioral cohort analysis, Calm made a product decision that resulted in a 3X increase in their user retention rate. Also, the scalable pricing structure offered them the freedom to track anything anytime. Finally, their marketing team integrated Amplitude with Outbound.io to drive engagement with personalized push notifications and emails.
Flipp Doubles CTR for Personalized Campaigns
Flipp, the Toronto-based e-commerce company, delivers ads from more than 2,000 retailers to let consumers know the best weekly deals available in their area. To streamline their business growth, they had to improve their user experience through highly-targeted marketing campaigns.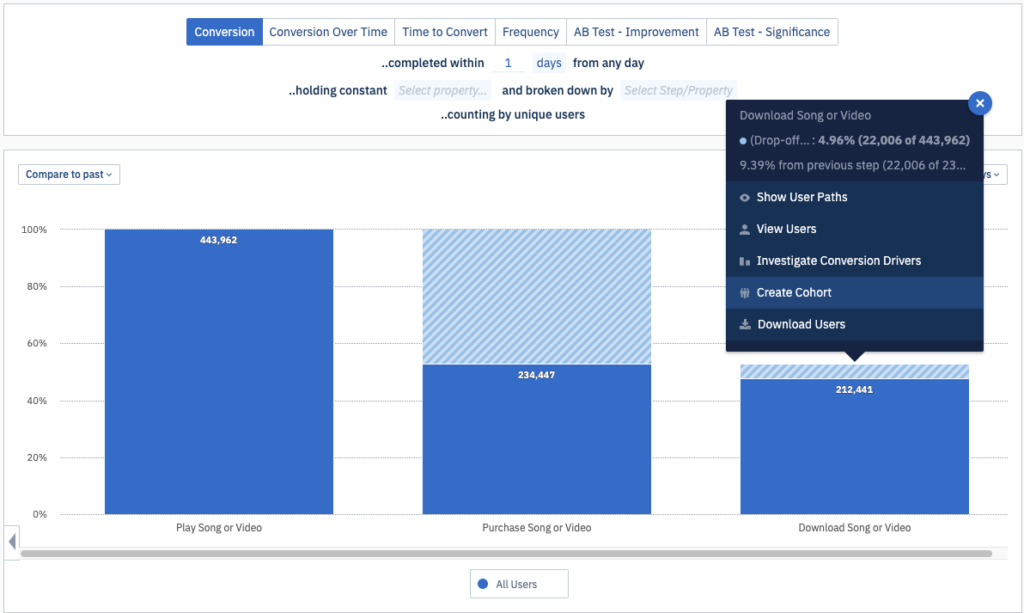 They
opted for Amplitude Analytics and Recommend integrated with Braze to increase their retention
. Before Amplitude, they had to pull user data manually and could only send generic campaigns that would take two days to assemble. With Amplitude, the entire process took less than 30 minutes. They now send
3X more personalized marketing campaigns with a 2X increase in their CTR.
Adobe Analytics: 3 Use Cases
Adobe Analytics' customers include the likes of The Home Depot and PGA Tour. Here are their real-life use cases with Marriott, Esri, and Amplifon.
Marriott Sees 2.5X Growth in its Testing Program 
While handling multiple bookings simultaneously,
Marriott wanted to try out a new filter experience that'll let customers find the right stay
and book it seamlessly. However, the amount of data they had to test caused nothing but frustration for the team. With Adobe Analytics, they were able to process their data much faster and figure out if the new experience is working for the customers. The predictive analytics helped them with further improvements by reducing the failure risk and helping revenue growth.
Esri Increases Unique Web Visitors by 60%

Esri is a software company that turns static maps into information to assist with urban planning, climatic conditions, and more. While Esri was reaching great heights, they still had a lot to do regarding digital transformation, marketing automation, and content management.
With Adobe, Esri's team figured out how many visitors were interacting with their product, most of whom they didn't even know existed. Also, they were able to reduce image sizes and improve website performance, leading to higher usability and a potentially bigger user base.  
Western Digital Witnesses 15% Spike in Cross-Sell/Upsell Purchases
Western Digital is known to be a producer of hard drives, solid-state drives (SSDs), USB devices, and cloud services. The lack of resources to measure results and understand customer journeys made their marketing and sales target challenging to achieve. 
Through Adobe Analytics, Adobe Experience Manager, and other solutions, they got a platform to connect different customer data points and expand A/B testing for marketing. Western Digital increased its testing velocity from 1.46 to 22 tests a month. They also witnessed a 15% rise in cross-sell and upsell purchases. 
We find it impressive how both the tools help their clients ensure business growth via ROI improvement, higher conversion rates, speed to insight, and decreased churn. But there are still differences in how they get there, which makes it easy for us to recommend a solution to you. 
Which Analytics Tool Should You Choose
Picking up one is a bit dicey since all the tools — Amplitude, Adobe, or Google Analytics — are flexible enough to be used with each other or standalone.
Starting with one tool, you can easily add another one down the line if you think there is a need to cover shortcomings. For example, integrating Amplitude with Adobe Analytics lets you see a detailed, cross-platform view of all customer behavior and have better data control.
You can also ingest your Google Analytics data into the Adobe Experience platform and use Customer Journey Analytics to get a cross-device view of your user's journey.
However, we already mentioned that we have a clear winner, Amplitude Analytics. Here's why.
Why We Recommend Amplitude as the Best Alternative to Adobe Analytics and Other Analytics Tools
Adobe Analytics is widely known for serving enterprise businesses through its attribution models, predictive analysis, customer data management, customer journey analytics, and other features. However, with Amplitude Analytics, you can:
Build a flexible tech stack tailored to your specific needs;
Save money by not having to pay for tools that cost too much or are too rigid even for enterprise;
Enjoy custom and quick reports so that you only report on what you need to;
Get started using the tool sooner thanks to the intuitive interface and an easier learning curve;
Have all the benefits of event-based tracking that Adobe offers, without being locked into the Adobe ecosystem;
Run AB tests with insight for each drop-off step;
Stay ahead with the best-in-class identity management;
Use the free plan to do core analytics, have unlimited data retention, and track 10 million actions per month.
If you want to learn more about which tool to choose or how to integrate it, please leave a comment below or contact us.
Get Your Blueprint to Building a MarTech Stack
Get hands-on guidance for putting together an amazing stack of marketing technology that'll run and grow your business