There has been a shift in how SaaS companies approach customer acquisition and retention strategies. Marketing used to always drive leads and conversions. According to what we have seen in our consulting and this Gainsight report on product-led growth, PLG has become the dominant strategy.
Great user experiences are what make your product itself lead your growth. But something like a "great UX" is a broad term. So how do you measure and optimize for it?
Set up churn and retention reports in Amplitude, then act on them. This article will show you why and how.
Key Takeaways
SaaS companies are shifting from marketing-driven strategies to product-led growth (PLG), using user experiences as growth levers.
Churn and retention analysis are vital in PLG, with churn representing weaknesses to fix and retention boosting what works.
Amplitude is an amazing choice for churn and retention analysis due to its smooth reporting, easy integrations, and robust features.
Key events for identifying retention include logging in frequently, inviting friends, sharing links, completing specific flows, enabling notifications, or setting up reminders.
Churn events may include downgrading the subscription or experiencing errors in the UX.
To analyze churn and retention, do not limit yourself on just the individual events. Look for sequences, time periods, and cohorts. Such as a group of users who went from a free sign-up to a paid subscription before the trial period was over.
The best churn and retention analysis reports are Retention Charts, Lifecycle Reports, Cohort Analysis, Funnel Reports, Pathfinder Reports, Lifetime Value (LTV) Reports, Compass Reports, Stickiness Reports, and Impact Analysis Reports.
Tactics to reduce churn and improve retention include segmenting users, personalized messaging, actionable feedback, and leveraging examples from leading companies like Calm and Zoom.
Why Focus on Retention and Churn
Focusing on the product as a primary driver of customer acquisition and adoption means you must also focus on customer retention. It is not enough to just drive sign-ups. If the product itself has bad UX or challenging onboarding, your PLG strategy is like a bucket with a hole in it. If the hole is too big, your acquisition efforts will stall out. After all, you need happy customers to drive future customers to the product!
The hole in the bucket is known as churn. Identifying points in user flows that cause churn is what you do in order to find what you can fix. It'll sometimes be low-hanging fruit. And because churn is natural in SaaS, churn rates are what you focus on when you want to find outliers. Finding and acting on outliers is always a great way to find opportunities for improvement.
If the product itself has bad UX or challenging onboarding, your PLG strategy is like a bucket with a hole in it, instead of a rolling snowball.
What if you've already fixed holes in the bucket, and you don't clearly see churn rates that you could act on? It's time to focus on retention. Churn and retention aren't just two ways to describe whether the cup is half-empty or half-full. Retention analysis is the method of finding user flows and interactions that make the users stick. While acting on churn reports helps you remove hurdles to growth, acting on retention reports helps you boost the snowball effect of what's already working well.
Retaining users is one of your biggest challenges as a product owner. So using the best churn and retention reports can significantly impact your business and marketing strategy.
But how can we measure and reduce churn?
Why Amplitude Analytics for Churn and Retention Data?
We're intentionally choosing Amplitude to show you how to get actionable insights on churn and retention. We love the tool because of the smooth reporting user flow, the easy integrations with modern and open MarTech tools, the focus on merging product and marketing analytics, and the user ID methods they use for connecting the dots.
The tool is also robust in its features and use cases. Those of you who have been to our blog before might have seen our comparisons of Amplitude vs. Mixpanel, GA4, or Adobe. You might have also seen our how-to's on switching to Amplitude from incumbent analytics tools, user agent parsing and identity graphing, or integrating with Marketo. We've even had Amplitude's chief product officer tell us about using Amplitude for PLG on our podcast. And that's exactly the type of tool we would want to recommend to you for something as important as measuring and reporting on churn and retention data.
How to Find the Amplitude Events for Analyzing Churn and Retention
How do you know which key events indicate a retained user in your unique product?
Consider your core value proposition: What is original or compelling about your product? Then consider how your users flow through the UX: What about the user behavior is a step towards retention? What experience makes users churn?
You might have a ticketing app where users can purchase tickets to concerts or seminars. A typical conversion event would be, e.g., someone purchasing a ticket. A typical retention event might be subscribing to an event category to receive notifications about events they are interested in, on an ongoing basis. On the other end of the spectrum, seeing that a user hasn't logged in for a longer period of time might signify they're losing interest, and churning.
Still on the example of a ticketing app, another event that likely indicates retention could be tracked when a user invites other users. In Amplitude, you could further narrow it down to users who both invited others, and signed up recently.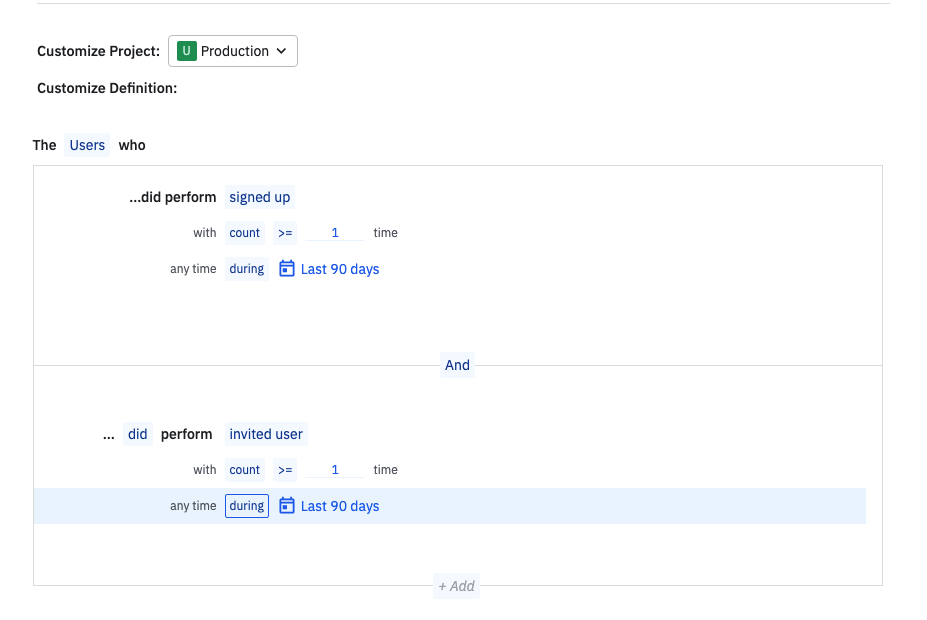 In summary, these are the events that will drive your retention reports:
Logging in regularly or frequently
Completing a specific flow in the product
Setting up reminders
Enabling notifications
Sending referral invites
Sharing links / tickets / playlists / favorites
For churn reports, you can just look at for low rates or lacking instances of the events above. Such as the "logged in" event, but on a low frequency or with long periods of time in between. Alternatively, you can focus on just churn, for instance if you're sending a report to the dev team. Events that indicate churn or the risk of churn specifically include:
Experiencing errors that signify poor user experience
Unsubscribing
Downgrading the subscription
Short-term or high-frequency events like "clicked button" should be excluded from your list of key churn and retention events.
Please note that you don't want to limit yourself to using just one event from the list above for your analysis. Often times, it's a sequence of events that indicates retention the best. In a typical example, you can narrow down the analysis on the users who signed up, and then, within a certain period of time, they purchased the subscription. For example, if your trial period is seven days, you'll benefit from analyzing event sequences on a seven-day window.

In retention analysis, time periods are key. Amplitude has been built for analysis, and you can use the tool to narrow down on the most telling combination of event sequences and time periods.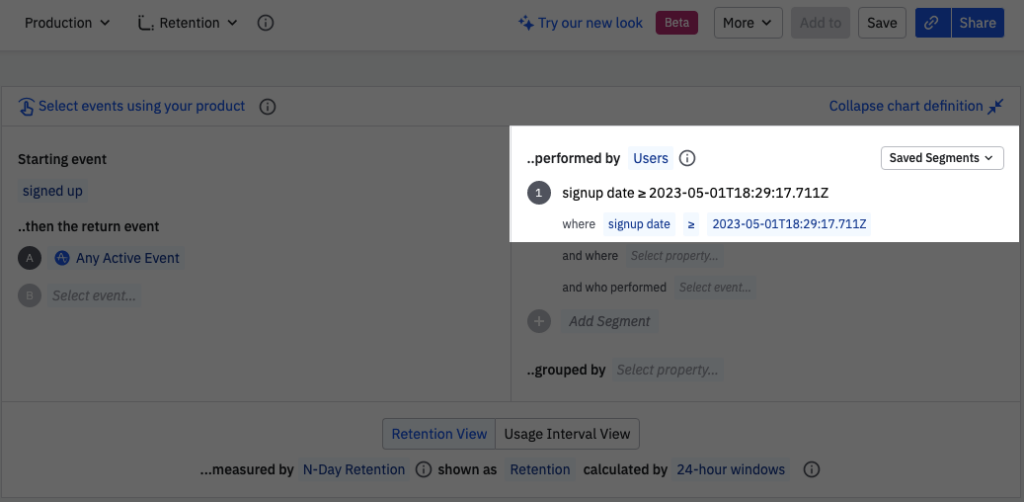 Grow Your Product with an Amazing Amplitude Implementation
Our Favorite Amplitude Reports for Analyzing User Churn and Retention
For churn and retention analysis, you'll want to start with the dedicated churn and retention reports and views. Amplitude is a robust tool for that. We also recommend using reports that you may not traditionally think of as churn or retention reports. Below, you'll see examples of a variety of reports types that help you analyze retention by means of comparison or zooming in on a cohort.
Retention Charts
A retention report in Amplitude allows you to track the percentage of users who return to the product over time. You can identify trends by looking at how many users are returning and how often. For example, in a web application where you take meeting notes, you might want to know how often a user returns to create a new note.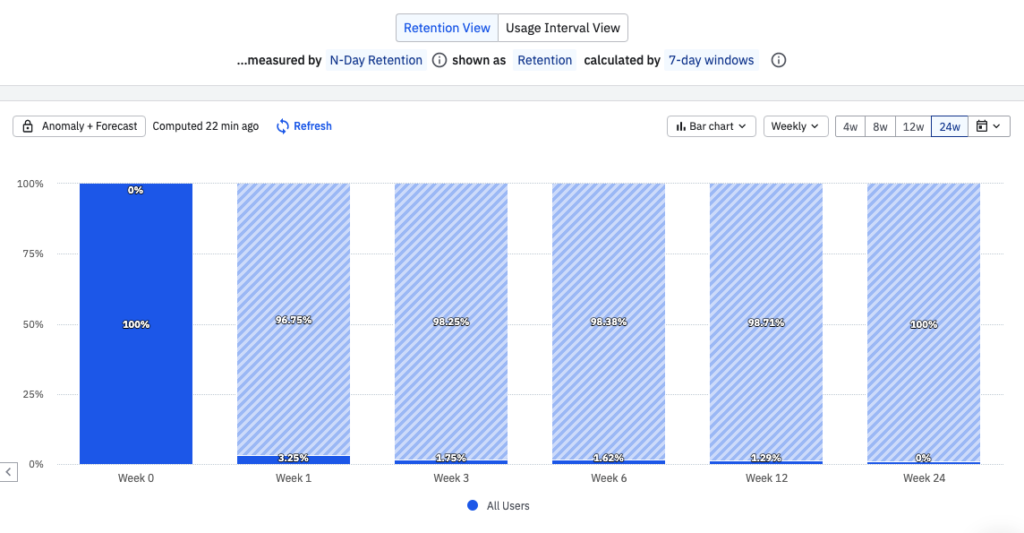 Also, look for trends in user behavior, such as a decrease in engagement over time or a drop-off in certain actions.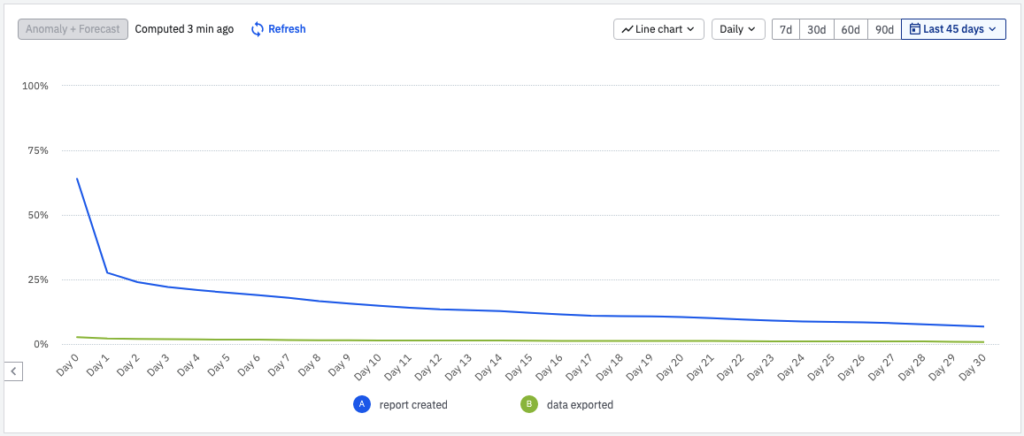 You can also segment your user data to get deeper insights into different types of users. For example, you might look at users who have been using the product for a long time but are now churning versus users who churned shortly after signing up.
Lifecycle Report
The Amplitude Lifecycle Report is an overview of your product's user base growth over time. It categorizes active users into new, current, and resurrected (previously inactive) subgroups, encompassing all total active users. Additionally, it displays the count of inactive and dormant users.
The key to gaining insight from the lifecycle report is which critical event you report on. For a birds-eye view of your engagement over time, you can review "Any Event." Or you can report on a critical event and observe how users engage via that event during your usage interval. This can help you identify trends in usage patterns of critical features in your product.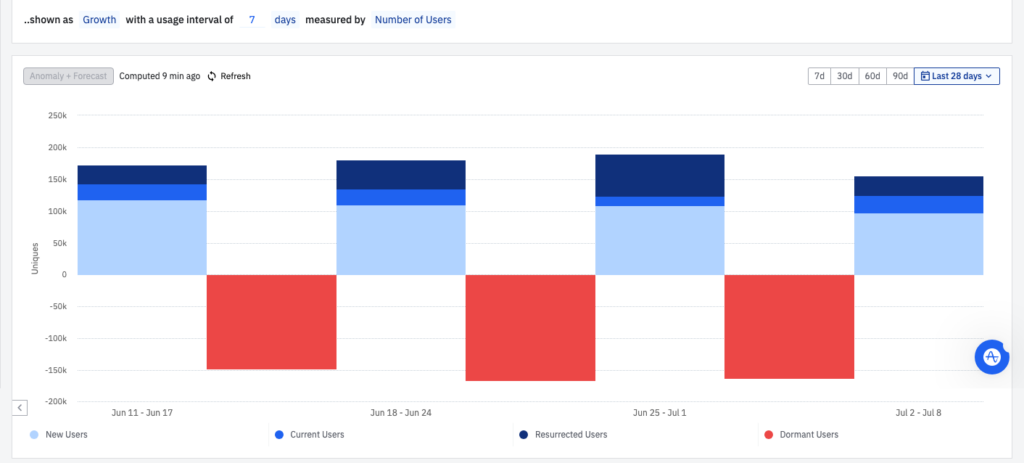 The Lifecycle Report also analyzes user behavior and engagement in their product journey. It can track key events and interactions, providing insights into user progression and trends. The report helps optimize experiences by providing insight into how users engage with your product over time.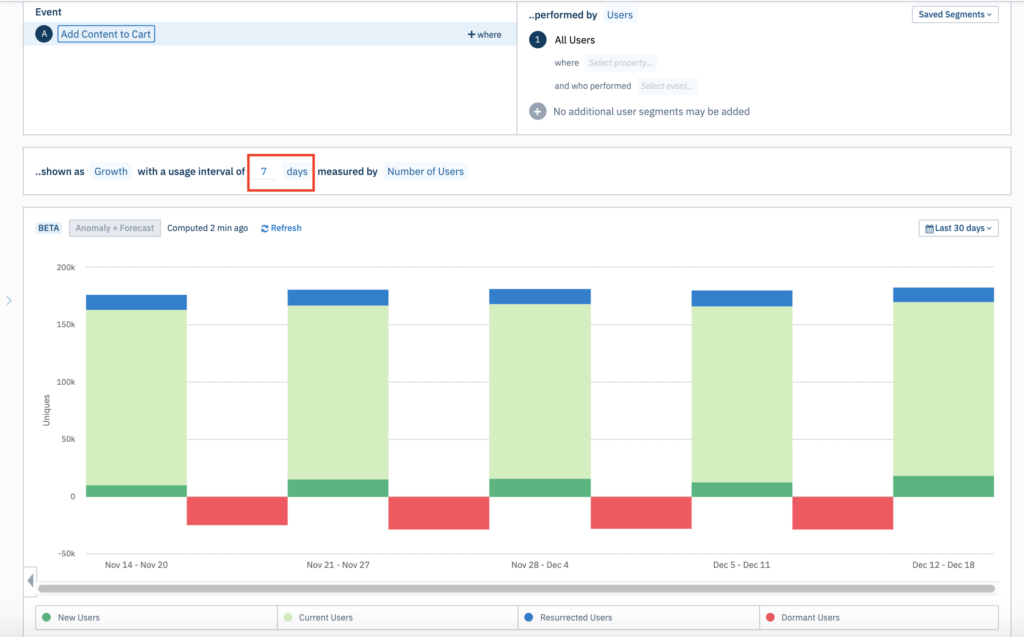 Cohort Analysis
Cohort analysis is a powerful way to understand how different user groups behave over time. By segmenting users by their sign-up date, you can see how user behavior changes over time for each cohort. This can help you understand if specific cohorts are churning more quickly than others.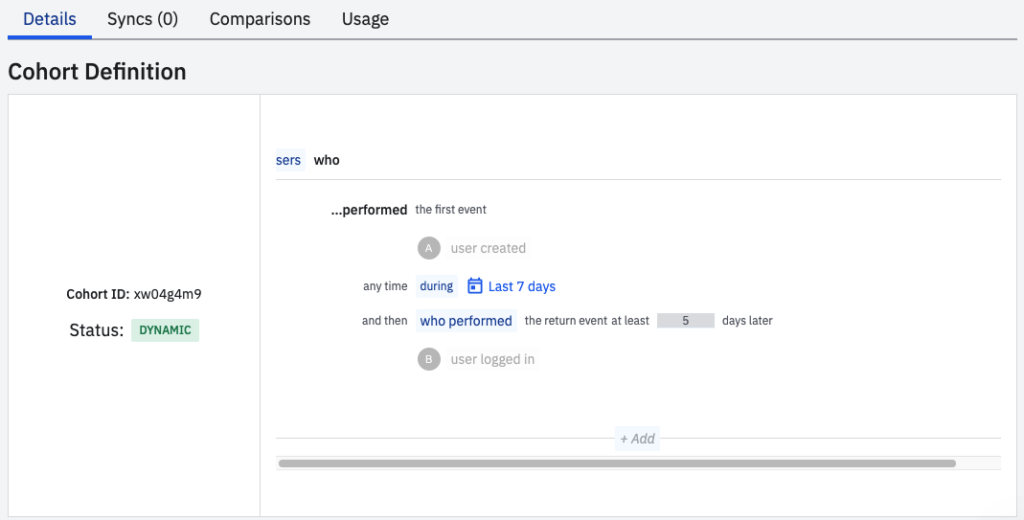 Funnel Reports
A funnel analysis in Amplitude allows you to see how users progress through specific product stages. By examining where users drop off in the funnel, you can identify areas where users are getting stuck or losing interest.
In a ticketing app, perhaps the purchase process is confusing, or there is a bad experience with ticket purchases that are selling out quickly. Funnel reports will help find these drop-off points.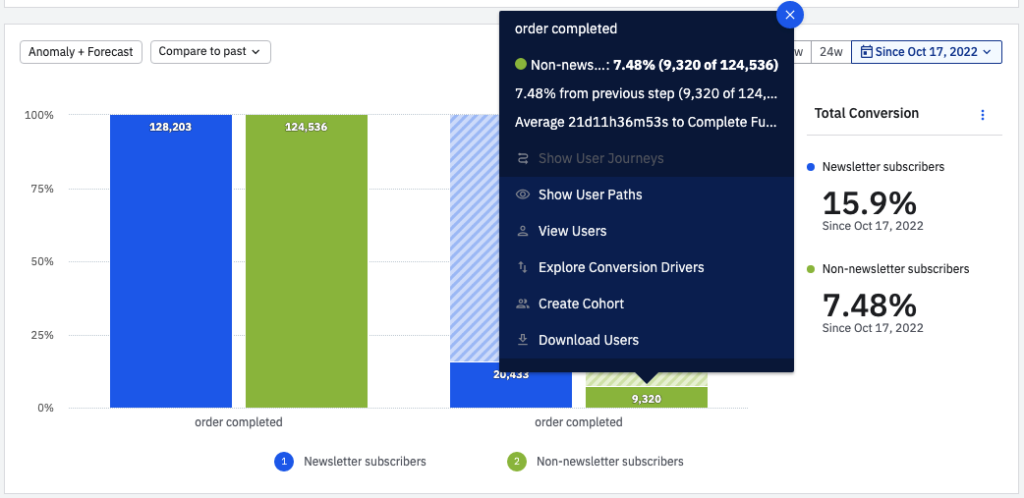 Pathfinder Report
A pathfinder analysis in Amplitude allows you to see users' paths through the product. By examining the paths of users who have churned, you can identify if common paths contribute to churn. Compare that to the paths of the users who have retained, and it will help you make changes to the product to push users along the right path.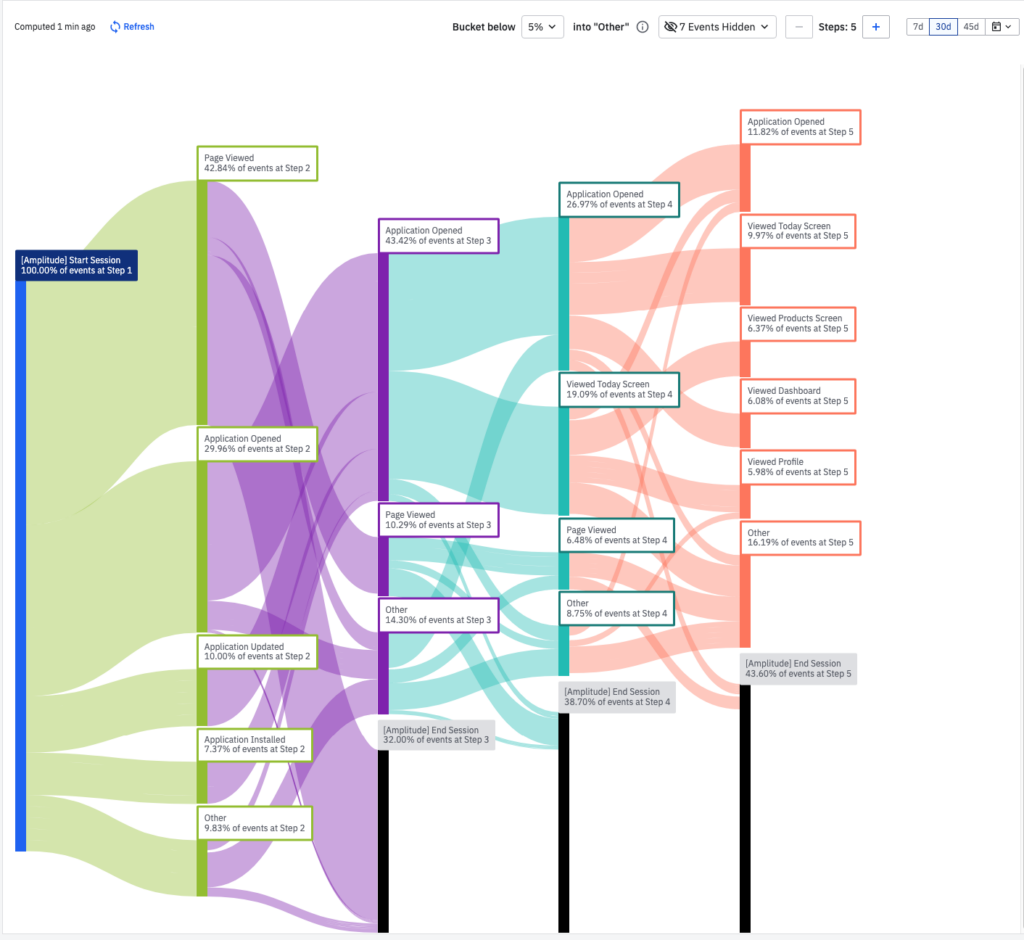 Lifetime Value (LTV) Report
LTV is a metric that measures the value a user brings to your business over the course of their time using the product. As much as this is not a churn or retention report per se, we assume you have limited resources. This will help you decide where to allocate your time and budget.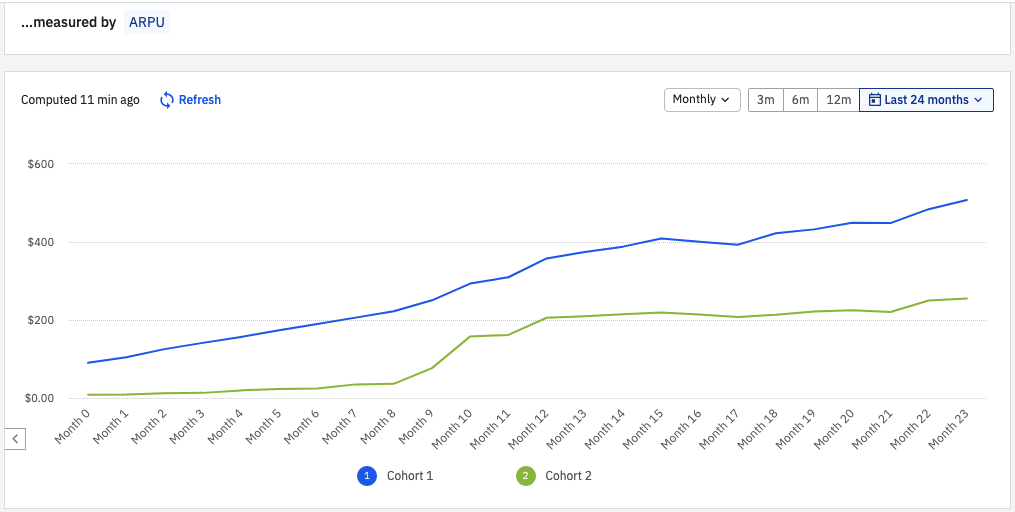 Compass Report
Compass reports can help you determine which events are indicative of a user becoming an "active user." Amplitude calls these events "a-ha" moments. A compass report works kind of like a heat map, showcasing the likelihood of new users being retained based on their behavior in the product.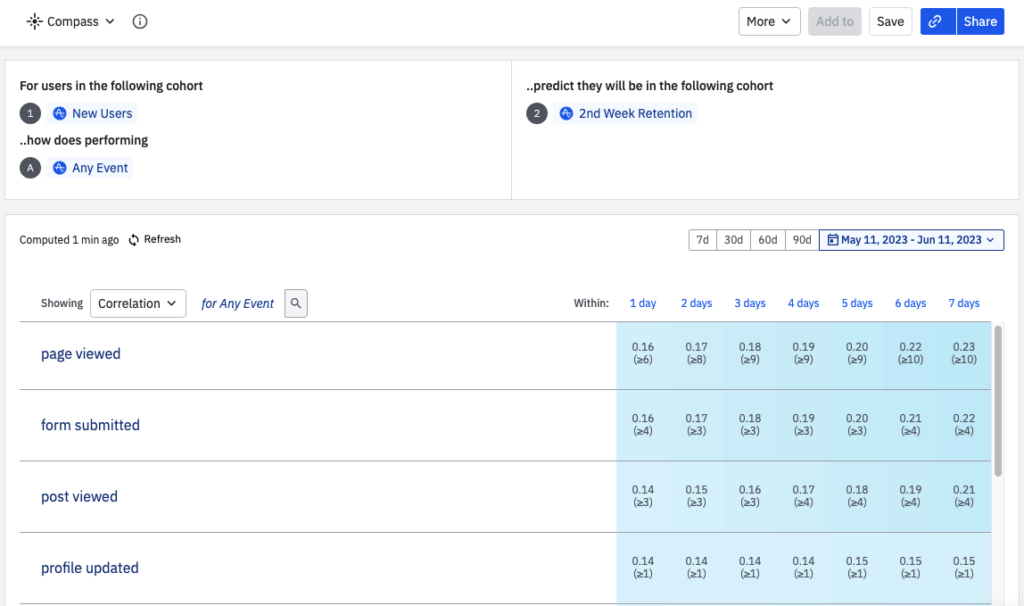 Stickiness Reports
With Amplitude's Stickiness chart, you gain insights into the frequency at which users activate specific events within a designated time frame. You can then compare cohorts to understand what engaged users are doing with your product. This will guide you in how to make changes to drive your less engaged users to become more active. Higher rates of activity with key events often relate to higher retention.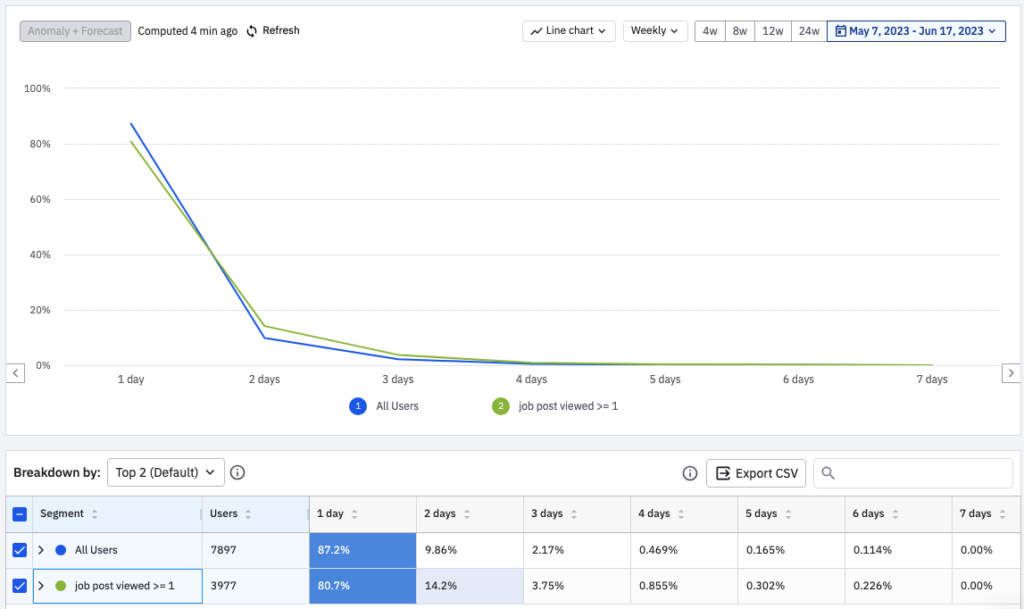 Impact Analysis Report
The Impact report lets you compare the impact of users engaging in some behavioral event to other events in your product. To keep using the ticketing app example, this report could show the impact of users who "favorite" or "share" concerts related to the frequency of purchases made in the application. In an example of a job board, you can use the Impact Analysis Report to analyze how joining a job board relates to applying for a job. If "job applied" has already been designated as a retention event, you can also optimize for the events that lead up to it.

Actions You Can Take to Reduce Churn and Improve Retention
Once you've used the reporting to identify why users are churning, use the insights. Take action to reduce churn now that you know what to do. You'd be amazed at how often it happens that impactful data is not acted on.
Segment Your User Base
Segmenting users by demographics, acquisition channels, or product usage reveals insights into different user groups and their specific churn drivers. By optimizing high-churn channels and tailoring retention campaigns to low-engagement segments, you can begin to address your users' unique needs and pain points.
Target High-Churn Users with Messaging
One strategy is to target high-risk users with personalized messaging. For example, if a user hasn't logged in for a certain period of time, you might send them a win-back email or a re-nurture email.
Amplitude has a number of out-of-the-box integrations with marketing tools. They can help you sync these cohorts to your marketing personalization, retargeting, or nurture campaigns. One of the tools our clients often use to activate Amplitude data is Marketo. Another one would be Salesforce.
Send Amplitude cohorts of high-churn users into the MarTech tools that have the ability to act on the data
Collect Actionable User Feedback
Another strategy for reducing user churn is gathering actionable user feedback. For example, if users are churning because they find the product too difficult to use, you might make changes to the user interface to make it more intuitive or user-friendly. User surveys and funnel analysis can help identify these frustration points.
Embed Marketing Levers into Your Product
Identify at which points the users might be interested in inviting their friends to using your product, then incentivize them do so. Having friends or family on the same tool or platform is a known driver of both engagement and retention.
Examples of Churn and Retention Campaigns from Leading Product Companies
Many companies have successfully lowered churn rates and reinforced retention as a driver of product-lead growth. Some of our favorite examples:
Calm discovered that daily meditation reminders were a hook and used that to increase retention 3X.
NBCUniversal improved the home page UX and personalized for user history, to see a 2X increase in retention
Mutual referral incentives have become standard because they bring in the new user who receives the invite, at the same time as they help grow engagement and retention of the existing user who sends the invite