Mixpanel vs. Amplitude is one of the most common dilemmas our analytics clients come to us with. These tools have been getting so similar that even their own websites don't make it easy to decide. Product, analytics, analyze, understand, user, grow — you see all the right words. So how is a leader of a marketing team to know which one of these tools to go with?
Truth be told — they're both great. Compared to the more widely used Google Analytics (GA), they are both primarily event based and have a strong focus on user behavior tracking. GA is still quite old-school in that respect and focuses on sessions.
Whether you go for Mixpanel or Amplitude, you'll level up your marketing analytics and you'll have made a good choice. But you want to make a great choice, not a good one. No two marketing teams are the same, and there are indeed benefits you'll gain from picking the best possible fit for your own campaigns and workflows.
Lucky for you, that's exactly what we're here to help you do. We love this stuff and we're effin legit. We're certified partners of both Amplitude and Mixpanel, we regularly coach clients on making the best of both martech tools, and we've implemented both tools for small businesses and enterprise clients dozens of times as product analytics tools or marketing tools or attribution tools. Most importantly though, we've put together observations by three of our senior analytics experts and created a solid-gold article for you to read right now.
You're not going to learn which tool is better in general — you're going to learn which tool is better for your particular team. So instead of reading a detailed guideline of how to use the tools, you're about to become familiar with:
Underlying Focus: Mixpanel vs. Amplitude
The two tools are getting more and more similar, but they first started with a different focus in mind, and they are likely to keep their particular core intentions.
Mixpanel started as a mobile app analytics platform, and it still has features such as A/B testing that are only enabled on mobile. Further, Mixpanel strives to be more of an all-in-one tool. It integrates well for sending data out to other platforms, it pushes notifications, and it even includes a suite for marketing automation and CRM.
Amplitude started with product analytics and that remains the focus even as the tool expands its feature list and integrations. Amplitude caters primarily to an in-depth analysis of user behavior and it's long been strong in identifying users cross-device. The analysis aims to help you improve your product and better align it with the behavior you've tracked. Compared to its main competitor Mixpanel, Amplitude doesn't try to be a one-stop analytics shop. It does try to be the best in the market in actionable analyses.
Get a free consult so we can help you choose and implement the most effective analytics your team's ever had.

Similarities Between Mixpanel and Amplitude Analytics
1. Event-based tracking and the user model
Both Mixpanel and Amplitude use event-based tracking (more in Amplitude vs Adobe). The events have properties attached to them that align with user traits and add up to user profiles. In both tools, you can set custom events and use special properties. Your developer will be happy with your choice of either.
When it comes to APIs, Mixpanel offers more SDK options that can help with setting up your tracking. But the API documentation of the two tools is pretty similar.
2. User unification & funnels via identity resolution (ID merge)
If we had written this article in early 2019, we'd put this on the list of differences. But Mixpanel has started retroactively matching client IDs and creating user profiles across devices for new website or app users. Amplitude still has fewer steps for your analytics team and a smoother process to accomplish user identity resolution and unification; it also continues to provide more data retroactively. Yet Mixpanel has been working hard to get even and has already achieved enough to make this mostly a point of parity. You're right if you think funnel and cross-device analysis is key to making data-driven decisions, and you'll be covered with either of the two tools.
Let us elaborate on why we slightly prefer Amplitude for identity resolution and stitching user journey touchpoints together. Resolving identities and turning them into a single profile that offers a view of the user journey is key to making decisions about how to serve the users.
When a user has eight touchpoints, but only shares their email during the fifth touchpoint, Amplitude will still recognize that it's the same person. The user explorer will show the same ID assigned retroactively to the first four visits as well as the second four visits.
Amplitude has also been putting effort into building out features that connect marketing with product data. This can show you the user journey before as well as after the user started using your software.
The image below shows an example of user details that are enabled by identity resolution in Amplitude. You can see the data has detail and nuance.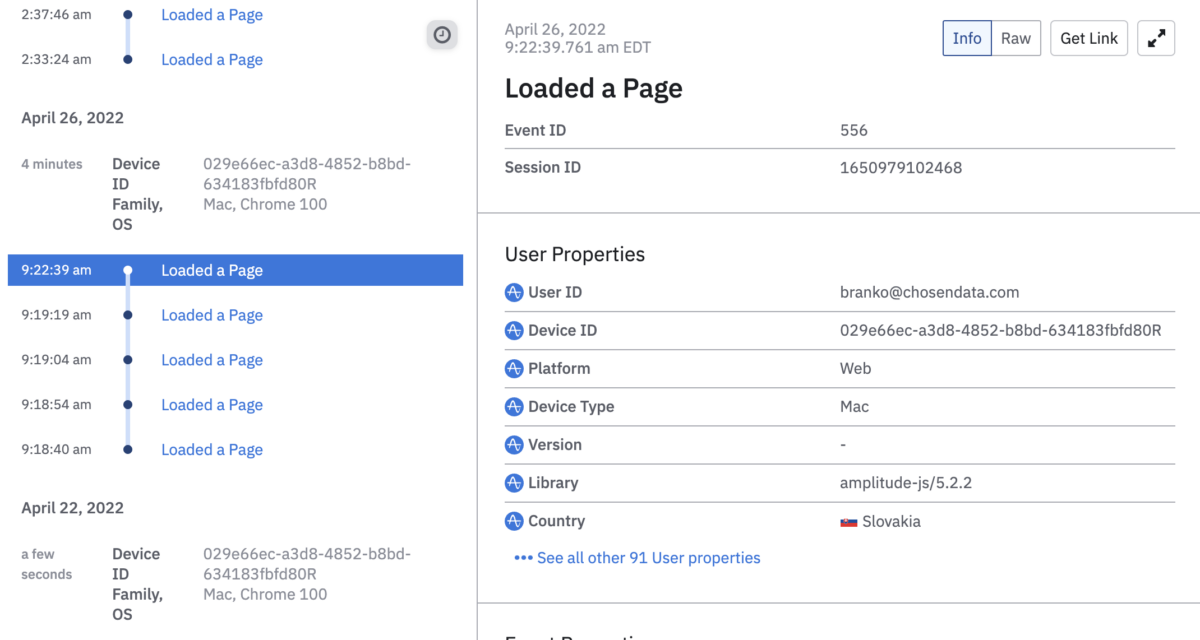 3. Data governance
To manage the accuracy and structure of event and user data, the two tools are both based on events with user properties. They also both have custom events and helpful settings.
Mixpanel uses an interface called Lexicon, as pictured below. Click on the image to enlarge and you'll see how you can, for instance – add and edit events, annotate, click through for more event data and settings.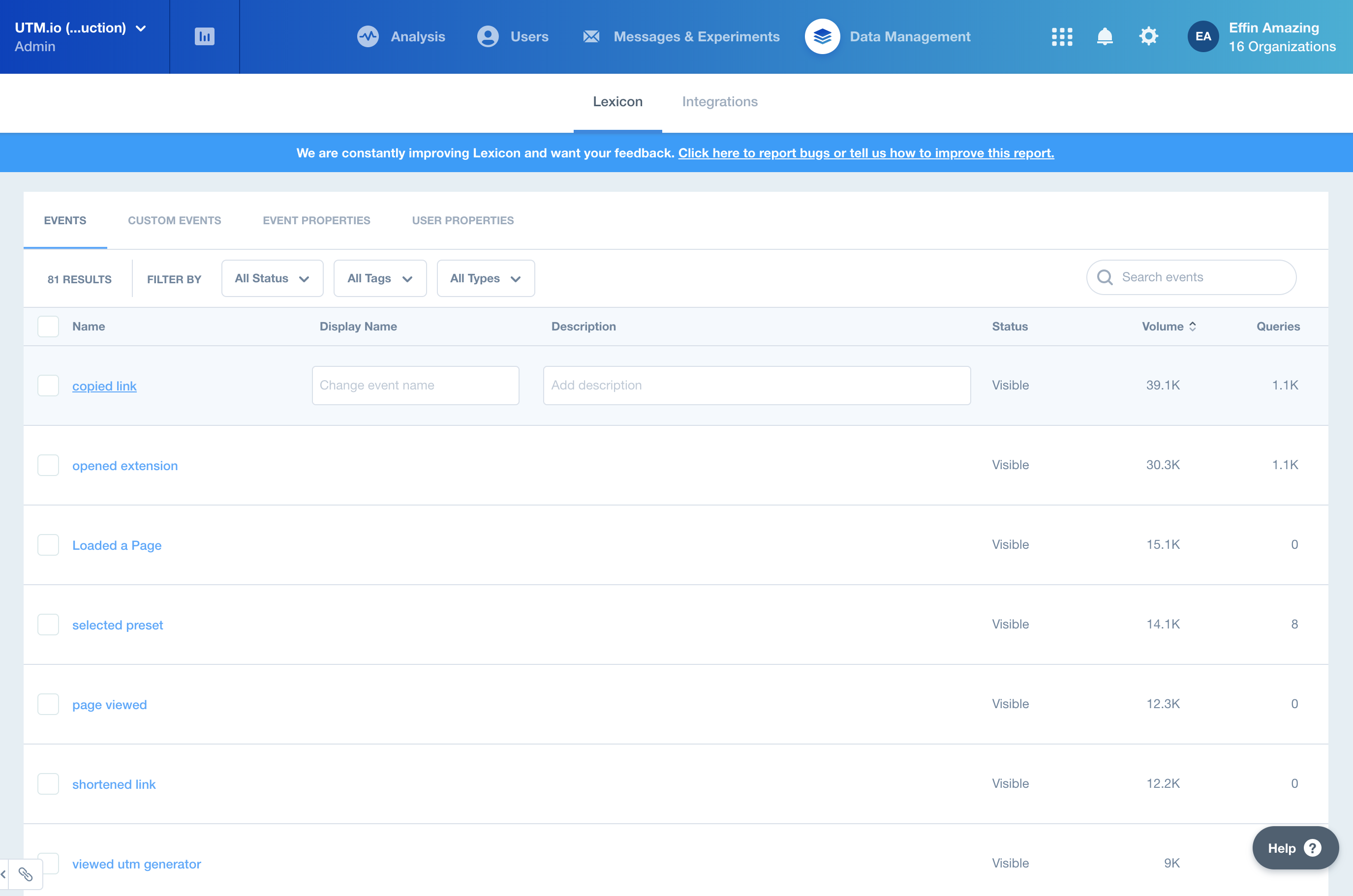 Amplitude uses an interface called Taxonomy, as shown in the following image. Similar to Mixpanel, you see the structure of events, user properties, custom events, related settings and descriptions.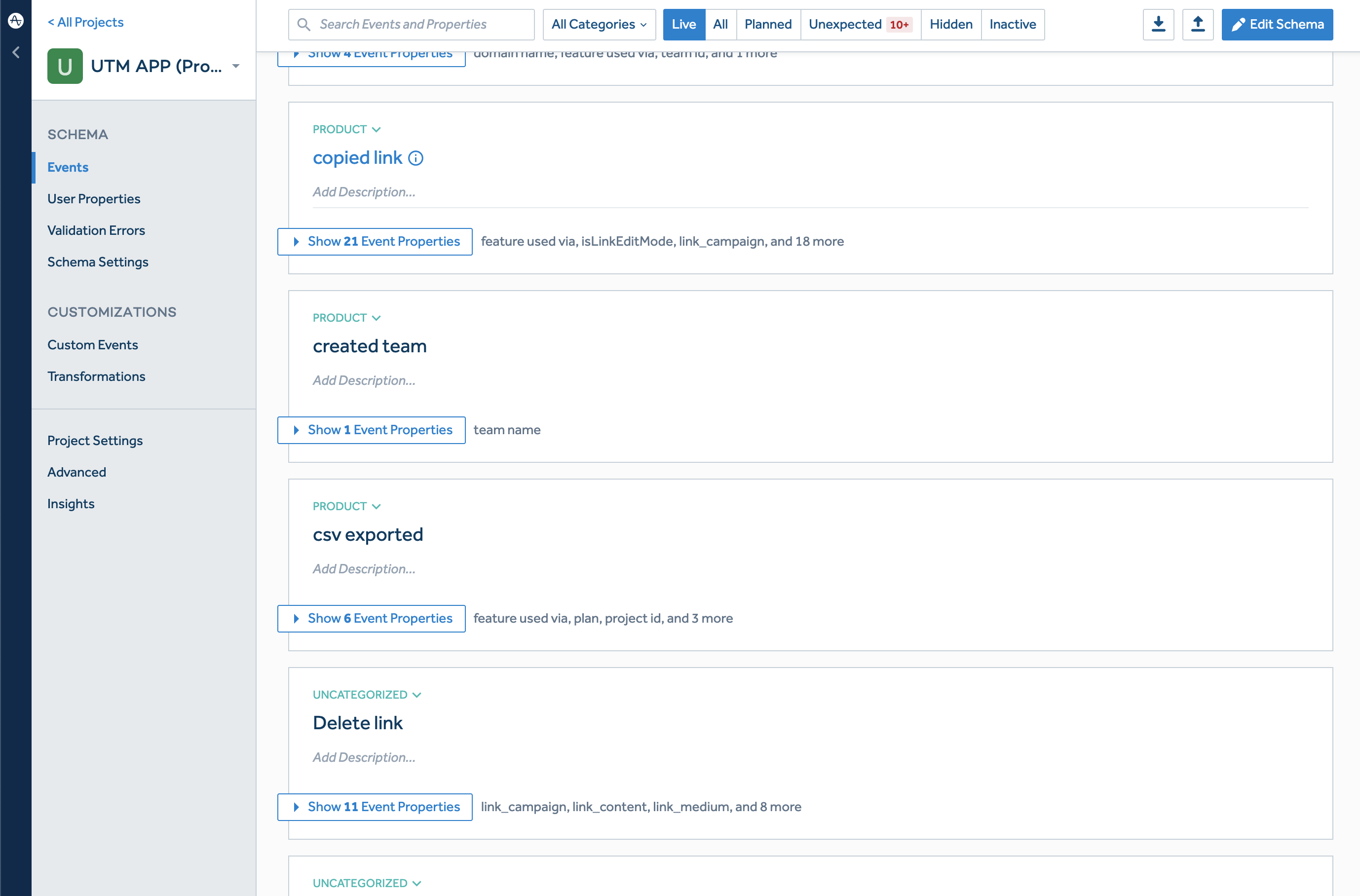 You can see that when comparing Mixpanel's Lexicon and Amplitude's Taxonomy, the options in the interface are similar. So is the functionality you can make use of by applying the options.
4. Reporting output & dashboards
Reporting workflow is quite different between the two, due to peculiarities in options and customizations. More on that below. When it comes to the reports and dashboards you can yield, Mixpanel and Amplitude are neck and neck. They both even provide fancy features such as TV mode. The boardroom will have zero doubt about what a great leader you are.
Below is our reasoning for how we answered the reporting part of Mixpanel vs. Amplitude. The two charts below are from the dashboards we made to report on funnel drop-off for UTM.io, our in-house UTM automation and management tool. The steps we needed to take to create the charts were somewhat different in the two analytics tools, but we were able to yield very similar data visualizations.
The first chart below shows drop-off for a funnel we created for UTM.io and comes from Mixpanel. This tool is made to be quicker at creating visualizations, with fewer options up-front.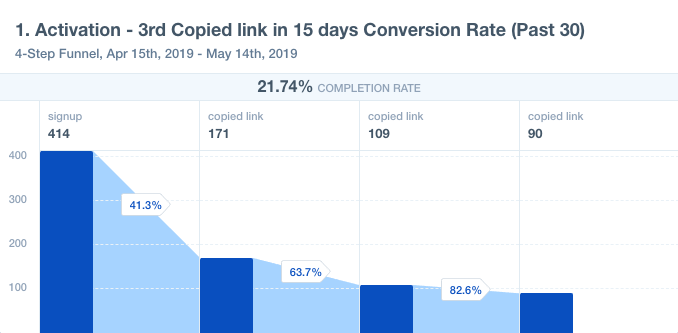 This second chart below also shows a drop-off funnel for UTM.io, but comes from Amplitude. This analytics tool has a stronger focus on in-depth analysis and expects for you to consider more options when visualizing data. But it is indeed easy to see that you can create very similar reporting visualizations in both tools.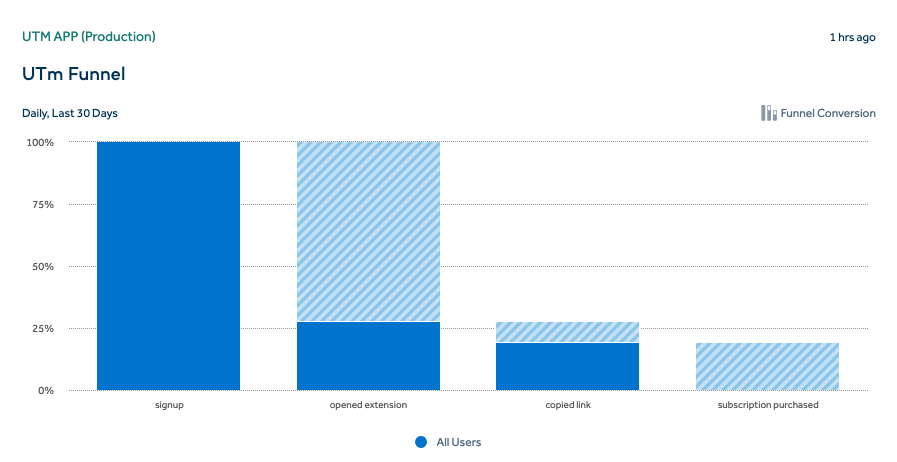 5. Integrations for sending data in
Whether your marketing team uses Google Tag Manager, mParticle, Segment or scripts for collecting data (or a combination of the above), Amplitude and Mixpanel work smoothly and process data in similar ways.
Choosing Amplitude vs. Mixpanel: Differences in Features & Pricing 
1. Reporting customizations & workflow
In making actionable analyses, it is important to pack your analyst brain into the analysis and make the visualizations just the way you need them. Mixpanel tries to be quicker about this by providing basic dashboards first, with options to be selected second, if you want them.
Amplitude wants you to customize first. It also has dashboard creation in the front and center of its analytics workflow. If you have enough data, Amplitude has more advanced reports to show. So if you're a marketing team of power users who analyze and act on data often, Amplitude will provide more options and cater to more use cases.
2. Special powers – data science & machine learning
Neither of the two tools demonstrates a notable application of AI (yet). They do apply data science to help you take action on behavioral predictions. Both tools look at the events users have done, but they differ in the workflow and output.
Mixpanel looks for which individual users are most likely to complete a specific conversion action — via their Predict models. Amplitude automatically clusters similar users into behavioral cohorts — via their Personas.
3. Integrations for sending data out and using the data
This is a big one — a major point of differentiation that relates to Mixpanel's intention to be the analytics tool where you can do everything. The following will make it clear that Amplitude prefers to be the clean tool where you can focus on deep analysis. We appreciate it for that, especially because of the workflow of Amplitude dashboards that this caters to.
Mixpanel is more robust and smooth in sending data out to popular external platforms such as HubSpot and Salesforce. It also integrates well with Zapier. Further, the tool allows you to send a webhook of the user to any other tool.
Further, Mixpanel comes with a marketing automation suite. You can act on your users' data by messaging them based on conditions and by running optimization tests. So alongside integrating well with external CRM tools, Mixpanel can act like a CRM itself. This is underlined by the fact that the user attribute that Mixpanel stores shows the most recent value — a method common for CRM data.
Finally, Mixpanel has built-in notifications. Your team can receive alerts via SMS, email, push, or in-app inside Mixpanel. Amplitude only provides that via partners such as Intercom, at additional cost.
4. Pricing tiers & models
Yes, here you go. The section you've been waiting for. We're going to share our thoughts on the pricing models and tiers that Mixpanel and Amplitude differ in. But if you skipped the rest of the article all the way to here, do go back up and read into what you can expect to get for your (company's) money.
Amplitude gets you far on the free plan and is easy to get started with on that plan. Then the jump is quite dramatic, according to our super-secret recon missions in analytics implementation. Don't tell anyone we're sharing this with you. With that being said, the jump is much less dramatic than it used to be. Until Q1 of 2019, the next step from the free plan was Enterprise at a minimum of around $5k/mo. Now you can level up Amplitude with the Growth plan at a cost of around $1.5k/mo.
Mixpanel has a generous free plan, with 100K Monthly Tracked Users and the key reports you'll need to get started. To unlock more reporting functionality and various add-ons, you'll want to upgrade to the Growth plan. It starts at $200/year but you can build a plan to meet your needs online, no need to talk to sales. Enterprise plans do require speaking with a real person and start at around $3K/yr.
To truly understand what budget you'll need to approve or get approved for the two tools, take a minute to consider the major differences in how the paid plans are determined. Mixpanel, shown in the image below, charges you per Monthly Tracked User (MTU)–in other words, for the amount of data you'll collect.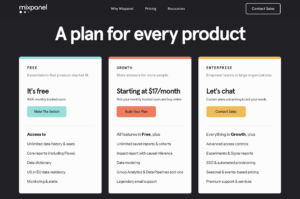 Amplitude, shown in the following image, charges you per feature you want to use.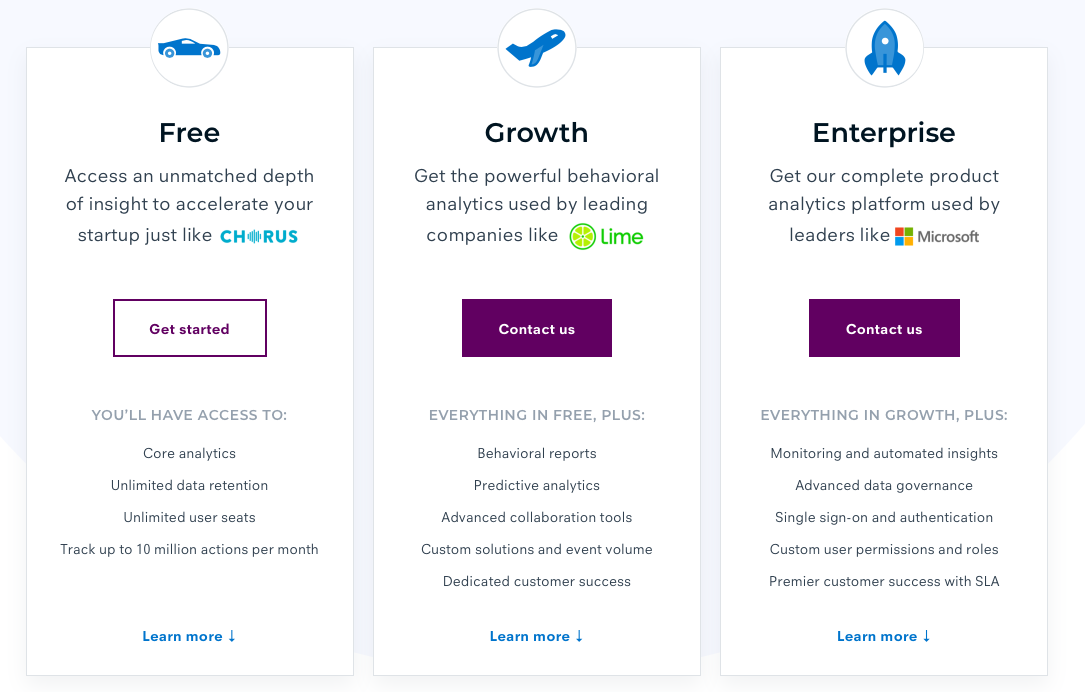 Further, the free plans in both Amplitude and Mixpanel generously provide most stuff that most people need. We recommend starting to use the tools even just to learn better analytics processes.
A special note to startups
In late 2019 Mixpanel introduced a new pricing plan for startups, designed to help early-stage organizations grow. Qualifying companies can unlock $50,000 in credits towards the Mixpanel Growth plan–if you're a startup, check it out.
Top Factors to Consider Before Deciding – Amplitude vs. Mixpanel
As a recap, here is the list of questions you can ask to pick your product and user-analytics tool of choice.
Are you focused on analyzing mobile apps?
If yes, Mixpanel will feel better tailored to your business goals and provide more relevant insight.
Are you conducting marketing on an enterprise scale?
If yes, you most likely have enough data for advanced reports and analyses. You most likely also run a team with enough bandwidth for customizing dashboards and taking action on frequent in-depth analyses. Amplitude will provide heaps of value to you.
Are you starting up a CRM or want to integrate with an existing one?
Mixpanel. Now that you've read this article, you know why.
Are you willing to evaluate both tools before deciding?
There is an easy way to evaluate both tools using your own activity data, allowing you to realistically compare the reports and insights you get. This is a bulletproof way to reach the best decision for your particular data and needs.
Do you want to quit your director job, but you're not sure how to bring it up, and you prefer to get fired?
Get enterprise plans of both. Then don't act on any of the data.
Just kidding. Do act on the data. Otherwise we'll cry.
Do you know you want one of the two tools, but you're still not sure which one?
Schedule a free consult with us. We'll be excited to talk to you. Working with smart people is rewarding, and reading all the way to here gives you brownie points right out of the gate.

McGaw.io Use Cases for Mixpanel vs. Amplitude
We recommended Amplitude to our amazing analytics client Real Thread and implemented it for them. The decisive factor was the dashboard workflow, since dashboards are in the center of the UI of Amplitude. Using Amplitude for marketing also just comes with a number of valuable use cases. It also didn't hurt that the free plan gets us ridiculously far.
We recommended and implemented Amplitude for our amazing client Mountain Goat Software at the end of 2017. Until very recently, Amplitude was much more proactive about retroactive aliasing and merging user information between anonymous and logged-in user states. The goal was to support lead generation for online education, with a large share of user paths happening cross-device.
We implemented Mixpanel for UTM.io. It's an amazing UTM tool for automation and team collaboration in link tagging. Using it will make your UTM tags and the resulting data a magnitude better. It's one amazing tool (we built it). Mixpanel was a great choice for us because we planned to do marketing automation and needed to tie the data all to one place.
Moving on, making the choice might get harder. Read on.

Development to Expect
The dilemma of Mixpanel vs. Amplitude is often considered by analytics practitioners as well as by the very people behind the two tools. We're quite sure that they think about each other about as often as they do about their favorite sports teams. Thence, the trend is clear — there is a feature war going on. The longer we've been using both tools, the more we've witnessed how they try to catch up with each other. Beyond features, we also see frequent testing and changes in pricing.
Conclusion & Your Turn
The two tools are becoming increasingly similar. Budget permitting, you won't make a bad choice going with either. To recap on the differences, Amplitude focuses its monetization on enterprise clients, it has had richer product analytics and user path analytics, and it is a more dedicated platform for in-depth analysis and visualization in general. Mixpanel has richer integrations for sending data out, includes a marketing suite, provides valuable notification options, has a shorter learning curve for using dashboards, and offers pricing tiers that can cost much less.
Schedule your free consultation with our implementation experts.