Data driven marketing carries major advantages for marketers and their organizations. The business case for it is well reported – better leads, faster, more accurate content and media targeting, and a companywide 10% to 20% ROI increase.
So with all these obvious advantages, everyone's doing it. Right?
Yeah. About that. Turns out, only about 25% of businesses are implementing data-driven marketing. Now it's a competitive advantage: soon it will be table stakes.
What is the point of being data driven? To have the data available for everyone in the organization who needs to know. It means there's data to support decisions. That sounds simple but that data has to be collected, assembled, and analyzed; then it has to be put in front of the right people at the right time so they can plan and implement marketing based on it.
How do you get your data driven marketing off the ground?
Step 1. Assemble Your Team
Creating a data-driven marketing plan starts with handling the data. And that starts with your organization. Most organizations have siloed data because they have siloed departments. That's a weakness and the move to data-driven marketing will make it more obvious. Handling the switch to a single data corpus fed by sales, marketing and customer services, and accessible to all, will usually mean putting together a cross-departmental and cross-disciplinary team.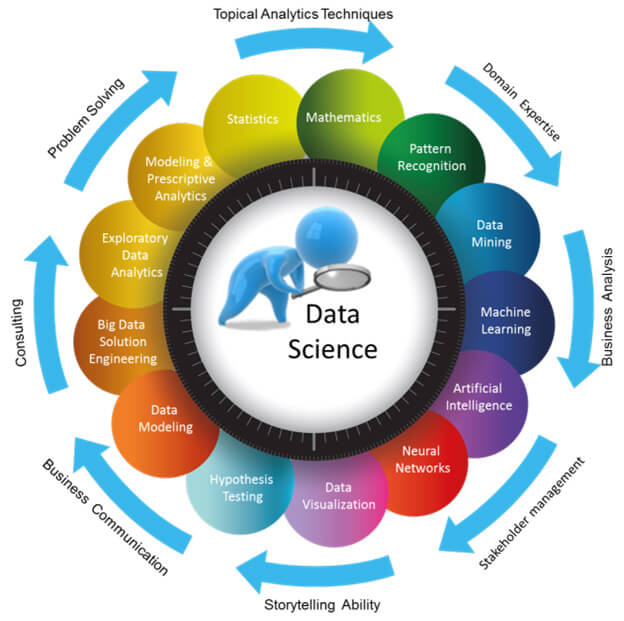 That doesn't just mean someone from IT gets together with whichever guy from sales that managers think they can spare the best. Instead it means finding people who are willing to go beyond their areas of knowledge. Data scientists have to be willing to learn about marketing; sales people have to be willing to learn about IT. This team needs to understand data acquisition, analysis and implementation right the way along and in a way that syncs with the business uses of that data.
Data needs to be wrangled, and we'll need to 'integrate data scientists, who may have come from very divergent specialty areas, into one team to tackle these problems,' says Keith Ensroth, TeraData's Executive Program Manager. What will that require? Keith sees
'Some big changes in how we form effective teams… If the IT-business divide was a challenge in the past, let's pay double the attention to dynamic tensions when the team who will make us successful requires IT skills, business subject matter expertise, and data science that may (perhaps should) be coming from a completely different discipline.'
In many organizations marketing owns data because marketing asked for it, or the organization sees data in terms of marketing; but the data will both be fed from other sources, especially sales, and eventually will be used to govern other practices than marketing. It will be more effectively utilized if a cross-departmental approach is implemented from the start; consider the challenge of multi-channel marketing and its eventual solution in omnichannel, and apply the same 'omni-departmental' approach to your own data. We're talking about organizational alignment with the goals and methods data can reveal and clarify for us, and with the internal systems we need to make sense of that data.
Some organizations have approached this by putting someone from the C-suite in charge of data and analytics, most notably AIG and FICO. But seeking a single individual who can comprehend an end-to-end, top-to-bottom data and analytics framework is probably not the solution, says Intel's Big Data Solutions Chief Data Scientist Bob Rogers.
While Rogers himself more or less fits the 'data unicorn' bill, he cautions businesses that '[in] any company, you won't find just one data scientist doing it all — just like Michael Jordan couldn't have scored so many points without Scottie Pippen at his side, data scientists all bring their own skills to the table that together build an ideal team;' that's why 'we're looking for all kinds of skills and backgrounds as we look to build our team at Intel,' including 'a variety of backgrounds and experience, which brings greater insight to our data analytics work.'
Remember the end as well as the beginning: Once the data has been accumulated and analyzed the results need to be comprehensible to mere mortals without data science PhDs. Marketing needs insights from data that are packaged for human consumption, which means your data science team needs to be able to communicate in terms marketers can understand. The crucial capacity is not advanced data science but the ability to ask the right questions in terms of business cases, and articulate the answers in ways that marketing can understand and use.
Step 2. Integrate Your Data
Effective data-driven marketing requires data to be held in one place, fed by as many customer behaviors as possible and accessible to everyone who needs access to it. But the majority of data is held in silos created by the department that originally collected or owned it. Data from multiple sources needs to be integrated and made accessible.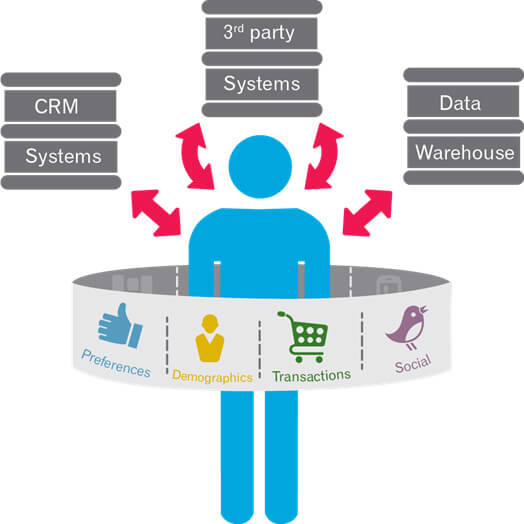 Offline and Online
Mailing lists, purchase records and clunky spreadsheets are all part of your body of data, and they all need to be integrated. So do salespeople's notes, call center logs, and every other source of information about customer interactions with your brand.
CRM and List
You already have a significant amount of data on your customers. Some is in your CRM and some in your email list. Ideally these integrate but the data needs to be made available in such a way that it can be combined, mined, stored and accessed in a centralized way.
Online Behavior Data
Integrate UTM and cookie data with website behavior information and email data like opens and clickthroughs.
Website behavior can be monitored using site tracking code. Some CRMs provide this functionality, and it's available as part of WordPress too. This yields data like traffic and bounce rates as well as time on page and click-through. It can be used to construct a 'site journey' as part of a longer buyer journey.
Away from your own site, social media tracking allows analysis of audience response to social posts as well as more distal analysis of what they're up to when you aren't around. To track individuals around the web, use cookies. To track individual pieces of content, use UTM codes – short additions to URLs that tell your analytics service that someone arrived from a certain source:
utm_source=Facebook
Or a certain campaign:
utm_campaign=10percentpromocode
UTMs can be used to track the efficacy of ads and keywords. They offer marketers a way to monitor the efficacy of their efforts away from owned assets. Google has a free URL builder that can be used to construct UTM tags, or you can let McGaw.io's own UTM builder do it for you.
All Access
To integrate successfully you need a centralized data corpus accessible from anywhere within the organization. The decision about who will have access to it lies ultimately with the C-suite, but you should consider that the same data marketing needs to construct campaigns will also be required by sales reps and IT. It makes sense to err on the side of access and make the majority of nonsensitive behavioral data as available as possible.
Step 3. Evaluate Your ROI Criteria
How will you know you have success if you don't know what it looks like? This isn't as facetious as it sounds; the most important number in most organizations is the one no-one knows, because no-one has isolated, identified and announced the crucial metric for success. Everyone knows ROI should be measured. But we need to know what return we want and how to recognize it.
That's a more serious problem with data driven marketing than in more blast-and-hope efforts. Commenting on the fact that 75% of survey respondents had trouble measuring data-driven marketing ROI, ZDnet commented that 'the irony… is striking: marketers are having difficulty measuring and evaluating data driven marketing, the very underpinning of which is measurement and evaluation.'
Let's turn to Farnaz Erfan, Birst's Director of Product Marketing and Strategy, to explain the problem:
'Before ROI can be measured in a multichannel integrated marketing environment, it is key to set out a full evaluation plan that will identify the relative contribution of marketing channels. It is also important to recognize this contribution both in the short-term and in the long-term – i.e. considering the lifetime value of a customer.'
The real key to figuring out ROI lies not so much in data as in those last few words: value of a customer. Marketers increasingly need to measure ROI in terms of a sales-ready lead or an upsell-ready customer; single customer view is coming to mean a single, interdepartmental view of what a customer is. Mining the data you already have for metrics that show the strongest correlation to high CLV should reveal the figure or figures that represent the 'return' in ROI – the measurable goal your efforts are oriented toward.
It's vital to evaluate ROI criteria in terms of their contribution to overall company goals. The alternative is to be where AppSumo's Noah Kagan was a few years back: 'We used to track everything, literally,' he recalls. 'It was RAINING metrics.' The result was that his team tried to 'optimize toward too many different goals.' As much as that sounds good – 'we started trying to improve too many things' sounds like a good flaw to have – in fact it was disastrous. 'We'd start optimizing for the number of orders per day, but then revenue per order would go down, so ultimately, we were spinning our wheels.'
Noah suggests the solution to this dilemma is to 'choose just one main metric to target,' and explains that one criterion for this metric should be how easy it is to sell to the rest of the team. It's easiest if it's actionable: 'If you saw you were down today, could you instantly make an impact with that information? For us, knowing traffic is low one day motivates us to evaluate what's off on that day.'
Once you've implemented a data strategy it will be much easier to go back over tracked, measured responses and find out exactly which efforts are responsible for which customers, and which customers are responsible for which revenue.
Step 4. Analyze Your Audience
Data needs to be built around the customer or it will simply be an ungovernable mass that obscures value instead of delivering it. Use your data to understand your audience more comprehensively and predict customer value.
Define Audience Segments
Start with demographic information and CRM data. Incorporate market or audience share, purchase history in terms of product or services, cadence and period, website content consumption, and social and other channel engagement. Each data set should be useable as a segmentation criterion.
Identify High Performers
Your highest performing customers are responsible for a truly disproportionate amount of your business' income. In B2C e-commerce that's especially true, but it's true in B2B and other sectors too.
Look for behaviors like advocacy and evangelism, as well as high purchase value and frequency if that's relevant. You want customers who are praising your offering in Quora posts or Facebook updates or in comments on blogs on LinkedIn as well as spending their own money with you.
Customer data helps you identify them and the peripheral behaviors they also engage in. Tracking lets you see how your best customers come to you – by social, by referral, by search? Tying these together gives you a holistic, customer-centric data set you can use to model and predict behaviors and optimize media and content for conversions.
Find Look-Alikes
Seek to identify other customers who match your high flyers' behavior patterns. Use relevant data sets like 'handles' – reach out for customers who have behaviors in common with your best-performing, high-lifetime-value customers. This lets you test the relevance of a data set in predicting high CLV behaviors, since correlation doesn't always equal causation, and it lets you increase the reach of your messages without diluting their impact or the accuracy of their targeting.
Develop Personas
You're already using personas. But unless you're way ahead of me here, your personas are likely to be works of fiction, based on poor data or none at all. These are what Ardath Albee calls 'Ouija board personas' – plucked from the ether, with little solid foundation.
With the data you now have on customers, segmented by the most relevant criteria, you should be in a position to build buyer or customer personas that actually tell you something about the people your messaging is targeted at. When you add detail and color to a persona – where else they shop, their musical preferences, profession, education – you can add it from reality. Your personas will reflect who your customers really are, so even the tangential aspects of your marketing messages like cultural assumptions will be much more on-target.
Step 5. Predict and Plan
Once you have working personas, the next thing to do is to build a map for them to move through. Each persona should have a buyer journey already understood to some degree; what you can do now is plan how you intend to support that journey at each stage. The notion that we're marketing for leads who will travel down a funnel should be left behind: instead we're using data analytics to improve our understanding of buyer behavior through a complex, semi-cyclical journey.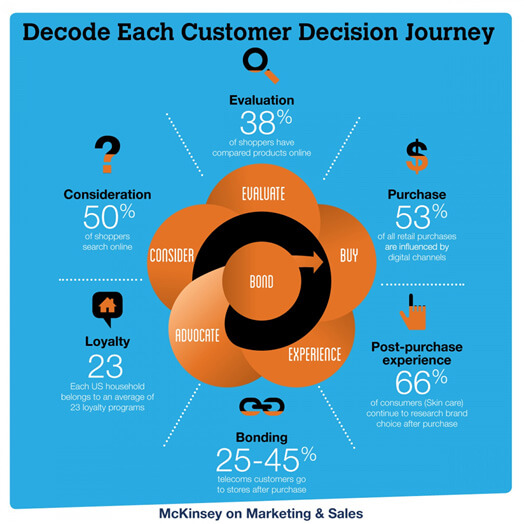 Predictive Modeling
Predictive modeling is segmentation for the future – sectioning out your audience based on your forecasts of their behavior. Naturally that's impossible without a solid data foundation. With one, you can identify customers by segment and act, rather than react, by preempting their behavior. Customer churn modeling, for example, allows marketer to predict customer churn based on the fall of other metrics and intercept those customers before churn rather than struggle to re-engage afterward.
Map Out Media
Planning media usage in this way can allow you to assign ROI for specific customer segments. Use simulations of the personas and associated buyer journeys you already have to achieve accurate predictive ROIs for video, emails, blog posts, push notifications and every other aspect of a campaign before you start, allowing accurate budgeting. Repeated iterations will make these more accurate.
Map Out Improved Buyer Journeys for Personas
Identify crucial turning points: click-away, abandonment and conversion points can all be reinforced when you know where they are in the journey and which actions on your part correlate with improved outcomes. Once understood, much of this can be automated – emails, in-app and push, SMS, and cross-channel automations like workflows triggered from website behaviors.
Step 6. Test Flight and Review
Having a map isn't enough. When you get lost in the woods you need a map and a compass – because without some means of finding out where you are right now, a map is useless.
Before you invest the whole business' resources in a new plan, backed by data, do a trial run. Use the opportunity to collect data as you do it.
Farnaz Erfan again:
'It is important to make sure that the right data is collected on a 'continuous, consistent, comprehensive and comparable' (4Cs) basis (custom links, landing pages etc.) and re-attribution methodologies employed as necessary for proper comparison.'
You need to measure trajectory as well as plan it. Run small pilot campaigns to tweak processes, discover unforeseen flaws and tighten planning.
Analyse and review
Treat your pilot campaigns the way you'll treat your full-size ones. Collect data every step of the way, compare it with the targets you set and collate it for sharing with stakeholders. You also get the chance to test predictions, and thus to test the planning process: if your predictions are wildly wrong it may be a fluke but it's more likely to be a flaw in the logic that linked this metric to that outcome.
Get together in frequent, mandatory, all-hands meetings to go over the campaign in terms of the key ROI metrics and ask: where are we with regard to these numbers? Are we undershooting, overshooting, by how much, and why?
Iterate
The capacity to collect and utilize data immediately makes short iteration cycles possible. Calls to action, media and device targeting can all be altered successively to optimize campaigns which will then be rolled out full-size. Budgetary redeployment can also be based on data acquired during 'test flights' to improve the ROI of marketing investments in non-owned assets.
Step 7. Deploy
Once your test flights are showing positive results, it's time to roll out a full-size campaign. Deployment should be rolled out by scaling the pilot campaigns where possible; where those campaigns won't scale to full-size, you should have solid personas, preemptive segmentation and a plan for data acquisition during the deployment. It makes sense to think of deployment as many short cycles rather than one long one, corrected on a daily or weekly basis by incoming data.
Optimize Media Purchase
The depth and accuracy of the data you now have on your audience allows you to prioritize media purchase, based on both the priority of that audience segment and the expected ROI of the purchase.
If you're using PPC you can build rules-based, data-backed bidding strategies that ensure ROI. More broadly, the same applies: build media buying strategy informed by the customer value and frequency you know from your transactional data.
Track with Real-Time Optimization
The iterative practices of the test period are simply scaled with the campaign. This lets us optimize every stage of the buyer journey by optimizing the content and messaging we're using to support it, based on feedback that's immediate, detail-rich and customer-specific. Use programmatic platforms to tweak content, media, messaging and dialogue options while the campaign is in progress, operating multichannel campaigns from a single platform.
Check Against the Main Metric
Constantly check the key metrics – ideally a single key metric, broken down by weeks and days, allowing all staff to 'own' tracking and progress. Alexander Skorka observes that 'tailoring your dashboard to user needs transforms ideas into action and data visualization into visual management support.'
One of the primary tasks of the data team should be to set up dashboards showing marketers their progress against this 'main metric' in real time, and you should consider providing this companywide: everyone has a vested interest in revenue, right?
Carry the habit of mandatory meetings through from the test flight phase; the meetings might need to be further apart once a real campaign is wheels-up but the same questions need to be asked: where are with regard to our most important numbers, and why?
Conclusion
Data driven marketing puts more effective messaging and more accurate segmentation within the reach of marketers. Implementing it fully will have profound consequences for the organization which will sooner or later have to restructure itself around its data. Desiloization of data will entail desiloization of the organization. In the meantime the two biggest challenges will be managing the data in the first place- acquisition, storage, analysis, insight – and presenting the findings to the rest of the organization. To make a data driven marketing plan effective, the most important metric needs to be clearly presented to marketers in a way that gives them ownership over daily results as much as possible.
About The Author
Richard Bayston is a freelance blogger and copywriter covering tech, digital marketing and content strategy for SMBs. I've also been known to write on health and fitness. Find out more: Richard@RBCopywriting.com or @RBCopywriting. The rest of my time is spent arguing amicably with my wife and Googling the answers.
Featured image source.