The role content management platforms play in the development of the web is hard to overstate. It was, after all, the notorious ease of blogging and publishing on the web that helped lead to a paradigm shift in how people all around the world consume and create content.
This in turn greatly democratized the voice of the early internet, and therefore, the media, ultimately leading to a generational shift in how its users viewed the world at large.
And for brands, CMS platforms at first offered an easy way to manage and publish content, helping them reach customers on the web for the first time.
The later development of inbound marketing technology and methodology solidified the business case for web publishing, and what's more, introduced marketers and writers alike to a newer, more technically sophisticated field.
WordPress and HubSpot are the two most prominent, long-time leaders in CMS. Both platforms represent a unique approach to marketing and content management. In an effort to help users pick the right platform, we've created a thorough HubSpot vs. WordPress comparison.
A Bit of Company History
HubSpot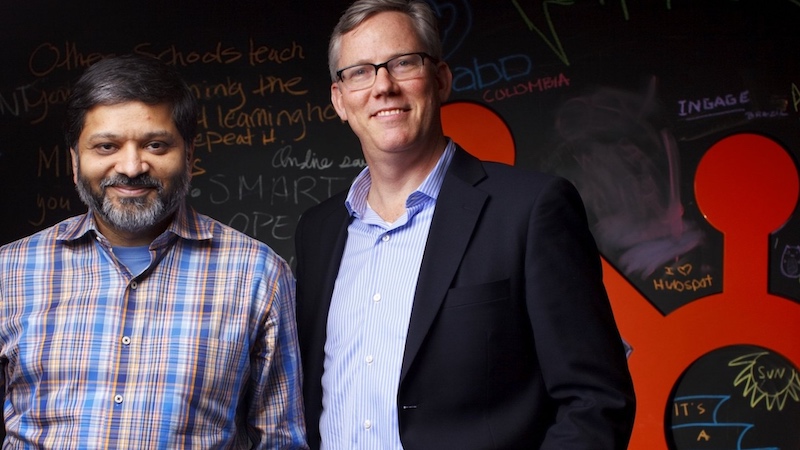 2004 brought the beginnings of HubSpot, co-founded by Dharmesh Shah and Brian Halligan during their time at the Massachusetts Institute of Technology.
Officially founded in 2006, their market analysis suggested that traditional marketing was falling behind. Their proposed solution: a kind of web-based marketing designed to passively pull in users, and nurture them with blogs, ebooks, and emails, until they become paying customers.
HubSpot coined the term to describe this practice, inbound marketing, and created a set of best practices and philosophies to help organizations reach more consumers in an organic, affordable, and personable way.
The popularization of inbound marketing, and the company's dedication to customer education, is perhaps the brand's greatest achievement. HubSpot effectively marketed the marketing method by becoming an inbound marketing powerhouse itself, generating thousands of blogs, downloadable content, webinars, emails, interactive tools, and podcasts—all aimed at instructing organizations on best practices and actionable advice.
In short, HubSpot effectively sold content marketing by providing a highly visible and extremely well-search-indexed example for others to follow.
Over time its platform has matured, adding more core functionality that helps organizations comprehensively address content marketing efforts.
HubSpot would later go public in 2014, raising $125 million, and achieving a valuation of $759 million.
WordPress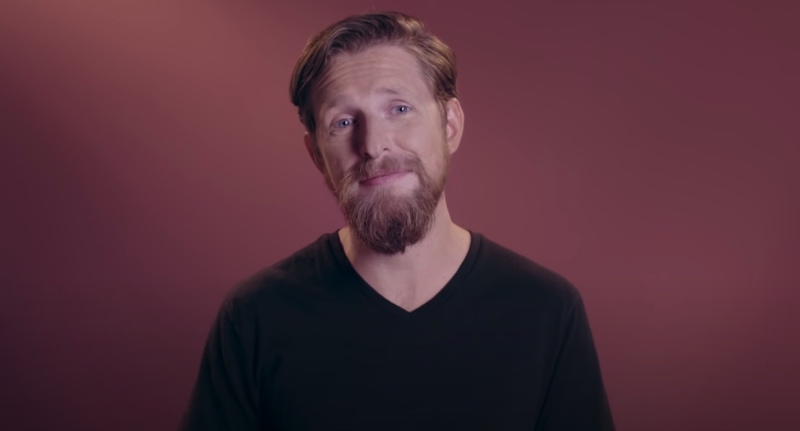 WordPress was first conceived in 2002 by Matt Mullenweg, a college blogger at the time. After graduating he was forced to drop his ongoing blog, citing personal matters, but the blog's community members urged him to continue.
Mullenweg soon after created a new branch of HIS blog, with the help of Mike Little, which ultimately led to the creation of WordPress.
A beta version (Version 0.7) was launched in the spring of 2003, and the full release dropped the following January.
In 2005, an exodus of users fled a competitor, Movable Type, which helped WordPress gain an early footing. Later that year, the organization raised $1.1 million in seed funding, which helped the startup establish the first annual WordCamp, a volunteer-run community event for their then-budding developer community.
WordPress has gone to great lengths to foster and serve the community since then. To date there's been 1,063 WordCamps hosted in 259 cities on all continents, save for Antarctica.
The early version featured many of the hallmarks features it's known for today: SEO permalinks, quick installations, profound upgradeability, comment moderation, and, of course, blogging.
Years later, in 2008, WordPress raised a whopping $29.5 million in Series B funding and saw the launch of the theme directory, where developers sold their custom site builds. Custom post types were introduced in a 2010 update, and the number of 50 million WordPress blogs was reached in 2011.
Over time, the platform has expanded greatly, thanks to numerous acquisitions, feature adds, and the growth of its expansive community. Today, WordPress is a top-rated CMS that runs approximately 25 percent of all web pages.
Overview of HubSpot Reviews vs. WordPress Reviews
HubSpot
HubSpot's CMS and corporate philosophy revolve around inbound marketing. It facilitates this marketing method with a complete array of blogging, publishing, and marketing tools, content formats, and educational content about inbound marketing. It's ultimately more limited in customizability, more difficult to design with, and features a somewhat dated look, but it provides a superior experience for organizations looking to quickly get on their feet.
User's take: "If you're starting from zero, this is a great building block."

– Trent H
WordPress
WordPress is a fully customizable CMS, a deep tool appreciated by designers, developers, and content publishers alike for its flexibility and ease of use. Users can create blog posts, web pages, and multimedia objects, among other formats. While it's possible to have WordPress.com host and manage a site, many users will install WordPress on a web host that specializes in WordPress and manage everything there.
Importantly, WordPress distinguishes itself from HubSpot by presenting a hub-and-spoke model, where a limited feature set for blogging and page creation is complemented by a wide range of third-party plugins, many from leading tech brands.
Its design and customization options are superior as well, allowing for easier custom solutions, purchasable themes from professional developers, and a large pool of experienced platform developers.
Comparing HubSpot CMS vs. WordPress CMS
In the following section, we're going to go quality by quality and leave you with a comprehensive understanding of how the two CMS platforms compare in the key aspects of marketing work.
User Interface
Verdict: Both offer simple and easy-to-navigate user interfaces. Users unfamiliar with CMS may find WordPress' hub-and-spoke model more confusing, whereas HubSpot is much simpler to use for those new to inbound marketing.
HubSpot
Above all, HubSpot's greatest asset is its ease of use. New users can get up to speed quickly with pre-built templates. Additionally, it comes with a lot of built-in marketing tools. Made more difficult by requiring users to use a specific language to pull in dynamic content, HubSpot Markup Language, not as customizable as PHP. Ideal for startups and small businesses, but past that point the rigidity of its design options and lack of integrations make it tougher to recommend. Other than that, it offers users a ready-to-go platform.
WordPress
Among the top reasons for its popularity, it has tons of themes and website-building tools, all of which don't require coding experience. However, custom coding of site modules makes WordPress' design possibilities far greater than HubSpot. Lost users are well-served by a host of YouTube tutorials, WordPress TV, and user forums, which can help newbies learn how to add features to their sites.
User's take: "I love the vast choices of pre-designed templates available and the widgets already at your disposal… and the fact that you allow other users to create templates for purchase… The dashboard is simple to figure out and has a great GUI."

– Adam S.
On-page SEO
Verdict: HubSpot's aggressive SEO firmware updates and native support may be ideal for beginners, but WordPress' customizability brings with it broader functionality, especially in tracking SEO goals, where HubSpot is lagging behind.
HubSpot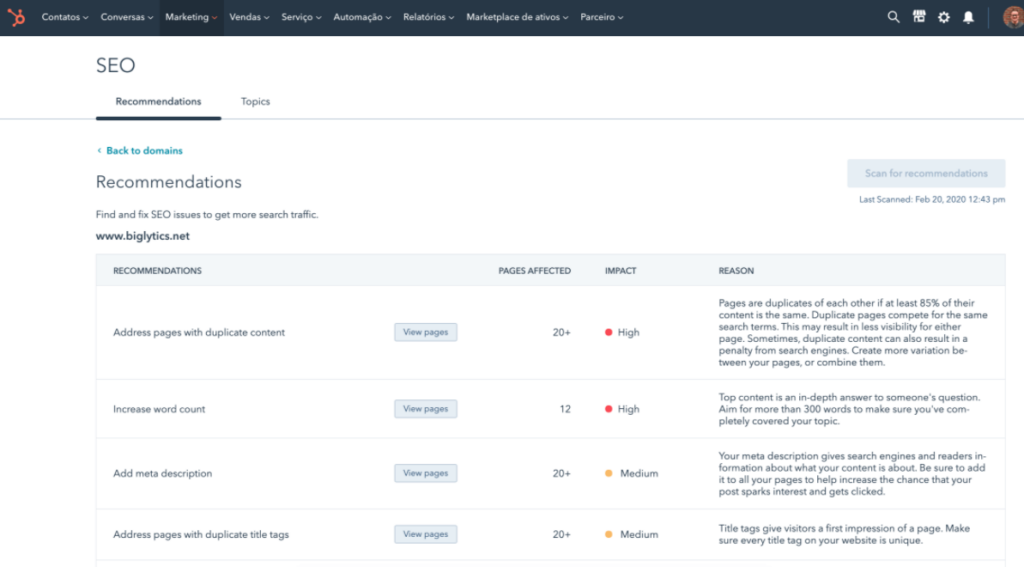 It's built for SEO – the company thoroughly updates its systems to keep up to date with the latest search trends and Google algorithm updates.
It features SEO tools to help you track keyword progress, and improve on-page SEO. A plethora of easy-to-read guidance on the web can help users expand their reach. That's why many of the best local SEO companies are recommending HubSpot – it's SEO-friendly which means you can quickly scale your content strategy.
The platform also helps enable users to improve their content marketing efforts by identifying opportunities for content clusters and pillar content.
WordPress
Once more, WordPress provides no proprietary on-page SEO optimization. That said, the third-party plugin Yoast is a thorough and highly recommended tool to assist with on-page SEO. You also have access to a big variety of Yoast competitor plugins such as SEOPressor, and a long list of plugins for specific SEO tasks such as redirects or image compression.
Conversion Rate Optimization
Verdict: HubSpot CMS offers basic, but highly comprehensive conversion optimization tools, including embedded and trackable calls to action and personalized content. WordPress offers a list of plugins for the same functionality, but they vary in quality and ease of use.
HubSpot
HubSpot has conversion tools built into its analytics and content management ecosystem, including custom form fills, calls to action, and tracking analytics. Smart content lets you personalize it to the type of user.
WordPress
Again, WordPress CMS requires a third-party plugin for the creation and analysis of landing pages. Popular options exist in the form of JotForm, Ninja Forms, and Gravity Forms.
Landing Pages & Lead Generation
Verdict: HubSpot CMS again offers more native (and more seamless) tools for lead generation, and offers high value due to their platform's focus on inbound marketing, whereas WordPress offers workable plugins that are sometimes difficult to manage.
HubSpot
HubSpot features native integrations and tools for all the functionality WordPress lacks, with a landing page tool that allows for easy page creation and customization.
The full suite of marketing tools greatly helps align content marketing efforts toward lead generation, including an analytics tool that offers meaningful metrics to track visits, sources, email opens, conversions, and clicks.
User's take: "Initially starting using Hubspot to generate leads – none of our leads were inbound and all new customers acquired through outbound marketing. Now we have a lot of leads coming in." Victoria N.
WordPress
Foundationally, WordPress CMS' strength is in standard page creation and design and offers users the ability to either create a blog post or a site page.
It's overall better for users looking to implement a custom solution, as landing page creation requires a third-party plugin. Popular plugins include OptimizePress (from $97/month) and LeadPages (from $35/month), and there are freemium alternatives like Formidable or Contact Form 7.
Though landing page functionality can be functionally emulated through this format, the end result may be difficult to update and maintain. Any further customizations to the theme, ensuring its responsiveness, may require a PHP-fluent developer. Embed forms, analytics, and A/B testing would require additional plugins as well.
Blogging
Verdict: WordPress shines as a blog editor, offering way more tools to customize the look, feel, and functionality of your blog. HubSpot offers a broader platform that integrates native tools into blogs, though blog customizability is limited, and the design is dated.
HubSpot
HubSpot offers a complete blogging and marketing platform. Users can embed multimedia within blogs, track behavioral data with approachable and meaningful analytics, and, with a professional license, embed calls to action and create a landing page.
WordPress
WordPress's basic blog function is also plug-and-play, containing a sufficient range of tools for media creation, storage, and management. Advanced content tools are available as well, for those seeking advanced customization of blog pages.
User's take: "As a user, I find blogs and webpages made with wordpress to be easy to navigate. There are also tons of free templates that you can use, or you can pay to use a custom template. I love that I can make my blog/business page reflect my personality and my business."
Design
Verdict: WordPress offers superior design customization, many purchasable templates from professional designers, and a wide talent pool of developers, all of which HubSpot lacks.
HubSpot
HubSpot is function-over-form, defined. Pre-made templates are designed for their functionality, lacking ways to set them apart visually. HubSpot has a template marketplace to aid in page design, but HubSpot web pages, blogs, and landing pages tend to look alike much more so than WordPress, with big bulky modules that function correctly, yet lend a somewhat "cheaper" and "all-purpose" feel.
User's take: Not all email elements can be customized in the editor. Only text elements allow for html/css customization. Want to change the margins on an image? You'll have to export the html, update it, and re-import it as a template. Less than ideal.

– Casey C
WordPress

Far and above superior for those who rank design high in their priorities for a CMS tool, offering a virtually endless range of customizability, easily reaching professional-grade sites, and a pre-existing pool of labor that has specialized in its use.
Analytics
Verdict: This one again comes down to preference and technical sophistication, HubSpot's analytics are complete and easy-to-grasp for most inbound marketing, while WordPress relies on a range of integrations, many of which offer superior functionality, like Google Analytics, but require more knowledge in use and installation.
HubSpot

Like the rest of the platform, HubSpot's analytics are simple, easy to use, and lend users a somewhat comprehensive view of site traffic, lead activity, conversion rate, content downloads, SEO rankings, traffic source, sales, and a range of other metrics.
An additional reporting module is available, the Growth Suite. We've seen it close the loop between marketing and sales. It is a sufficiently sophisticated analytics tool that is able to help both sales and marketing professionals grow.
"We have pretty accurate data on user flows and journeys rather than having to puzzle together different software… ALL activities a contact does show up on a timeline. Even for marketplace integrations, so you'll always have the full picture of activity."

– Falco W.
WordPress
WordPress is a blogging platform at heart and lacks a native analytics tool. With the help of plugins, sites may be easily connected to Google Analytics, Google Tag Manager, and most other analytics tools.
Email and Marketing Automation
Verdict: Yet another case of preference. If you're already doing email marketing and have a tool of choice, WordPress is likely ideal. HubSpot's feature set is expansive, but doesn't do everything that a dedicated marketing automation tool would handle.
HubSpot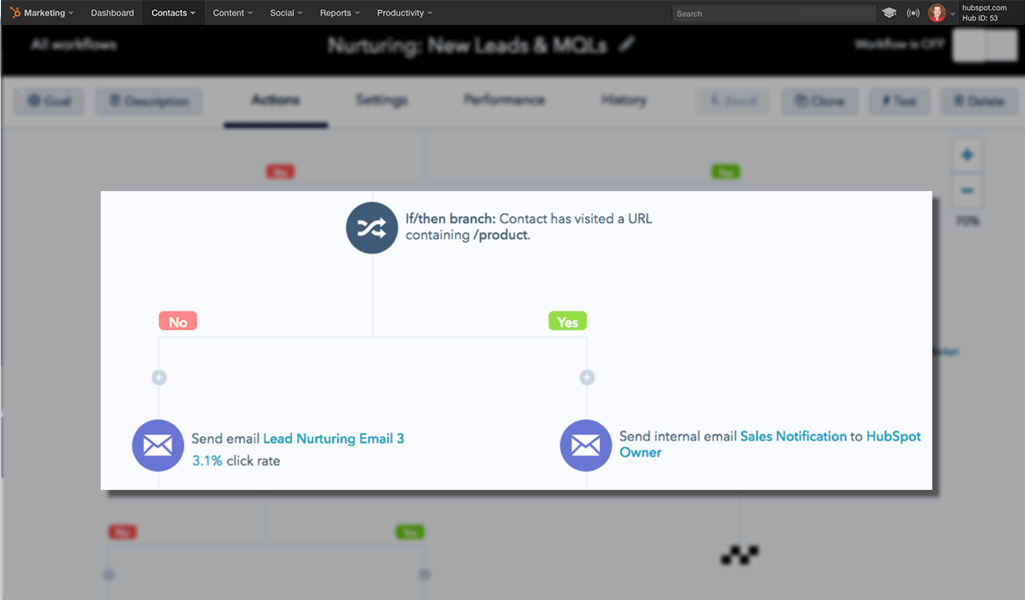 Email tools are included even in HubSpot's free version and are effectively integrated into the CRM tool, allowing for email marketing campaigns and automated lead nurturing. Holistic analysis of email marketing performance and its place in the broader sales and marketing funnel.
As a CMS with CRM ambitions, HubSpot lends several native tools and processes for marketing automation. Within email marketing, this includes A/B tests on email, or personalization tokens that can customize messages based on the recipient.
What's more, automated email and nurture campaigns are easy to set up, manage, and track. Also, its workflow feature allows users to splice and segment audiences for targeted messaging.
Yet, we often see that clients may prefer to stick with a marketing tool they're already using, instead of the baked-in HubSpot functionality.
WordPress
WordPress doesn't offer native emailing or marketing automation tools, as you might have expected. But the platform's many integrations can greatly expand its capabilities, so if you're already doing email or marketing automation through platforms like ActiveCampaign, Autopilot, Drip, or Pardot, WordPress integrations will be the way to go for you. Even HubSpot CRM integrates with WordPress.
Product Support
Verdict: While both brands have extensive and detailed community support, helpful materials, and good hands-on customer service, some combinations of WordPress' third-party integrations can create technical issues that there are few answers for.
HubSpot

HubSpot's support and large library provide a nearly endless supply of useful blogs, infographics, webinars, and other digital content focused on inbound marketing. HubSpot Academy exists as well and helps newbies learn the basics through interactive assignments.
Technical advice, though, is harder to come by.
Helpdesk support is exceptional, and a basic license grants such support. All users are able to get email support within 24 hours. Premium support, customer success, and technical help can be quite costly, though, with remote onboarding sessions costing as much as $1,500, and in-depth support sessions available at $5,000.
WordPress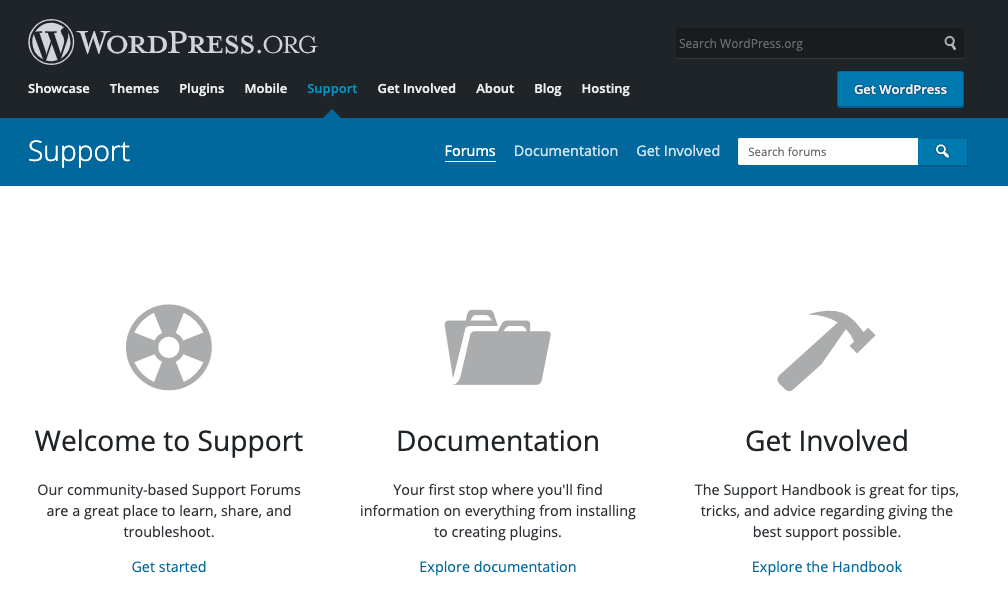 Tons of design tips and tutorials are available, as WordPress has heavily invested in fostering an enormous community of developers and designers. The range of content and delivery formats is vast – documentation, community support forums, downloadable handbooks, YouTube tutorials, and WordPress TV. Customer service is minimal, but purchasers of themes may receive 12 months of support.
User's take: "If you are new to building a website, you can easily figure out WordPress.org by watching some YouTube videos. Although there are simpler tools out there that are drag and drop, they don't have as much capability down the line."

– Laura G.
Pricing
Verdict: Even mildly sophisticated users can squeeze a great deal of functionality out of WordPress' many free plugins. HubSpot's pricing model is generally more aggressive.
HubSpot
A free version is available with a stripped-down feature set, but a professional-grade license will cost users $3,600 every year, including dynamic content conversational bots, extra reporting capabilities, and A/B testing, and guarantees 99.99 percent uptime.
The enterprise version, with web app building capabilities, extended governance, and branding features, including activity logging, code alerts, and custom configuration rises to just over $10,000.
WordPress
WordPress' base software can be downloaded for free; costs are incurred to expand functionality beyond page creation and publishing tools, in the form of plugins, themes, integrations, hosting, and security.
These third-party applications aren't guaranteed to be easy to use, requiring hours of dedicated staff time or freelance developer outsourcing for installation and updating.
"The large network of plugins, themes, and templates means you're never far away from implementing an already developed solution that could save you hundreds or even thousands of dollars."
Summary of Expert User Feedback
HubSpot and WordPress have both been rated the top two leaders in G2's Web Content Management quadrant. First and second, respectively.
Overall, HubSpot received higher ratings in most categories. Those include meeting the requirements of its users, ease of use, setup, and administration, on top of the quality of support, product direction, and ease of doing business.
HubSpot is also rated higher for content features, and platform features like versioning, asset management, dashboards and reports, and user community.
WordPress generally followed close behind in most categories, often only losing by a slim margin. Other victories include the entire design category. WordPress also beat out HubSpot for its rich text editor and plugins.
WordPress reviewers repeatedly remarked on the customizability and open-source nature, often indicating that this setup makes it perfect for developers pursuing custom site builds.
Both platforms also received criticism for a lack of collaboration functionality (that said, HubSpot particularly excels at collaboration between marketing and sales departments). WordPress was also criticized for its security, as the combination of independently developed plugins leave in their place security vulnerabilities specific to WordPress sites, making them a target for hackers.
Our Conclusion: HubSpot or WordPress?
The choice between HubSpot and WordPress comes down to your goals. HubSpot may be ideal for your first inbound marketing tool suite. However, if you're looking merely to run a well designed blog, or manage mostly static pages, WordPress may be ideal. Similarly, WordPress may also be best matched for the most sophisticated users who already have preferences for their marketing tools, and are budget conscious, as it's plugins can help cut costs dramatically.
Bonus: 2 More CMS User Reviews You Might Find Helpful
HubSpot vs. WordPress
"Be flexible and open to what exactly you want in your new website. Some of the features that would be "cool" might not be possible or would require you to invest more to have them developed and built out. You have to weigh what you want vs. need — especially if you are on a deadline, such as needing the site launched by a conference/trade show appearance or something. Review collected by and hosted on G2.com."

– Shane L.
"It would be nice to have a part of Hubspot dedicated to collaborative projects among the marketing team (something like what Basecamp does) integrated into Hubspot. We also found the Hubspot feedback survey capabilities subpar and decided to integrate Survicate instead, which is fine, but would be nice to have kept it simple with Hubspot. "
"Works seamlessly with the Sales Team – they can use all the captured leads and then they go into the Sales cycle – which is easy to view on the pipeline. This can go through to deals and proposals – through to deal won. So you see the whole cycle and how Hubspot helps." https://www.g2.com/products/hubspot-cms-hub/reviews/hubspot-cms-hub-review-4274848
Depending on the complexity of your process and tracking needs/requirements, you may still need some level of programmer/developer support to complete landing pages. It would be great to add more of the "easy to use" features so we could eliminate the more costly resources and still accomplish the content/sales lead gen goals. https://www.g2.com/products/hubspot-cms-hub/reviews/hubspot-cms-hub-review-4275986
HubSpot Marketing Hub really solves any "problem" you face with regard to building an inbound marketing strategy. It gives you every vein and channel you need to be successful in engaging your audiences with inbound content. The major benefit is that, for the most part, it is fairly simple to use and learn. https://www.g2.com/products/hubspot-cms-hub/reviews/hubspot-cms-hub-review-4270540
"Thanks to HubSpot's "Tasks" feature, I can easily set up a list of calls for the day, or week, and create follow-up Tasks as my calls are logged. It's a great organizational and time-saving feature. If you are anything like I am as an inside sales professional, there's nothing better in terms of helping you hit your call goals for the day."

– Tony M.

"I suppose if you're used to using a tool that's designed to use one specific task then there are things that can seem a bit limited in some ways on HubSpot. Having said that, they're always developing features and they welcome product ideas so it's always improving as a platform."

– Administrator in Computer Software.

"Workflows do have some constraints that I find especially frustrating. Mainly that I can't use certain functions to trigger them. Playbooks and products are two prime examples of things that do not work well with workflows which in turn makes it hard for me to automate stuff around the sales process. Such as deal creation based off of specific products or property updates based on specific products. I also wish there was a way for me to ensure that our sales team can't move forward with closing a deal without filling out a specific playbook. Lastly, I find reports to be a little tricky to use at times, and I wish I could set up an automatic email to send out specific reports to my team once a week."
WordPress vs. HubSpot
The constant updates are great for adding new features, but they are also used for patching lots of security flaws and holes. With as many bot networks that target WordPress sites, it's a matter of "when" not "if" your site is going to be hacked unless you are on some type of a security or maintenance plan.
Something else to consider when using WordPress is that many of its plugins require specific licenses to be used. This means as you grow, WordPress can grow with you, but often at a significant cost. I had a number of experiences where I needed to pay to upgrade my WordPress license in order to then pay more to add a feature to the plugin I was already using. Heith B. H. I am currently managing two sites using WordPress—and I have managed two others in the past. I find WordPress to be a good solution to use for those just starting out. I've also used WordPress solutions to supplement other sites for things like micro-sites/long-term ad campaigns, knowledge-base hosting, company blogs, and digital storefronts. Its ease of use makes it something I am comfortable setting up and then turning over to someone else to manage.
Also, the versatility of WordPress means I can tailor my site's functionality to fit whatever my business needs – from content marketing to landing page funnels, downloadable resources, online purchases, events – it's all possible and far more affordable than a lot of the independent website development companies. Be sure to ask for a proactive hosting service that includes your updates and a baseline of tech support. Well worth it as it can save you from a lot of problems down the track.

– Fiona C.

"WordPress offers everything necessary to launch your website with easy to use approach services. It's observed that professional web development services are costly and therefore there are huge upfront costs to manage after launch. WordPress offers Hassel free and low budget maintaining of your project. I was new to web development before using WordPress for my first project and as a newbie I really enjoyed and learned so much about web development and WordPress itself… It's not always easy to find the right plug-in, sometimes you required custom tailored plug-in for specific need."
Sources
https://www.noisylittlemonkey.com/blog/HubSpot-cms-vs-wordpress-cms-which-is-best-for-your-business
https://kinsta.com/wordpress-market-share/
https://www.crunchbase.com/organization/automattic/company_financials
https://vtldesign.com/web-strategy/blog-design-wordpress/wordpress-vs-HubSpot-cms/
https://central.wordcamp.org/about/
https://www.rystedtcreative.com/wordpress/HubSpot-cms-wordpress-comparison/
https://www.bluleadz.com/blog/HubSpot-vs.-wordpress-cms
https://www.babelquest.co.uk/blog/HubSpot-cms-vs-wordpress-cms-comparison-guide