Google Analytics 4 (GA4) is an essential tool for tracking website visitors. However, it lacks several functionalities, forcing marketers to look for an alternative.
With so many alternatives on the market, it can take time to pick one. But that's what we're here for — to help you choose the right tool for your specific needs. In this blog post, we'll review the five best GA4 alternatives you should consider switching to. 
Key Takeaways
Switching from GA4 might be your best move, as UA will be sunsetted on July 1, 2023. 

GA4 is an upgrade from UA, but it lacks features key GA4 alternatives — Mixpanel, Amplitude, Heap, Adobe Analytics, and Kissmetrics offer.

Mixpanel is an excellent GA4 alternative for tracking user behavior patterns across multiple devices and platforms.

Marketers should consider Amplitude Analytics if they want to go beyond tracking their marketing website on desktop or mobile.

Similar to Mixpanel, Heap and Kissmetrics can be great alternatives to GA4 for marketers interested in event-based tracking.

Adobe Analytics can be viable for those looking for longer data retention and more complex campaign tracking mechanisms.
Why You Want to Switch from GA4
By default, GA4 data retention is set to two months. While you can increase it up to 14 months, the tool doesn't allow you to compare the current data to previous years.
Switching to GA4 from Universal Analytics (UA) means you'll have to manually migrate your data.
GA4 eliminates the ability to create multiple views and filter out specific data points and reports into different views. The tool also has a limited data structure.
GA4 vs. Mixpanel
GA4's event-based tracking makes it easy to see how visitors come to your website. Like GA4, Mixpanel labels each user with a unique identifier, making it a great option to track users' behavior patterns across multiple devices they might be using.
 

GA4

Mixpanel

Tracking Way

Behavior analysis
Unlimited number of users and actions

Behavior analysis
Unlimited number of users and actions

Data Update Frequency

24 to 48 hours

Real-time

Data Preservation

Up to 14 months

5 years

Historical Data Import

Limited options

Variety of options

Advanced Reporting

Available

Impact or signal reports

Pricing

Free with limits. Unlimited version starts at $12,500/month.

Free up to 100,000 monthly tracked users. Paid plans start at $25/month.
Data Export
While GA4 only integrates with other Google products like BigQuery, you can link Mixpanel with various data sources.
Effectively Track Your Marketing Campaigns
& Prove ROI
Regardless of what analytics tool you use, you need to have an efficient strategy to track your marketing campaigns and reach your ROI goals.
Additionally, you can use Mixpanel with different engagement, attribution, and A/B testing tools. These help product managers get data from various channels and combine them to understand the user's footprints better.
Data Update Frequency
Mixpanel provides real-time data updates. In contrast, GA4 only updates its data every 24 to 48 hours. Real-time data updates keep you in the loop of all your users' behaviors and allow you to adjust dynamic creatives and campaigns immediately. As such, it helps you save money on advertising by enabling you to make timely data-driven changes to your campaigns.
Data Retention
Since having access to historical data is crucial for data-driven decisions, Mixpanel is a better choice than GA4. By default, Mixpanel stores all user data for five years. Meanwhile, GA4's default for data retention is two months, with the possibility to expand it for up to 14 months. Mixpanel allows you to import historical user data from various sources. GA4 also supports data importing, but compared to Mixpanel, its options are limited. With less data available on hand, GA4 shows its limitations in storing, retrieving, and analyzing user behaviors.
Data View
Mixpanel contains all of your data. Engineering, marketing, support, and product teams can have Data View filtering for data that's relevant to them. With Mixpanel, you can separate customer data from internal user data. This way, you don't have to add cohorts or filters each time you create a dashboard, report, or cohort as you should with GA4. You can also create a region-specific data view.
GA4 vs. Amplitude
With the best-in-class cross-device tracking feature, Amplitude Analytics is focused on everything beyond the marketing website.
| | | |
| --- | --- | --- |
|   | Amplitude | GA4 |
| Identity Resolution | Across devices, platforms, and channels | First-party cookies and Google account |
| Combining Online and Offline Events | Support all websites and products | Relies on mobile and web |
| Tracking User's Journey | Supports sales accounts tracking and other aggregations | Funnel and path exploration features |
| Implementation | Almost 90 tools in partner ecosystem | Only two implementations that work within Google's ecosystem |
Identity Resolution
Amplitude maps user data across devices, platforms, and channels using various identifiers like phone numbers, emails, and internal CRM IDs to a single profile of one user — giving you users' journey data through acquisition, activation to retention, and more. Identity resolution gives you a more accurate picture of how users interact with your website regardless of the channel or devices they use.
When users move across their devices, GA4 can also track them. But to connect their behaviors across multiple sessions on various devices, you'll need to associate your own identifiers with individual users. As a web-first analytics tool, it relies on first-party cookies, Google Chrome's power, and the user's Google account for tracking. Its reliance on third-party cookies to track user interests can cause issues with non-Google browsers, such as Safari.
Tracking Customer Journey
Customer journey mapping is crucial as it provides a unique viewpoint and assists you in optimizing and maximizing your marketing efforts. With Amplitude, you can understand how customers interact with your brand and discover critical touchpoints to enhance prospects' route to conversion.
Tracking user journeys with Amplitude can also help you discover points in your marketing funnel where customers may drop off, allowing you to improve your strategy.
GA4 offers funnel and path exploration features to track user journeys. It shows what steps website visitors take before converting.
Implementation
GA4 offers two implementations for web analytics: global site tag and Google Tag Manager.
When it comes to mobile app implementation, GA4 works with Firebase and Google Tag Manager (GTM). If you're not using Firebase and GTM, you might have difficulty implementing it. Plus, Firebase only works with Google Cloud and is not open source.
Amplitude has nearly 90 tools in its partner ecosystem. Amplitude also sends data directly to APIs and includes integration toolkits that make mobile implementation easier. It may take a few days and a developer's help to implement, but it offers more personalization and event tracking options.
Combined Behavior
Both Amplitude and GA4 expand the user journey by combining app and product activity metrics with web behavior. Then, they leverage ID resolution to track end-users through more interactions.
This lets you understand how prospects behave throughout various touchpoints, helping you prepare more effective marketing campaigns.
Read our Amplitude vs. GA4 Comparison: Tracking, UX, Integrations & Pricing article for a more in-depth look and breakdown of the two platforms.
GA4 vs. Heap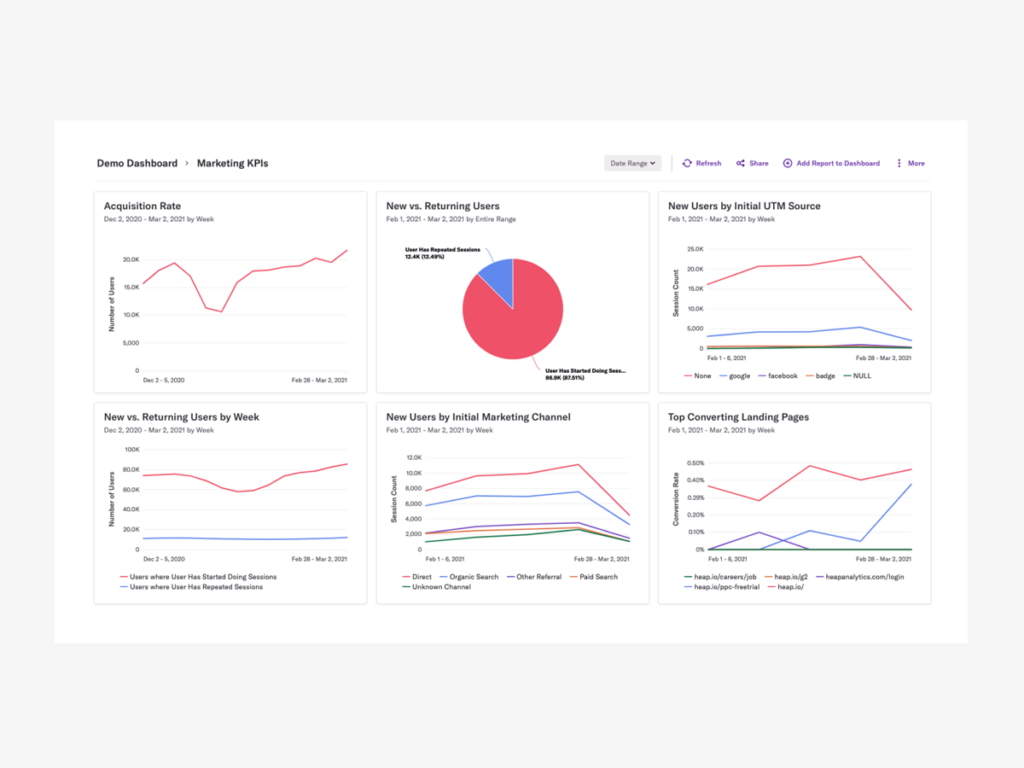 Launched in 2013, Heap is an insights platform focused on event-based tracking similar to GA4.
| | | |
| --- | --- | --- |
|   | Heap | GA4 |
| Event Tracking | Supports retroactive event tracking | Doesn't support retroactive tracking |
| User Tracking | Tracks individual user's behavioral data and journey | Doesn't show user's journey by default |
| Pricing | Offers free and paid plans | Free tool |
Event Tracking
GA4 is event-based and it tracks behavior based on various types like pageviews and form tracking. This allows you to see what led customers to your page's form submission, which can increase your CTAs and sign-up rate. Setting it up requires implementing custom events.
Heap includes retroactive automatic event tracking, allowing you to track and analyze different user events without having to manually tag a user behavior — which you will need to do if you use GA4.
User Tracking
With GA4, you can get an overview of your customer base and its patterns. However, it doesn't show every user's journey by default, and you need the User ID reporting feature to get access patterns, most visited pages, and repeating behaviors.
Heap allows you to view replays of drop-off or conversion moments in every step of the funnel. The tool uses two APIs to track users:
Identify API — for associating a unique identity with a single profile and keeping user histories across sessions and devices.
addUserProperties API — for associating custom characteristics with your users, whether they're identifiable or not.
By setting up these APIs, Heap can display an individual user's journey along with an overview of your whole customer base and access to the behavioral patterns of individual users and user segments.
Heap also includes Effort Analysis, a feature that allows you to combine the interactions, engagement, and time spent on a specific web page or in your product.
This allows you to track the amount of effort your customers place on their journeys and better optimize them using Heap. GA4 currently doesn't offer this, making Heap a better choice when you want to fully understand your customer journeys and improve conversion and retention rates.
GA4 vs. Adobe Analytics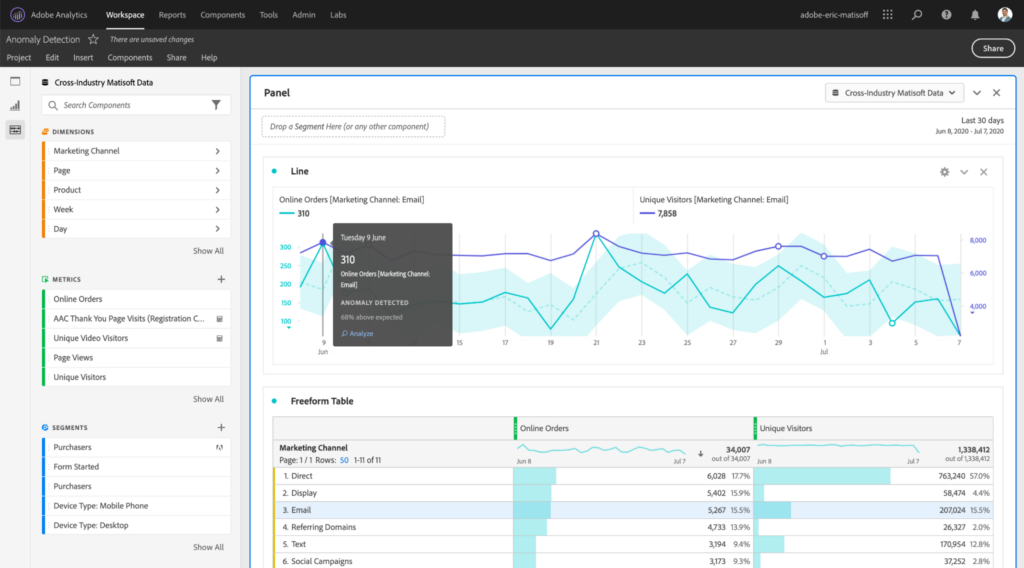 Adobe Analytics is a part of the Adobe Experience Cloud, which offers granular data analysis. It lets you analyze data from any digital point in the customer journey and the platform is popular for its customization and flexibility.
 

Adobe Analytics

GA4

Historical Data

Up to 10 years

Up to 14 months

Campaign Tracking

Requires setting up additional JavaScript plugin, with
up to 30 rules for classification   

Requires adding UTM parameter to landing page URL

Conversion Tracking

Unlimited

Up to 30 conversions

Data Visualization

Includes data visualization tools

Includes data visualization tools
Data Retention
Adobe Analytics is a better option if you're looking for longer data retention. Data collected by this analytics tool can be retained for up to 25 months and even longer — up to 10 years and 1 month — for a fee.
Campaign Tracking
With GA4, you'll need to use UTM codes to track your campaigns. Specifically, you'll have to add the UTM parameters at the end of your landing page's URL. From there, Google will group the campaign data. Or if you integrate yout GA4 to Google Ads, it will track your campaign without UTMs.
Meanwhile, Adobe Analytics requires you to configure their JavaScript plugin — AppMeasurement. Doing this will capture the campaign tracking codes, which will then get assigned to all campaign links routing traffic to your website. From there, you'll need to set up supplemental classification rules.
While Adobe Analytics has a more complex campaign tracking mechanism, it allows up to 30 classification rules.
Conversion Tracking
GA4 tracks 30 or more web and app events and classifies four mobile events into conversions.
On the other hand, Adobe Analytics allows you to monitor hundreds of events at the same time for conversion tracking.
Adobe Analytics Use Cases
Adobe Analytics is best for combining data you're getting from multiple sources like call centers, POS systems, and more into a single reporting view.
What makes Adobe Analytics unique is that its workspace is no longer constrained by a strict definition of a 'hit' or 'event.' It enables you to create custom schemas to take total control over your data and definitions.
GA4 vs. Kissmetrics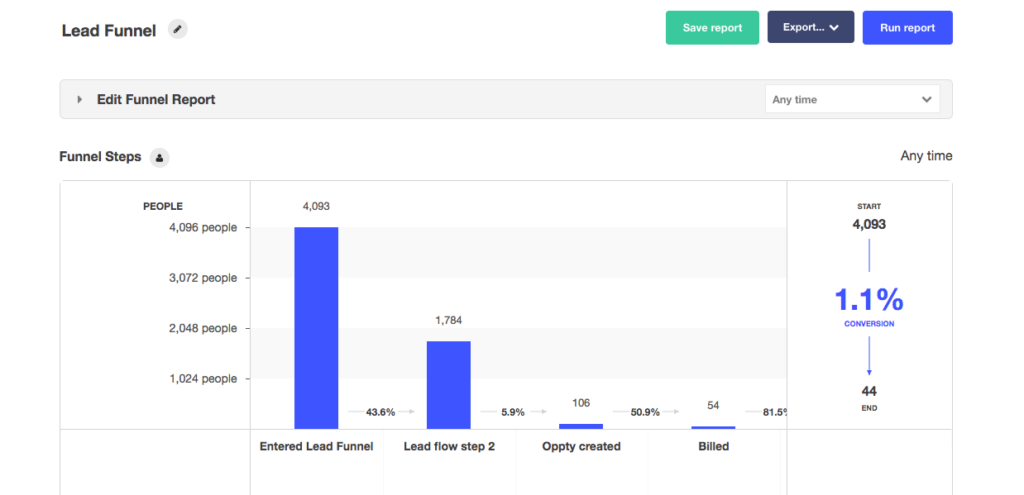 Founded in 2008, Kissmetrics is a behavioral analytics tool for product and marketing teams.
| | | |
| --- | --- | --- |
|   | Kissmetrics | GA4 |
| Anonymous Data Tracking | Focuses on specific users and is more personalized | Treats anonymous users as new visitors |
| Data Accuracy | Tends to be more accurate since it tracks specific users and determines if they are accessing the website from various devices or browsers  | Tends to give less accurate conversion rates |
| Customer Journey | Tracks entire customer journey | Shows customer journeys based on events tracked |
Anonymous Data Tracking
GA4 collects anonymous data, which means that their results are based on a broad sample of visitors, informing you about your website's general website performance. Since GA4 uses anonymous data tracking, they assume that each visit represents a new visitor. As a result, when customers use different devices, the conversion rates are inaccurate.
Kissmetrics associates all of their data with a single person and detects when they visit your website from several devices or browsers. Conversion reports are more accurate since it connects all of this data.
Customer Journey
Google Analytics records sessions and events rather than visitors. While it doesn't create customer journeys automatically, it gives you a customer journey view based on events and sessions it tracks. GA4 helps you understand what's going on your website before the conversion occurs, but it leaves many questions regarding the overall experience of individual users.
Kissmetrics tracks full customer journeys and displays drop-offs along the way, enabling you to determine when exactly a potential buyer has opted out of a transaction.
Identifying Leaks
Considering that Kissmetrics tracks users on multiple channels and gives you the full picture of your customer journey, it's best to use this tool to identify leaks in your funnels. This will ultimately help you optimize your campaigns and boost conversions.
Which Google Analytics Alternative Should You Choose
Overall, Google Analytics alternatives offer many real benefits for marketers. Which GA4 alternative you choose will come down to your goals. For example, if your priority is to get real-time analytics and create year-to-year data views, Mixpanel would be the answer. Yet, one of the most important features GA4 alternatives provide is the ability to track users across multiple devices. Since GA4 lacks this feature, its data can be inaccurate. Amplitude Analytics does a great job in terms of linking user activities across multiple channels and giving you an opportunity to take a deep dive into your customer journey.
Wondering which tools are best for the job?
Visualize how your stack of tools works together. Improve your marketing, optimize your budget.