So you've written an amazing piece of content. You're ready to unleash it upon an unsuspecting world and start reaping the benefits of shares, tweets, likes and other social signals.  
But how can you be sure your marketing your content effectively? You know which channels work best, but how do you track the kind of response you're getting?
You do it with UTMs.
What's a UTM and Why Should I Use Them?
UTMs are simple text strings that you can add to the end of your URLs to tell Google Analytics where your traffic came from, how it got to you, and, perhaps most importantly, which campaign it's part of.
In short, UTMs let you see precisely which campaigns are getting you the results you want, right from within the Google Analytics dashboard. If that got your full attention, you'll want to see precisely how to set them up by following our in-depth "Dummies" guide here.
But if UTMs are so helpful, why don't more marketers use them?  Simply because, if you try to set them up the old fashioned way, they can be cumbersome and difficult.  Fortunately, we've done all the heavy lifting to help make adding UTMs to your marketing arsenal easier than ever, especially with free tools like our UTM Builder for Chrome and this article, which tells you a few of the many things you can track using UTMs.
Once you have a solid grasp of the basics though, how do you actually start tracking things? It's one thing to tell you what UTMs are and what you should be tracking, but how do you take a new piece of content and start tracking it?  Let's take a closer look:
Email Marketing with UTMs
To start tracking the success of your email marketing campaigns, your first step is going to be loading up your newsletter or announcement in your favorite email marketing platform. Here's an example of a sale announcement from TaskRabbitCampaign Monitor: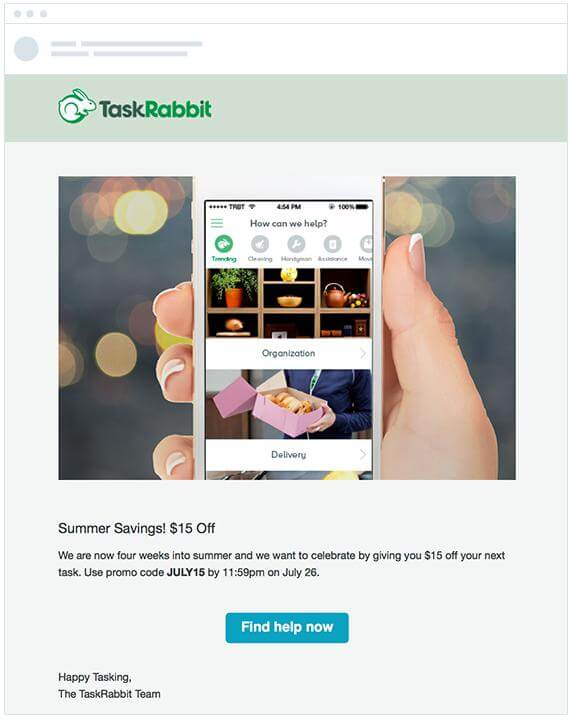 An example of an email newsletter to illustrate how to use UTM codes in email marketing. 
In this example, we have three potential areas where people can click: the logo, the hero image and the blue call to action button.
Following this example, we'd load up the McGaw.io chrome extension UTM builder, and input the following:
Campaign Source:

houselist_newsletter

Campaign Medium:

email

Campaign Term:

*leaving this blank*

Campaign Content

: logo

Campaign Name:

summer_savings
This creates the following sample URL:
https://www.taskrabbit.com/?utm_source=houselist_newsletter&utm_medium=email&utm_content=logo&utm_campaign=summer_savings
The bolded parts are, as you can tell, the UTM pieces that tell Google Analytics where the traffic is coming from, what medium was used, what was clicked on, and the name of the campaign.
This is just for the logo. You'd want to create new UTMs using this same process for the hero shot and call-to-action button, naming the "Campaign Content" part appropriately. Once each link has its own UTM code, it's time to send that newsletter and wait for the results.
Scroll to the bottom of this article to see how and where to view the results you'll get, but first, I think once you see just how well UTM codes work with email, you'll want to use them for other promotional channels too, so let's see how to do that.
Tracking Shared Guest Posts with UTMs
Let's say you've got a piece of solid content on a well-known blog (like this one!), and you want to see how well it performs on various channels. Like with email marketing and UTMs, you'd go through a similar process for tracking your shared posts.
For the website URL, you'd put in the URL of your content piece on the blog

For campaign source, you can put in the name of the blog

Campaign Term you can again leave blank since you're not tracking any paid keywords here

For Campaign Content, you can differentiate between the types of content on the page to determine what, specifically, was shared. For example, if you have an infographic in your post, you can make a UTM-enabled URL for it to determine how often that particular piece was shared compared to your post as a whole.

Campaign name can be whatever you want it to be to help you make sense of the results.

Then simply create the link. Any time this link is shared with the UTM info appended to it, that information will be funneled into Google Analytics.
You should note that creating these kinds of URLs often can get rather cumbersome and disorganized quickly. Fortunately, with the McGaw.io UTM Builder, you can save you presets so you don't have to keep going back and recreating URLs every time you want to change one small thing.
It's a good idea to get into a normal naming convention that you'll understand. Calling your guest post "content-test1" is going to be pretty meaningless when you look back at your post's performance a month from now. And because UTMs are case sensitive, I recommend using lowercase where possible.
Facebook, LinkedIn, Twitter Posts and Advertising with UTMs
Tracking and measuring the success of your posts on Facebook, LinkedIn, Twitter and other advertising methods using UTMs is not only a smart marketing decisions, it can save you money as well.  See which one of these social channels is really giving you the most for your advertising spend as you gauge the results in your analytics dashboard.
UTM tracking in social media is particularly helpful when you want to differentiate between different links on the same social media platform.  Did someone click your Facebook link in a shared post, or in an ad?  Proper use of UTMs can tell you.  
Google Analytics will even bundle URLs that come from the same referrer – such as Twitter.com and their built-in URL shortener t.co.   The process is exactly the same and you can use the UTM Builder chrome extension to easily create and save your UTMs across all your social media channels.
Now the question then becomes —
Where Do I See My Results?
You've built the URLs. You're getting traffic. Now's the time you get to see your efforts pay off.
Log into your Google Analytics dashboard and click on All Campaigns from the right side.  Don't panic — because the results you'll see here are from everywhere, not just email or social. Fortunately, you'll get to see precisely how using UTMs has paid off.
If you go to Acquisition > All Traffic > Source/Medium you'll start to see specific sources of traffic, like in this example screenshot from Sprout Social: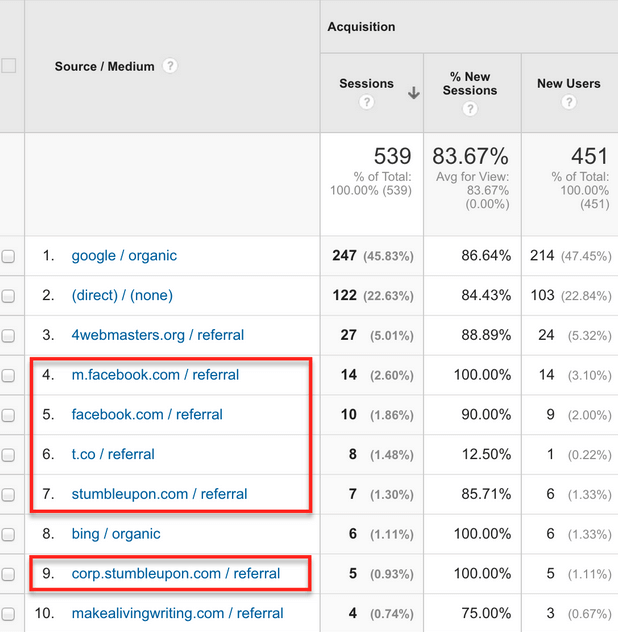 But this is just scratching the surface.  How do we see, for example, on the t.co / referral whether it was a click on our Twitter tweet or our Twitter bio?  Clicking on the t.co / referral link by itself still won't tell you, so at the top of the list, click on the Secondary Dimension dropdown below the Source/Medium section and choose Ad Content: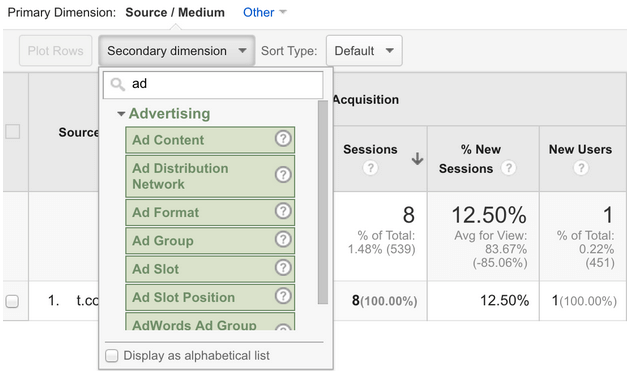 There, you'll finally see (because of the details you added when creating your UTM-enabled URLs, what, specifically, people clicked on within Twitter to end up at your site: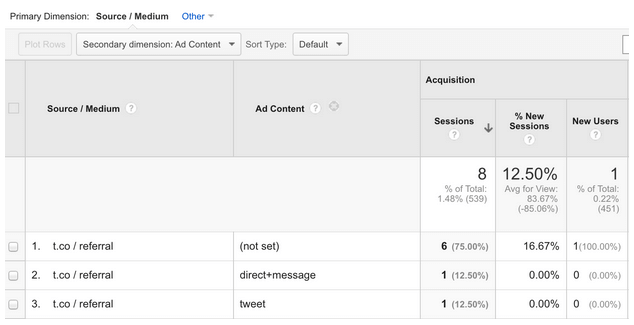 This process works the same way for paid campaigns you're running too. You'd simply go to Acquisition > Campaigns > All Campaigns and then follow the same steps to search for Ad Content as the secondary dimension to see what items from your campaign links were clicked on.
Easy, right? And so much more insightful than the clump of URLs you get in your Google Analytics dashboard by default!
Help! My UTM-Enabled URL Is Too Long!
Sometimes, though, despite your best efforts, you can't always put the full UTM-enabled URL where you want.  Certain sites like Twitter and LinkedIn will automatically shorten URLs or otherwise make it a pain to use the full URL string.
Fortunately, you can use a URL shortening service like Bit.ly (our Google Chrome extension gives you this option as well) to create your own custom URL that redirects to your longer one.  In some cases, such as with LinkedIn, you can use anchor text  so that you don't have to spell out the whole Bit.ly URL.
It may seem like a lot to set up in the beginning, and enlisting the help of a Google Sheets or Excel spreadsheet can help you better track which names you used where, but as you can see, UTMs are the best way to squeeze every drop of tracking goodness from your results.  The fact is, there's no better, faster or cheaper way to see precisely how your campaigns performed, with the kind of precision you'd normally only get from paid platforms.
Do yourself a favor and take the time to set up these URLs for your next ad campaign. You may be surprised to see what truly resonates with your target audience — and it's a much better avenue than just guessing!  Let us know how the process goes for you, and don't forget to post any questions you may have about UTM tracking and content marketing in the comments below!