UTM tracking offers an unparalleled level of accuracy and detail when you're tracking your traffic. You can track traffic from multiple sources and display the results in Google's free and familiar Google Analytics dashboard.
The level of detail would be impressive from a paid tool: set up UTM right and you can see how much traffic came from a specific tweet, or from a specific image in a particular email. From monitoring entire campaigns to A/B testing changes in imagery, placement and copy, UTM tracking provides the depth of detail you need to make every decision data-driven.
So why don't more marketers use UTM? Mainly because it's seen as difficult, cumbersome and time consuming. But it doesn't have to be. Armed with our 'dummies' guide,' you should be prepped to start using UTMs on all your campaigns and reaping the benefits. First, though – what is a UTM?
If you still have questions about UTM parameters after reading this post, take a deep dive with our sister company's guide to UTM tagging best practice.
What Is A UTM Parameter?
UTM parameters (sometimes called UTM codes) are specific text strings that you can append to URLs that allow you track those URLs when they get clicked on. UTM parameters make Google Analytics pick up on the data in the code and log it with the pageview. The resulting data is visible in Google Analytics, meaning you can track traffic in terms of where it came from and how it got to you.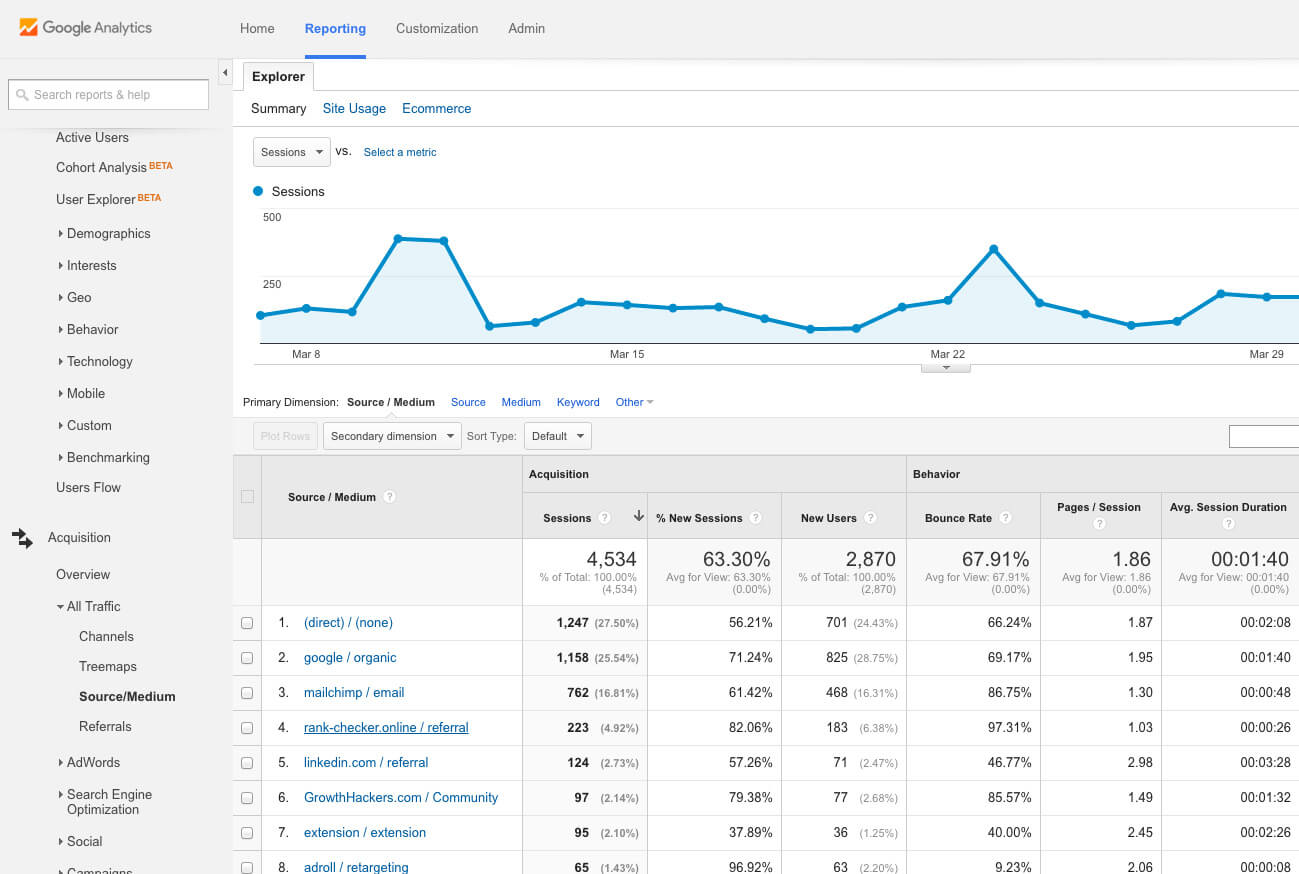 Google will track traffic with cookies – but UTMs let you overwrite standard Google tracking with your own, custom tracking, tailored with parameters that exactly fit your needs. You can customize to a point where you make your own custom UTM parameters.
Tag your URLs with UTMs and Google will tell you where your traffic came from, which campaign it's a part of and the route it took to reach you, as well as information about exactly where on a screen your visitors clicked and which keywords were effective.
What Can You Track With UTM Codes?
Social
UTM parameters let you track social media efforts, allowing you to show which content was most effective on which channel.
Emails
In-email links can have UTMs attached. You can get differential click-through metrics from the same email – are more people clicking the link at the top, or the bottom? Tag the same landing page or signup URL in emails sent to different lists or at different times and get a unique level of granularity.
Advertisements
PPC advertising can be monitored closely with UTMs. Distinguish between sidebar and banner ad performance, or A/B test designs, graphics, sizing and copy.
And More…
Anything that involves someone clicking on a link or typing a URL to come to your website can be tracked with UTMs. Even print ads can offer a shortened URL, usually a redirect to keep your domain visible, which can then be used to track response rates.
The one place you really don't want to use UTMs is internal tracking: every time a link containing a UTM parameter gets clicked, Google flags a new visit. If someone navigates around a few pages on your site using UTM'd URLs, you'll see them in your analytics as multiple new visitors, reducing your data to a mess. The UTMs will also override the original referral data so you'd still be left none the wiser as to the real source of your traffic. It makes more sense to use event tracking or JavaScript's _trackPageView function.
Anatomy Of A UTM Code
A naked, UTM-free URL might look something like this:
https://mcgaw.io/blog/i-deleted-2187-of-my-twitter-followers-here-is-why/
But the whole URL including the UTM code looks like this:
https://mcgaw.io/blog/i-deleted-2187-of-my-twitter-followers-here-is-why/?utm_source=ReviveOldPost&utm_medium=social&utm_campaign=ReviveOldPost
Everything from the question mark onward are tracking modules. You'll see three in that URL; in fact there are five categories of UTM. Campaign, Source and Medium are compulsory. You have to use them if you're using UTM at all. The other two, Term and Content, are optional, so you see them less.
Understanding UTM Codes
Campaign Source
utm_source= tracks where the traffic is coming from. That usually means the website the traffic came from, or the name of the social channel, and that's what Google recommends. In this URL, for instance:
http://unbounce.com/ppc/adwords-account-manager/?utm_source=twitter&utm_medium=social&utm_content=direct-ongoing&utm_campaign=blog
…the utm_source= tag identifies Twitter as the origin of the traffic. Typically, you can use the site name as the Source. But one major exception to this is email campaigns. It's vital to use tagging on emails, but they're not static – there's no website to identify as the Source.
Really, though, the Source just needs to be something that's useful to you when you're doing your analytics at the other end. Using the name of your email service could work: utm_source=mailchimp. You can use any convenient term – 'internal' and 'newsletter' are common. What you can't do is use your domain. It might seem intuitive to do this, but it will make a mess of your analytics by causing email clickthroughs to show up as self-referrals or visits sent from your own site.
Campaign Medium
utm_medium= tracks how the traffic is getting to you, rather than where the link actually lives.
http://unbounce.com/ppc/adwords-account-manager/?utm_source=twitter&utm_medium=social&utm_content=direct-ongoing&utm_campaign=blog
Google recommends using this field to identify the marketing medium, tagging traffic from emails, PPC, and so on.
Source/Medium are usually offered together in the GA dashboard.
See Source/Medium data under Acquisition > All Traffic > Source/Medium. Here you'll see all the activity for UTMs with that source and medium tags.
You can separate them by choosing single parameters, either source…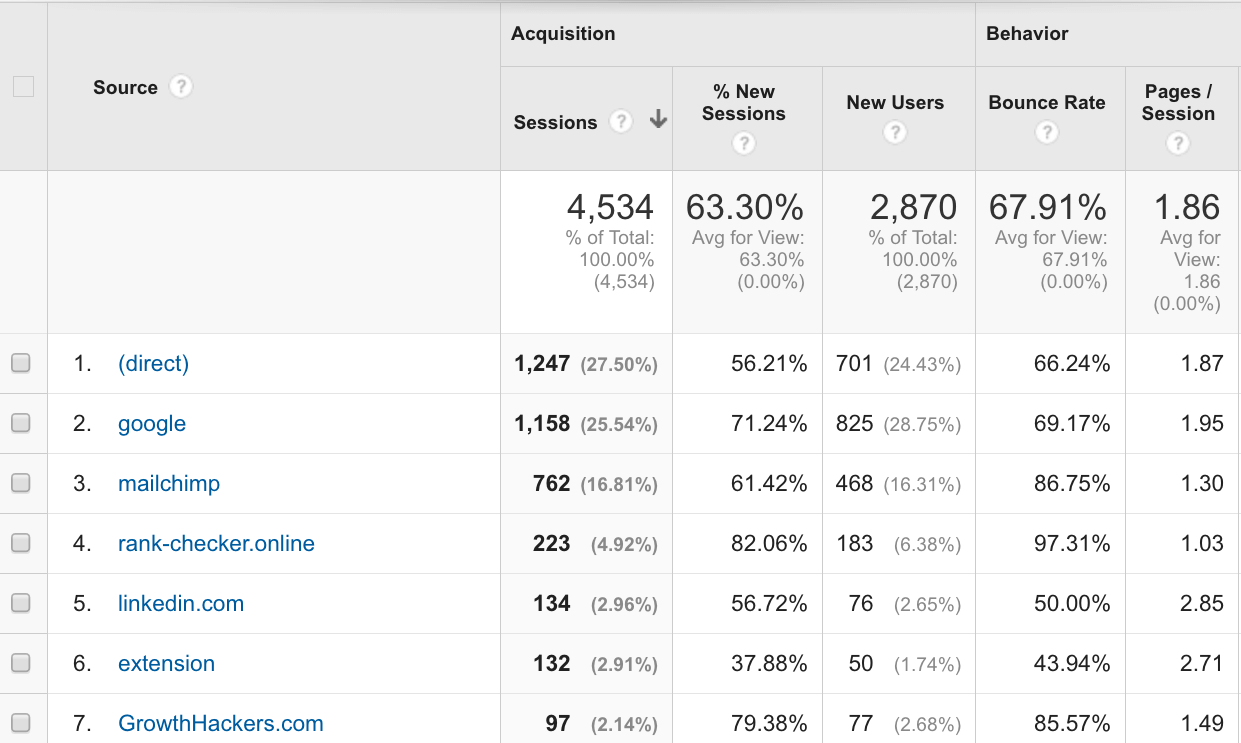 …or medium.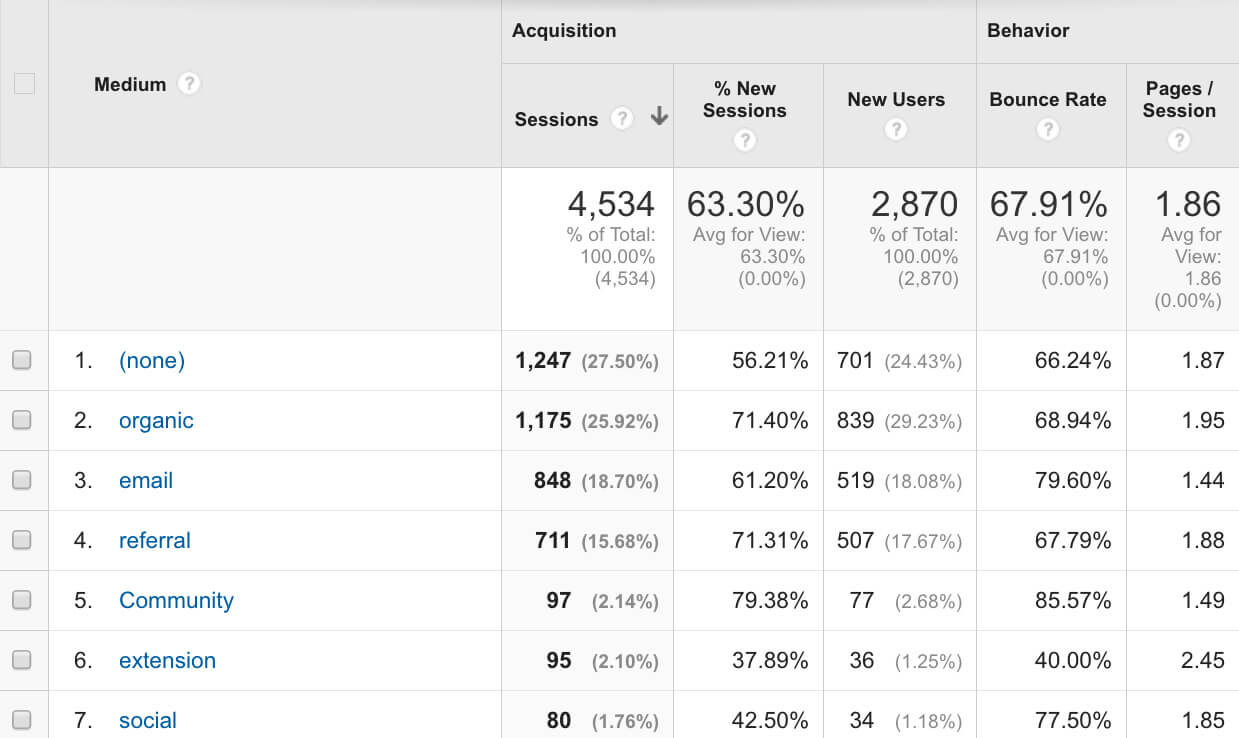 Mediums work best when they're general. Don't make them too precise – while Campaign and Source can be specific, Mediums want to be inclusive. Google automatically identifies:
Organic
(None)
Referral
CPC (for autotagged AdWords links)
One of the major advantages to using UTM tracking is that you choose the parameters – you can select the mediums, campaigns and sources that make sense in terms of your business. But as examples, these make good Mediums:
Social
Email
Feed
Banner
CPC
Display
Affiliate
E-book
Print
Billboard
Partner
QR code
Widget
Campaign Name
utm_campaign= tracks which campaign the traffic was generated by. It shows up in Google's URL builder as Campaign Name, and Google recommends using it to track the product or overall campaign.
https://mcgaw.io/blog/i-deleted-2187-of-my-twitter-followers-here-is-why/?utm_source=ReviveOldPost&utm_medium=social&utm_campaign=ReviveOldPost
Here the utm_campaign= is ReviveOldPost, identifying that traffic as part of a strategy to leverage already-existing content.
When choosing campaign tags, look for something that's going to make sense to your team – don't try getting super cryptic to hide what you're measuring from the competition. You'll just wind up mystifying your own team.
Try to make sure that your Campaign tags are unique to that campaign, but remember that you only need one – don't worry about making Source and Medium tags campaign-specific, but keep the Campaign tag the same across multiple channels.
You can compare campaign performance across different channels only if the three metrics don't interfere with each other, and you can compare them with each other in Google Analytics anyway.
Find Campaign data under Acquisition > Campaign > All Campaigns. (Here, the campaign tag is the same as the source tag.)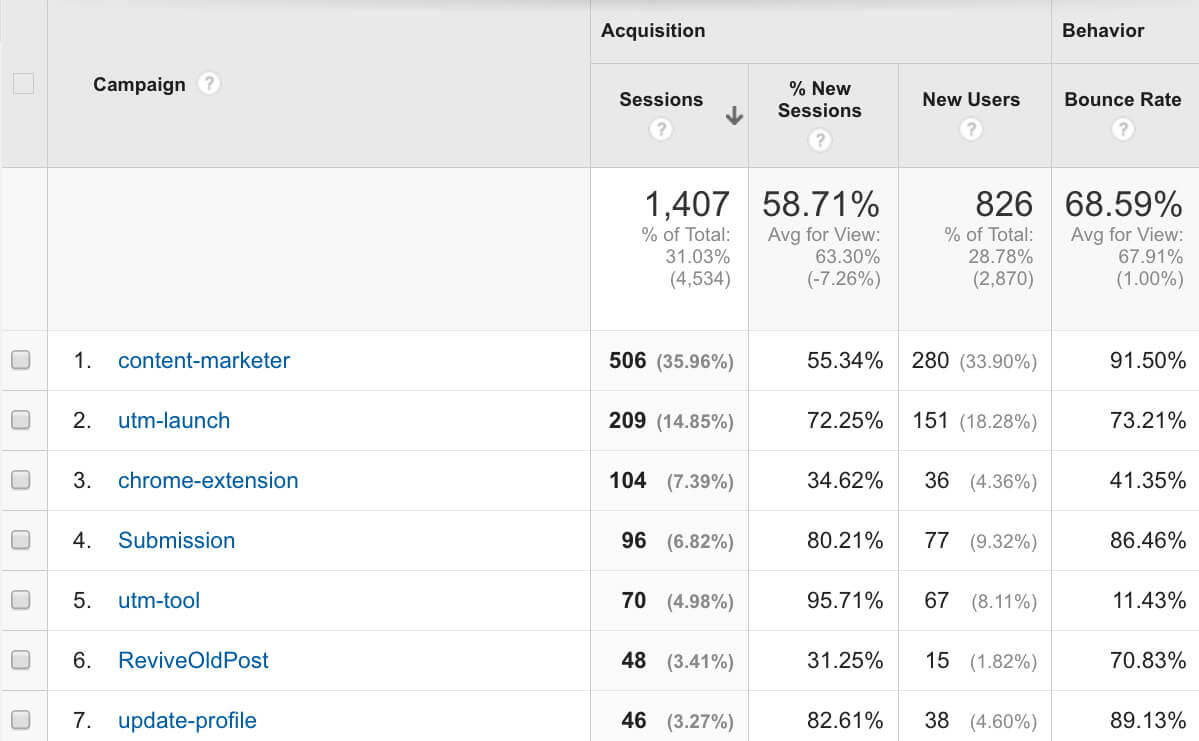 GA lets you track both stats and raw numbers. URLs tagged ReviveOldPost pulled in 48 sessions, 31.25% of them new. Compare that to email, responsible for 50 sessions, and it seems almost level; but 78% of the sessions email produced were new.
UTM tracking gives you the raw material to draw conclusions about which channels are most successful. The granularity of the results allows you to assess whether you're getting more new users, or whether a channel might instead be facilitating retention or engagement, as well as demonstrating ROI on a channel and campaign basis.
Campaign Content
utm_content= tracks the specific ad or link location that produced the traffic. You can use the Content tag to give you the data you need to differentiate and test different versions of the same ad, for instance, since it identifies the specific content even if it shares its destination URL with another ad. This works for different ad placement, design, wording and any other variable you want to test.
Content can also be used for marketing campaigns. You can use it to differentiate links within an email, so you can compare text and image, for instance. In an email with multiple links you can compare link placement by flagging links at the top, middle or bottom of the email with different Content tags. It's also possible to record the date of emails.
Campaign Term
utm_term= mainly used for letting you see ROI on paid keywords, but can track any keyword. It's largely superseded by AdWords autotagging, but if you're running ads outside Google – on Bing, for instance – you'll still need this parameter for tracking. If you don't, your ad traffic will be merged in GA with your organic traffic because Google won't have any means of knowing the difference, which will mean junk data you can't reliably base future advertising decisions on.
UTM Setup
Setting up your UTM tags is simple. If you're doing a small campaign or a one-off, use a simple UTM builder or Google's URL Builder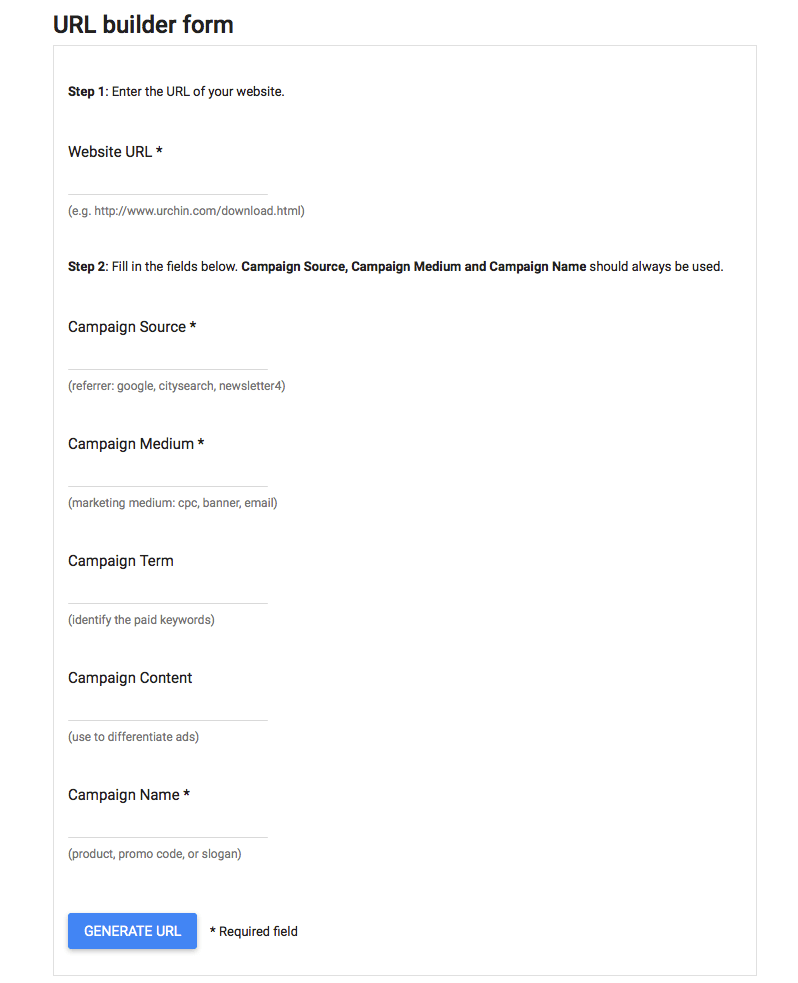 For larger jobs, UTM generators like McGaw.io's UTM Builder has you covered.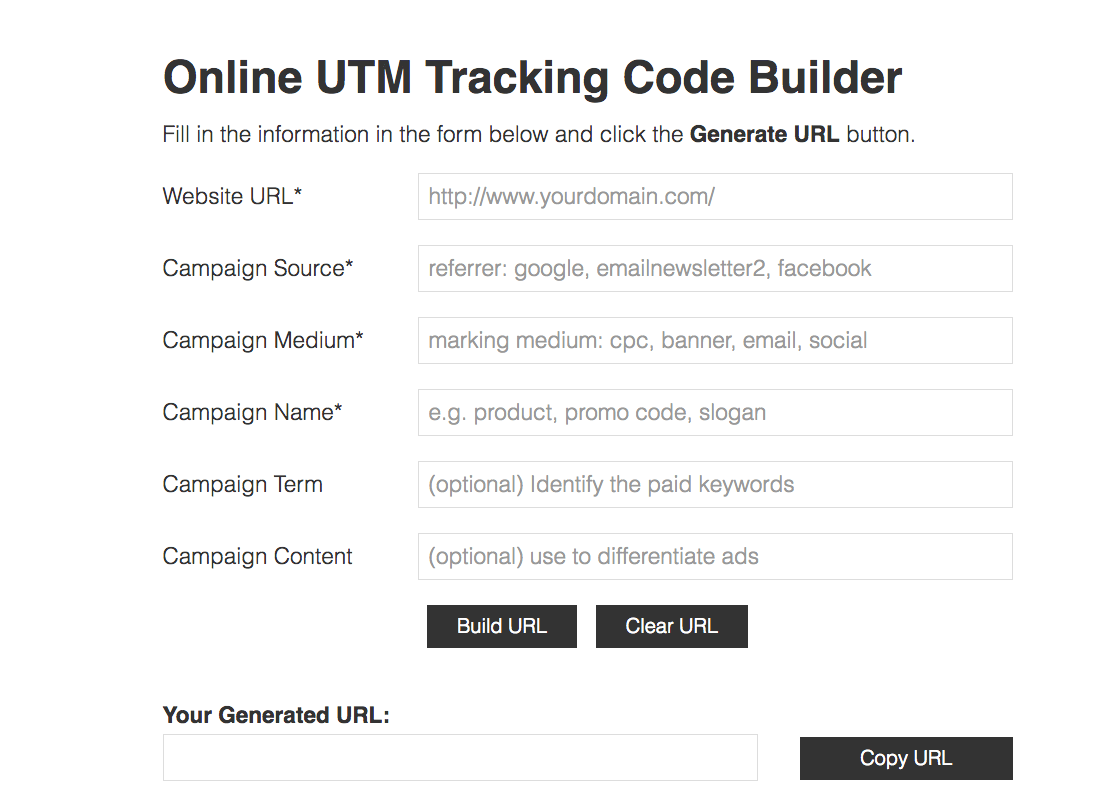 UTM parameters are case sensitive and need to be entered exactly the same each time. If they're not they'll be flagged by Google as different channels.
One solution is to keep a spreadsheet and paste directly from it into the UTM parameters you're creating. You'll likely wind up using a UTM spreadsheet to hold your codes and their meanings anyway, allowing you to keep track of multiple campaigns, sources and mediums.
To ensure that parameters are entered accurately, your team can use UTM Builder's Chrome extension, which offers presets to save the UTMs you need. (It integrates with Google Sheets too.)
With all the UTM appendages, it's easy to create a URL that's too long to Tweet. This one:
https://mcgaw.io/blog/i-deleted-2187-of-my-twitter-followers-here-is-why/?utm_source=ReviveOldPost&utm_medium=social&utm_campaign=ReviveOldPost
… Is 150 characters. So take it over to Bitly or any other URL shortening service and trim it down, or use the built-in Bitly integration in McGaw.io's UTM Builder to generate a Bitly'd URL directly. (You can also use 301 redirects to create a shortened URL that redirects to the UTM-bearing URL. However this can have adverse SEO ramifications.)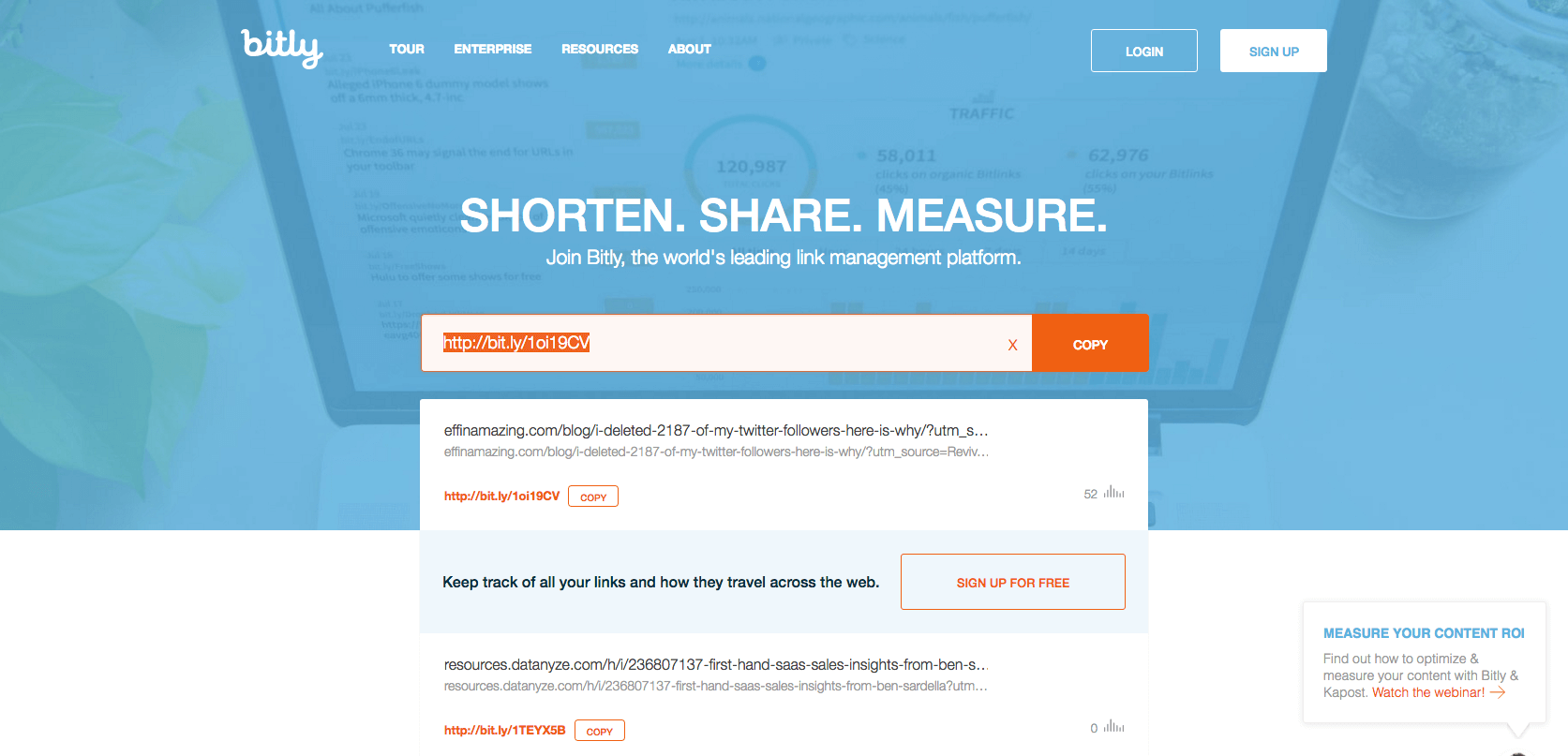 The UTM tracking is all intact; if you're Tweeting it, that's all you need. If you're posting it to Facebook, you'll need to use the Facebook Power Editor to add your UTM parameters after you insert the regular URL. Find your ad in Power Editor, select your ad and scroll down to Tracking, then paste your UTM parameters into the URL Tags box.
Conclusion
UTM parameters excel in two distinct ways at the same time: you get excellent granularity, and you get it across channels with the results all in one place. You also get it the way you want it, with control over how it's logged and presented. It's something every marketer should be doing!
One final note for those concerned about SEO. Be sure to use canonical tags in the head of your webpages. This will eliminate any duplicate content issues UTM links may create.