Do you have a clear, repeatable strategy for converting readers into customers? Do you have a lead generating content strategy?
I (Dan McGaw) built the marketing and analytics agency McGaw.io after learning content strategy and analytics from Neil Patel while working as the Head of Marketing at Kissmetrics. Now I want to show you how to find and nurture more leads through your content marketing efforts.
In this post, I'll break down the steps that McGaw.io took to ultimately grow the traffic of a client 17% and increase revenues in just three months.
———-
Let's start with some of the basics.
Content marketing is not easy. Really, this is one of the hardest things we do at McGaw.io. Just ask the Unbounce team how much effort goes into creating their blog and making it the gospel of the internet marketing industry. This shit takes time, lots of it, not to mention multiple smart people and operations people to pull off.
You aren't going to be an overnight success. Most blogs don't get a lot of traffic in their first year. We started our blog at McGaw.io about 14 months ago and we post regularly: about once a month. We have over 22,000 people on our mailing list and maybe 2% – 5% of them click on emails or visit the blog. Despite all of that work, we still only get about 4,500 visits per month to our blog. With that said, we know it won't just blow up overnight. It's going to take Google a while to give us love, and possibly even longer for you all to stop reading the Unbounce blog and read ours. Joke! You're going to read both of them :)
Content Marketing has a lot more to do with data than you think. At the end of the day, the internet is based on data and what you do with it. If you just start writing to write and don't have a strategy that is backed by data, then you are gonna get minimal ROI. Create things that your customers care about, write about things that help people, and use data to figure out what those things are.
Let me take this one step further. I want you to understand how important data is and how you can use it to dramatically improve your content marketing strategy.
SEO is not dead
First and foremost, you need to do some keyword research to understand if people are even looking for the type of content you're writing about. Even if they are searching for the keywords you're incorporating, are they typing the keyword phrases into Google the same way you are writing your content?
To start doing keyword research, use the  Google keyword planner. We'll use our company McGaw.io as an example, we sell analytics and growth hackery stuff.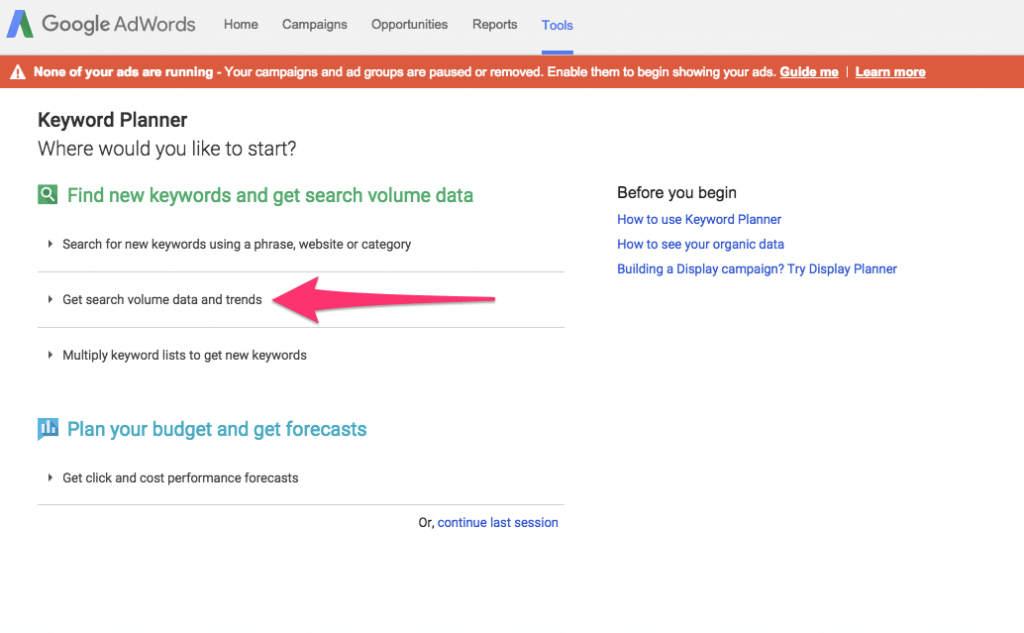 I think people who want our services are searching for words like analytics, KISSmetrics, Mixpanel, Google analytics, data-driven, growth hacking and performance marketing.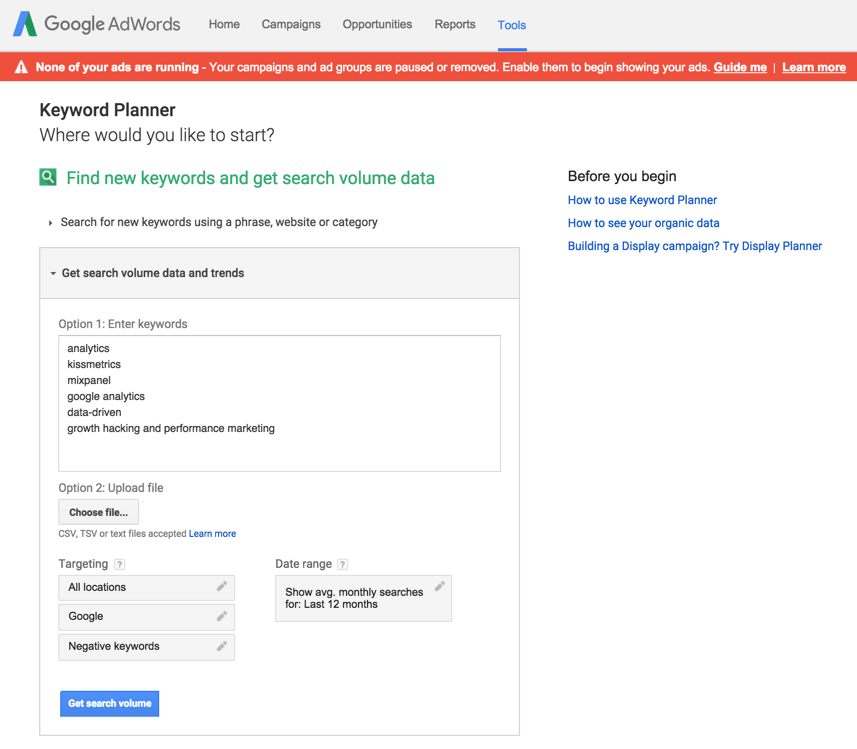 After submitting my keywords into the keyword planner, I can see how many people are searching for each term.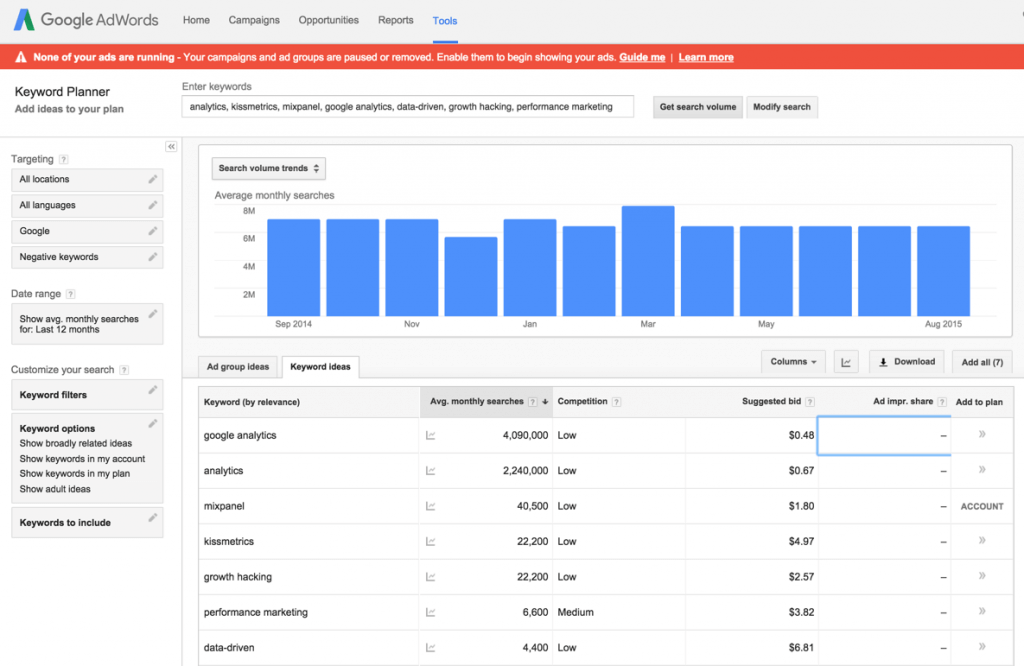 Obviously, "Google analytics" and "analytics" are the winners; but what I didn't expect was the keyword "Mixpanel" would have double the search volume of the keyword "Kissmetrics".
This leads me to believe that in writing my content, I would want to write about Mixpanel, Google analytics, and analytics to take advantage of the larger search volume. 
Now with this data, I can go back to Google and use their keyword idea tool: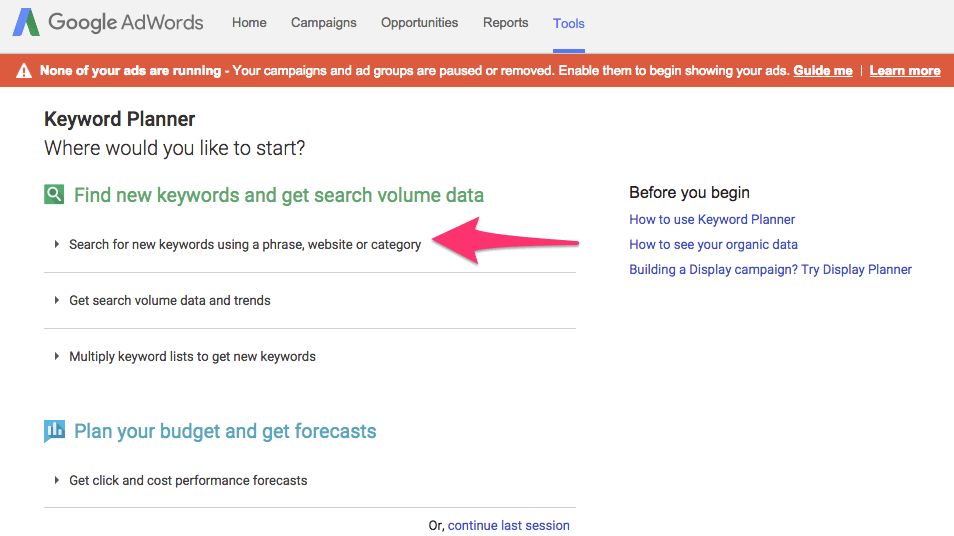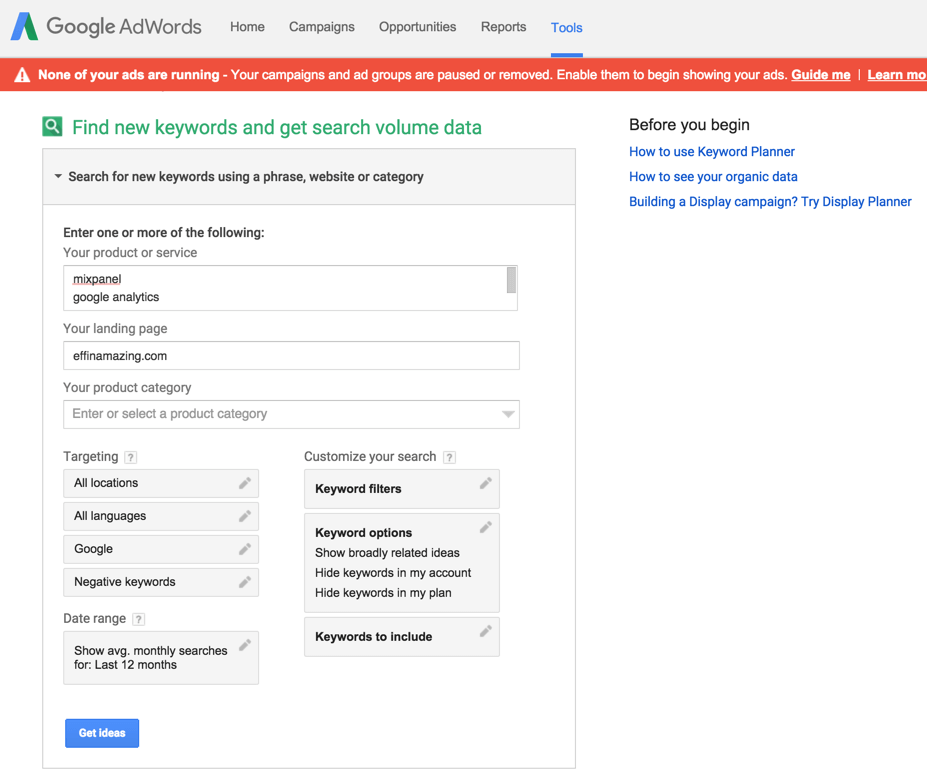 Now when I get the ideas back, I get a lot of crap, but I also get a lot of good stuff too. You'll need to look for keywords that are applicable to your business. Ditch the stuff that isn't relevant.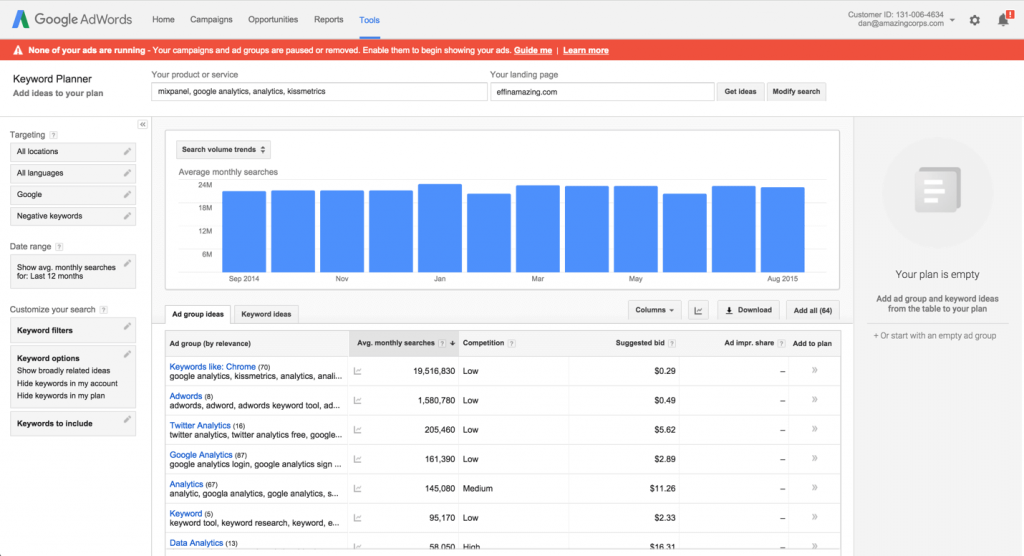 Now, if I click on the "ad group idea", I can get some additional words I may want to use: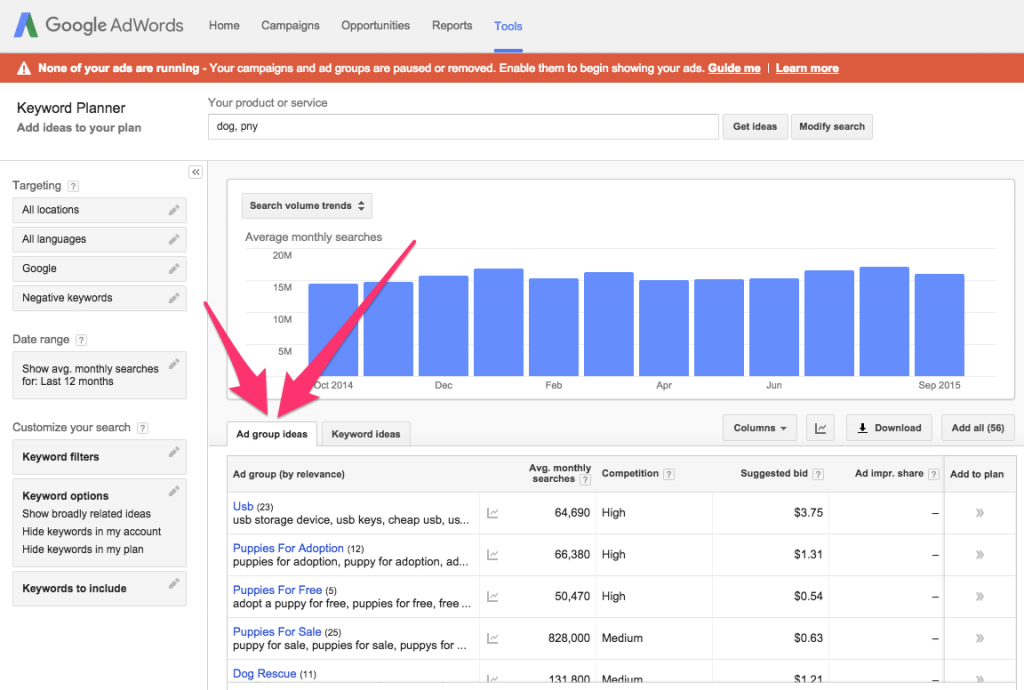 Wham, more keywords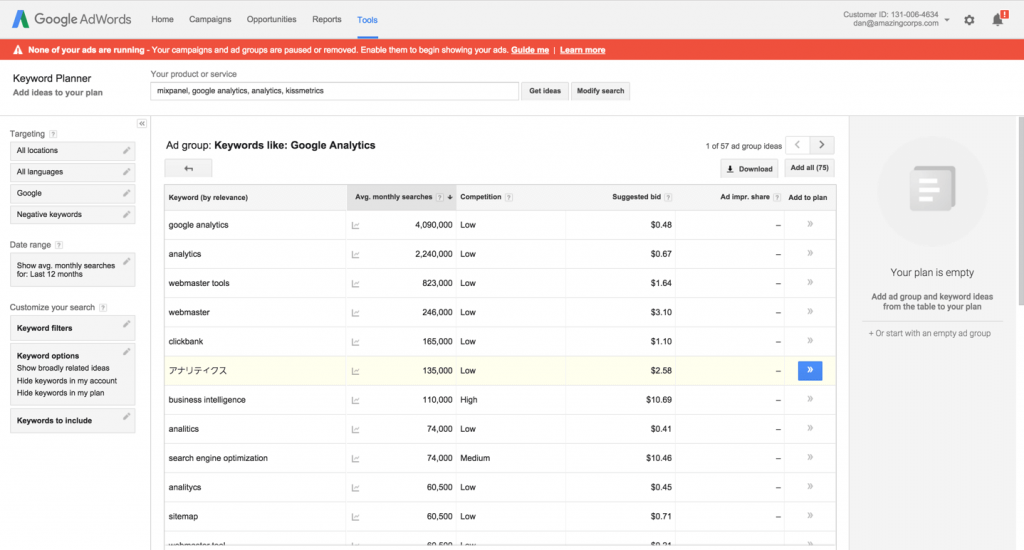 If you think I'm going about this like an SEO person would, you're right!
Let me add some context. When you write a blog post, you want it to be found by Google and other search engines. So why wouldn't you do keyword research on every blog post your write?
The reason why we look for  keyword search volume, to start, is to see if our assumption of writing about 'analytics' even has enough traffic to validate the work that goes into it. If it does, we also want to know the common terms people search around that main topic.
For example, we want to be found for Mixpanel and KISSmetrics predominantly, but we know these have low search volume, while terms like "google analytics," "analytics," and even "analitics" have a higher search volume. (A friggen typo has higher search volume than Mixpanel and KISSmetrics combined.)

Wait! Before you think you've discovered the easiest hack to getting your content to the top, even though the typo is there, we DO NOT want to use it. Google will automatically correct the typo if you search for it.

This is just normal SEO stuff, right?
Yes, but it also gives you an idea of what words and phrases you need to use in your blog posts. You will find common words in your keyword ideas report. For example, many people use Adwords while searching for analytics and other similar concepts.
If we were going to try to appeal to a broader market, we may want to write blog posts about "how we used Mixpanel Analytics to find the ROI of our Adwords Spend." 
Now that we've covered the basics – from finding keywords to understanding where traffic comes from – we can turn to the google search box itself for predictive auto-fill to show how people are typing the actual search. Important: Do this in an incognito window!

If you don't use the incognito feature, Google will add your personal search history into its algorithm and bias results based on your previous searches. (That would be bad)
We start with things like "How to use analytics" and see what predictive search terms we get. By taking "how to" and adding it to your keyword "analytics" you will get surprising results. Keep trying to type terms your customer may search for and see what Google dishes you back through predictive search,

After we have some information on the basic search terms, we switch to terms like "Mixpanel."

From these predictive search terms, we learned that people want to know about "Mixpanel special properties". Now we have a topic we can write about!
Let's keep going though. What happens if we type KISSmetrics?

We get their API, which is another good subject area we can write about.
Next we look at Google Analytics:

We see top searches are about their academy and certification.
All of this gives us great ideas on the types of keywords that will drive traffic. These are also topics people care about, hence why they search for it.
The next step is trying to figure out what people want to learn by adding "how do i" or "what do I do" to find blog posts people are reading.

Ok, enough of the keyword stuff, you get the point. This is how you generate ideas to write about. This is what people are already looking for, so write about that shit before you branch out.
Here's the hack though. Don't worry; it ain't hard.
Make a long list of potential titles for blog posts based upon the stuff you find. Then go to Google and write in those exact titles.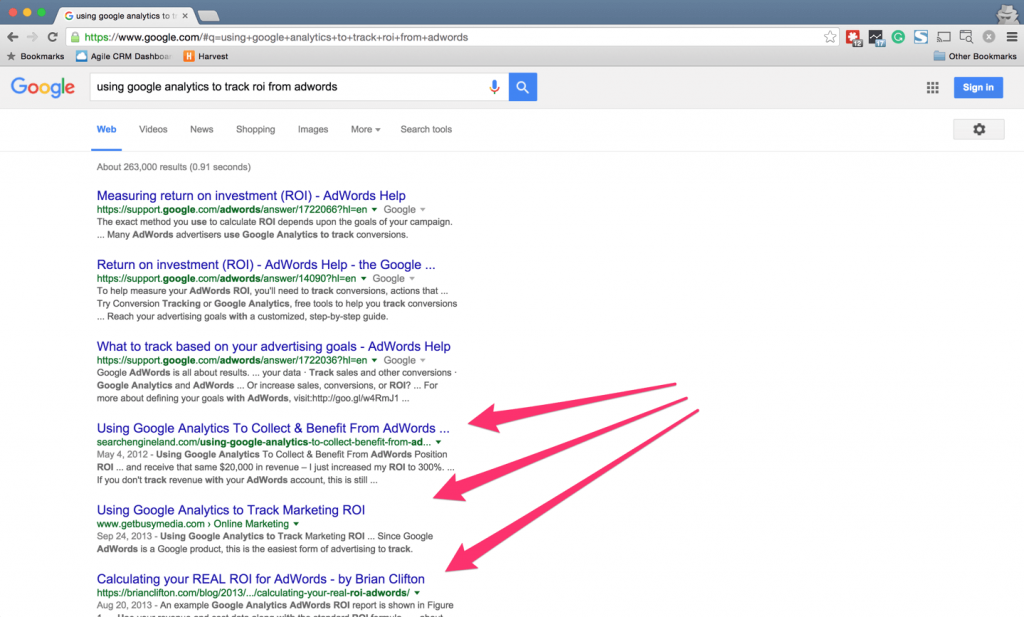 Go read those posts. Find out what sucks about them and what the best parts were; then just improve the hell out of them. Add more images, add more facts or examples, or provide clearer instructions. But, most importantly, do not plagiarize them!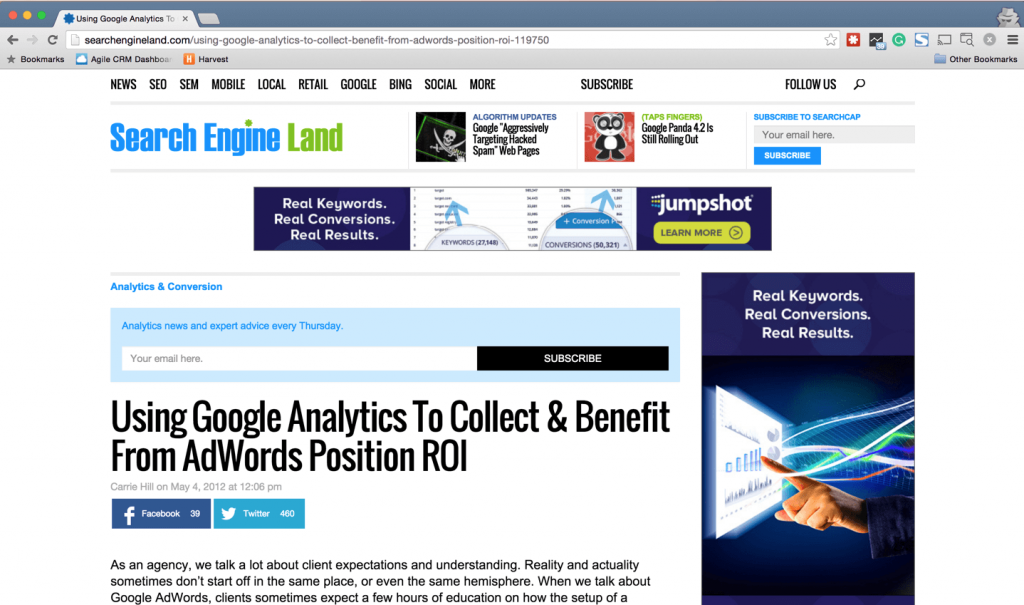 Many times, you'll notice that these posts are old – like 2-3 years old (aka an eternity in internet time). But for some reason they are #1 in Google, even though they're out of date.
If you create a new and better version of that  three-year-old post, guess who Google will rank #1?
Don't believe me? Look at the post I wrote last year just to prove someone wrong; it gets 26,000 visits a month.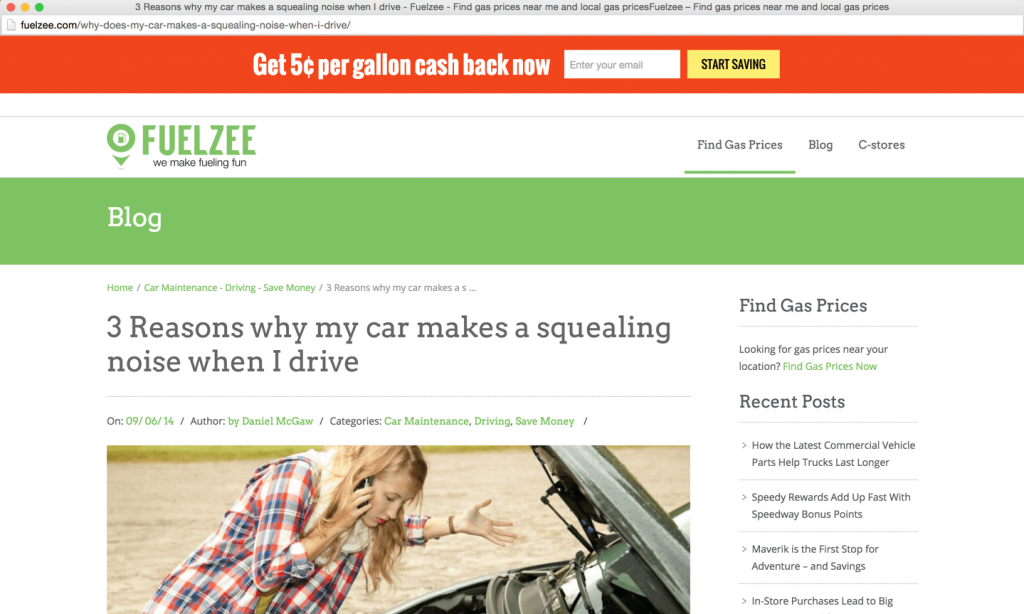 Don't get me wrong, this takes time and not all posts are winners, but it works if you get the system down.
Hopefully this goes without saying, but all of this information needs to be used wisely.
Don't just take this data and start spitting out spammy posts. If you're brand new to the content game, you need to build a content calendar and match it to your business goals.
Let's look at how we did the same thing for Chupamobile and increased their traffic by 17% in three months. Even better news? They're still growing :)
BACKGROUND
In case you've forgotten McGaw.io is an analytics and data driven marketing agency. We don't just use the numbers in our reports, we turn those numbers into actions that drive revenue growth for our clients. 
Chupamobile is kind of like Themeforest, but for mobile apps. Just think about it this way: when you have an idea for an app, but don't know how to code an app, you can just visit Chupamobile and $1500 later you'll have an app in the app store. No joke, it is that simple.
When we first met them, they were writing a lot of content, but that content wasn't driving a lot of traffic to their blog. Nor was this traffic converting into paying customers.

The first problem
A lot of their content need improvements from a grammar perspective. We simply had our copyeditor review the posts and fix their errors. People won't read your shit if you write like I do normally. I write gibberish; our copyeditor makes me sound like a pro :) Thanks Andrea.
The second problem
Chupamobile was writing content primarily for developers, which isn't their target market. The goal of Chupamobile is to sell apps to people who want to build apps, but don't know how! Some folks know these people as Apprenuers, others call them mobile entrepreneurs.
We followed the system explained earlier in this post and noticed this was a wide open market.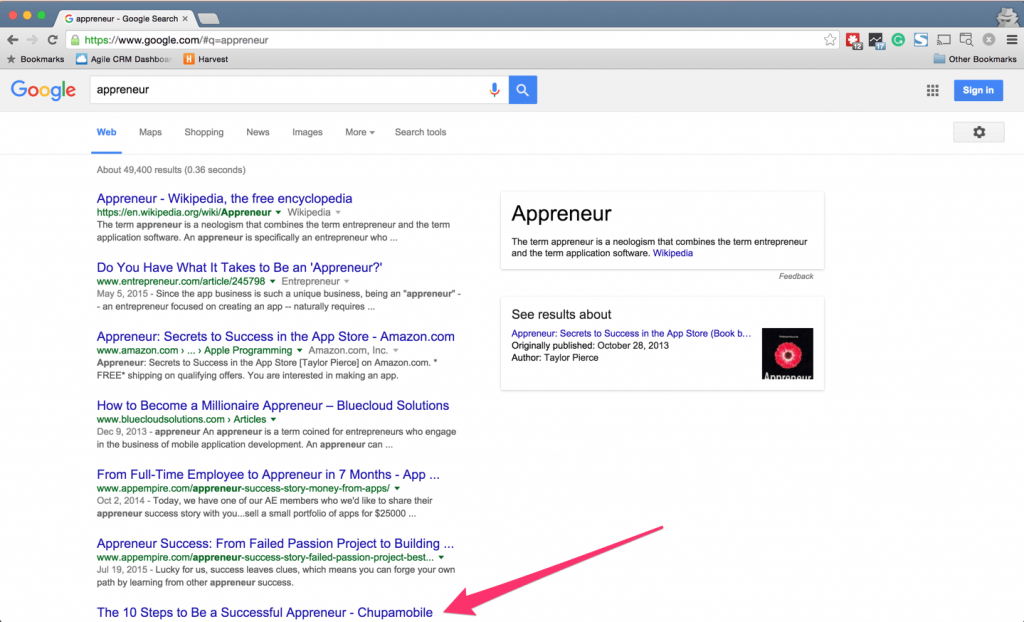 We researched keywords and learned that people were looking for information about marketing and building their app businesses.
Things like ASO were being searched for a lot: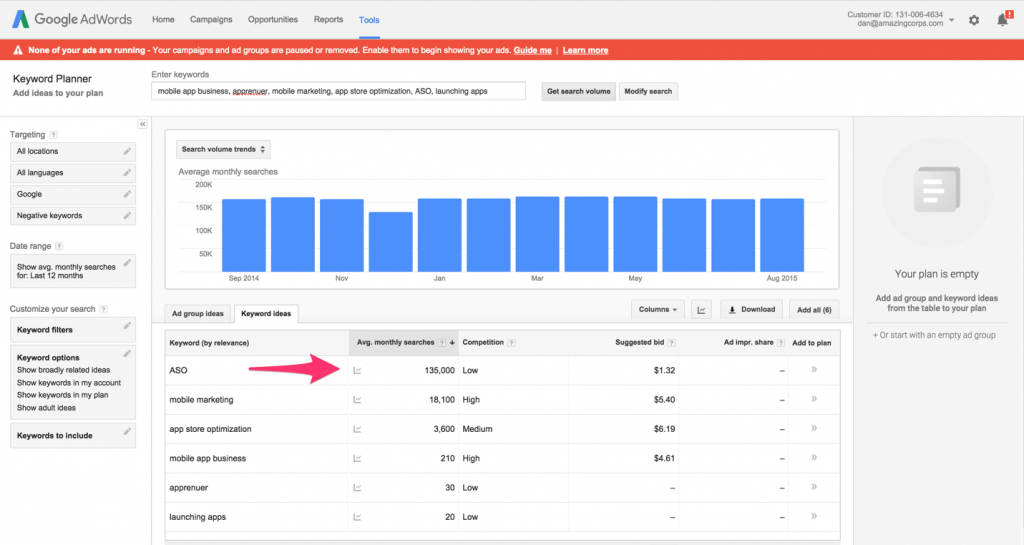 This led us to believe that we could generate traffic if we built our content marketing strategy around topics like this.
We wrote down all of our blog ideas: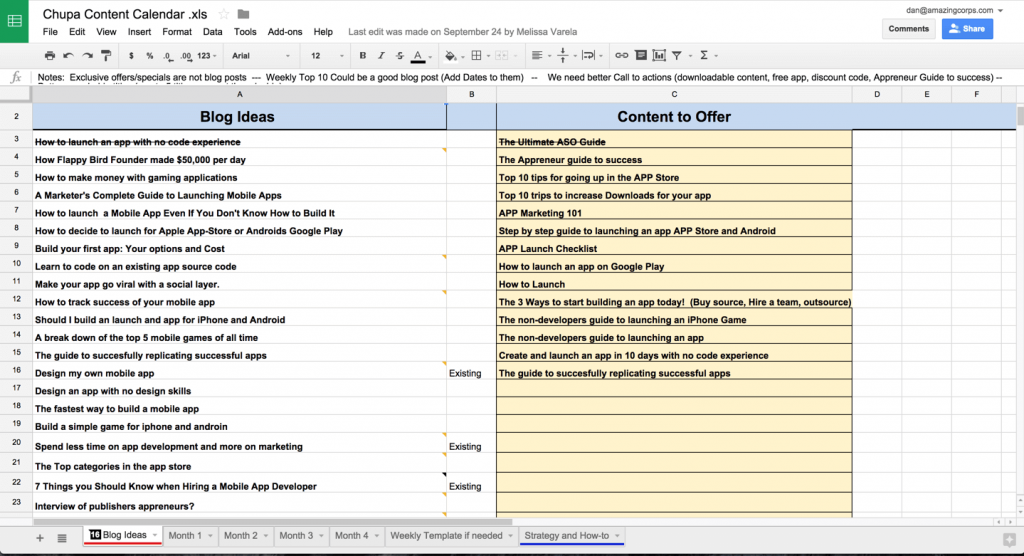 Then we built a content calendar around those topics: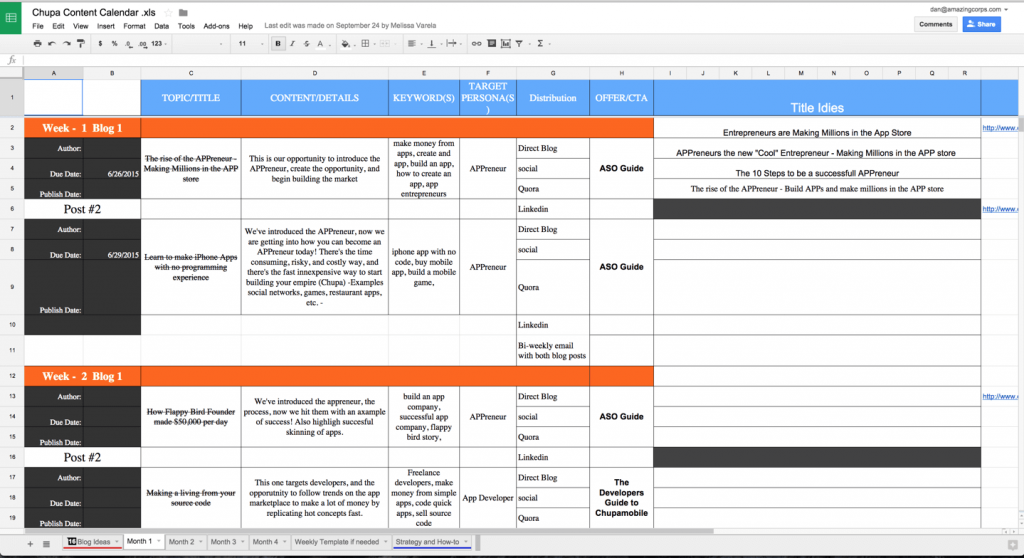 After we had a solid foundation, we looked for other people who were writing good content: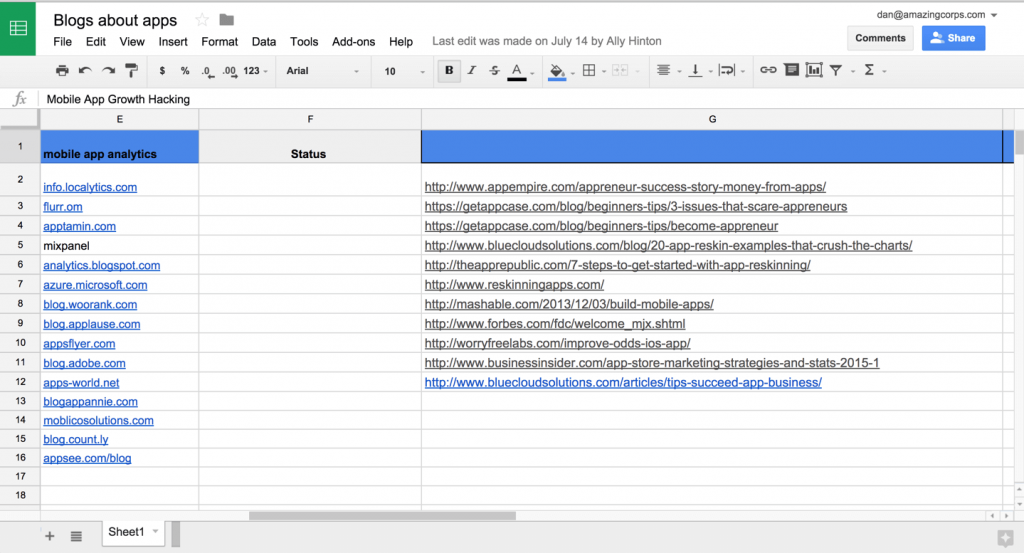 We also looked for blogs that were predominantly focused on writing content about apps: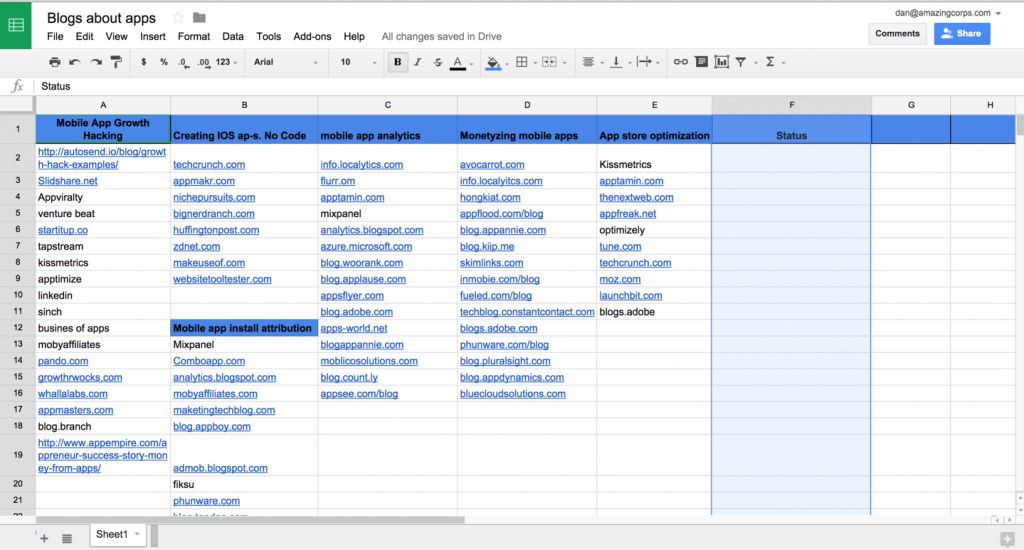 We looked to see what was ranking and what was not and optimized our content strategy around that. All of this was scientific. Backed by data gained through the method we mentioned earlier.
—-
Now that we knew what we needed to write about to drive traffic, we had to figure out what that traffic would mean. What were we going to do with this increased traffic? We knew it was unlikely that we'd convert this traffic into customers overnight. First, we needed to collect their information and then show them  how easy it was to create an app using Chupamobile. We had to nurture them.
Collecting visitor information is often an afterthought when building a content strategy. Companies write content to get traffic, but the traffic just becomes part of their bounce rate because they never collect emails to follow up with these visitors.
We knew from day one that our goal was to drive leads and nurture those leads into customers. (I can't stress enough how critical it is to have clear goals when starting the planning process.)
So, to recap; we had a list of topics, we had traffic we were going to drive. Now, we needed to figure out a way to convert the people who came to the blog, and read about those really cool topics, into leads. Well, in most cases you'll see that the easiest way to get, is first to give. By offering more in-depth PDF guides for people to download after reading a blog post, we were able to turn visitors into leads.
 We started pairing our blog posts ideas with other relevant topics we could spin into guides.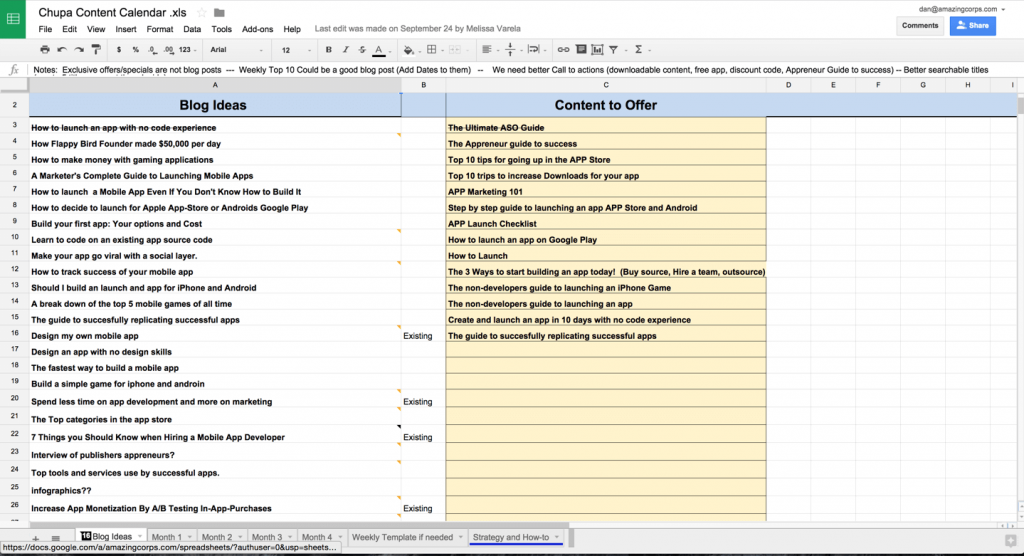 You can see a direct correlation between the post and the topics of the PDF we were going to create. Many times the ebook was another blog post we had written, just nicely formatted and designed as a PDF.
This is called repurposing content, which is one of the easiest ways to improve your content marketing. Turn every piece of content into other content. For example, this blog post is going to be a webinar on Unbounce, the slides may be used on Slideshare. Then, this blog posts will be converted into a PDF so someone else can download it.
All from this one long ass blog post :)
—-
Now that we knew the content to be written for Chupamobile, we asked our writers and designers to make the blog posts and PDFs come to life.
While they did that, we turned to Unbounce to create quick landing pages. This was incredibly easy because we didn't need our designers to manage the whole process.
Using some out of the box tools from Unbounce, we were able to whip up some cool landing pages: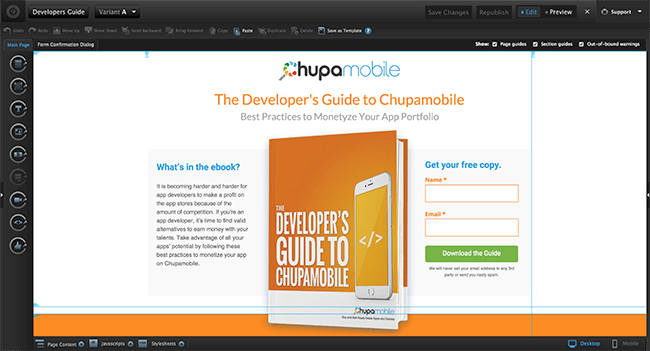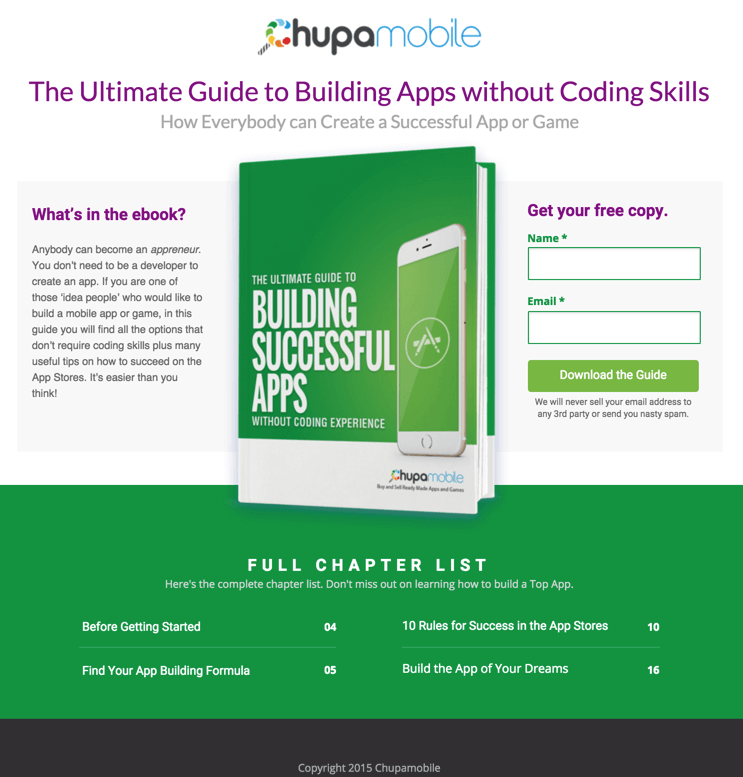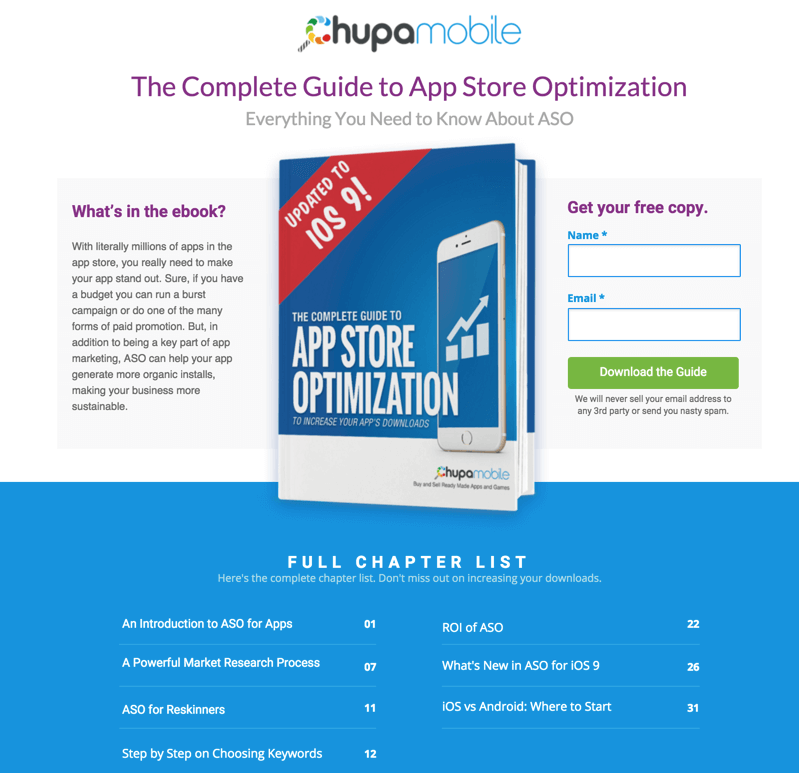 These pages are where we sent folks to download more content after reading a blog post.
—–
We knew we couldn't depend on only one call to action button to give us the best results when launching these blog posts. We had to capture as many leads as we could once we had the traffic we worked so hard to get. So, another thing we did before publishing our best posts was to build out a call-to-action strategy. This is another area many companies neglect when developing their content marketing strategies.
First, we used Mailmunch to create simple CTAs on the right side of the Chupa Blog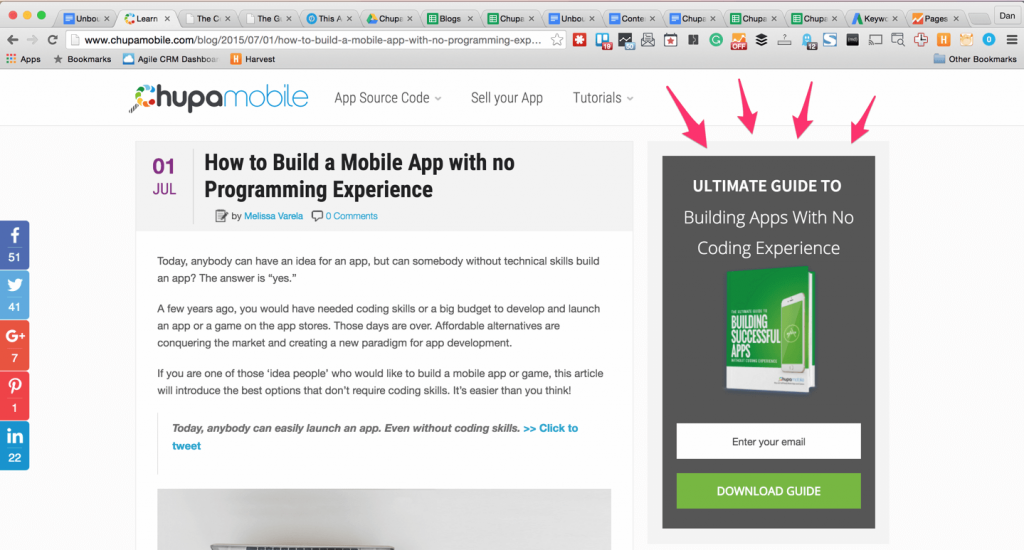 We also added an exit-intent pop-up: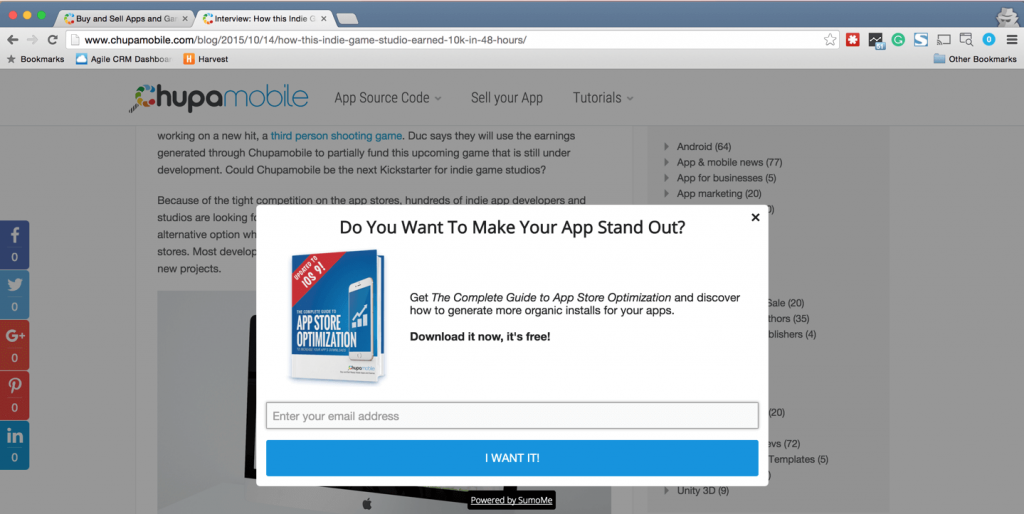 Finally, we added a call to action at the bottom of every blog post: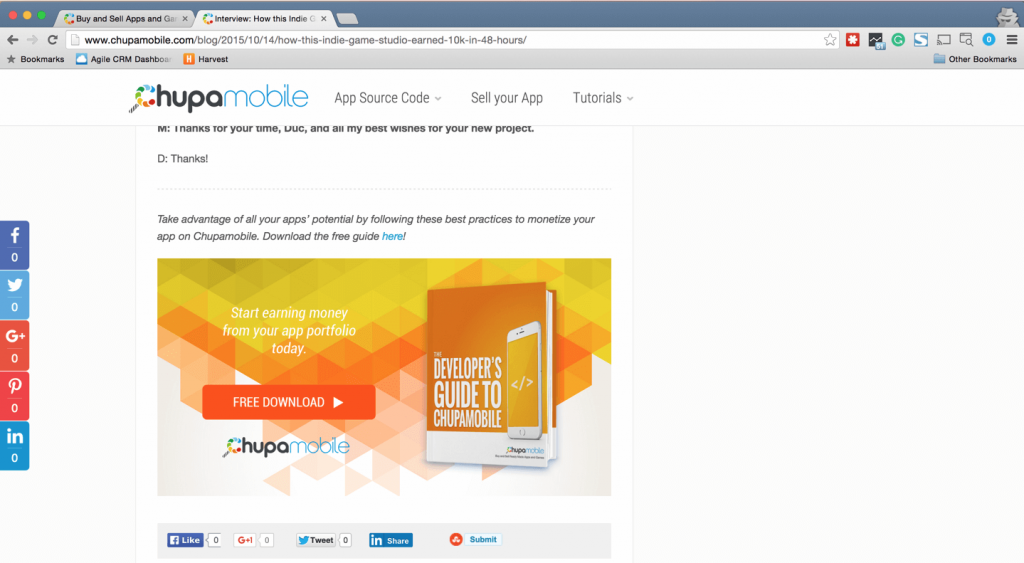 Whew. Now that we had done all of this work to ensure we actually got leads from the traffic we drove, we were ready to start putting out the content.
First, we launched beginner content to build a foundation: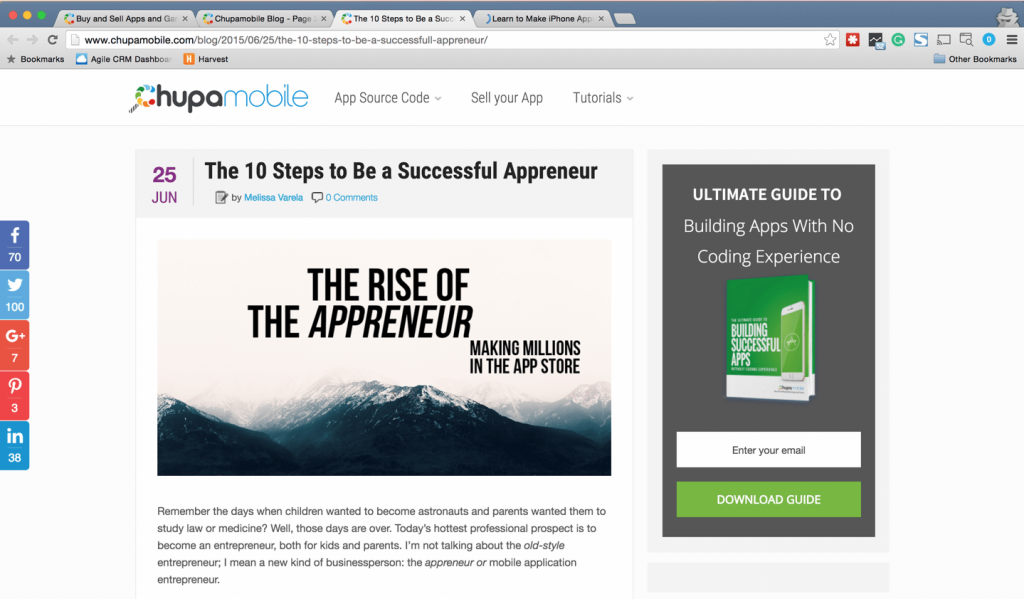 Over time, the topics became more focused and advanced. (We were moving what started as casual readers to engaged leads)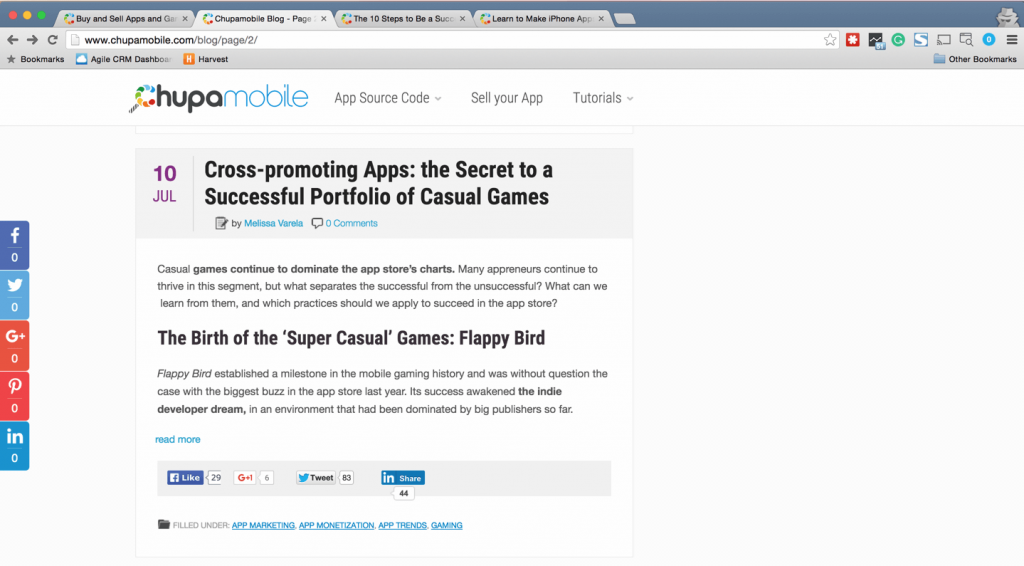 The goal here is to make sure you can attract people and keep them coming back for more. If you start with advanced articles, you will attract a smaller market. Our goal was to attract the broadest market and over time find the people we truly wanted to be customers.
—–
Putting out accurate, useful content is just part of the game. You also have to find ways to distribute it. Great content doesn't do anything if nobody can find it.
As we released the posts, we took steps to promote it on other relevant channels.
We built a list of networks to use to promote the content: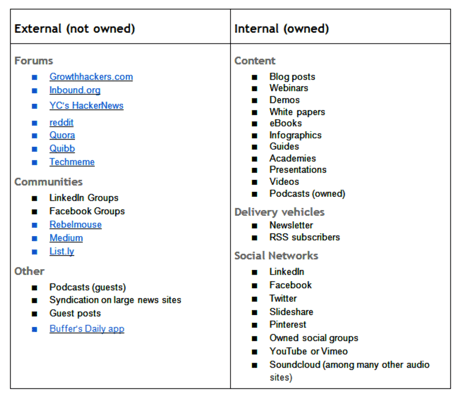 The first place we promoted the content was on LinkedIn (as a teaser).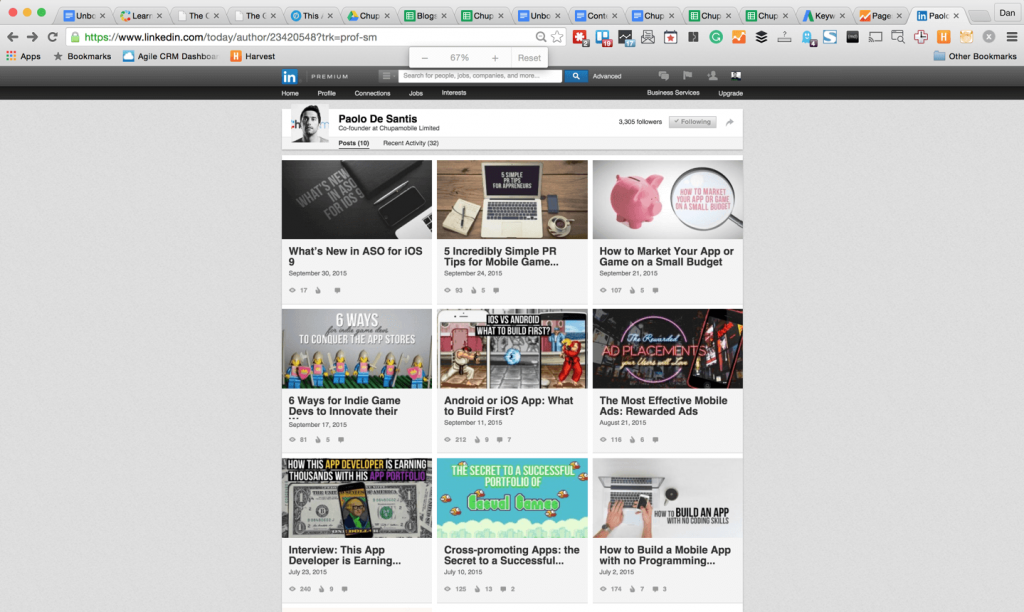 It's a good idea to post only a short blurb to get people interested, instead of the full article, when sharing on channels you don't have great control over. This will get readers to come back to your site where you have more control.

Once we had them on the site, we could collect their emails.
But LinkedIn was just one place we put the content. We also used other channels like Twitter, Facebook, Inbound.org, and GrowthHackers.com.
So we've covered creating a content strategy, reviewing keywords, generating content calendars, leveraging multiple CTAs, and distributing our content.
All of the above helped us increase organic website traffic by 17% over three months.
Organic traffic accounted for 50% of the traffic to the Chupamobile site at the time, so this was definitely a meaningful increase.
To share some other cool stats:
In the first 1.5 months, 630 people downloaded our guides.
The landing pages alone had a 44% conversion rate from the footer of the blog posts: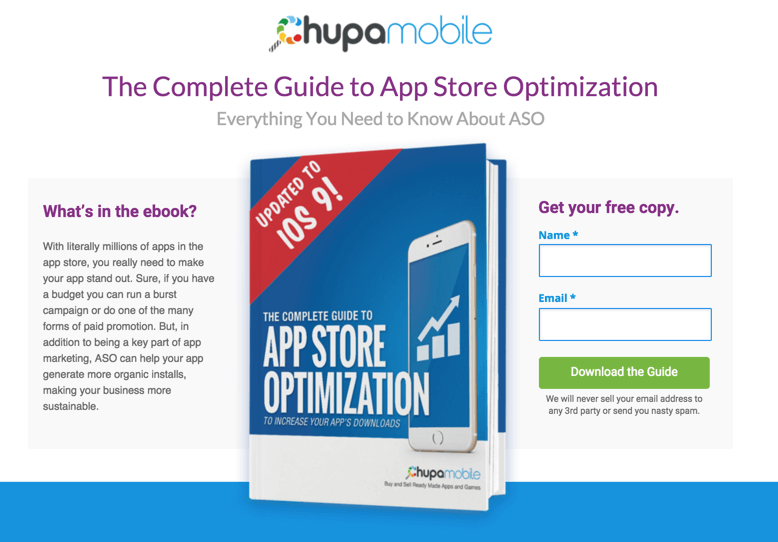 —–
Chupa clearly has leads; now what?
We recognized that these folks may not be ready to buy an app right now. So how do we educate them?
We started by building some automation to handle this for us. All of it was done cheaply and simply through Mailchimp.
Since there were two flows on the blog (we had the folks who signed up for the newsletter and the folks who downloaded a PDF) we had to make them work in harmony.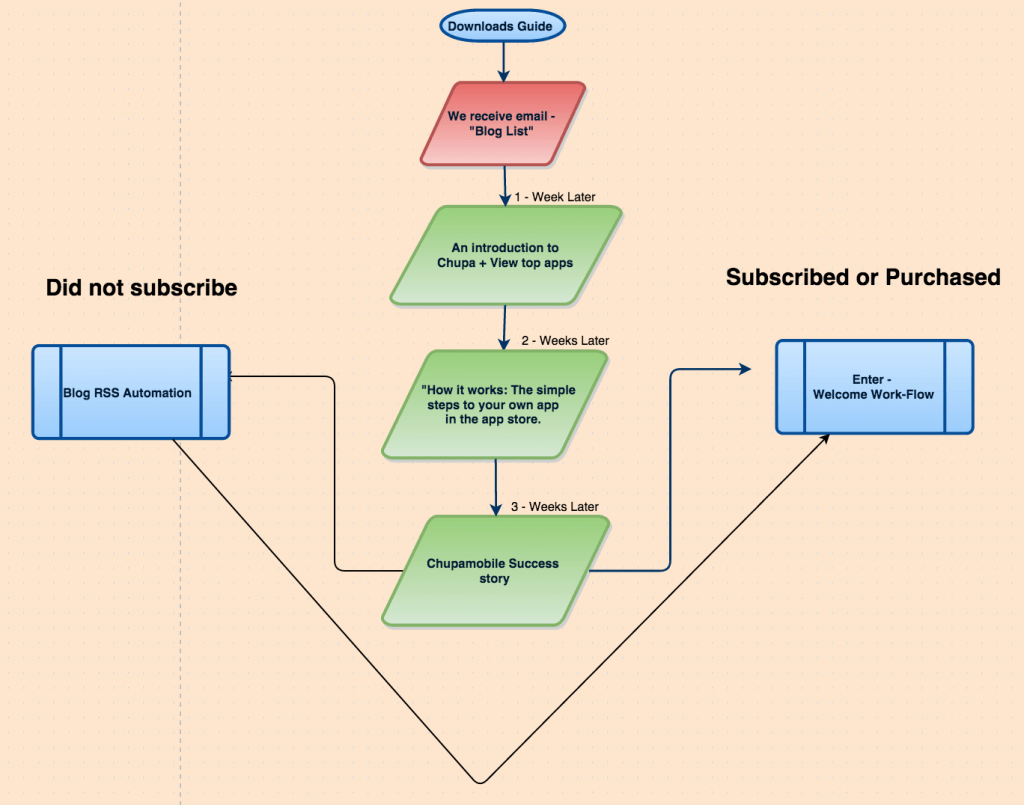 We had to educate both groups about Chupamobile and the apps they had to offer.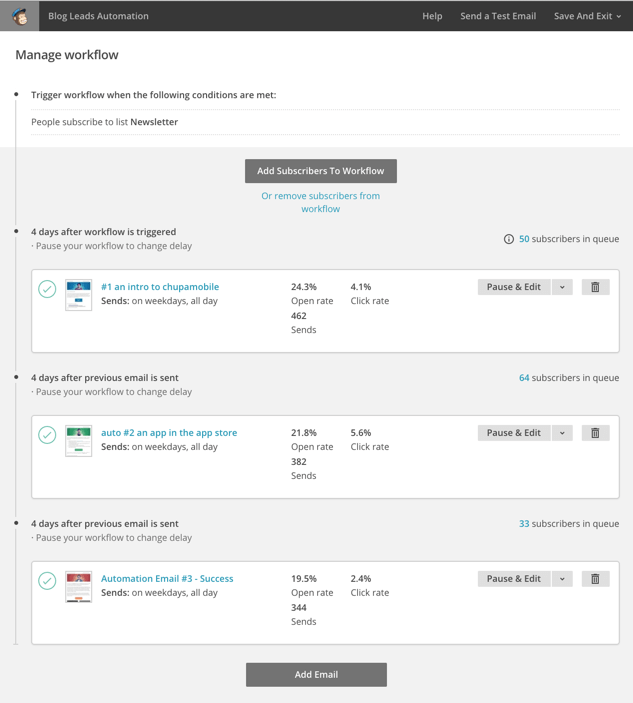 The first email introduced customers to the platform and gave them suggestions of other things they could read to become an apprenuer: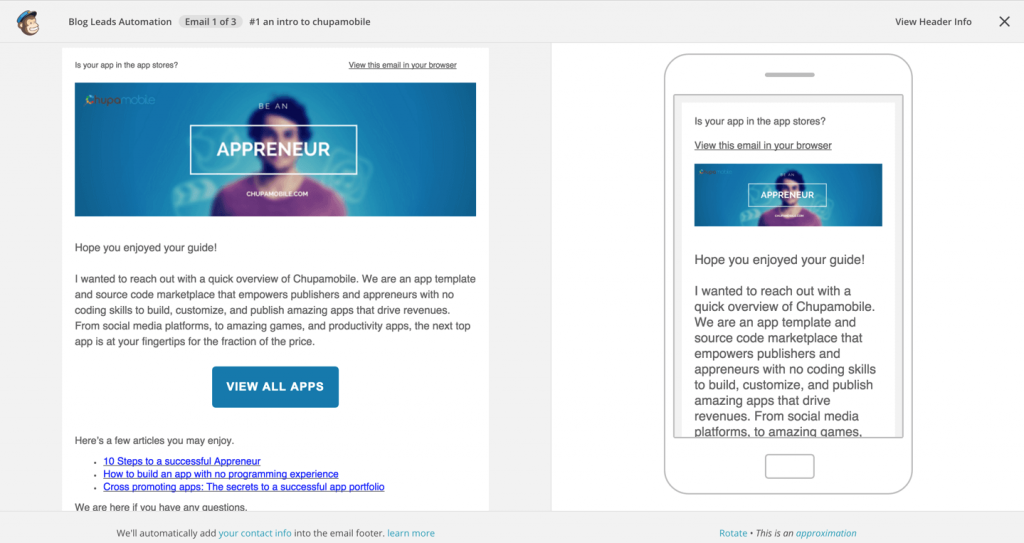 The next email explained how the app creation process worked: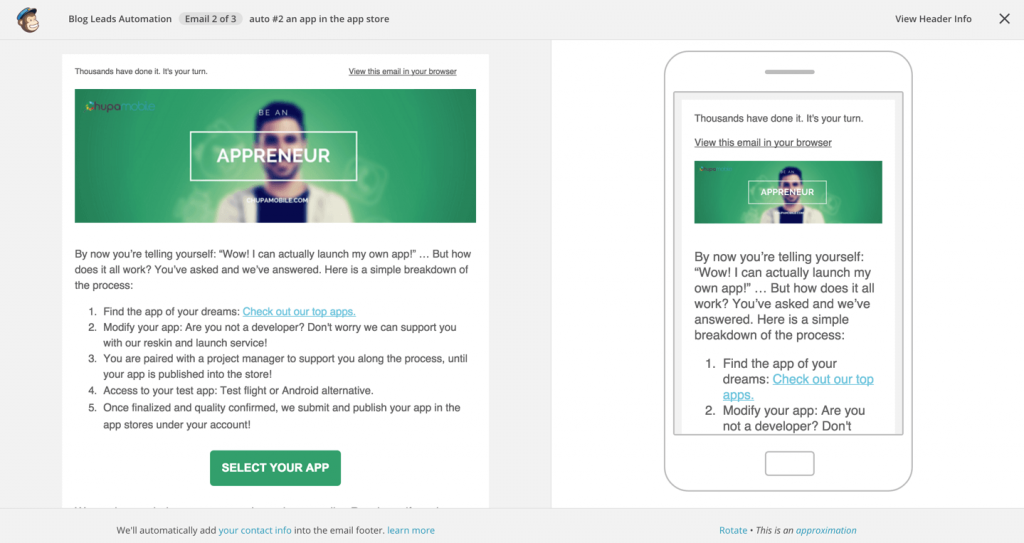 The final email showed customers someone who had been successful (made money) building an app: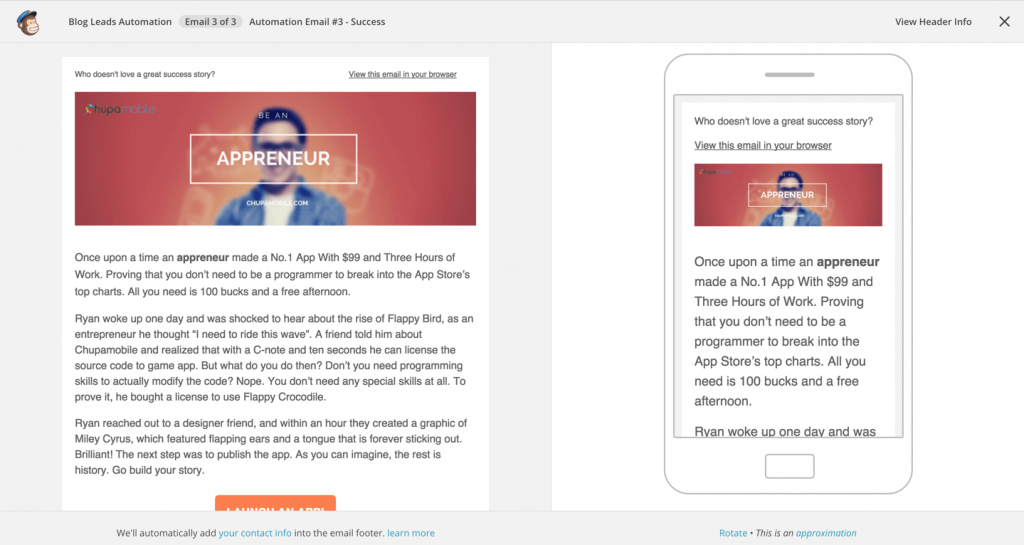 After these three emails, customers would then be put into the normal blog RSS newsletter so they could continue to be nurtured. (And Chupa would be kept top of mind)
I am not allowed to share revenue data, but what we can say is this: they have been collecting a ton more quality leads since we built out this long growth hack of a content strategy.
If you have any questions or have your own strategies, I look forward to seeing them in the comment selection below.