Despite prophecies that email is dying, it's actually growing – there'll be another billion email accounts by 2019.


(*) Note: Includes both Business and Consumer Email users.
Source
And it's getting more vital to business, not less. In 2015, 60% of marketers said email was core to their business, compared with 40% just a year ago.  Lead generation, nurturing and
marketing
… Email isn't anywhere close to dead.
And of course, it's the marketing channel with the highest ROI: the average is 38:1 and one company in five reports 70:1 or higher. Email doesn't just outperform social – it outperforms search.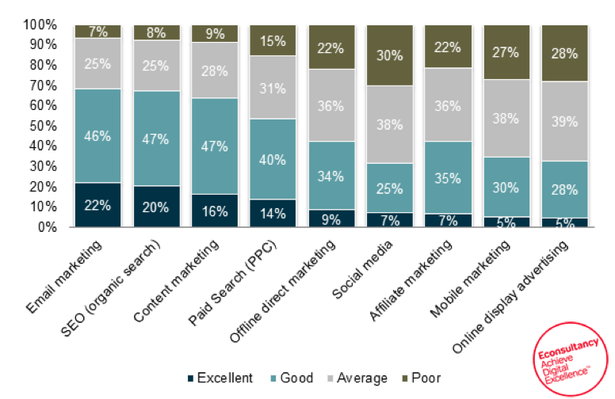 Source
So, if email's so great already, why reach for methods to improve it? If it ain't broke, why try to fix it?
Email can be a victim of its own success: so good already that we don't bother optimizing it. But when a better email strategy can double the effectiveness of your most effective marketing channel, it makes sense to fix it exactly because it ain't broke. How can we wring more revenue from email?
1. Start With Your Data
You already have a ton of data on your customers that you can use to make your emails more effective.
Where does this data come from? It's drawn from and stored in several places:
Interviews
Surveys
Email data from Analytics
Onsite behavior
Purchase behavior
CRM data: location, position, etc.
Personas
All these data sources will feed into email efforts. They're the maps you'll use to build the road to conversion. Which means, if you don't want to go off a cliff, they have to be accurate and complete.
Improving your email ROI starts with improving the accuracy of your maps. That means making sure your data is clean. It means catching analytics errors at every stage that misrepresent customer activities. And it means basic data maintenance activities like trashing inactive email addresses to keep your list clean too.
All your customer data is prone to deteriorating accuracy. Traffic can be mis-logged or mis-analyzed. Surveys can misrepresent customer sentiment, personas are often little more than make-believe and CRM data is subject to compliance and accuracy issues.
A mass of incomprehensible data whose accuracy isn't even known? That's no foundation to build a winning email strategy on. When marketers clean their data first, they see a 5% average bump in ROI on their email efforts.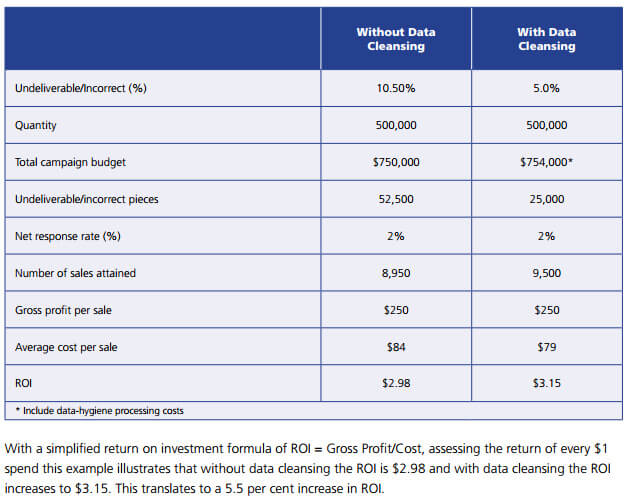 Source
2. Nail Your Signup
Removing roadblocks and optimizing the signup process gets you more signups, more of whom actually want to hear from you.
Motivation And Data Quality
We don't fill in signup forms because we want to give that information away. We do it to get past the gatekeeper: it's a weakness of the 'lead magnet' approach. As a result, signup forms are completed hastily.
Lots of boxes? Restrictive multiple choice questions? Mandatory fields? Then there's a bigger chance your sign-ups are just putting anything down to get what they want. Fix this with short, simple sign-up forms and onboarding emails that ask for more data and provide value in return.
Trust
If sign-ups trust you they'll give you data they trust. The average American has three email addresses. If you want to send emails to the one they actually use, make it easy and give them reasons to trust you.
Promising not to share data with third parties gets you a signup from 47% of those aged 35-44, 64% of those aged 45-54, and 71% of those aged 55-64
Offering marketing choices matters to 57% of 35-44-year-olds, 59% of 45-54-year-olds, and 51% of 55-64-year-olds
59% of those aged 35-44, 59% of 45-54-year-olds, and 58% of those aged between 55 and 64 are willing to share data with a brand they already trust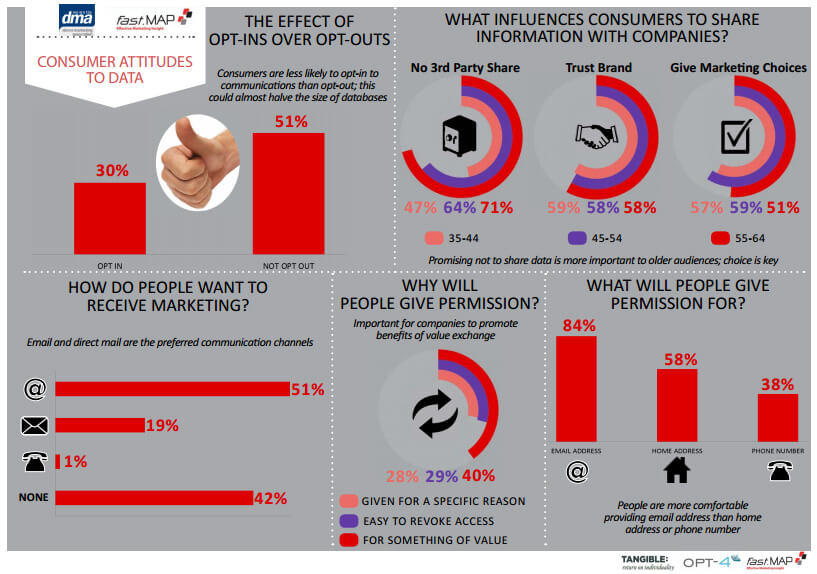 Source
3. Get Delivered
Getting your emails delivered should be as simple as sending them. But in reality once they're out the door they're out of your hands. You're at the mercy of blacklists and spam filters, sender score and geographical and email client issues.
Only four-fifths of business emails are actually delivered. In theory, there's a 20% bump in ROI lying right there on the table. In practice, you'll struggle to get your hands on all of it – even MailChimp offers only 94% – 99% deliverability.
If you don't nail deliverability, you'll get bounced, soft or hard. Soft bounce refers to an email that hasn't been delivered, but still might be. A hard bounce is a definite no from a client or filter and it's like getting turned down for a loan: not only do you get told no, this time, it hurts your reputation so you're more likely to get told no next time.
IP Address
When you can, use a dedicated IP that always stays the same. Shifting IP addresses get diminished sender scores.
Spam Filters
Spam filters hunt for spammy words or phrases and shunt you into spam or bounce you. Here's a list of known spammy words.
Sender Score
Sender score is a credit score for email deliverability. You should know yours – find out here – and nurture it.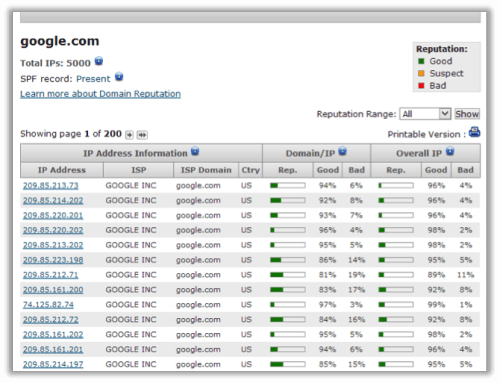 Source
Unsubscribe The Unengaged
If subscribers don't engage, reach out and ask them if they'd like to unsubscribe. If they're not responding they're hurting your deliverability score and every email sent to them is wasted, so they're an ROI drag.
Send Based On Engagement
The more engaged a subscriber is, the more emails you should send them to engage with.
Check Your Links
Always make sure all your URLs are in working order. Dead or suspect URLs can get you blacklisted – and links to blacklisted domains trigger spam filters.
4. Get Into The Inbox
Just because your emails aren't bouncing, doesn't mean they're ending up in the inbox. Plenty of spam gets through to the recipient's email client, only to be tossed automatically into the spam folder and never even glanced at. That's money down the drain.
How can you ensure your emails go to the inbox?
Just like there's a Sender Score, there's an Engagement Score. You can probably guess what that measures. But what does it count?
Email open rate. More opens = higher Engagement Score
Lateral scroll rate. More scrolling means more reading, at least in theory, thus it means a higher Engagement Score
Bounce rate. Both hard and soft bounce count toward your Engagement Score as well as your Sender Score. Lower bounce, higher score
Unsubscribe and complaint rate. The more complaints and unsubscribes you get, the better your Engagement Score
What doesn't count, surprisingly, is clicks. We're so used to regarding clicks as a KPI that not counting them seems strange, but the big email providers – Gmail, Outlook, Yahoo! – regard counting clicks as a breach of privacy.
The risk isn't that your emails get ignored and your Engagement Score plummets. Consumers will take action when they don't like your emails: 68% will delete the email, 58% will unsubscribe and 50% will flag you as spam.
5. Authentication, Trust And Fraud
Billions of fraudulent emails go out every year, falsely attributed to trusted brands. 9% of all emails from big brands in Q4 2014 – Q1 2015 came from unknown IP addresses, potentially fraudulent.
They're trying to commit crimes against your customers – and they're blowing big holes in your reputation too. We've seen how precious a commodity trust is. How can you make sure you don't get caught out by fraudulent emails?
SPF Records
Sender Policy Framework (SPF) identifies which servers are entitled to send emails on behalf of your domain. Then when your emails arrive, the recipient's email server can check whether the email is coming from the right place. No SPF? That email gets bounced.
DKIM Key
A DomainKeys Identified Mail key identifies a domain name to a message and uses crypto techniques to validate it. It's totally separate from other identifiers so even if phishers or other baddies manage to fake your From: field, that message will get caught anyway.
DMARC
Domain-Based Message Authentication, Reporting and Conformance (DMARC) authenticates your emails by:
Checking the header from domain name against the envelope from domain name, using SPF
Checking the header from with the d=domain name in the DKIM signature
It's the hardest authentication protocol to beat that doesn't involve your recipients signing up to some form of crypto.
6. Treat Mobile As The First Screen
Mobile isn't the 'second screen' for email: it's the first. The millennial audience that's filling the workplace and reaching its peak earning years is strongly mobile-centric – and prefers email when communicating with brands.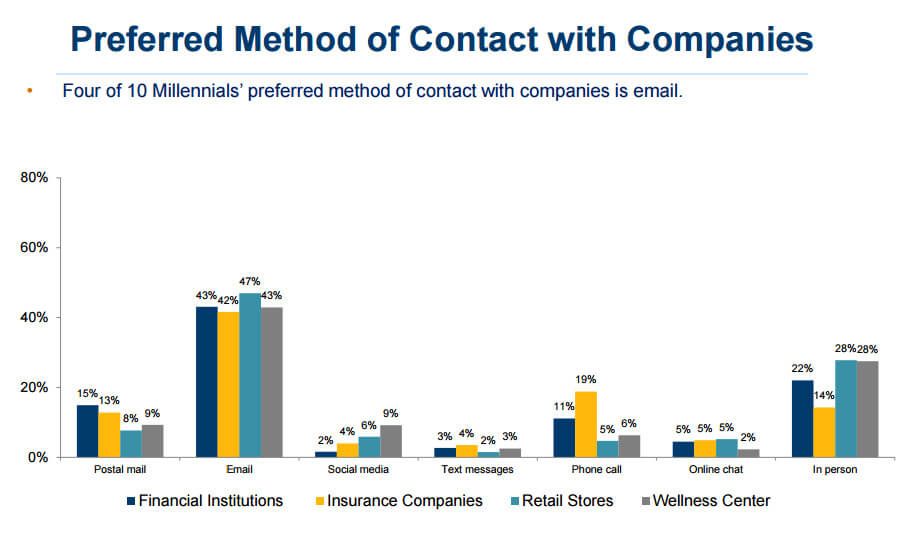 Source
Meanwhile,
customer journeys are increasingly channel agnostic
so email needs to support that.
Email opens on mobile devices now have a very clear lead: 71% in Q1 2015, breaking down 29% on tablets, 42% on smartphones. But at the next fence, mobile falls: click-throughs are lower on mobile (28% of clicks) than desktop (72% of clicks).
That could be because those emails weren't optimized for mobile, says Wez Maynard of Vertical Leap: 'It's my belief (and using our own clients as evidence) that campaigns that aren't optimized for mobile will have lower click-through numbers than those that do (on mobile).'
Making sure that your emails are set up to display well on mobile could net you 24% more clicks.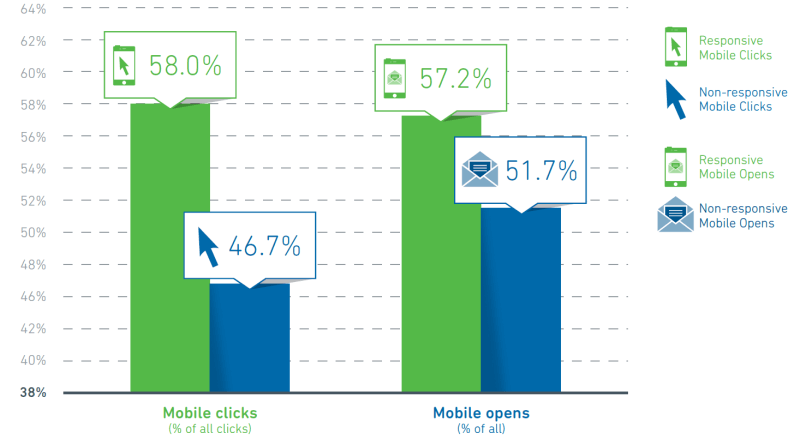 Source
7. Triggers And Personalization
You wouldn't send bulk emails – because they're too impersonal to perform well. And while email segmentation is an improvement, what you really need to push ROI upward and improve engagement is triggered workflows that let recipients choose the marketing they'll see based on their behavior.
When more than 5% of your email marketing is triggered emails, they'll typically account for over half your revenue and engagement. Triggered emails can achieve 525% jumps in click-throughs and 220% jumps in opens compared to non-triggered, segmented emails.
Triggered emails use workflows or single emails that can be triggered by customer actions or changes in CRM data. Actions can include:
Clicks
Engagement with content
Cart abandonment
Purchase
Survey reply
Data changes can include:
Birthdays
New Job
Wedding anniversary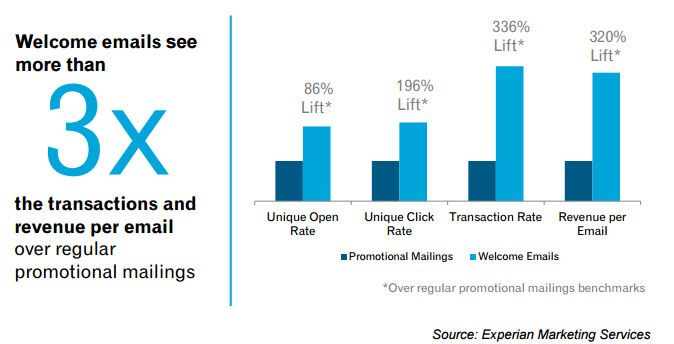 Source
To take an example, individual welcome emails can generate
320% more revenue
than other promotional emails, on the back of
42% more opens
, and a
50% engagement bump
for the half-year after delivery and
33% long-term
. Create an email workflow to welcome new customers and
add 13% in revenue
to those figures.
8. Content
Once you're getting into the right inboxes, the next big step forward is to engage and earn clicks. That's done by content.
Subject lines
Most people read a subject line and make a snap decision: read or trash? Deliverability and engagement scoring are about stopping email clients and spam filters from thinking you're spam; this is the moment when your customers and leads decide if you're spam or not.
Subject lines best practice includes obvious choices like keeping them short. Keep your email subject lines under 10 words and you could get a 5% bump in open rates from that alone, and subject lines with 49 or fewer characters get an average 12.5% higher open rate. Personalized subject lines, meanwhile, can give you a 26% open rate increase.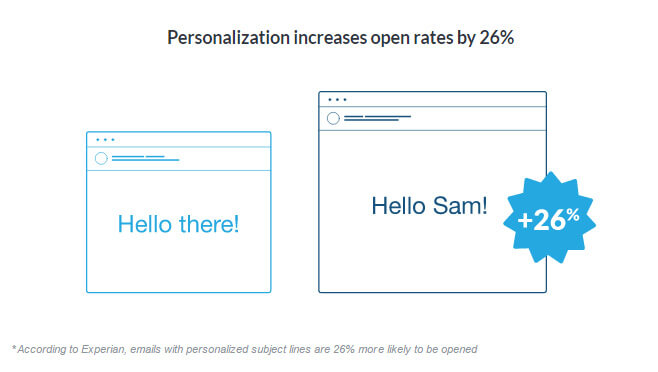 Source
Images
Images can be a sticking point for engagement. For one thing, embedded images are popular with spammers trying to evade keyword-sensitive spam filters, so spam filters hunt those images too now.
And email providers often automatically block images too, because image files are used to carry malware and viruses. And finally, about 20% of mobile users check their emails on text-only email apps. All of which means that no one is going to see those images.
The best way to get around this is to use HTML and image tags to ensure that emails can be read and acted on even with image blocking, and use URLs leading to images just the way you'd build them into a web page. That cuts costs if you pay for emails by the Kb and it makes them less likely to trigger spam filters too.
If all of that isn't an issue, you want imagery that immediately conveys brand in a way that can be 'pattern recognized.' Imagery and other design elements conspire to make the brand instantly recognizable, increasing trust and engagement.
Layout
Email layout is user journey in miniature. Designing emails so they lead naturally to the call to action, reinforce brand identity and foreground the subject of the email can generate impressive CTR jumps.
Campaign Monitor redesigned its blog email layout from this…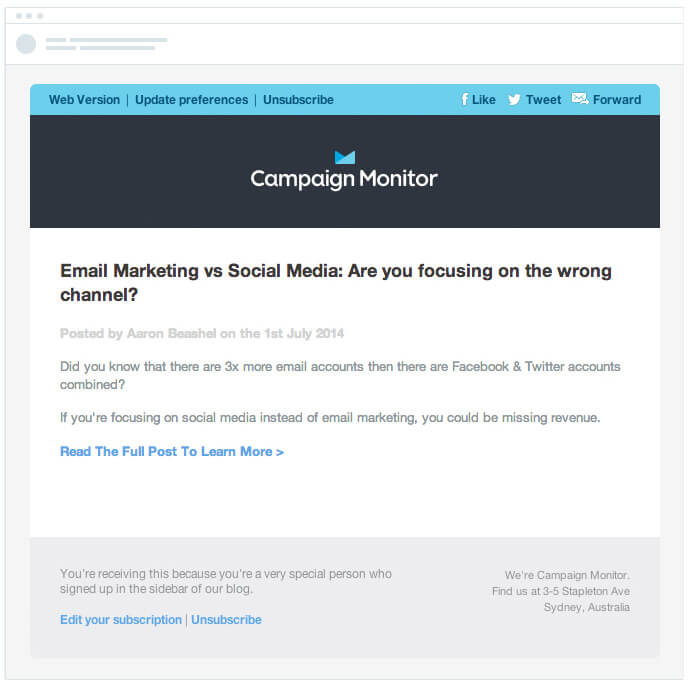 To this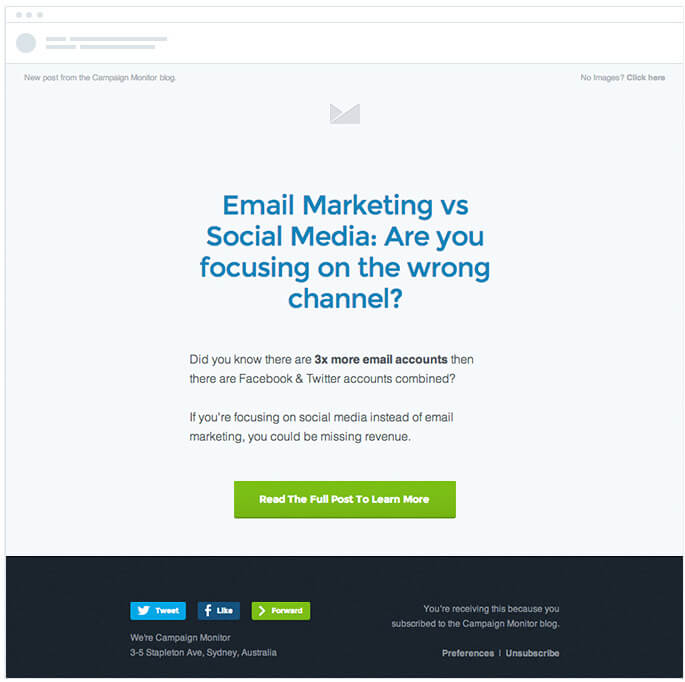 And saw a 127% increase in CTR.
9. Hang Onto Your Customers
Customer retention is a key driver of ROI: marketing to customers you already have is far cheaper than reaching out to new ones. And it feeds back into deliverability too: more unsubscribes hurts your Engagement Score, while more disengaged subscribers who regularly ignore your content damages your Sender Score.
Email can be a powerful way to connect and reconnect. Using highly personalized, triggered emails, you can reach out to customers at key moments and re-engage without risking spamming them by constantly messaging them. You'll also have a better chance of re-engaging those who are at risk of unsubscribing. Play this right and the reward of re-engaging 100, 000 subscribers could be $1m a year.
10. Test Everything!
We did this and it made us a million dollars. We get 98% deliverability. We use these words in subject lines and get massive open rates. Put your buttons here for 25% more click-throughs.
I'm sure it's all good advice. But the only way to know if it's good advice for you is to test it.
A/B testing is the industry standard method of finding out if something's working or not. Use two versions, run them side by side, and see which one performs better. That's your winner. What should you A/B test?
Try sending emails to a specific demographic, persona, or segment more and less frequently, or at different times. Use two versions of the copy for the same email, two different layouts, two different background colors. If you can change it, you should A/B test it.
11. Track And Analyze
Tracking email opens and click-throughs comes as standard with most email providers – MailChimp and HubSpot both offer it, for instance. And some, like Campaign Monitor, offer Google Analytics integration that attributes traffic to specific campaigns.
It's also possible to track the performance of specific assets within emails with UTM parameters.
Track Email Clicks To Content
Tracking click-throughs to multiple different pieces of content can be done with UTMs – Urchin Tracking Modules. It's code added to URLs that makes Google Analytics record that traffic under the parameters you define. UTMs offer incredible granularity when it comes to tracking content click-throughs.
Track Specific Images And Links
UTM tracking can also offer insight into images and links. When you want to test the effectiveness of multiple links or calls to action in different places in your email, for instance, you can track each link's performance separately and make design and layout decisions based on the data.
12. After Email…
A click is only the first conversion that we hope will lead to a transaction. In fact email is one of the most effective channels for increasing transactions – and yet only 2.5% to 3.5% of email click-throughs result in transaction. Almost 39 of every 40 email subscribers aren't buying.
That means we need to focus on more than getting more clicks in the first place. This is where conversion optimization takes over.
When someone clicks through from an email, where do they go? If it's a homepage, or some asset that's not directly relevant to the email, you're leaking conversions after the click. Emails should click through to personalized landing pages that have the potential to deliver 4 times more conversions.
*Featured Image Source