Google, in its characteristic style, has once again pulled the plug on one of its popular platforms – Google Optimize. This unexpected move has left many businesses scrambling, given the short notice to adapt and find alternatives.
In February 2022, Google integrated the platform with its latest analytics platform, GA4. Given this recent enhancement, it's surprising that they're now planning to discontinue support.
Soon enough, we will wish the platform farewell, and it will join a long list of once-popular platforms in the Google Graveyard.
Google Optimize (GO, Optimize) has been a favorite among growth marketers because it's free and user-friendly. It allows immediate testing through its 'What You See Is What You Get' (WYSIWYG) editor and integrates seamlessly with Google's analytics tools.
At McGaw, our services team uses Google Optimize all the time, so now we find ourselves asking, what can fill the void left behind by GO's departure?
Top 5 A/B Testing Tools for 2023: Our Selection Process
Without Google Optimize, how do we select the right platform? Here are some important considerations for evaluating alternatives…
| Criteria | Description |
| --- | --- |
| Ease of use | Evaluates user-friendliness and simplicity in setting up AB tests. |
| Features | Assesses comprehensive functionality and compares with Google Optimize. |
| Integrations | Examines ease of linking with analytics platforms like GA4 or Amplitude. |
| Price | Considers affordability and value for money. |
| Test complexity | Measures capability to execute complex tests using custom code and other advanced features. |
We picked a selection of popular AB testing platform alternatives and compared them point by point to help you make a more informed choice.
We at McGaw are huge fans of A/B testing and have written a couple of guides on how you and your business can jump in and get oriented with the world of testing. We even have a free Chrome extension to help you with your testing analysis!
Optimizely

Optimizely is a popular testing platform, renowned for its rich features. While it's on the pricier side, it's trusted by thousands of businesses globally. Plus, they offer a free trial, so you can test the waters.
Compared to Google Optimize, Optimizely offers more ready-to-use features and can handle complex tests. They're even offering a special deal for those switching from Google Optimize.
| Criteria | Testing Results |
| --- | --- |
| Ease of use | Features an intuitive WYSIWYG editor and user interface, but advanced functionalities may present a learning curve for beginners. |
| Features | Offers unlimited concurrent tests, personalization, advanced test types, PWA support, feature testing, SDKs, robust developer tools, full-stack experimentation, and serverside testing. |
| Integrations | Provides a wide range of integrations but lacks variety in analytics. |
| Price | Pricing is traffic-dependent with the standard plan. High-traffic sites could lead to costs in the thousands per month. |
| Test complexity | Optimizely is a developer-centric platform with SDKs and REST APIs for complex test execution. |
Pros:
Easy to use for simple tests
Lots of features
Has a free "starter" plan
Cons:
Can get very pricy
Not a lot of analytics platform integrations
Optmizely is an industry leader in the space but is lagging behind some of its competitors in other areas. It does have a lot of advanced developer features if that is something your organization needs.
Price: $$$
VWO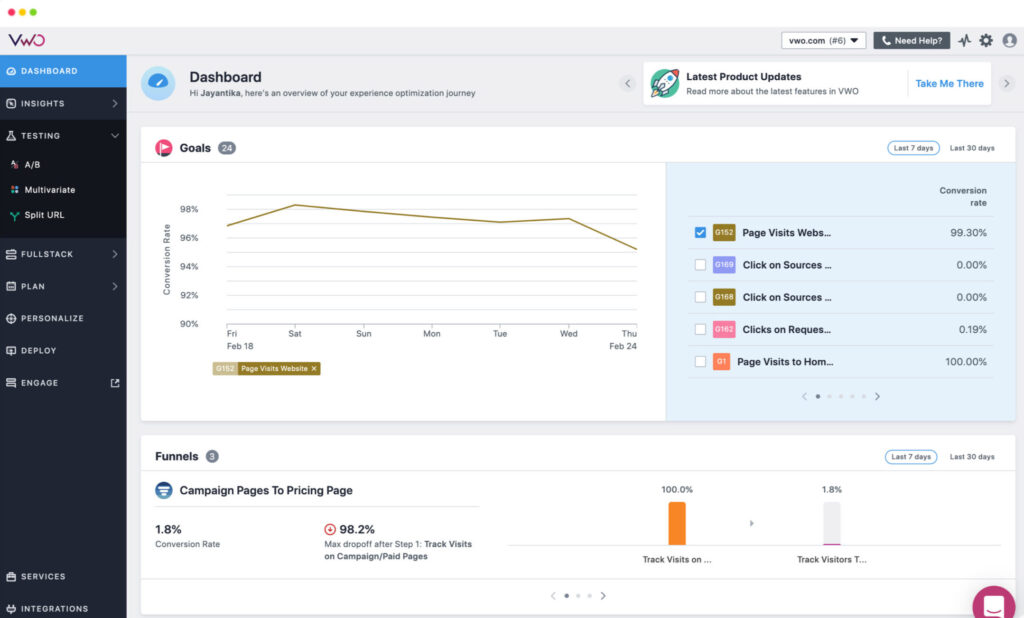 VWO is another popular platform that includes a big variety of features. They include many other behavioral analytics tools to complement their testing platform including heatmaps, BI tools, user surveys, and niche measurement tools like form analysis. Includes an experiment planning feature to help build hypotheses.
VWO has all of Google Optimize's features covered and includes some really useful UX tools to get an in-depth perspective of your site or web app.
| Criteria | Testing Results |
| --- | --- |
| Ease of use | Equipped with a WYSIWYG editor and custom editors for personalization like popup builders and prebuilt widgets. Some UI aspects may seem cumbersome. |
| Features | Incorporates heatmaps, UX analysis, goals, surveys, user recordings, user funnels, and serverside testing. Note: many features are exclusive to paid plans. |
| Integrations | Provides extensive integration options, particularly with CDP and Analytics platforms like Rudderstack and Mixpanel. |
| Price | Offers tier-based subscriptions determined by Monthly Tracked Users (MTU). Higher MTUs result in costlier plans. |
| Test complexity | Supports test creation through JavaScript(JS) code editor, and API and mobile development SDKs for Apple, Android, and React Native. |
Pros:
Standard UI with some quirks to get used to
Lots of UX features
Lots of support for analytics integrations
Has a free plan
Cons:
Higher cost if you have high MTUs
Features you need might not be available in all plans
Price: $$
With VWO, you get a competent testing platform with lots of UX tools integrated into the platform and an affordable entry point. Try out the experiment planning tool to help build hypotheses.
Convert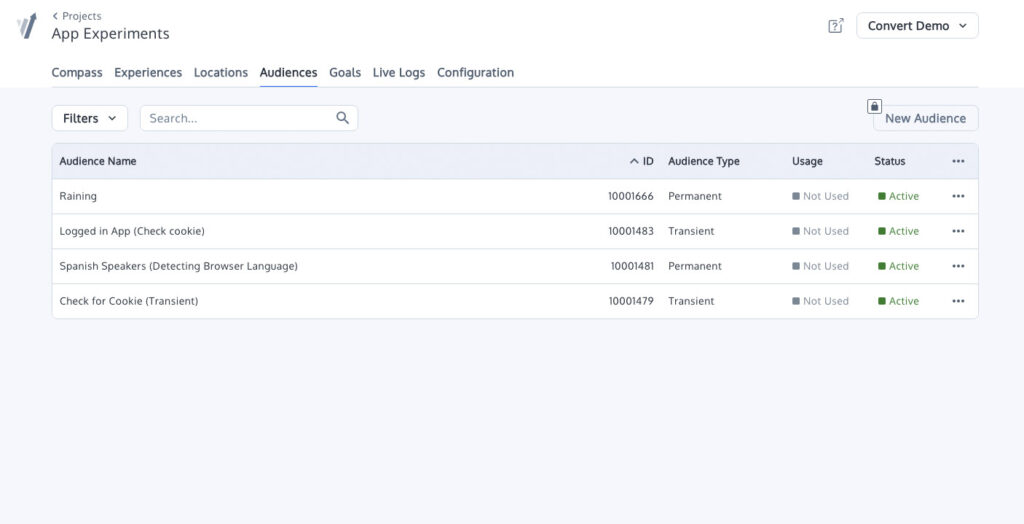 Convert is a versatile AB testing platform that can handle both simple and complex tests. It's user-friendly and offers an impressive number of integrations (over 90!). It works well with many familiar tools, providing a comprehensive feature set that allows agencies to conduct extensive tests across numerous clients.
Convert features a WYSIWYG editor, a built-in user-agent switcher (useful for mobile testing), custom JavaScript/CSS support, and strong audience targeting features. This makes it a good choice if you're looking for an easy-to-use interface that's a step up from Google Optimize.
| Criteria | Testing Results |
| --- | --- |
| Ease of use | Convert offers a WYSIWYG editor in an overall user-friendly platform. |
| Features | Presents an array of test types, audience targeting with 40+ filters, behavioral targeting, full-stack experimentation, user surveys, and serverside testing. |
| Integrations | Provides a diverse range of integrations, with excellent support for analytics platforms. |
| Price | Offers tier-based pricing segmented by test audience size. The Community Web platform is a cost-effective starter option. |
| Test complexity | Supports custom JS/CSS in the editor and server-side testing, but offers limited developer support articles. |
Pros:
Easy to use
Lots of integrations and audience filters
Good platform features for the price
Cons:
Pricing based on test audience size
Limited developer support
Price: $$
With Convert, it is easy to jump in and start trying out the platform on the Community plan with a simple but powerful platform.
AB Tasty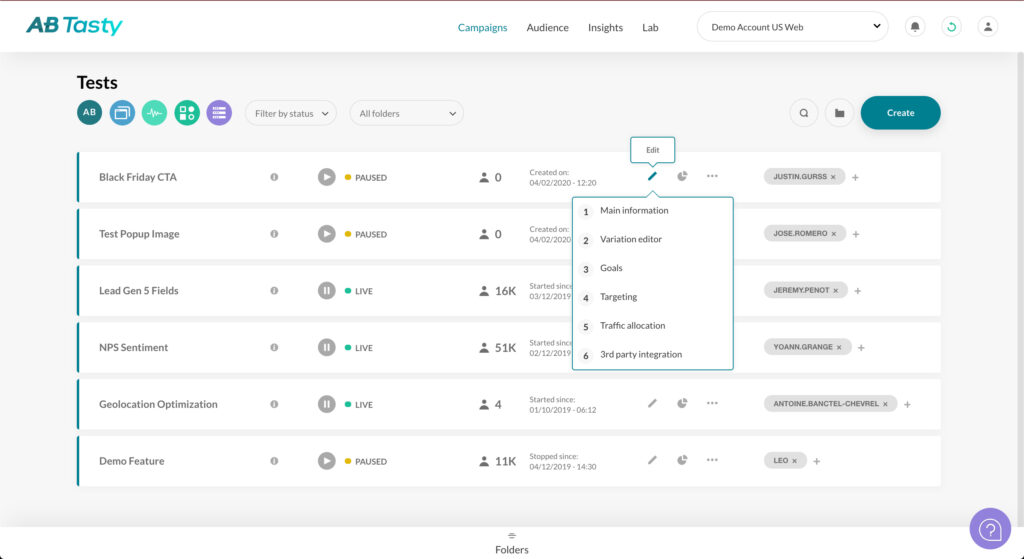 AB Tasty is another "all-in-one" UX testing platform like VWO. AB Tasty comes with a range of features that track user behavior like clicks, page views, and time spent on page. Includes personalization features, multivariate testing, heatmaps, and click maps.
This is a strong testing tool on par with Google Optimize, includes ML and predictive capabilities, and the cost is similar to Optimizely.
| Criteria | Testing Results |
| --- | --- |
| Ease of use | AB Tasty features a modern interface with an easy-to-use WYSIWYG editor and custom code support. |
| Features | Provides behavioral targeting, personalization, multivariate tests, heatmaps, session replay, dynamic content support, and serverside testing. |
| Integrations | Offers a modest library of integrations including notable analytics platforms like Amplitude and GA4. |
| Price | Employs quote-based pricing. |
| Test complexity | Includes a code editor, SPA support, API access, custom variable support, and ML and predictive features. |
Pros:
Easy to use
Lots of integrations
ML and predictive features
Modern interface
Cons:
Limited developer tools
Pricier option
Price: $$$
This platform might have a higher price point but does have a very modern, easy-to-use interface with a lot of great platform features.
Conductrics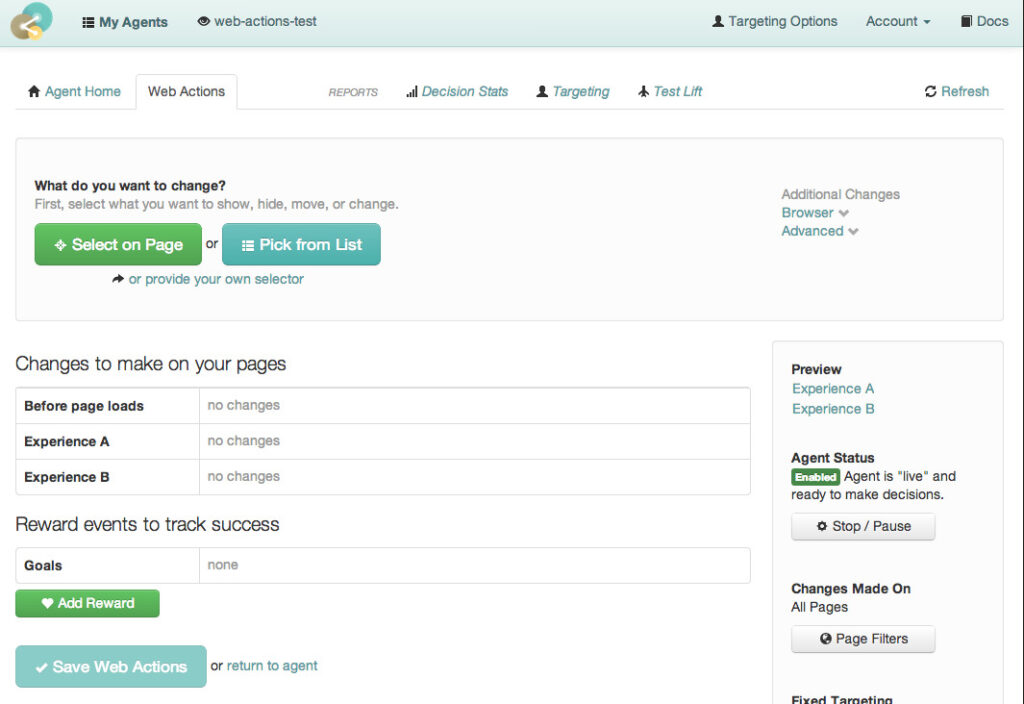 Created by Matt Gershoff, an expert in the field of digital marketing, the Conductrics platform includes feedback loops and machine learning, enabling the platform to delve deep into the root causes of test results.
A platform with a pedigree is something to consider if you are eager to leverage ML…
Conductrics is designed to provide insights that can help businesses make better decisions. The pricing for Conductrics varies depending on your plan, but it generally falls within the same price range as VWO or slightly higher.
Overall, this platform is a well-rounded testing tool that offers a range of features and benefits.
| Criteria | Testing Results |
| --- | --- |
| Ease of use | Conductrics offers a modern, user-friendly interface with machine learning algorithms for decision-making ease. It includes QA-only and Preview modes. |
| Features | Supports multivariate testing, personalization, ML algorithms, real-time optimization, advanced targeting and segmentation, feedback loops, and serverside testing. |
| Integrations | Premade integrations with MAPs like Marketo and HubSpot, CMS platforms like WordPress and Drupal, a webhook system, and a REST API. |
| Price | Offers 3 packages (Basic, Pro, and Enterprise) with variable features and support. Pricing is usage-based, considering the number of experiments and traffic. Free trial available. |
| Test complexity | Supports a REST API, mobile SDK, and statistical reporting features for advanced test development. |
Pros:
User-friendly interface
A range of testing options
Real-time optimization and advanced targeting
Customizable reporting and integrations with marketing tools
Cons:
Higher pricing than some competitors
Machine learning and reports can be complex
Limited documentation and tutorials
Price: $$
If you're eager to leverage machine learning in your test production or if you have high standards for campaign reporting, then this platform is worth considering. With a solid track record of success, it offers a range of features and benefits to help you achieve your testing goals. Free trials are also available, so you can try it out risk-free.
Three More Things… (Honorable Mentions)
The above options can potentially be pricy, but some of them do offer cheaper tiers to get you started. This won't work for everyone, so I thought we should include some honorable mentions for some other, less well-known tools that you might want to consider.
Apptimize is a good option if you're looking for a free tool to conduct A/B and multivariate testing with visual editing. Their free plan covers up to 10,000 monthly active users.
Leanplum is a mobile marketing and engagement platform that includes features like A/B and multivariate testing, along with push notification testing.
Kameleoon's free plan offers A/B and multivariate testing, plus personalization features. You can run up to 50,000 visitors per month on this plan.
No really, what about FREE free?
The bad news here is that many of these platforms include a free version but only within limited thresholds. This is fine for smaller sites with low traffic but for bigger sites, you will ultimately end up spending to get the most out of the platform.
It is critical to understand your audience size and your traffic, this will be your baseline for evaluating every testing platform available.
Our friends at Speero put together a thorough A/B Testing Tool Comparison site. This is a great resource to start understanding your needs.
Final Thoughts
As Google Optimize fades into the sunset, the search for a reliable alternative has become an unexpected priority for many businesses. Selecting the right platform will depend on a variety of factors such as the nature of your current testing process, your must-have features, and your budget.
Remember, the end of Google Optimize isn't a setback but an opportunity to upgrade your A/B testing game. In the landscape of constant digital evolution, being adaptable is the key to staying ahead.
It's difficult to declare a clear "winner" among the AB testing tool alternatives listed in the post as the best choice will depend on each business's unique needs, budget, and goals. Each tool has its own strengths and weaknesses.
It's important to evaluate each tool based on your own needs and budget before making a decision. Take the time to explore these options, sign up for demos, and understand what they can offer.
That being said, after comparing the features, ease of use, integrations, price, and test complexity, some businesses may find that certain tools are better suited for their specific needs. For example, small businesses with a limited budget may find that VWO or Convert are more affordable and offer a good range of features. On the other hand, larger businesses with more complex testing needs and bigger budgets may prefer Optimizely or AB Tasty.

Utilize the VICE A/B Testing Framework
with Our A/B Test Plan Template
Run 100s of different A/B tests, or narrow it down into the
top 10 that you think will work quickly with this template.