Traditionally, when you think about an employee leaving an organization, there are a few things that are common place: two weeks notice, a transition plan, and an exit interview.
Now, if the name of the consultancy didn't give it away, McGaw.io is anything but your traditional organization – which is why, when it came time for my exit interview with our CEO and founder, Dan McGaw, he suggested that I write a blog post.
You're comfortable being really honest, we pride ourselves on transparency. What did you learn here? What was it like working here? Dan McGaw
That was all the guidance that he gave me.
What it's like working at McGaw.io?
When I was initially outlining this post, there was the laundry list of words I wrote down to describe everything from the physical space to the people: Air-hockey table, concrete floors, red rocking chair, office music ranging from dubstep to country, smart people with entrepreneurial spirit, and much more.
Unfortunately, in the subsequent review of the list, I was frustrated that nothing truly seemed to capture the essence of working at this McGaw.io analytics and growth consultancy.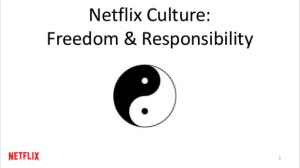 That's when I remembered a slide share deck I once saw, outlining the culture at Netflix. If you aren't familiar with the slides I'm talking about, I highly recommend checking them out here.
When I initially saw these slides, I remember thinking to myself that I would love to work for Netflix – a place where performance and EQ (emotional intelligence) are central to evaluating employees.
Fortunately, without even knowing it at the time, I found a company that valued those exact things.
At McGaw.io the singular most important metric is value delivered.
All employees are judged based on the value they provide to clients – if you work an 80 hour week on a project that doesn't increase client metrics or provide critical learning, you better be ready to have an uncomfortable conversation come Friday. (At the end of every week, each employee sits down with their direct supervisor or project manager to review everything accomplished that week)
In thinking again about traditional organizations, everyone will say that their company is just like a big family. In reality, though, organizations aren't families, the ideas of unconditional love and acceptance associated with a family don't exist in business.
To take another analogy from the Netflix slides, the team at McGaw.io is managed like a professional sports team – constantly seeking top performers, recognizing when individuals who once were a perfect fit aren't and letting them go with thanks and respect, and understanding that one star performer isn't worth it if they derail the cohesiveness of the team.
Where does EQ come in?
Simply put, at McGaw.io, employees with a high EQ who are self-aware and able to navigate difficult situations with team members and clients are the ones most likely to be promoted. The team boasts employees from five different countries all working collaboratively, and there simply isn't any room for a jerk. (Don't get me wrong, there are frequent disagreements, but they're always supported by data and voiced openly without malice)
So, what about the juicy stuff, the fighting, and internal strife?
To be honest, McGaw.io is the absolute least political place you could work. Depending on who you are and the environment you enjoy working in, this can be good or bad. Dan McGaw as CEO and founder is religiously blunt and direct. If you're used to the compliment sandwich when getting feedback, you won't get it from him.
For those looking to grow and be truly top performers, working at McGaw.io is a career growth accelerator as much as an analytics and growth consultancy. Now if you're easily offended or think you get even remotely defensive when hearing feedback, McGaw.io is not for you.
What I Learned at McGaw.io
If I were to go through absolutely everything that I learned in my time here, it would take another few blog posts, so I've decided for your sake to limit this to the things I learned that I believe will most influence my career going forward.
1. Time management: In being reflective, I'll admit that when I first joined the company, I wasn't the best manager of my own time. I had a habit of jumping on every email like it was a James Bond message that would self-destruct in 15 seconds. In my first weeks, this tremendously impacted the amount of actual work I was able to do.
When I discussed this with Dan, he showed me the dashboards and tools he uses to track his time (it's insane, almost literally). While I haven't gone to the same lengths that Dan goes to, I now schedule absolutely everything on my calendar – every task, big or small.
I've been able to accomplish more real work and deliver more value, and it does wonders for people stressing over a big to-do list. (Book recommendation if you see yourself in the statement, "I jump on an email as soon as it hits my inbox." Essentialism by Greg McKeown)
2. Extensions and apps: I had never really considered using Chrome extensions, and now my browser is packed. There are a ton of free tools out there designed to make people more productive or optimize applications that you're already using. It will take some time for you to get proficient with the different extensions and apps available, but in the long run, you'll dramatically reduce the time you spend on simple tasks.
3. Tools: Working at a consultancy has exposed me to nearly every popular marketing and analytics tool in the market today. To reiterate something I said earlier – if you're looking to grow your skill set and career, working at a consultancy is one of the best ways to do it.
4. Recognize the point of diminishing returns: When you're working on any project, there comes a time when adding another unit of work won't produce another unit of results. The faster that you can recognize these situations, the more value you'll contribute in the long run.
During my time at McGaw.io working with the analytics from many different companies, I got a crash course in recognizing when spending further time tweaking or optimizing a page/message wouldn't yield significant results.
5. Make friends with a dev: This one can't be any simpler. If you're a marketer, it is absolutely imperative that you make friends with a dev in your organization. The partnership will be tremendously beneficial to both parties, with each of you growing the others skill set and understanding of the full marketing technology sphere.

As I move on in my career journey, I can't be more thankful for my time here or the relationships that have been built. I look forward to seeing the continued success of the brand as well as the clients I had the privilege to work with.
If you're reading this and considering joining the McGaw.io team, I hope that it has helped to give you an idea of what to expect – it's a kickass team working with cutting edge tools, don't miss out. ;)