Tracking ROI for anything can be a hairy mess. I know it is supposed to be simple. All you have to understand is, how much money went into a project and how much money came back from the project, and there you go, you have your ROI percentage.
Right, it's just that simple, lol.
Well, it was that simple until they built this stupid thing called the internet. I know, it is still the same, you are still tracking the amount of money spent and comparing it with the money earned, but in the digital age, our spend is everywhere.
Like literally, it is everywhere.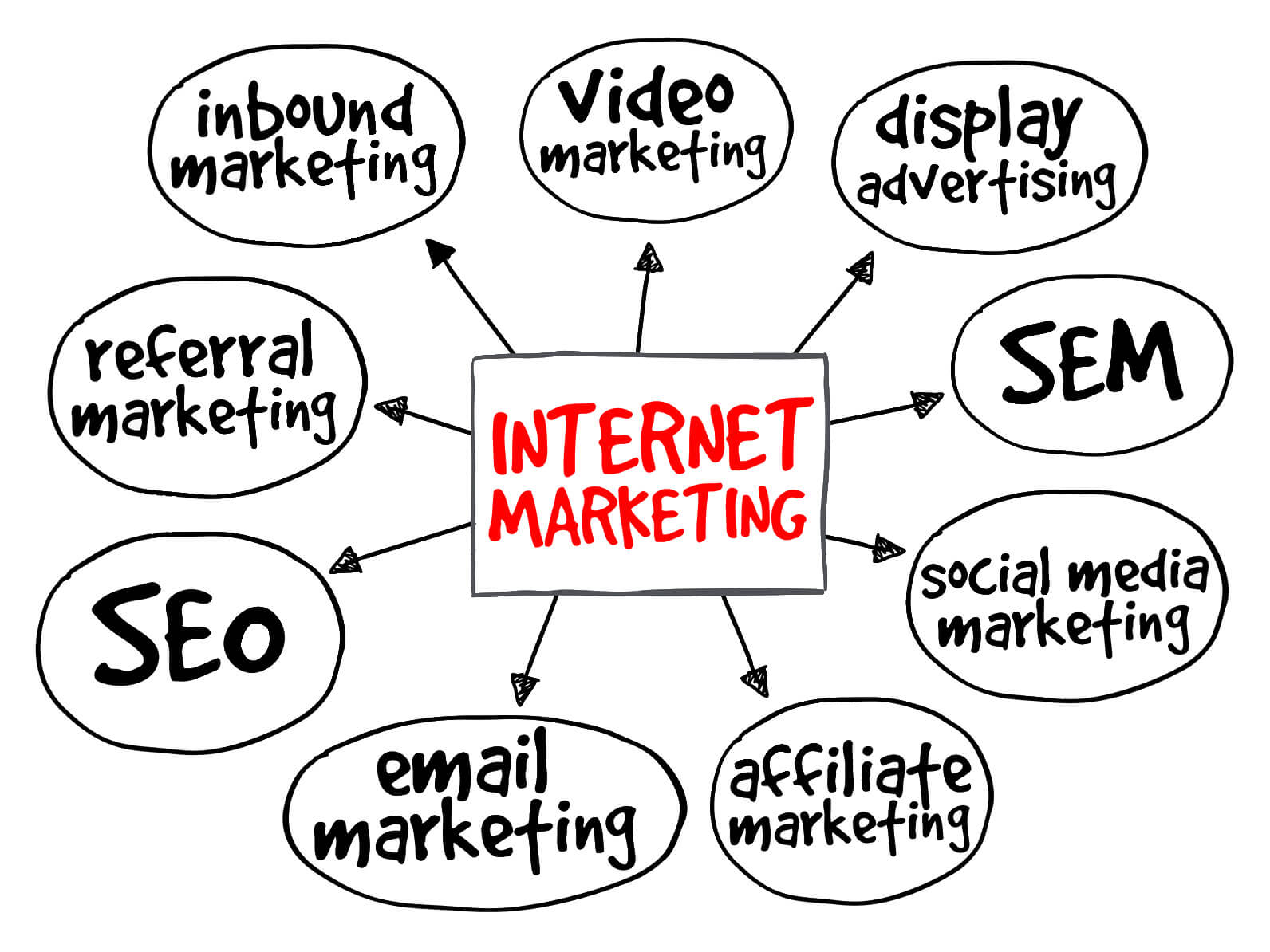 One of the things that most marketers struggle with is how to know how much was spent on social media, or how much was devoted to a blog post. Heck, I get asked by my clients how do we know the ROI of an email. I expect them to ask these things because without returns, all of our businesses would fail.
Their questions are valid for sure, but is the only cost that goes into an email the cost of the Mailchimp subscription? Kind of, but is that all that goes into sending the email?
In this conversation, I am going to talk about the one trick in my tool set which enables me to track every single bit of ROI that comes from my marketing efforts. Funny enough, it is going to be a ton easier than you might think.
Why do I believe it is easy? Well, because this one trick has been around for a super long time, even before Google analytics.
Ok, that is kind of a loaded statement since Google Analytics used to be Urchin Analytics. Urchin analytics is the one who created this one tracking trick. By now, the nerds reading this post already know what my tracking trick is.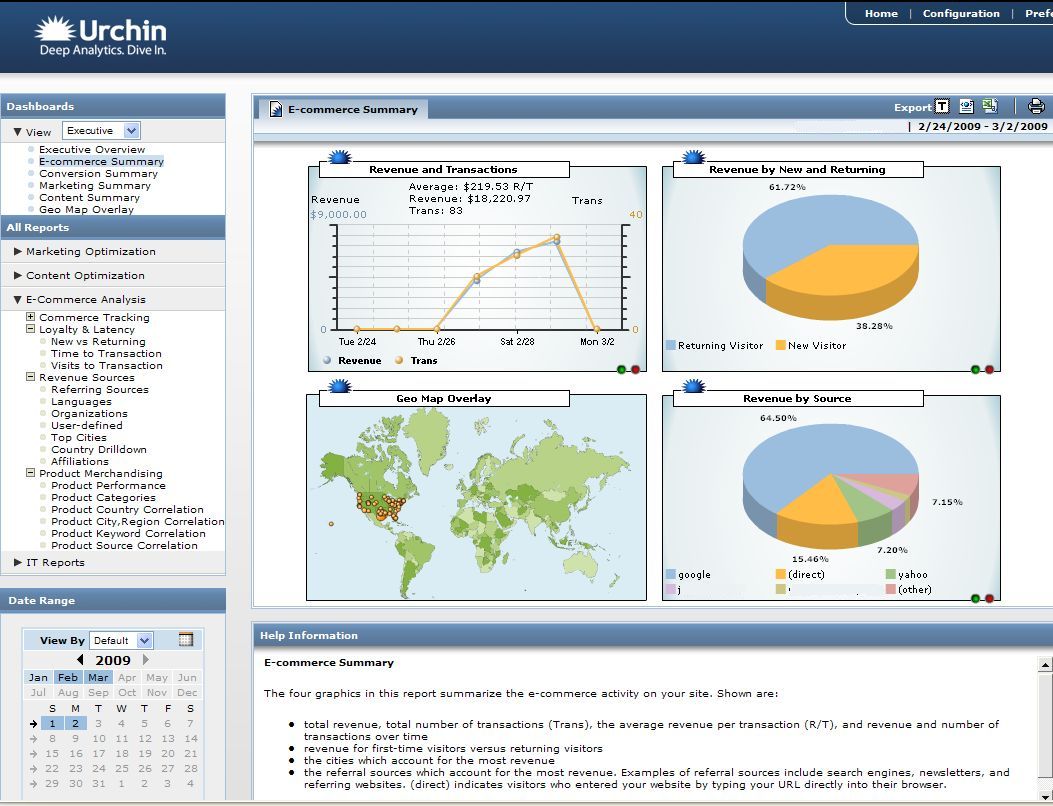 If you were thinking the Urchin Tracking Module, or as most know it, the "UTM", then you are right!
For those out there who are not familiar with UTMs, I will give a brief run through. For those who know what a UTM is, skip the next section.
What is a UTM tracking code?
A UTM (Urchin Tracking Module) is a tag appended to the end of a URL.
When a UTM tag is added to a URL it allows you to track your ROI much more efficiently. When adding UTMs to your links, you'll not only track the general source of your traffic (such as AdWords or Facebook), but you will also track the particular campaign or post (such as social media). This makes it super easy to understand how your efforts have converted into real traffic and revenue on your website.
Here is an example of a standard URL:
https://mcgaw.io/
This an example of the same link with a UTM tag:
https://mcgaw.io/?utm_medium=cpc&utm_campaign=google&utm_source=product&utm_content=mixpanel&utm_term=segmentation
To break this down further, a UTM is made up of a few components: the URL, campaign source, campaign medium, campaign name, campaign content and campaign term.
Website URL: https://mcgaw.io
Campaign Name: kissmetrics-webinar
Campaign Source: kissmetrics
Campaign Medium: email
Campaign Term: ROI
Campaign Content: utm-content
Each one of the campaign elements has a specific purpose, so it is important you know how to use them to your advantage:
Campaign Name: This acts as the identifier for a specific campaign, product or offering that you're driving traffic to. It's required for all UTMs.
Campaign Source: This is the referrer of traffic to your page, such as Google, Facebook or Outbrain. In many cases, this is the platform or tool you used to create the medium.
Campaign Medium: This is the marketing medium that referred the traffic. So, unlike the source, it tracks the type of traffic such as a banner ad, an email, or a Facebook post.
Campaign Term (optional): While this is optional, creating a campaign term allows you to track the paid keywords of an ad or even the keyword of the link in a blog post.
Campaign Content (optional): This is another optional part of a UTM, but including this allows you to differentiate easily between ads on the same channel, like Reddit ads, which comes in handy when you're A/B testing various images or ad copy.
Now that we have covered some of the basics, let's talk about how you can use this to your advantage in tracking your ROI.
When doing anything on the web, you need to make sure you have your tracking set up to make sure you can measure anything.
Would I assume many of you already have Google Analytics on your site? If you do not, I think we need to have a private conversation.
I, at least, hope you have Google Analytics set up, and if you are super rad, you have Kissmetrics set up too. I mean come on, Kissmetrics is the best analytics platform out there for tracking multi-device ROI metrics.
I won't get into those details now, but hit me up if you want to know why I say this.
Alright, so you have the basic analytics installed on your site and you want to know how I recommend you use UTMs to track ROI.
First, let's talk about how and where you can make UTMs, and then we will hop into three examples of tracking investment into a campaign and then how to use UTMs to track the return on that investment.
How and where to build UTMs
I mentioned earlier what a UTM is, and what each part of a UTM means, but how do you go about creating them. There are multiple ways you can do this, the most common is probably the Google Analytics URL builder.
Google it and it will be the first search result:

The problem I find with these tools, is that once you use it, the UTM is just a link and you have no way to track it over time, or even have context as to what it meant days, months or years later. That is why some of us have made these fancy google sheets into which we can input the UTMs and the links.
When all filled out it, we have a cool formula that will spit out a UTM link for us to use while also storing all the information in an organized ledger for us to refer to in the future.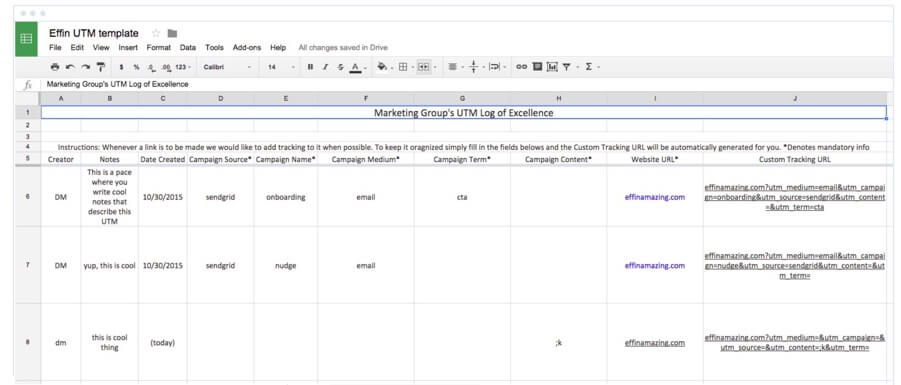 When making UTMs and sharing links all around the web, you typically want to hide the UTM codes. Overall, they just make the link long, but also make people feel a little weird since they know you are tracking them.
To make this ugly code go away, we recommend using services like bitly link shortener. It takes your super long link, creates a redirect on it's server to your site, then gives you a small link which will auto redirect to your intended page with the UTMs hidden in the shortened link. Aha, tracking and cleanliness at the same time.

 Now this process can take you a little bit of time and be a little frustrating if you are super busy. This is the reason most marketers are not diligent about their UTM tracking. Overall, the process can suck.
First, you have to come up with what the UTMs are going to be, collect the link for the UTMs, either use the Google Analytics url builder or a Google spreadsheet, copy the UTM'd links over to bitly, copy the bitly'd links and then finally post on social media or somewhere else.
This is 5 or 6 steps just to make a link which you can prove ROI. If you have to do that process fifteen or twenty times in a day, it will get annoying.
That's why I built you a Chrome extension which does all of these functions in one step: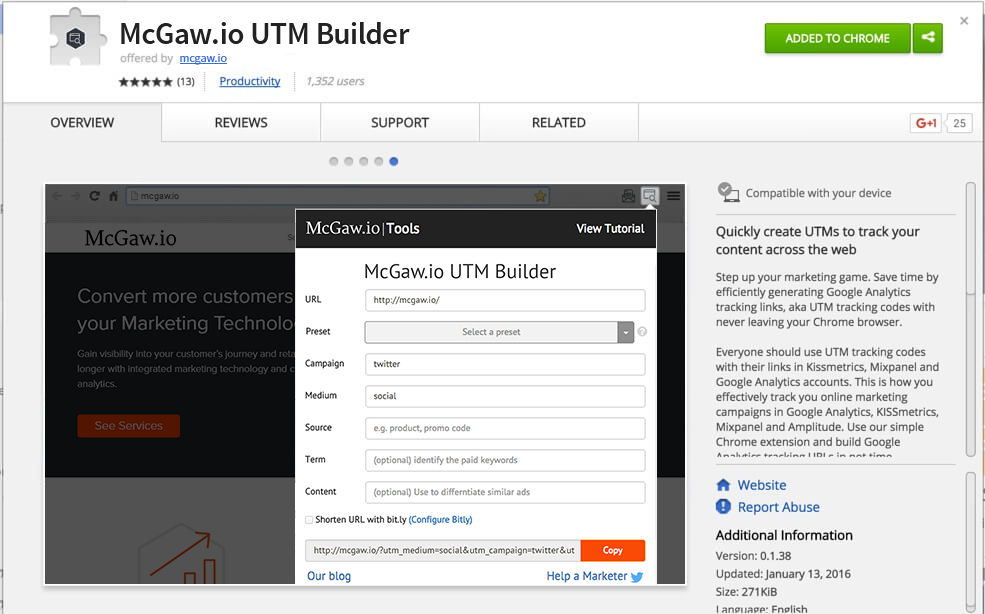 Capture the link of the page automatically when you open the extension on any web page: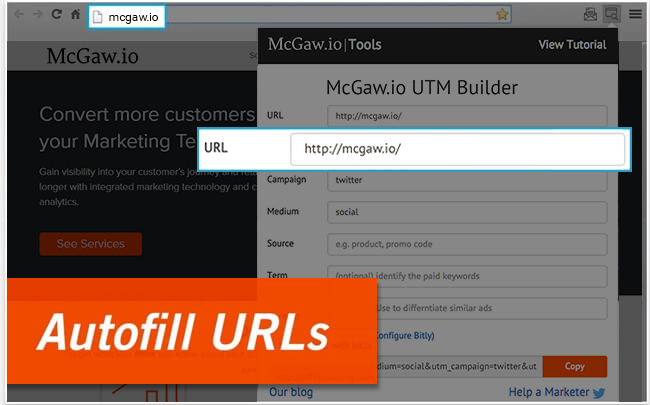 Save presets so you can reuse UTMs over and over again across multiple web pages: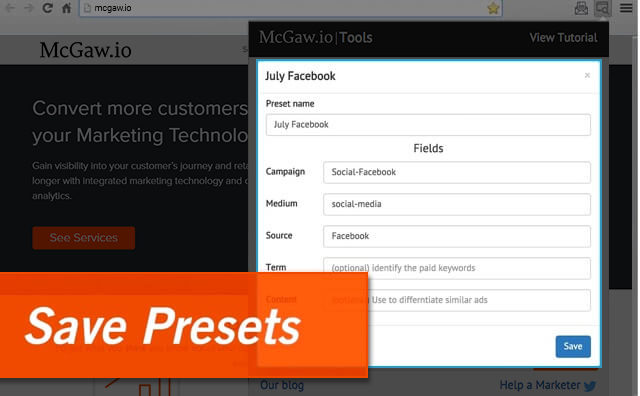 Convert it to a bitly link: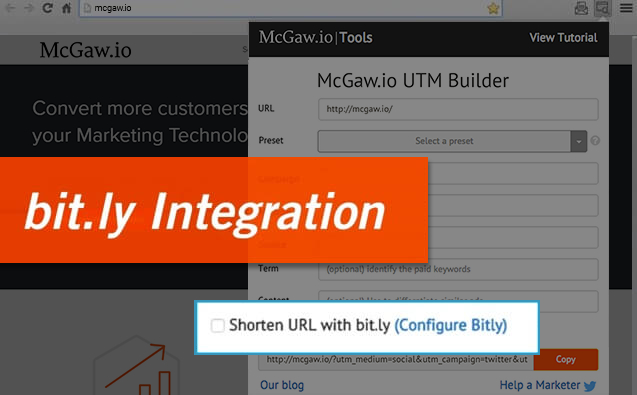 Make notes about the UTM you are creating for later reference: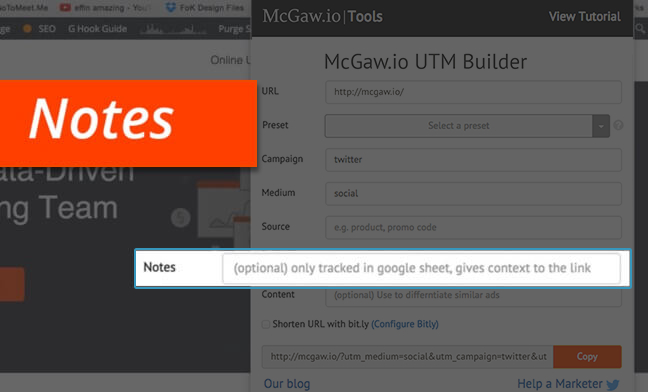 Copy the UTM'd link and save to a Google spreadsheet for later reference all in one push of a button:
Alright, but how does all of this enable you to prove your ROI?
Moving on to ROI tracking examples
Well, let me give you some examples of how we use UTMs to track the ROI for everything we do.
One of the first things you need to figure out before you track return on investment is the actual investment going into the campaign. If we were talking about content marketing, this would potentially be the time it took to research, write and proofread the post.
At our business we have two ways we create content, one is through an external agency, and another is through our employees.
The first one, through the other agency, is mad easy to quantify since they send us a bill with each post, but what about when one of our salaried employees writes the post?
Well, for us it is super easy because we track all of our time in Harvest. Might seem like an obvious thing since we run an agency, but in fact, only about 10% of our clients are on billable hours. We primarily use timers here to track our efforts into all projects, especially internal ones so we can validate the ROI. This post is being time tracked as we speak.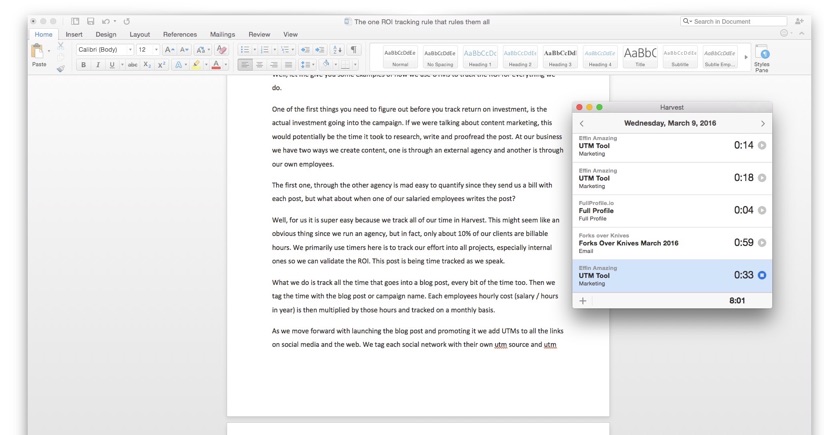 What we do is track all the time that goes into a blog post, every bit of the time too. Then we tag the time with the blog post or campaign name. Each employee hourly cost (salary / hours in a year) is then multiplied by those hours and tracked on a monthly basis.
As we move forward with launching the blog post and promoting it, we add UTMs to all the links on social media and the web. We tag each social network with their UTM source and UTM medium to make sure we know which networks drove the most traffic and eventually the most revenue.
Obviously, the biggest thing we need to make sure of is that the campaign is correct, and our UTM codes match exactly, even the case. If you mis-spell or have a capital letter in one, but not in the other, it will show as a separate UTM in your analytics.
Once we are done with the heavy lifting of writing and promoting our post, we then tally up all the time that went into writing said post and quantify it all to figure the investment into the post. For example, this post cost us about $1,150 to write.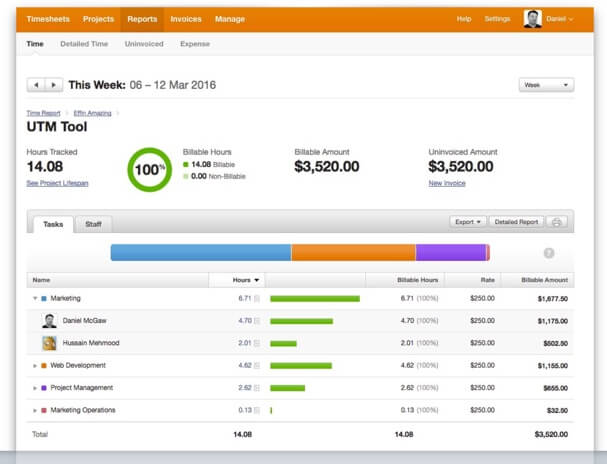 Now that we know how much the post cost to make, we will also track our time invested into promoting the post. This will all go under the projects task in Harvest and we will run numbers at the end of the month.
Now, for us to connect the dots, we obviously have to promote this post using the UTMs and also make sure if someone read this post and contacts us to become a lead we store that information somehow.
In our case, we use Agile CRM as our lead capture and sales tracking tool. They have an analytics tracking script we leverage to track each lead and what UTMs they came from.
Say for example, a lead has already become a customer and spent around $15,000 on a project. After we looked at all time invested into this, we were able to see that one blog post got us a 1600% return. That's just one method of using the UTM in a social media post and content marketing to track ROI.
Let's talk about some other examples:
I will assume many of you are sending promotion emails. This is one of my favorite places to begin tracking ROI. One of the common things people forget about, if you track all of your UTMs for a campaign across all channels, using the same campaign name, you will see all of your efforts in an organized fashion.
They will be broken down by the campaign, and then the source and medium and finally the more granular terms and content.
So if we were promoting a product launch, we could easily bulk its UTM into the campaign, but then see the return from each channel or even email we send.
If we were tracking our emails correctly, we would directly see the impact of this email in our analytics.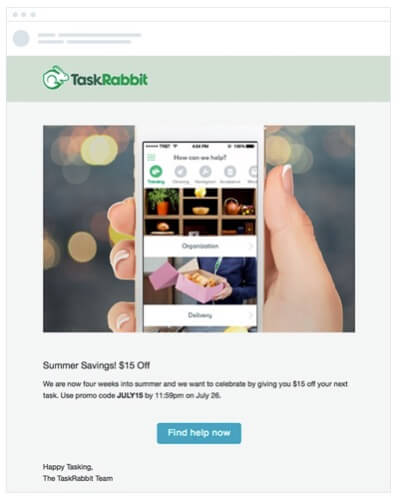 Lastly, if we wanted to measure the tracking of our advertising efforts, no matter what network or analytics tool, we would want to use UTMs.
Since GA is the only platform which automatically ads your Adwords data in to see ROI, you need to use UTMs with tools like Kissmetrics so you know the LTV of someone from a UTM.
If you were running ads on a site that sells multiple products, you could track the exact ad which drove the first conversion and also which keyword drove the best lifetime value customers.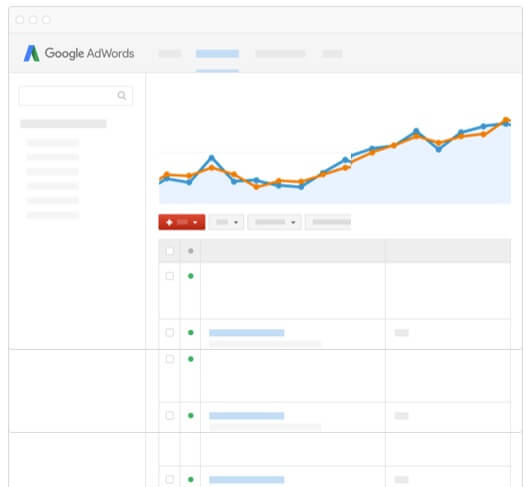 When you set up your UTM correctly, you can track dynamic fields in Adwords, like Keywords, or Adgroups.
This gives you great power in your granularity!
Whenever ever someone clicks your ad and lands on your site, that information will be posted in the URL and will then show in your analytics.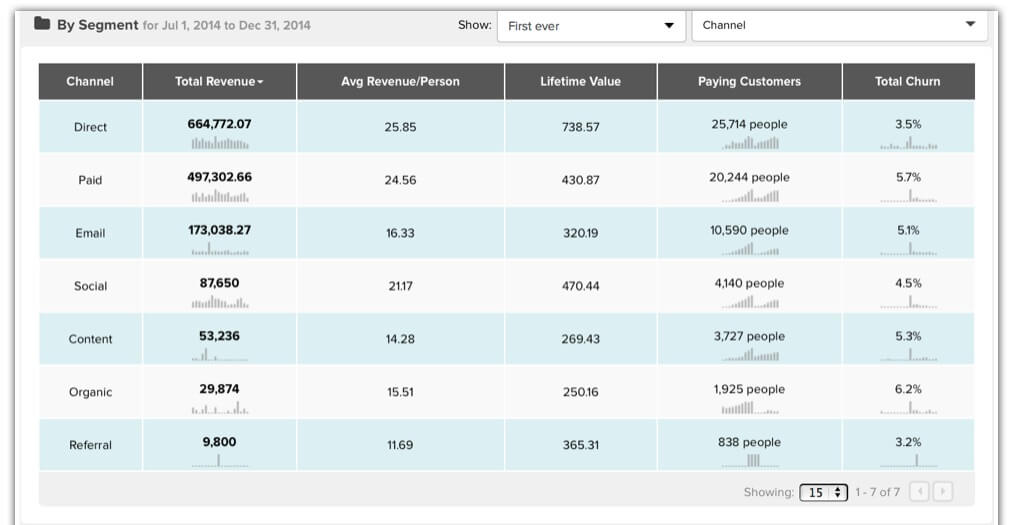 Now in the beginning, I told you what a UTM is, how you can build them quickly, even told you about the cool tool I built for you to make them quickly.
We have given you examples, of how to use UTMs to track in three different ROI examples.
All you need to do is to start tracking the investment into everything you do, create a UTM to track those investments and finally have Kissmetrics setup to track your revenue dollars back to that UTM term and prove everything you do drives ROI!
How are you using UTMs to track you ROI?