If you've read anything about digital marketing these past few years, you know that content is king. Everyone has been clamoring about the positive effects of a well-conceived blog and how it can drive your business growth or build your personal brand. The real question is what separates the high converting blogs from ones that create strong content but does not convert well?
We've deconstructed some of the most successful blogs within the marketing technology (MarTech) and digital marketing space. We pay a lot of attention to blogs, and we've come up with some major strategies and techniques that the leading blogs are successfully executing on.
KISSmetrics — Analytics Software with A Highly-Analytical Blog
Besides being a leading marketing analytics software company, KISSmetrics has built one of the preeminent marketing blogs on the internet. It is backed with a data-driven approach, focused on uncovering insights through quantitative insights.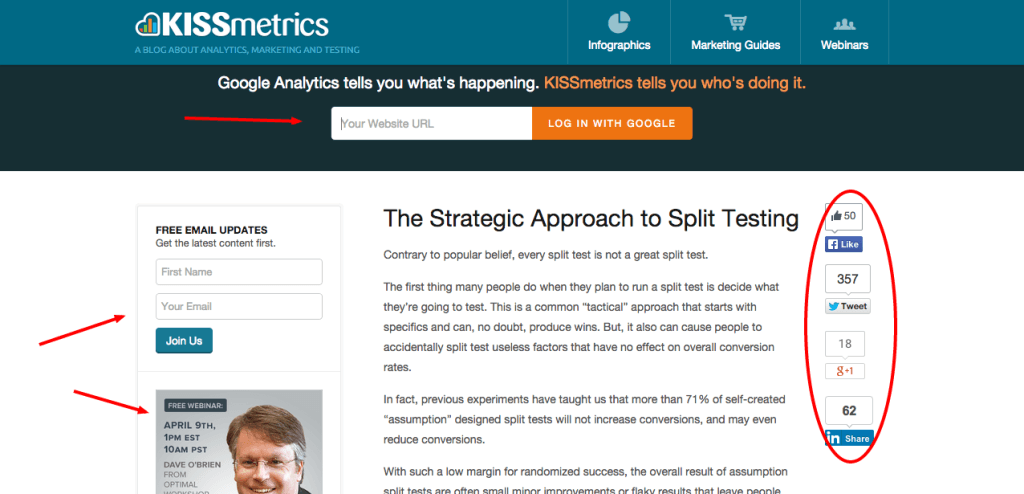 As you can see above, there's a lot to breakdown here. Aside from the basics that KISS has nailed (which most companies have not), their UX is top-notch, combining a clean, easy to read design with the proper call to actions (CTA).
Going further, they strategically place each CTA. The headline "Google Analytics tells you what's happening. KISSmetrics tells you who's doing it" is the most succinct way to explain to visitors the difference between Google Analytics and KISSmetrics. The important thing to note here is that KISSmetrics is using their blog to convert visitors into leads for the product. Why spend all that time on creating content and attracting an audience if you never intend on having your visitors becoming a lead? The reality is, most companies never provide a call to action on their blog.
Many blog visitors are not ready to convert to paying customers or even try your product right away. You need to have several CTAs that serve one purpose: building your email list. An email list is still the most powerful, scalable way to build a relationship with your audience. KISSmetrics knows this, hence their email CTA box on the left side of their blog.
Why is that important? Well, we're trained to read from left to right, which is why they place their email box to the left of the blog title. Doing this can easily grow your email list and help convert them into paying customers. KISSmetrics employs this tactic with their webinar registration too, which helps drive emails and increase engagement.
To fully maximize on the CTAs mentioned above, KISSMetrics knows that they need to drive traffic to their site, and that social media is one of the core pillars of doing that.
Having a social share bar on the side of the content allows visitors to see how many times the article was shared. It adds a lot of social proof, which can drive even more shares and traffic. When we see others do something, it makes us more comfortable doing that as well. We're all social creatures and conformists to some extent.
KISSmetrics doesn't stop there, however. If a reader reads an entire article and scrolls to the bottom, then you can assume that they're an engaged reader. And that they enjoyed the content and would like to read more similar content now or in the near future. KM set up several things to leverage this, such as:
A read more feature, hyperlinking to similar articles to increase engagement
A CTA that drives visitors to test KISSmetrics by logging in with Google
A downloadable piece of content that is similar to the article and goes in-depth on a particular topic. In this case, it's "How to Optimize Your Growth with KISSMetrics"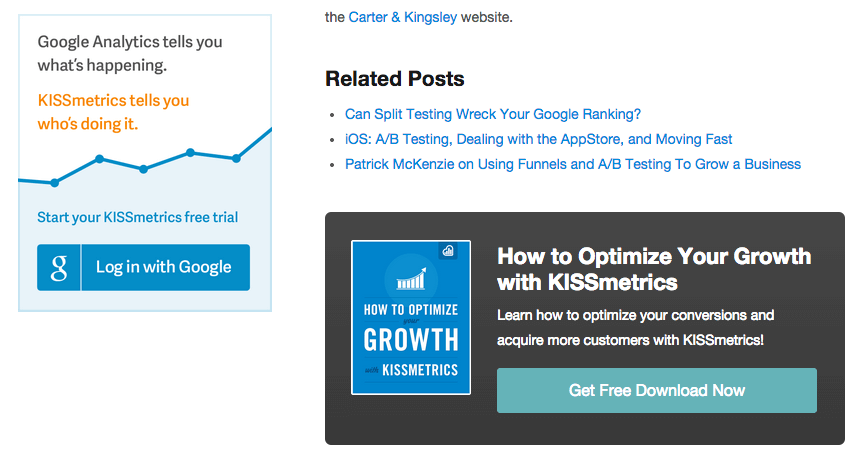 Is KISSmetrics finished now?
Nope.
When you're on KISSMetrics and decide to leave the site, they leverage an excellent exit-intent popup from Bounce Exchange. This tool enables them to capture visitors who are exiting the site.
This strategy's value is incredible: it's a way to present your message (in a non-annoying format) and ask for an action. Examples include downloading a whitepaper or scheduling a demo of a product.
Depending on your ask, design or visitors, you can gain an large amount of opt-ins rather than losing conversions. We highly recommend implementing a well-made exit-intent pop up to present your visitors with content or a special offer in exchange for an email address.
HubSpot — The Leader in Inbound Marketing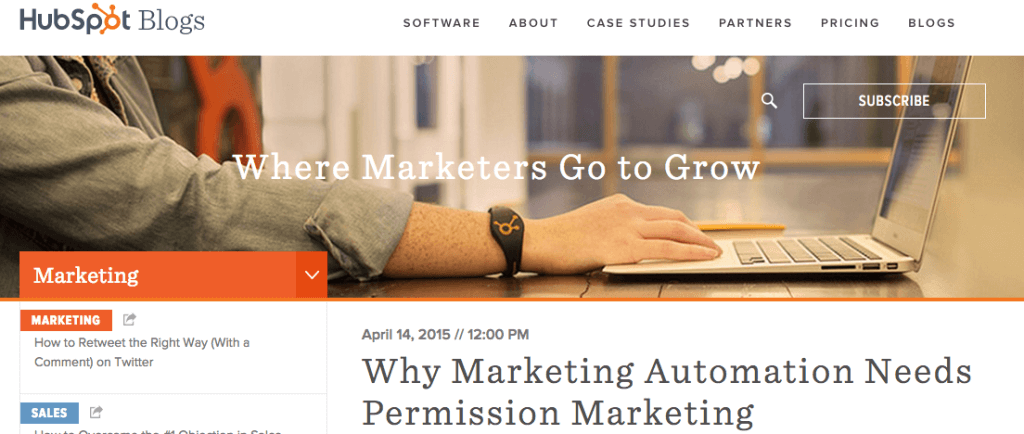 HubSpot is a well-known marketing automation platform used by thousands of marketers. They're known both for their excellent product and educational marketing content. And they  built their marketing engine upon them.
HubSpot coined the term "Inbound Marketing", and they've been practicing what they preach from the start.
HubSpot does a lot of things right on their blog, and while they've changed their layout a handful of times over the past few years, they've always optimized their great content for conversions.
Starting from the top down, their hero text "Where Marketers Learn to Grow" is fitting and inclusive. This section of their blog focuses on creating marketing content, and their hero text ensures all visitors looking to become better marketers, know they are in the right place.
Once they engage a reader, they have a simple "subscribe" CTA drives email subscriptions. They have leveraged a great image that increases the readability and shareability of content.
Furthermore, they provide their readers with more options ranging from Sales to Agency content. This depth helps keep readers hooked.
Like KISSMetrics, HubSpot's blog has a few key qualities, such as:
A social share bar on the side of the blog
A downloadable piece of content at the bottom of the article
An exit-intent pop up to drive email subscriptions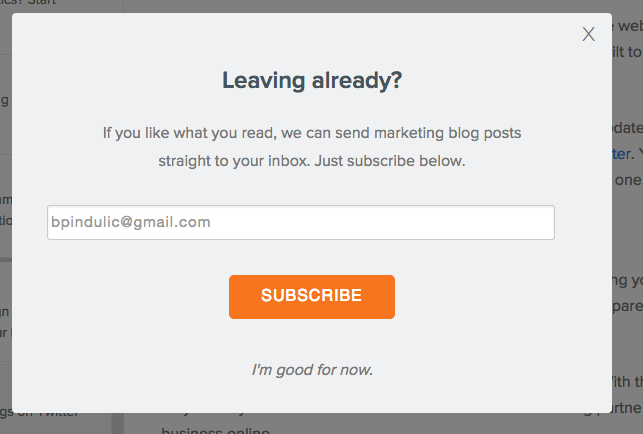 These qualities allow HubSpot to drive conversion, shares, and traffic, and build their email list. They increase their reach and relationship with their visitors.
McGaw.io — Brand New Blogs Can Be Amazing Too
This one is a bit meta, but since we're taking a blog from zero to a niche leader in the analytics and growth hacker space we wanted to point out some of the things we're doing to build our blog for conversions. Our team has been a major part of several high-growth companies and we're taking that same approach with our blog.
Since we're starting from ground zero, we decided to first to focus on the basics by investing in quality content, building our email list from day one and creating aesthetically appealing page layouts.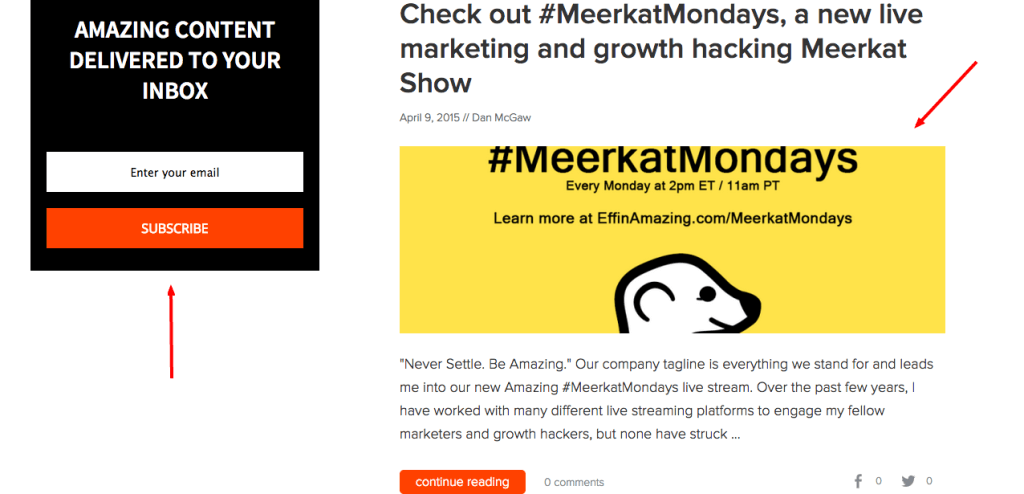 By doing this, we are establishing our blog as an authoritative resource. As we continue to publish great content, our reach will grow exponentially and we can setup more conversion tests to optimize our blog even further. This process will allow us to decide what areas need the most attention and where "leaks" are in our content funnel.
It will also allow us to demonstrate to clients that we can build an audience from scratch, create amazing content, and show that we're practicing what we preach. All by making data-driven decisions here at McGaw.
As a sidenote, one of the campaigns we're experimenting with is "Meerkat Mondays". As marketers, we know that jumping on trends and producing something better and more engaging than everyone else is the name of the game. We see a huge opportunity with Meerkat, an emerging Twitter live-streaming app.
You can read more about it here, but the TL;DR version is quite simple: every Monday at 2pm ET we'll be live streaming a discussion on a variety of subjects. They include analytics, marketing, growth hacking, conversion rate optimization, AB testing and more.
SingleGrain — A Digital Marketing Agency Practicing What They Preach
SingleGrain (SG) is a digital marketing agency with a heavy focus on content marketing and digital advertising. Since they're primarily a content shop, their blog is a huge selling point on their services, so it's critical that they consistently produce amazing content and optimize their blog posts for conversions.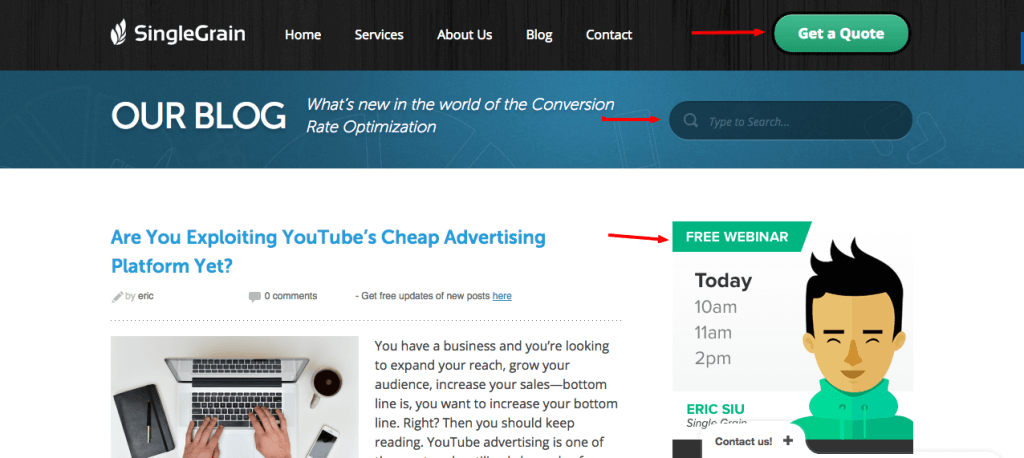 As you can see above, SG has two primary conversion points: Get a Quote, which aims to convert visitors who are looking for digital marketing services. And a free webinar, which is a way to build their email list, but also allows them to create deeper engagement and context with their visitors. This allows Single Grain to nurture prospects and create evangelists.
Since not every blog visitor has the same intention or is in the same part of your funnel, it's critical that you offer options and to do so strategically.
In addition to the conversion points that SG nailed, they have a core focus on UX and design for their readers, both in terms of design and content.
Their search feature is something that most blogs overlook – or integrate in a less than advantageous way. In reality, allowing your readers to search through your database of content is an extremely powerful tool.
SingleGrain offers readers a number of high-quality, in-depth guides. For visitors who are looking for more information on a particular topic, they are just an email away from getting the content they need.
Also, all of the guides SG offers also happen to be around services that they offer, so they strategically place CTAs in each guide to first inform and then convert readers into clients.
Bizible — Building A Pipeline Marketing Strategy
Bizible allows marketers to make profitable marketing and advertising decisions by tracking customers and revenue rather than just lead and acquisition costs. The latter often fail tell the whole story.
Their ideal customer is someone who has a long buyer cycle and is a data-driven marketer. They create analytical-minded content that focuses not just on the acquisition side of marketing, but also on lead nurturing and engaging leads in the pipeline, hence their Pipeline Marketing blog.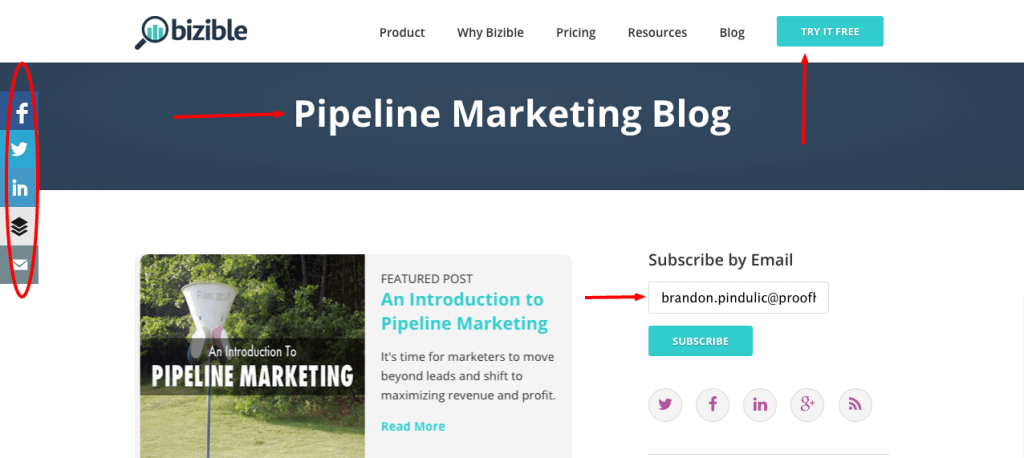 Considering Bizible is a conversion-focused enterprise, they designed their blog accordingly with strategically placed "subscribe" and "try it free" CTAs. These elements act as their audience and pipeline builders.
In addition, they went a step further and took a page from HubSpot's playbook. Bizible created the term pipeline marketing and explain it thoroughly on their blog, much like HubSpot coined and popularized the term inbound marketing.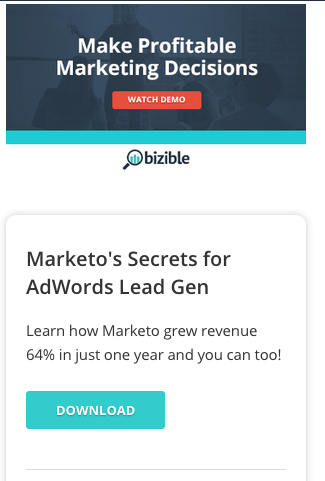 They provide both content and demo CTAs, which serve different but equal purposes: audience growth and sales opportunities.
Bizible's focus on a well-designed blog with informative content aimed at data-driven B2B marketers has served them very extremely well. This has enabled them to position themselves as thought leaders in their industry and drive educated leads to their sales team.
Takeaway
After analyzing several successful marketing blogs owned by digital marketing and SaaS companies, it's clear how they drive growth for their businesses.
They provide relevant, educational content. They go beyond what most blogs do in terms of design, content and CTAs, and they do so consistently.
Having an optimized blog is a huge advantage to businesses who invest in their content and understand that organic leads convert better, come cheaper, and stay longer than leads generated from advertising.
What other blogs are well-optimized? What are some other things that these blogs do to build and convert their audience?
If you're looking to turn your blog into a lead generation and sales machine, let us know and we'll see if we can grow your business.