When two or three products have the lion's share of the market, everybody has an opinion about which one is the best. Coke vs Pepsi, Google vs Apple … the list goes on. While Kissmetrics and Mixpanel won't be the subject of passionate position-taking among the general population, product people harnessing the power of digital marketing are certainly polarized by the two competing services.
So How Do They Compare?
If you're in the process of choosing a funnel analytics solution and haven't yet managed to contract Kissteria or Mixmania, this post will give you an honest-to-goodness overview of the two most celebrated championship contenders in the funnel analytics arena.
Mixpanel vs Kissmetrics: The Similarities
Both analytics platforms are used to monitor the activity of visitors as they move through your marketing funnel, from first engagement to conversion, hence their dominance as funnel analytics tools. Both applications allow you to generate customized reports from the data gathered by the software. It's also possible to drill down through various levels of data to gain specific insights into site and visitor activity.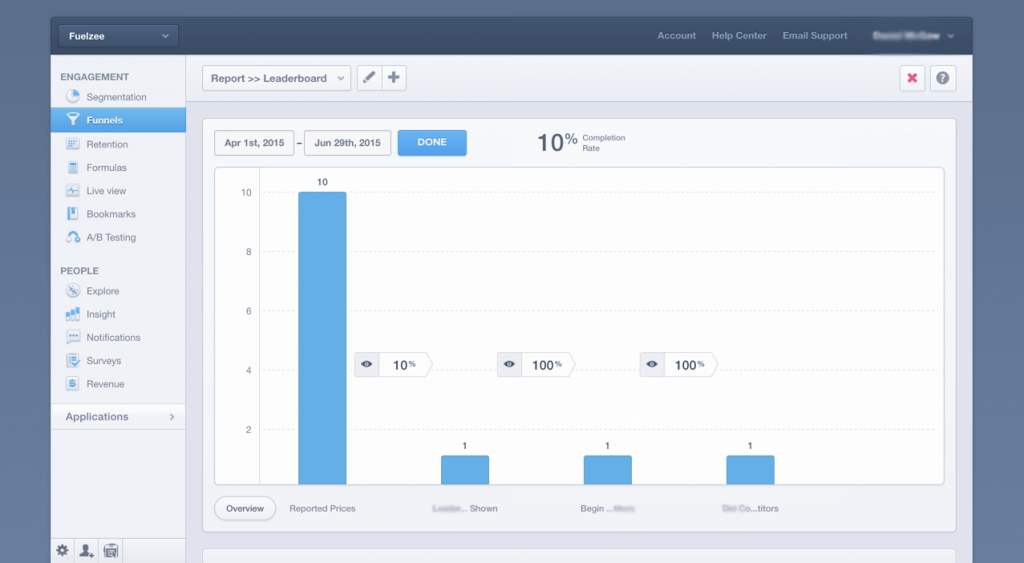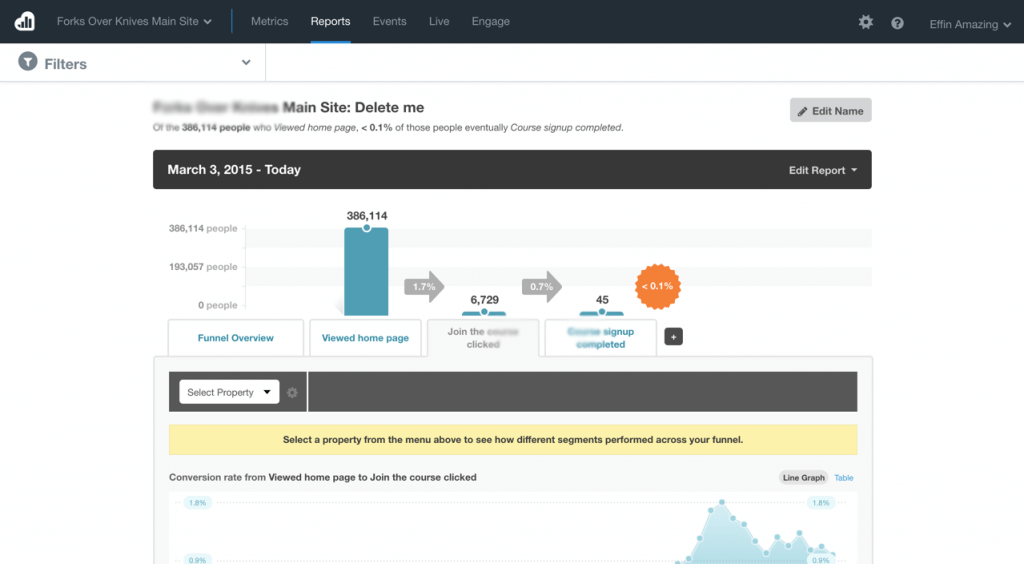 When your prospects make it all the way to the end of the funnel and convert, you want this to be the start, rather than the end, of their engagement with your product or service offerings. Kissmetrics and Mixpanel both help to provide visibility into how effective your business is at retaining customers once it has acquired them. Retention reports are standard features of both applications.
Kissmetrics and Mixpanel both provide a major advantage over other funnel analytics tools. They let you track and monitor the progress of individuals through your marketing funnel, whereas most of their competing products only show you data that's aggregated from all your website visitors.
As an example of how you might use Kissmetrics or Mixpanel, let's assume you're in the software sector and that your company provides a SaaS service. If this assumption seems uncannily accurate, don't worry, we're not monitoring you—it's pure coincidence. Anyhow, here's how you might utilize Kissmetrics or Mixpanel to monitor your customers' journeys.
You would use these funnel analytics tools to identify what your leads are doing when they visit your website. You can find which site elements your visitors interact with the most, and how they engage with your content.

As a SaaS provider, you might offer free account signup, which would be one of the early events in your funnel. Kissmetrics and Mixpanel let you continue to track your customers once they have signed up as free users.

Once your prospects and free-account holders become paying customers, you would use Mixpanel or Kissmetrics to identify which features of your SaaS site they are using and which ones they aren't. This is important intelligence when you want to optimize your service to retain existing customers and attract new ones. On the (hopefully rare) occasions that you lose customers, these analytics tools will help you to understand why.
The Differences Revealed
While Mixpanel and Kissmetrics share certain features that set them apart from similar tools, it's the differences between them that tend to divide opinions on which one is the champion of champions. Of course, one man's meat is another man's poison, so rather than pick a victor, it's best to simply share the differences with you and let you make up your own mind.
The Funnels: In Mixpanel, your funnels have two modes, one is for editing and the other is for saved reports. This is a clear advantage if you have someone assigned specifically to create reports while the majority of your users will simply view the information provided. Kissmetrics takes a different approach: keeping the editing functionality constantly enabled. While this might be a little less secure, it does make it easier to experiment with data on the fly.
On the other hand, if you want the ability to track individual website visitors, right down to what color socks they were wearing when they landed on your homepage (this is only a very slight exaggeration), Kissmetrics might be your preferred option. Although you can get the same functionality with Mixpanel, you have to sign up for it as a payable add-on, whereas with Kissmetrics, it's part of the main service.
Data Storage: Lastly, one of the most important but less well-known differences is how each company stores data. If you are in the analytics world, you might be familiar with events and properties. In most analytics, events are basically the actions people take on your site or product. The properties are the context of that action. With Kissmetrics, these properties are not directly attached to the event, even if they may be assigned at the time the event happened. These properties are associated with a person's profile in Kissmetrics, giving you a deeper person profile right out of the box.
Mixpanel attaches its properties to the events directly. This means they are not directly associated with the person's profile, but rather only with the actions they take. Mixpanel has the concept of People Properties, which are assigned separately from the events and costs extra money to access.
There is more context we can add to the reasons why Kissmetrics does it this way and Mixpanel does it that way; however, we will save events, properties, and their data storage for another post :)
Update 10/2/2020:
Since the writing of this post, Kissmetrics has changed its data storage and events and properties are attached like most other analytics tools do. The events and properties are treated similarly to how Mixpanel does.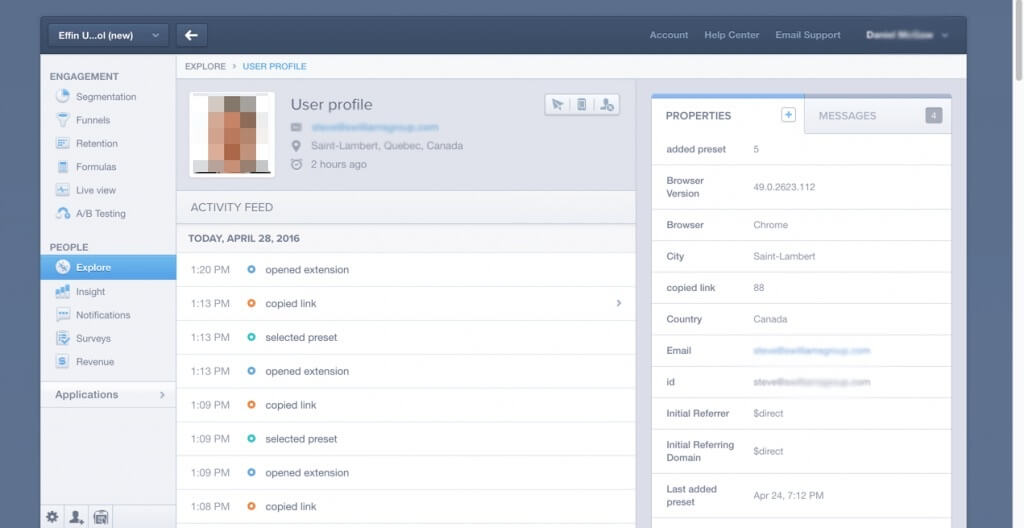 Before You Cast Your Vote

A last point to remember before you decide which camp to fall into: both Kissmetrics and Mixpanel are complex tools with a learning curve to be negotiated before you can get the best from them. Contrary to what some may have told you, you will need to have some analytics expertise within your business team. That's why some website owners prefer to engage an analytics consulting firm like McGaw.io to gather Kissmetrics or Mixpanel data and provide it in the form of actionable information. If you'd like to know more about what we do here at McGaw.io, just drop us a line using our online contact form and we'll be delighted to answer your questions.