Account-based scoring boosts B2B engagement by prioritizing high-value organizational opportunities. Paired with opportunity scoring, it shapes a data-driven sales journey. Integrated into CRM or MAP systems, advancements like Salesforce Einstein evolve this approach.
Let's dive in and elaborate on our own experience with account and opportunity scoring systems.
Key Takeaways
Lead Scoring Defined: Assigning value to leads based on profile details and interactions.
Data Collection Methods: Includes web forms, chatbots, intent platforms like 6Sense, and social media profiling.
Account-Based Scoring: Assigning value to accounts based on organizational-level opportunities for more effective B2B engagements.
Opportunity Scoring: Evaluate sales potential by assessing factors like deal size and product fit, aiming to prioritize high-value deals.
Critical Tools: How CRM systems like Salesforce and Marketing Automation Platforms (MAP) like Marketo centralize and activate lead data.
Collaboration Is Key: Alignment between marketing and sales teams is required for successful lead scoring.
Ongoing Evaluation: Continuous evaluation and adaptation of lead scoring based on business shifts and audience changes is critical. Enabling you to iterate and refine.
Lead Scoring for Accounts and Opportunities
Lead scoring is the practice of assigning a score to each lead based on the value of their profile and touchpoints.
In other words, lead scoring is aligning a numerical value to each lead. This value reflects a lead's perceived worth to the business based on various factors. This includes their profile's demographic, firmographic, and technographic data. You then also score based on touchpoints, e.g., add points to the lead when they or their account subscribe to your webinar.
This article focuses on scoring accounts and opportunities. But if you'd like to know when else you'll generate more revenue thanks to lead scoring, check out our article on lead scoring use cases.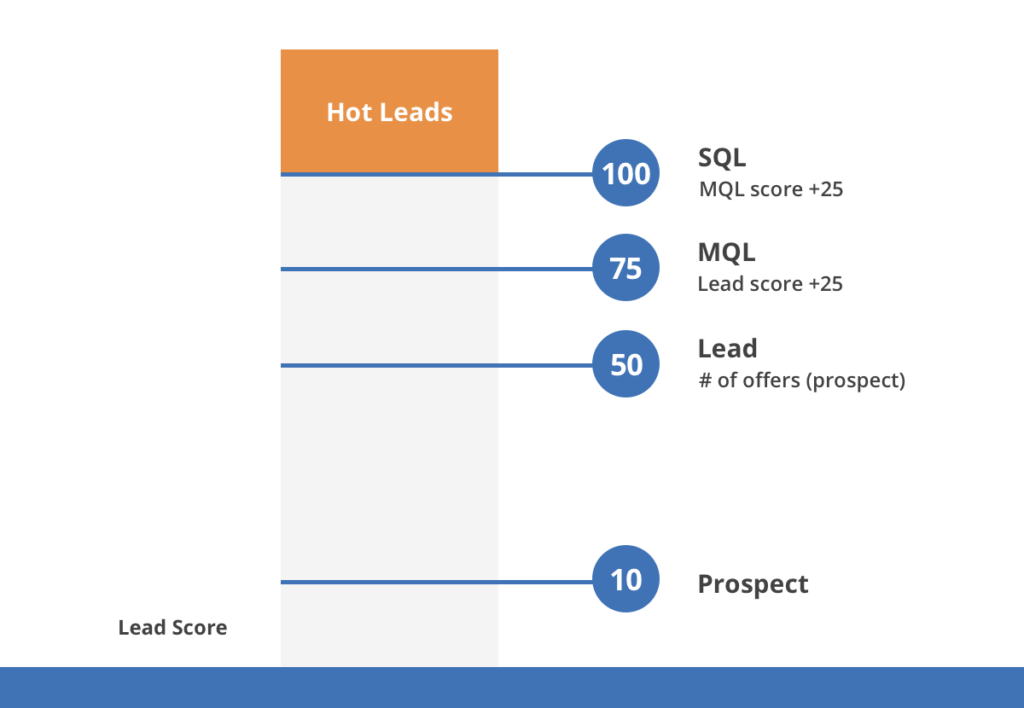 Some of the primary methods of collecting this data are through web forms, chatbots, and intent platforms like 6Sense, or a variety of account-based marketing platforms. When users interact with your website, say, by downloading a whitepaper or signing up for a newsletter, they can be prompted to provide personal details. 1st and 3rd-party data sources are also commonly used to score and grade leads, contacts, and opportunities.
Social media profiling is another method of collecting data for lead scoring. You analyze a lead's social media activity to gather information about their interests, behaviors, and preferences. These methods can help you understand your leads on a granular level, allowing for the creation of detailed buyer personas and an understanding of where leads are in their buying journey. Sometimes, you can harness this information through intent platforms; more to come on intent in a later post.
How Lead Scoring Works when You Run ABM and Score Accounts
If you do account-based marketing (ABM), you might already be thinking that you'll need to score entire accounts, not individuals. While lead scoring was started with a focus on individual prospects, account-based scoring broadened the scope to examine potential customers at an organizational level. This strategy is especially effective in B2B scenarios, where purchase decisions always involve multiple stakeholders.
Start account-based scoring by pinpointing the accounts you aim to target, guided by factors like industry, size, or revenue. Then, gather and evaluate data on individual leads within these accounts.
Combine these individual scores to produce an overall account score. The higher the score, the more valuable the account, directing the attention of your sales and marketing teams. Paired with Account-Based Marketing (ABM) strategies, this approach sharpens your engagement with top-tier accounts, boosting efficiency and conversion rates and diversifying touch points within key accounts.
In the table below, you can see a lead-scoring example from our practice. One of the two key parts is the list of data points we use for assigning scores to the account. You can see that we evaluate job titles, annual revenue, vertical, location, or employee count. When doing this for your own accounts, add or remove data points for scoring based on what you know matters in your ABM.
The other key part is that the data points have a variety of score values. Here, too, you want to make sure that the score values are based on your own experience with what moves your accounts down the funnel. In our example, it would be a more senior job title or a higher annual revenue that would assign the higher score value.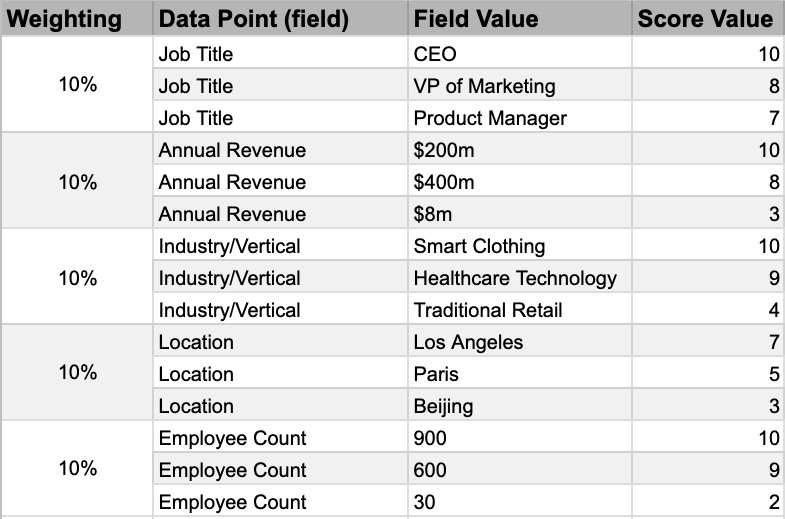 What about Opportunity Scoring and Assessing Deal Potential
As a prospective account progresses further into the sales funnel, it becomes vital to assess the potential value and likelihood of closing a deal. Through that, you'll increase deal velocity and engineer value.
This is where opportunity scoring comes into play. An opportunity score is a numerical value assigned to a sales opportunity, which reflects potential revenue, the likelihood of closing, and alignment with your ideal customer profile. It will also help prioritize opportunities for the sales team, providing a focus on the deals most likely to close and the actions most likely to close them faster.
Opportunity score is a numerical value assigned to a sales opportunity, which reflects potential revenue, the likelihood of closing, and alignment with your ideal customer profile.
Factors, i.e., the data points, influencing an opportunity score can include:
Deal size
Product fit
Competition
Similar company purchasing history
Once these factors have been identified and weighted according to their importance, they are used to score each sales opportunity. Sales teams will give high-scoring opportunities priority.
Need help building a lead scoring system?
Do you want to serve up sales-ready leads to your sales teams or prioritize and maximize opportunity potential from your target accounts?
Let's chat about how you are scoring and grading your serviceable market.
Opportunity scoring benefits your business by:
Enhancing sales efficiency
Creating alignment between sales and marketing teams
Improving sales forecasting
Eliminating bias and guesswork from the sales process
In sum, this makes your company's revenue more consistent and predictable.
Scoring your accounts and opportunities helps you grow revenue by making it more consistent and predictable
Key Tools for Integrating a Scoring System
The key tools and platforms that will help you build a scoring system for your accounts and opportunities are:
Customer Relationship Management (CRM) such as Salesforce
Marketing Automation Platforms (MAP) such as Marketo
These are the systems that provide a centralized location for collecting, storing, analyzing, and activating your lead data.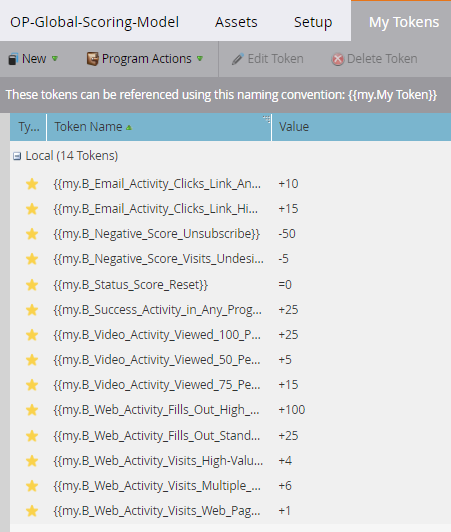 CRM and MAP platforms often have built-in scoring capabilities, allowing you to create custom scoring models. In some cases, like seen with Salesforce Einstein GPT, machine learning can be applied to a scoring model so iterations are automatic based on specific criteria.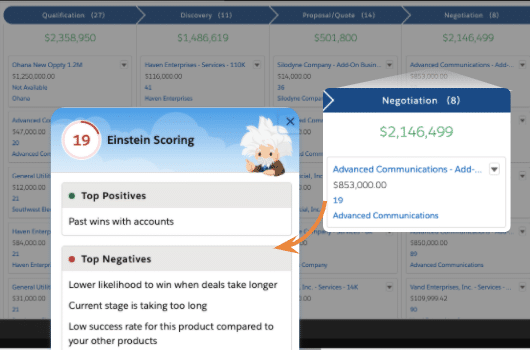 Customization and ongoing iteration of your lead scoring models are essential to align them with specific business goals and target audiences. Moreover, successful lead-scoring initiatives demand close collaboration and alignment between marketing and sales revenue teams. Use that as your opportunity to break down silos and foster a cohesive approach.