**Update: We have a guide available to accompany this article. [Click here to download the guide (opens in a new tab.)]
Dave McClure, the founder of 500 Startups and well-known startup personality, coined the term "Pirate Metrics" back in 2007. Pirate Metrics, or "AARRR" helps startups think through the five most important metrics of their business: acquisition, activation, retention, referral, and revenue.
Each one of these five metrics is critical for startups, and for businesses in general. Without tracking these metrics, you won't have a sustainable, scalable business nor will you know if you are succeeding.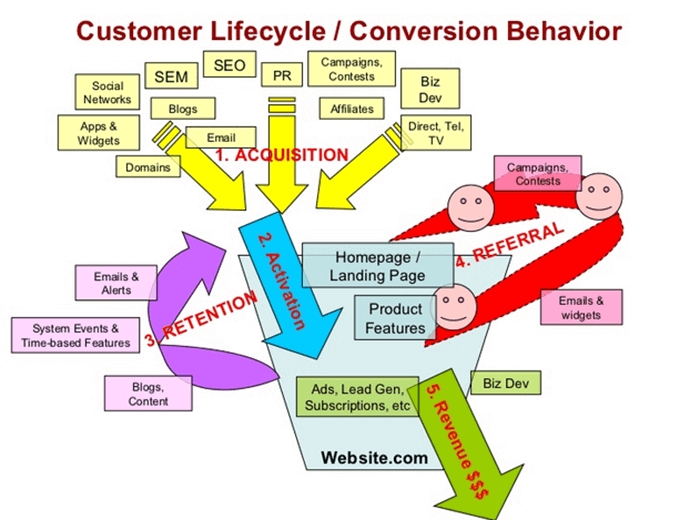 Acquisition: Generating New Business & Users
Acquisition is the first step in the Pirate Metrics process, and it's typically the first (and only) piece traditional marketers focus on. These acquisition efforts tend to come through channels such as organic search, banner ads, affiliates, TV advertising, social media, SEO and more.
As a rule of thumb, any way that someone can potentially find your business can be considered an acquisition channel.
In addition to executing on various inbound and outbound campaigns to drive traffic to your website, landing page, or product, your acquisition efforts should also include high-level conversion metrics based on each channel.
Acquisition metrics may focus on things such as page visits (low-value), "micro-conversions" (i.e. watched a video, clicked on the product page, etc.), or bounce rate. These metrics help measure traffic quality and behavioral user flows and can be tracked in a basic Google Analytics dashboard.
Once you have established a baseline of user activity through your funnel, it is time to improve those metrics. Having an AB testing and analytics strategy is critical for your top of funnel (TOFU) growth. Without the proper analytics tool (i.e. Mixpanel, KISSmetrics), you won't be able to measure how people are converting through your funnel very well.
By monitoring each step of your funnel, you can find areas to improve and then run AB tests to increase your acquisition metrics.
Once you find how much traffic is coming in through various sources, it's time to get past the vanity metrics, like page views, and start to focus on getting those new TOFU to become active.
It's time to get past the vanity metrics and start focusing on getting TOFU to become active. Click To Tweet
Activation: Visitors Show Signs of Understanding and Want More
Acquisition is all about awareness and bringing the right people to your website or product using a few simple metrics to track the most basic user actions. Activation goes one step farther .
Here, the focus is on conversions. Specifically, you want to consider the primary conversion metrics that determine the success of certain channels and campaigns, rather than high-level or micro-conversions. You could use the conversion from home page to signup page as your starting point, but should build your entire funnel in your analytics tool.
An activated user comes to your website through your acquisition efforts. Then they indicate that they see the value of your product or service and they want to receive more information. Finally, they try your product or talk to someone at your company. This is considered and activation conversion.
It is also the beginning of your relationship with the customer. Before this, they're anonymously researching your business and competitors before they take any specific action that allows you to begin directly engaging with them.
Activation should be measured by number of visitors who take a desired action such as signing up for your newsletter or requesting a trial. You can create a simple conversion formula by dividing the number of 'active users' by the number of visitors who have come to your site.
Retention: Your Customers and Visitors Should Stick Around
As you've probably heard, unless you're selling a high-ticket item, you cannot build a sustainable business by only acquiring new customers who only make one purchase ; this is why retention is incredibly important. In fact, retention is king.
Tracking retention is different for every business, however.
If you're a mobile app company that offers a free game and relies on advertising revenues, then you should track how many users come back and use the app the very next day. This metric is critically important because advertising revenues increase with volume, so acquiring users that become "sticky" is the only sustainable way to grow a free app.
If you're an e-commerce company that specializes in selling winter gear, you should measure how many customers come back every winter for new gear such as boots or coats.
If you're a SaaS company, you should measure churn. Churn is when a customer downgrades or quits, and it's easily one of the most important metrics to measure in SaaS. Reducing churn should always be a top priority.
There is a lot of different ways to measure churn, some folks even have crazy formulas which would make einstien shrug. The easiest way to measure it would probably be a Cohort report. Google Analytics even launched their own cohort reporting tool, but for our example we will use Mixpanel's Cohort Report.
For this example (image below), we are looking at a Cohort Report from Mixpanel. The data being used is from a mobile app company that makes it's revenue from advertising. If you look at the left side of the report, we can see the date of when people first opened the app. As we move to the right, we measure the number of individuals who came back and did anything. As we can see, over 85% of their users use the app more than once on their first day, but only about 6% come back the day after. We can also see that only about 1.5% of users come back the 11th day. Telling us we have a high churn rate for this product.
For this example (image below), we are looking at a Cohort Report from Mixpanel. The data being used is from a mobile app company that makes it's revenue from advertising. If you look at the left side of the report, we can see the date of when people first opened the app. As we move to the right, we measure the number of individuals who came back and did anything. As we can see, over 85% of their users use the app more than once on their first day, but only about 6% come back the day after. We can also see that only about 1.5% of users come back the 11th day. Telling us we have a high churn rate for this product.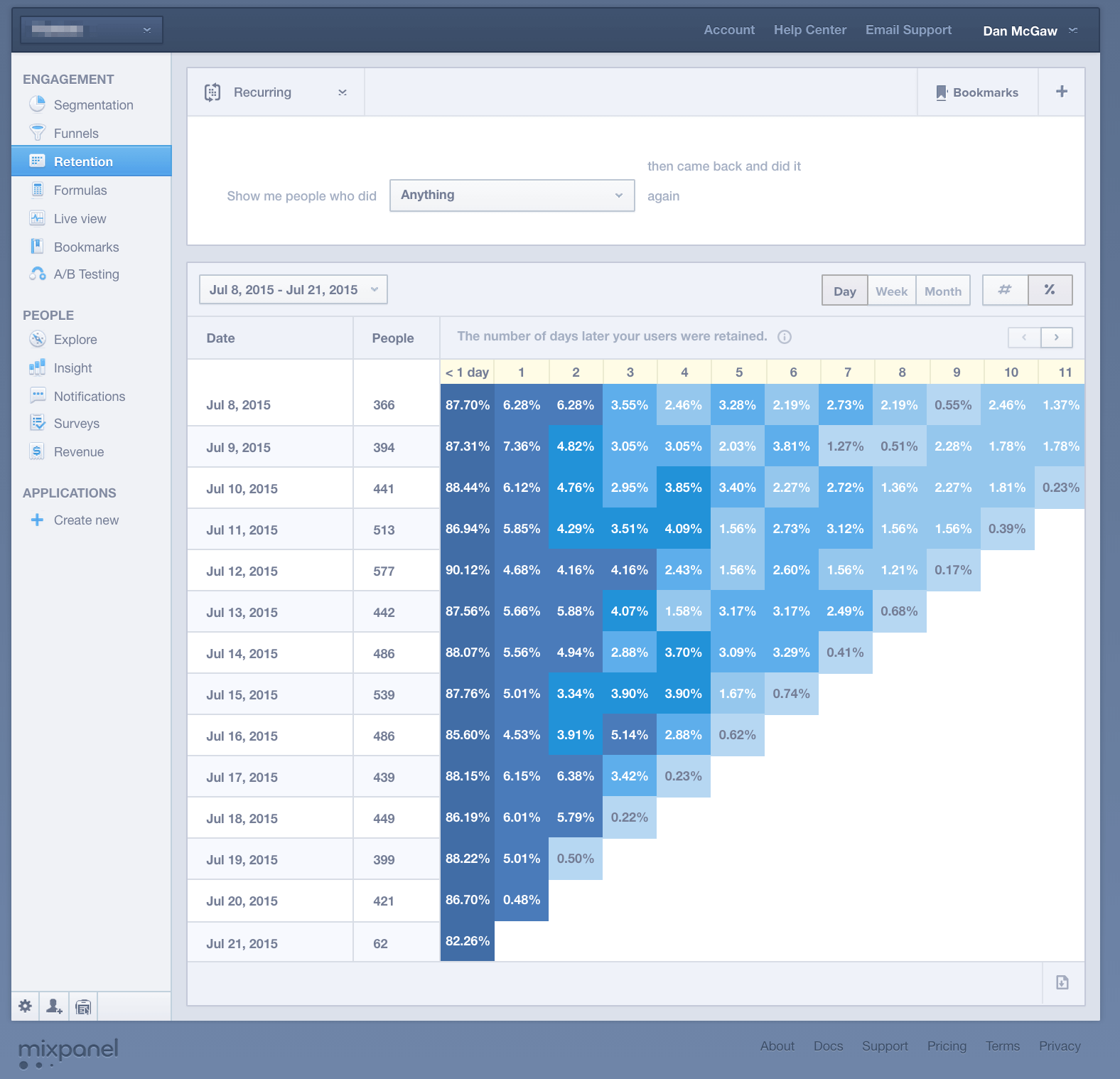 Retention metrics are the most important data you should know and understand
Click To Tweet
Your retention metrics are potentially the most important metrics to track and understand as a business owner (or marketer). These numbers show how valuable you are to your users and customers, but also key areas to improve. Poor retention will also lead to scaling difficulties, so it's a metric that should be carefully tracked.
Once you're able to retain users and customers, you can focus on referrals. But remember, a successful referral program is contingent on both a great offering and happy users and customers.
Referral: They Love You So Much that They Tell Others
Having your customers or users refer others is every business owner's dream. It's the most genuine and cheapest way to acquire customers.
While customer referrals are ideal, most marketing teams find that measuring these referrals is a murky process. Setting up analytics to track referrals and conversions, while also giving credit for referrals can be tough. Even with the right analytics in place, this metric is often imperfect.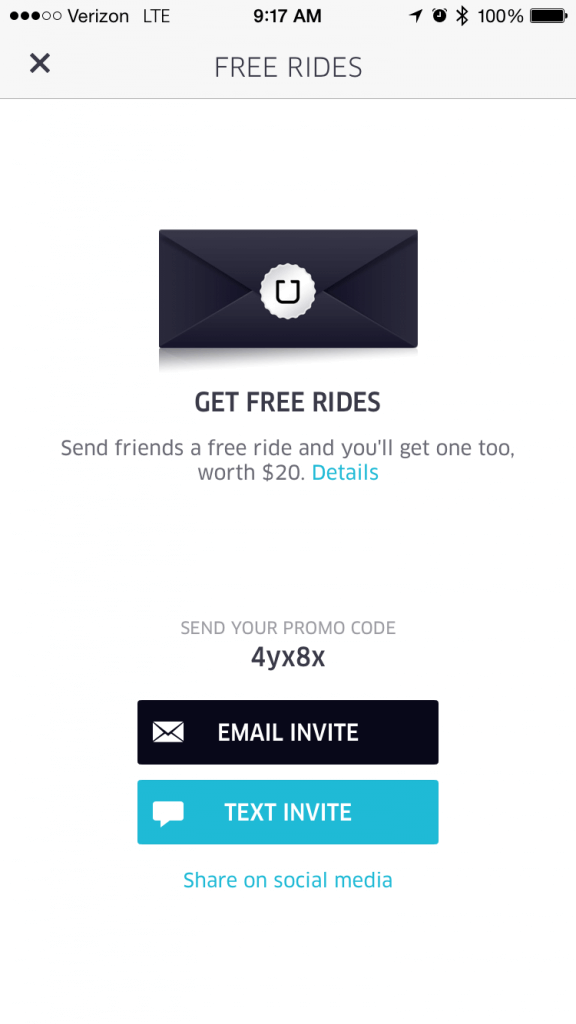 Let's take Uber as an example.
Uber is the fastest growing startup and has a $40B+ evaluation.Their referral program is leading their aggressive growth, so measurement is critical.
Each user is assigned a unique referral code, which Uber then uses to track how many users successfully send out a referral code and how many new users each user brings in. They use this data to create a viral coefficient.
A viral coefficient is the amount of invites (or referral codes) sent multiplied by the number of invites (or referral codes) accepted.
So, if you have 1000 users and your community sends 400 invites or referrals, your invitation rate is (1000/400)=2.5.
If, out of those 400 invites sent, 120 are accepted, your acceptance rate is (120/400)=0.3.
When you multiply your invitation rate and your acceptance rate (2.5*0.3), you =get your viral coefficient, which in this case would be 0.75.
For context, a viral coefficient of 1 means that every user or customer you generate, on average, refers one other user or customer. While this achievement is challenging, companies like Uber and Facebook were able to break this for short periods of time. But it isn't usually sustainable, even for the most viral companies. In general, any time your community is spreading word of your business is a good thing, and there is plenty of room for optimization.
Keeping track of your viral coefficient can be the difference between hockey stick growth and a few periodic little spikes. When you figure out, on average, how many customers each customer can generate and over what timeframe, you can scale your business to incredible heights by tracking spend.
If you were to use the Mixpanel funnel tool, you could create this equation and track your viral coefficient over time.
This brings us to our next metric to measure to ensure a profitable referral program: revenues.
Revenue: You Need to Pay The Bills Somehow
Unless you're a venture-backed startup that's only focusing on product and growth, you need good old-fashioned sales and marketing to generate revenues.
But not all revenue is measured the same way, and tracking top- and bottom-line revenue is critical for growing your business. Most companies only track revenue as a whole, rather than breaking down revenue per customer, or discovering which customers are at their breakeven point for profitability and which ones are not. All of these measurements allow companies to send the appropriate messages to each customer to increase revenue and decrease lost sales opportunities.
In addition, companies that are savvy about their analytics can build a full-fledged marketing and sales funnel that allows them to track spend and profitability per channel, rather than rely on basic cost-per-lead or cost-per-acquisition metrics.
If you neglect to measure your revenue per customer AND per channel, you are flying blind Click To Tweet
If you neglect to measure your revenue per customer and per channel, you'll never be able to effectively allocate your marketing budget properly, and worse, you will be flying blind while operating your business.
In the example below we are showing how the revenue report in Mixpanel may look for your organization. Mixpanel allows you to track all customer transaction back to the user, giving you a better understanding of lifetime value.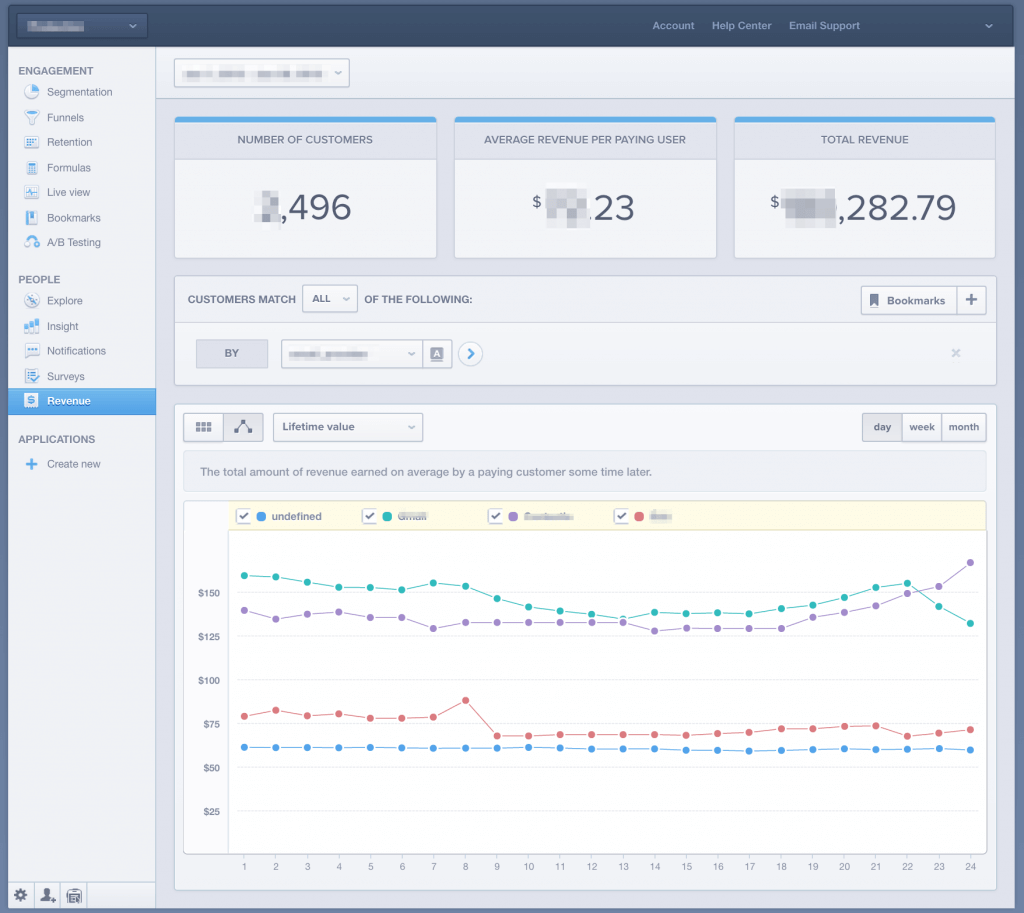 Chances are your business is going to be revenue-focused from day one, so measuring your revenue per customer and per channel is critical. Even if you are one of the lucky few venture-backed companies, these metrics will allow you to raise more capital in the future. Understanding your most important metrics will allow you to continue to scale and wean yourself off of venture dollars once you're past the startup and rapid scale phase.
Takeaway: Applying Pirate Metrics to Your Business
Pirate Metrics is simply a guideline meant to help business owners and marketers focus on their most important metrics. Analytics is often talked about, but few businesses correctly implement it.
From our experience, the reason most marketers neglect their analytics is because marketing teams that are simply overwhelmed by all of the data and options out there. And trust us, we understand. This is a huge reason we're advocates of the Pirate Metrics outline–it simplifies a complex process.
Breaking down your key performance indicators (KPIs) into the "AARRR" method helps marketers prioritize and stay on track. At the very least, knowing these metrics will allow you to sustain and scale your business more efficiently than the alternative.
What are your biggest challenges around implementing analytics in the foundation of your company?