What's the first thing that springs to mind when you see or hear the term "heatmapping"? If heatmapping conjures up the image of a weatherman pointing out the best locations for a suntan this weekend, this post is for you. A few minutes reading and you will know exactly what a heat map is. You'll also have a good idea of the pros and cons of the two most popular tools designed to provide heatmapping for website owners.
What is Heatmapping?
Heatmapping is a very effective method of understanding how visitors interact with your web pages. There are a number of heatmapping software products available, but what they all have in common is the ability to show you where visitors click and where they don't. Heat maps can also show where visitors are looking on your websites. Since many still read with their mouse, these heat maps track their mouse movements, showing you what they are viewing.
A heat map is a visible representation of your website visitor activity, using colors to show where visitors engage with your pages. Typically, reds and oranges represent the most interacted areas of your site, while greens and blues show the elements that are not getting much attention.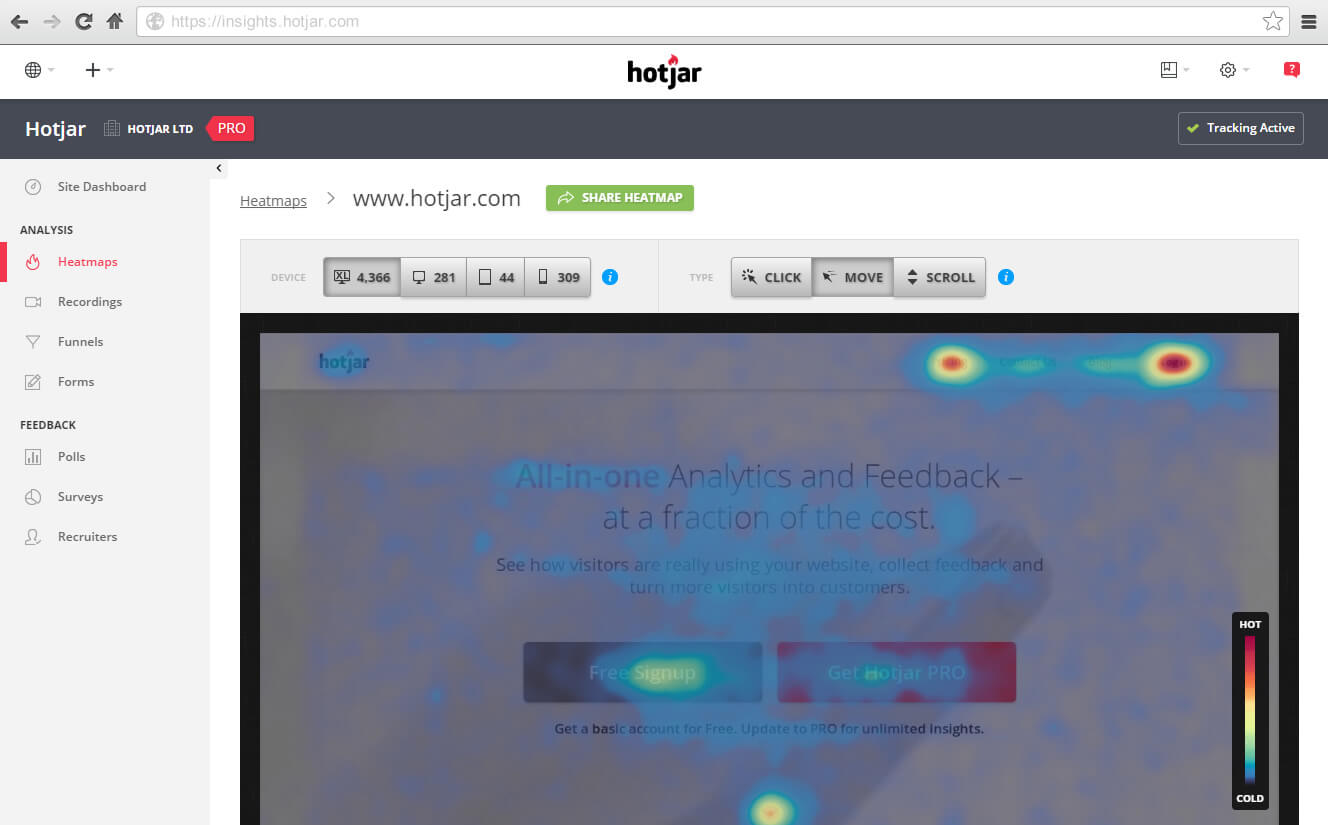 The Benefits of Heatmapping
Quite simply, there is no better way to see at a glance, which of your website elements are attracting traffic and which aren't. Incidentally, the heat maps look great too—no dull graphs and charts here. Heatmapping software has a purpose above and beyond aesthetics though. When you can see what parts of your website have visitors clicking like crazy and which are being ignored, you unlock the information you need to improve page performance, attract more sales leads, and keep visitors on your site for longer.
Marketing professional Lili Petkova provides some enlightening examples of how you can use website heatmapping. In her Monitor.US blog post, Follow the Traces of Your Visitors with Heatmap Tools, she speaks of the following ways to benefit from heatmapping software:
Website usability testing
Landing page optimization
Reducing customers' abandonment of your ecommerce shopping cart
Improving usability of online forms
Optimization of ad placement
Getting more from the links you use on your site
Optimization of your call-to-action elements
Now that you know some of the advantages of using heatmapping software, you're probably keen to get a hold of some and start mapping. Before you rush off to get a piece of the heatmapping action though, it's a good idea to do a little homework and find out which applications are hot and which are not.
Do you want to know how to choose heatmapping software that best suits your business or enterprise? Are you clueless about the benefits of Crazy Egg, ClickTale and Hotjar? Keep reading to get yourself up to speed with these insightful analytics solutions.
Pros and Cons of the Popular Heatmapping Applications
The beauty of heatmapping software is its capability to show you lots of data in a way that's easy to comprehend. There are plenty of heatmapping products out there though and like any software, some applications will suit you better than others. Here's a quick overview of two of the most well-known heatmapping applications, along with their pros and cons.
Crazy Egg: Crazy Egg is one of the best-known heatmapping tools and has a lot to recommend it. The software works by taking a screenshot of any URL that you specify. It then collects data from every click made by every visitor and overlays them all as a heat map on top of the web page. As well as seeing where people are clicking, you can also see which countries visitors are from, what device they used to access your website and a wealth of other valuable intelligence.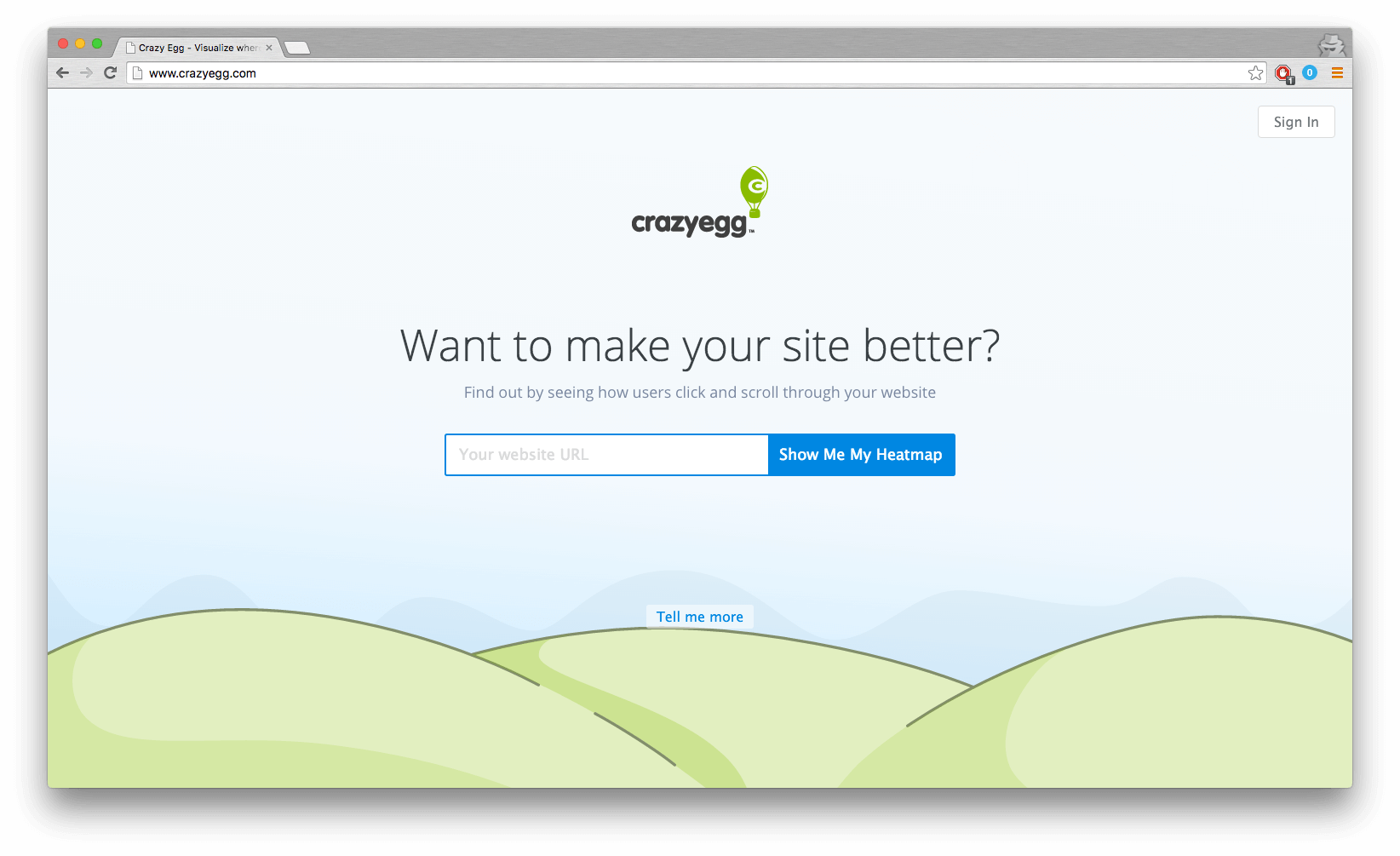 Pros: Crazy Egg offers a number of other visitor-tracking functions, as well as heat maps. Some pros of Crazy Egg include:
Fast and easy implementation
Simple user interface, making the software easy to use
Wide array of analytic maps and reports
A variety of subscription plans, with the most basic package representing good value at just a few dollars per month (billed annually)
Cons: No month-by-month payment plan, so you have to commit to a year with Crazy Egg.
ClickTale: Along with Crazy Egg, ClickTale dominates the market for heatmapping software. The key difference when comparing Crazy Egg vs ClickTale is the fact that ClickTale offers video recordings of visitor activity, which makes it a little like looking over a visitor's shoulder as he or she navigates around your website.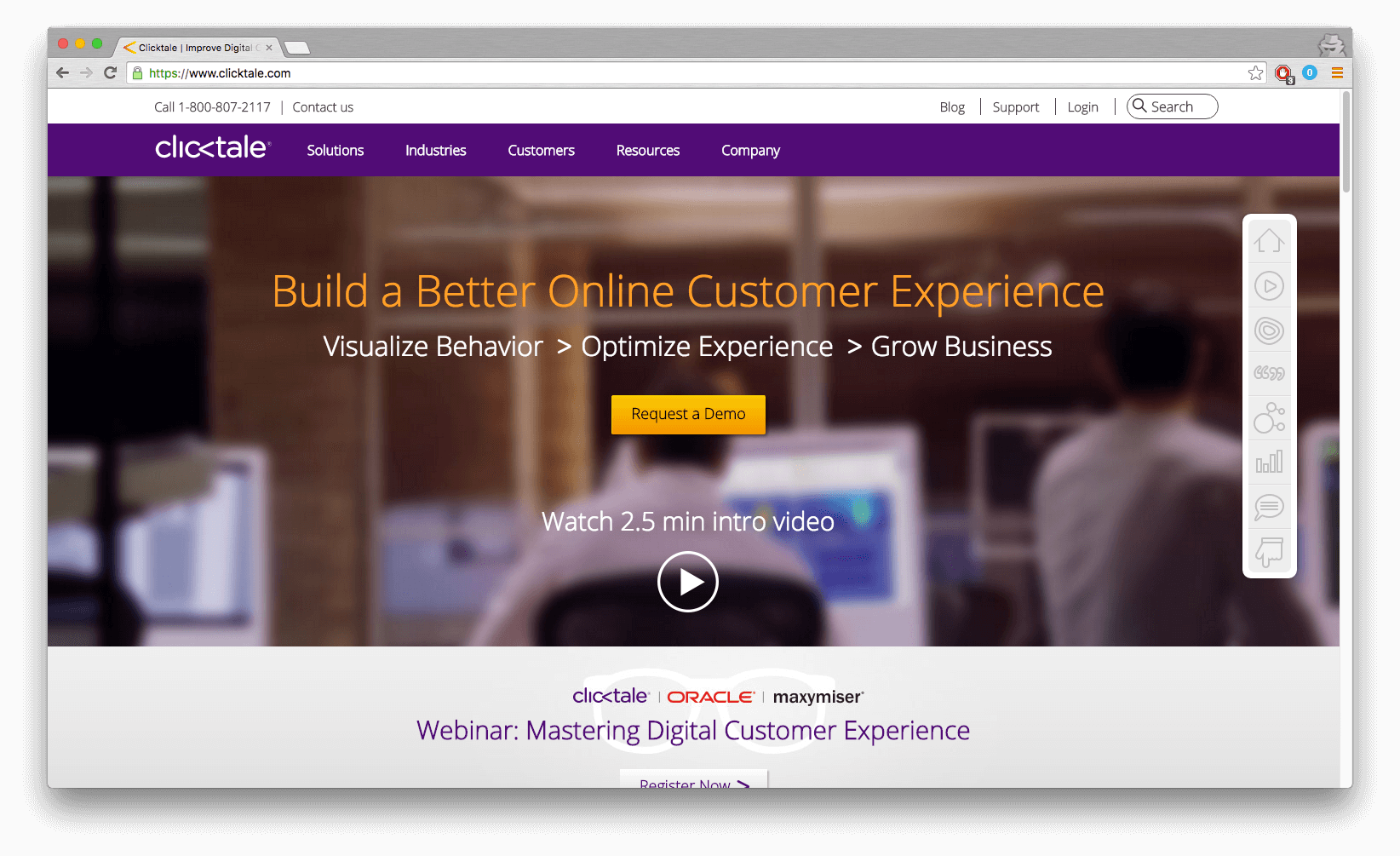 Pros: One great feature of ClickTale is that you can take advantage of a free account, which provides data for up to 5,000 page views on a single website. There are a number of other ClickTale pros, such as:
You get very insightful data on how visitors use contact forms
Real-time views of visitor activity
Cursor engagement view shows you the difference between when a visitor opens a link and leaves it idle or opens it and actively engages with the content
Cons: Pricing is not at all transparent. The software is only really suitable for larger enterprises and does have a steep learning curve for users.
Of course if you are in the market for an enterprise analytics application, ClickTale may well be the best solution to meet your needs, Crazy Egg on the other hand, might represent a more limited set of enterprise-level capabilities, but is still a very good all-round option for large and small businesses, analytic service providers, and for individuals who want to improve their website performance.
Hotjar: Hotjar is a new up and coming heatmapping tool and is also our recommended choice. This tool works similar to the above tools, showing an easy to see heatmap as well as a scroll depth map of each page.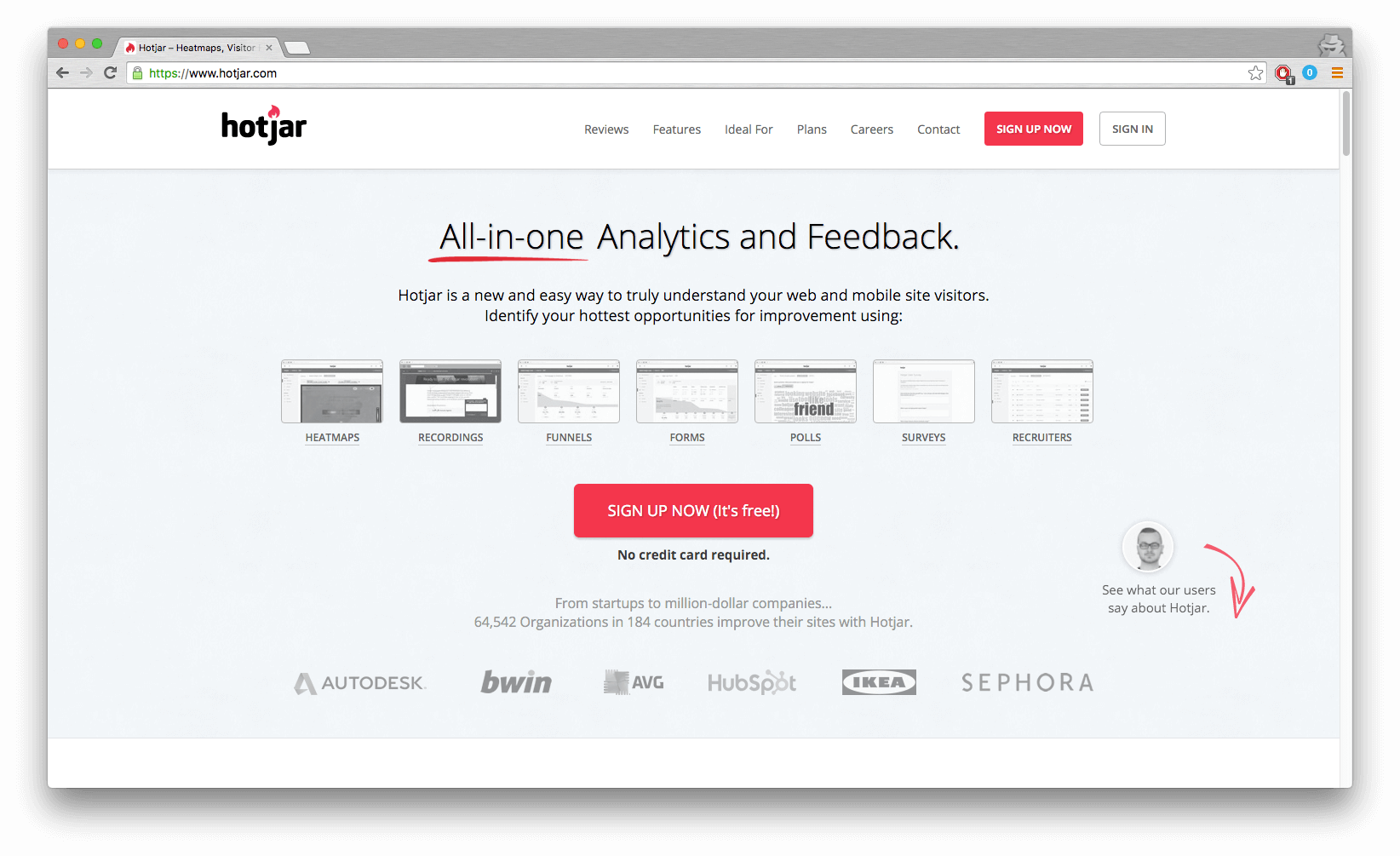 Pros: The best part of Hotjar is all the extras that are included. In addition to heatmaps, this tool also provides visitor recordings, conversion funnels, form analytics, feedback polls and surveys.
Multiple tools on one easy to use platform
Free option and low entry level pricing
Can track logged in pages
Cons: Hotjar currently only collects up to 2,000 sessions for heatmaps. Once the heatmap has completed, a new heatmap is not auto started. For high traffic sites, this may be too little data to form an opinion off of.
Need Help with Your Heatmapping?
Whether you choose Crazy Egg, ClickTale or another solution, there is no doubt that heatmapping software is a valuable aid to analyzing your website's visitor activity. If you prefer to put your marketing analysis into outsourced hands though, McGaw.io is your hot ticket to actionable web traffic insights. To find out more, contact us through our online form and take the first step towards data-driven business growth.