In this blog post, I want to talk about how I generated a 1,300% ROI from a $425 spend using an outbound calling service: Upcall.
Now, I used this service to drive subscriptions for my son's baseball league, so this isn't necessarily a B2B case study. But I think the lessons learned from this little experiment do have some real applications for the B2B world—especially when you consider that awesome ROI figure.
So if you're interested in how you can outsource the telemarketing side of your business, stick around. I'll show you exactly how Upcall works, what I achieved with the platform, and how you can use it to generate some kick-ass results for your own business.
Let's begin!
What is Upcall?
Upcall is a human-powered SaaS outbound calling service that lets you instantly create an outsourced, US-based sales team. Ideal for a business or enterprise, B2B or B2B2C, it's an efficient and cost-effective way to reach out, convert, and nurture prospects and leads—especially for startups, SMBs targeting large audiences who need to scale inside sales team efforts, and marketplaces expanding their supply.
In simple terms, the platform works as follows:
When creating a campaign, you can either let Upcall provide the leads or you can integrate existing contacts from your database, CRM, or more than 300 apps. You can even use Upcall's custom API.
If you do not have your own script, Upcall can also help you develop one.
Once you've created a campaign, "Upcallers" will apply to work on the campaign, similar to freelancers bidding on your Upwork projects. Chosen Upcallers will then start making the calls and you can monitor the results. As time goes on, you'll know which Upcallers need to be cut and any adjustments that need to be made to your script based on the Upcallers' feedback.
What I achieved with my Upcall campaign
The reason I chose to use Upcall in the first place was because my son's baseball league needed to generate league registrations. They were behind their target and had some serious catching up to do.
What's more—it was the last day of registrations.
I offered to help out, but if I wanted to generate sufficient sign ups, I needed to make a big impact and make it fast. Luckily I had a database of around 800 people that were interested in registering for the league. The problem, however, was that I didn't have the time to personally call these 800 people and ask each of them to sign up.  
It was at that point I decided to create a campaign on Upcall.
I figured that if I could use Upcall to contact these people, I could quickly get through this large database and generate the sign-ups needed.
I uploaded the database to Upcall and provided some instructions for Upcallers so that they could get a feel for the campaign and what they'd need to do.

I also wrote a script for the campaign.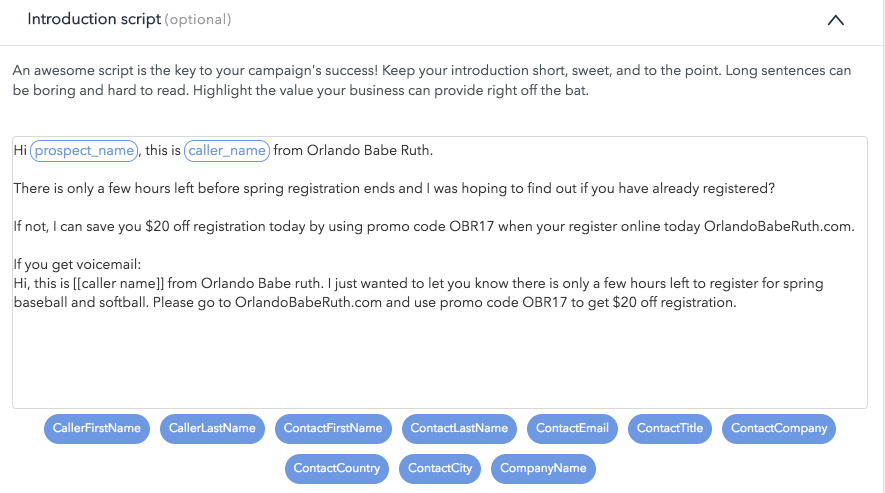 Once I set up my campaign, all I had to do was wait for Upcallers to join. I approved the ones I thought were a good fit for my campaign and ignored everyone else. What I found great about those applying was that they were people with actual call center training.
They were also extremely proactive. Even though Upcallers could ask me questions via a live chat stream, I found that many of them did their own research and solved their own problems. Upcallers also left notes when it came to specific issues, which would prove useful if I wanted to refine the script being used by the Upcallers.
At the time, the pricing was set up so that I was paying 29¢ per minute and $100 per month.
Using Upcall, I was able to gain 50 registrations for the league in just one day. With one registration worth $125, that meant the return for the campaign was $6,250, making it a respectable 1,300% ROI from a $450 total spend, on my first try.
Not bad.
A step-by-step look at how to set up an Upcall campaign
So let's take a look at exactly how to set up an Upcall campaign similar to the one that generated results like mine. Before you set up a campaign, it's important that you're clear on what your goal is for the campaign.
For instance, my goal was to drive baseball league sign-ups for the Orlando Babe Ruth team. You also need to be clear on who you need to contact so that you can reach your goal and how you're going to gain access to such contacts.
As shown in my example earlier, I had access to 800 contacts (phone numbers) of parents who had registered at some point with the team, making them ideal people to contact.
To set up a campaign, create an account with Upcall and then click "Start a campaign."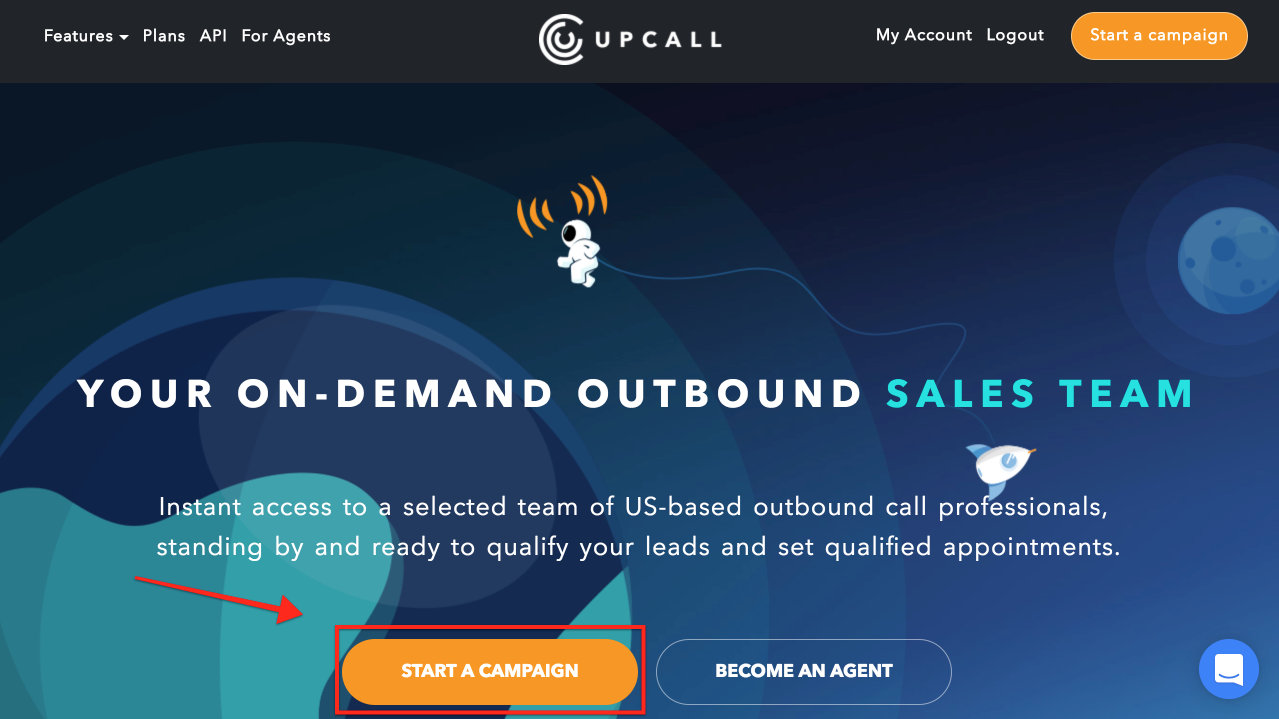 You'll then see this screen. Click on "Start a Campaign."
Once you're a customer, you're in—with everything that entails. Upcall offers a personal consultation to review your campaign and help figure out what plan best suits your needs. An onboarding meeting is also included before you begin your campaign so you're not left alone in front of your computer. Customer support is provided throughout the entire process.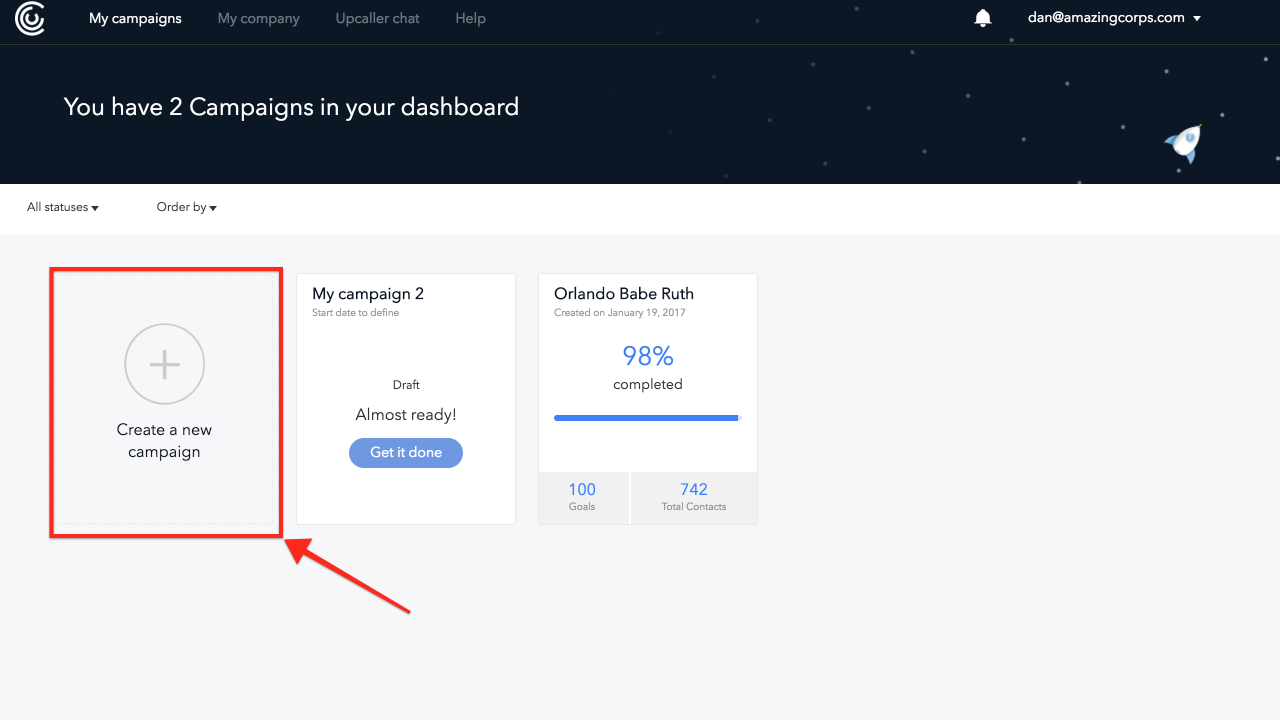 Next you will need to provide some details for your campaign.
This step is important because it helps Upcallers learn more about the project and what will be required of them. If you're specific here, you'll reduce the odds of the wrong people applying to work on your campaign, since not everyone will be a fit for your goals.
You'll then be asked questions about the time span of your campaign and how fast you'd like it to be implemented.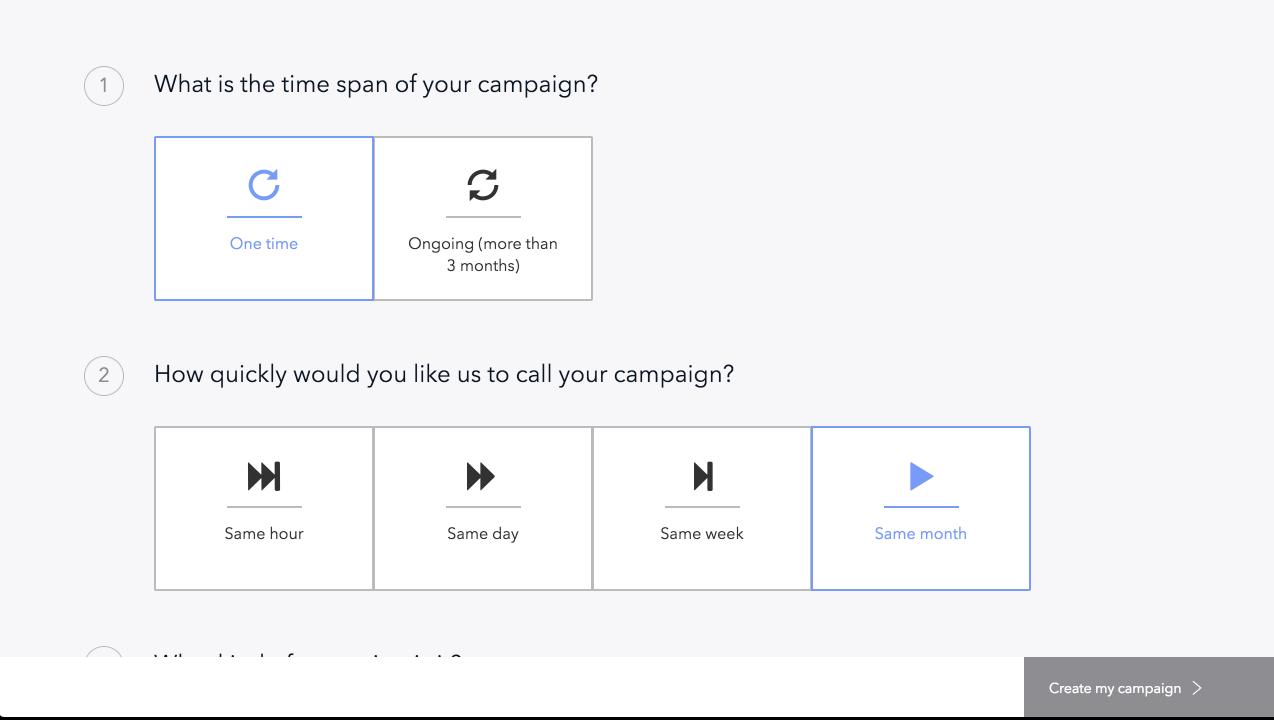 You will also be asked about the nature of the campaign and how many people you'd like working on it.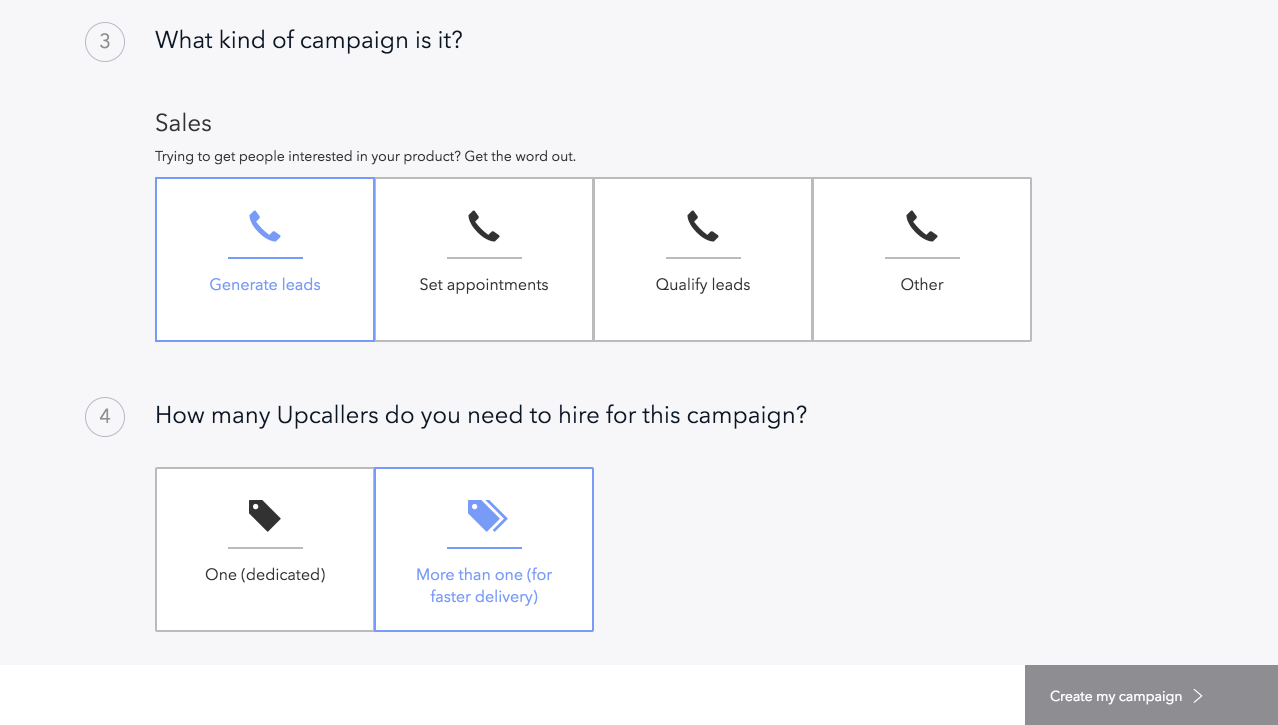 Finally, you'll be asked about the goal of the campaign. Again, it is a good idea to be as clear as possible when writing this section, because doing so will help prevent attracting Upcallers that won't be a good match for your goals or campaign style.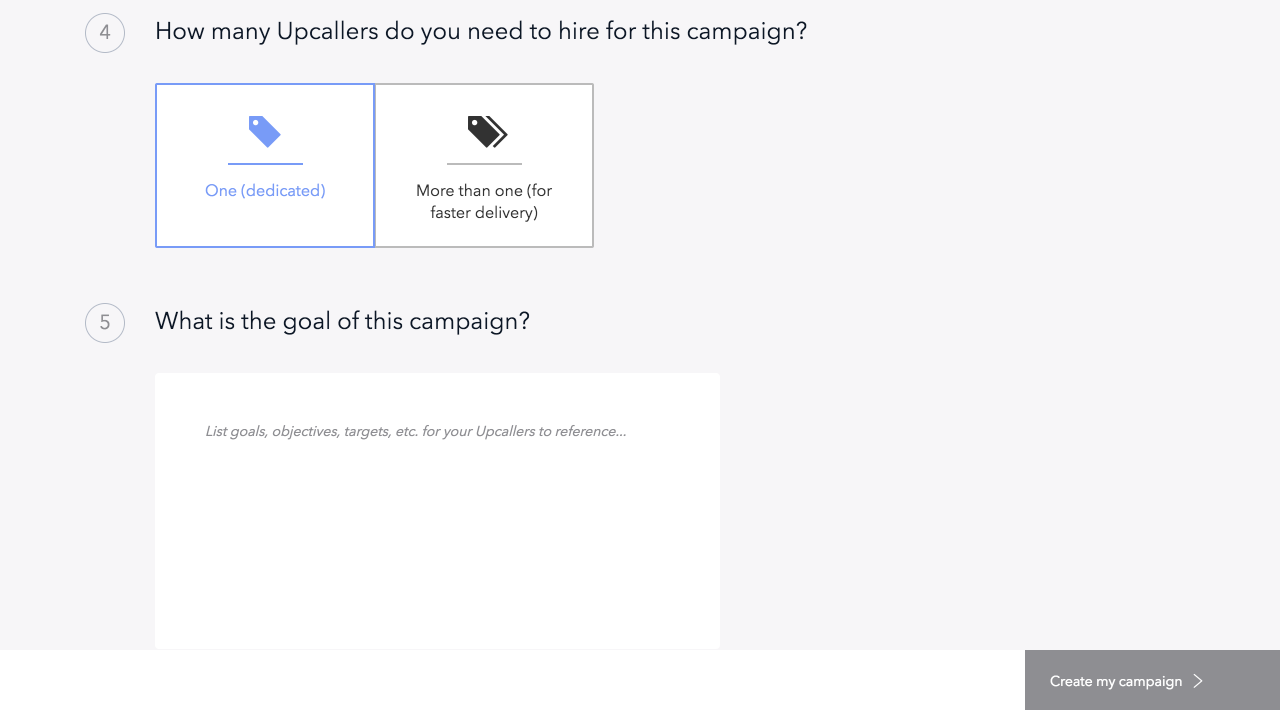 Once you're finished, you'll see the following screen.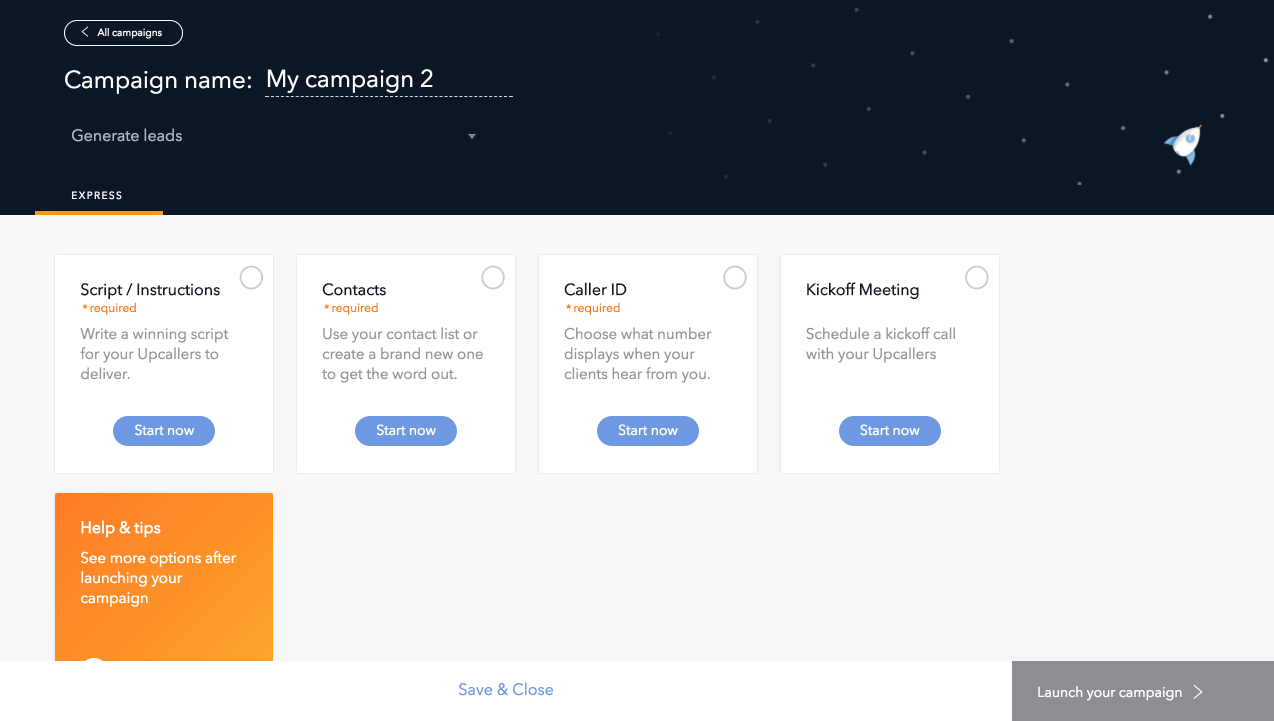 This section lets you work on some of the finer details of your campaign. Here you can provide a script, contact information (my database), and an outbound caller ID. As you can see in the screenshot below, Upcall gives you the ability to be as detailed as you want when creating a script.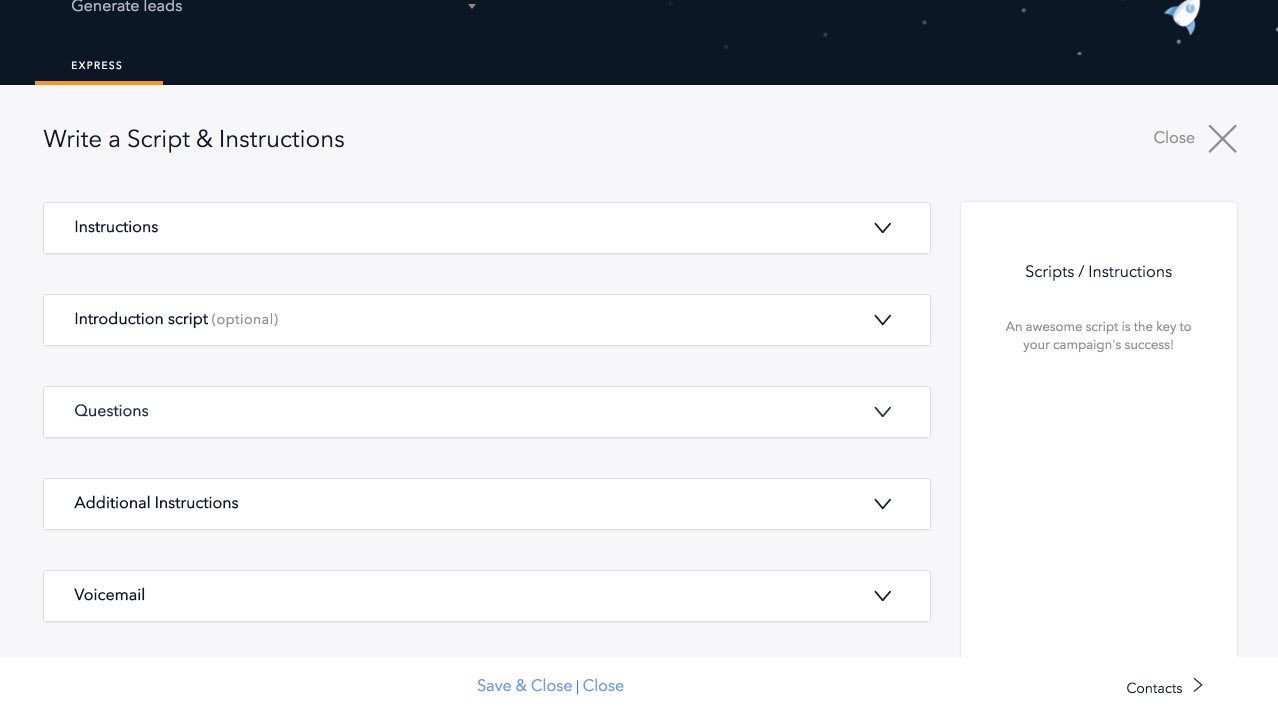 You're even allowed to create personalized scripts based on the data you're providing Upcall.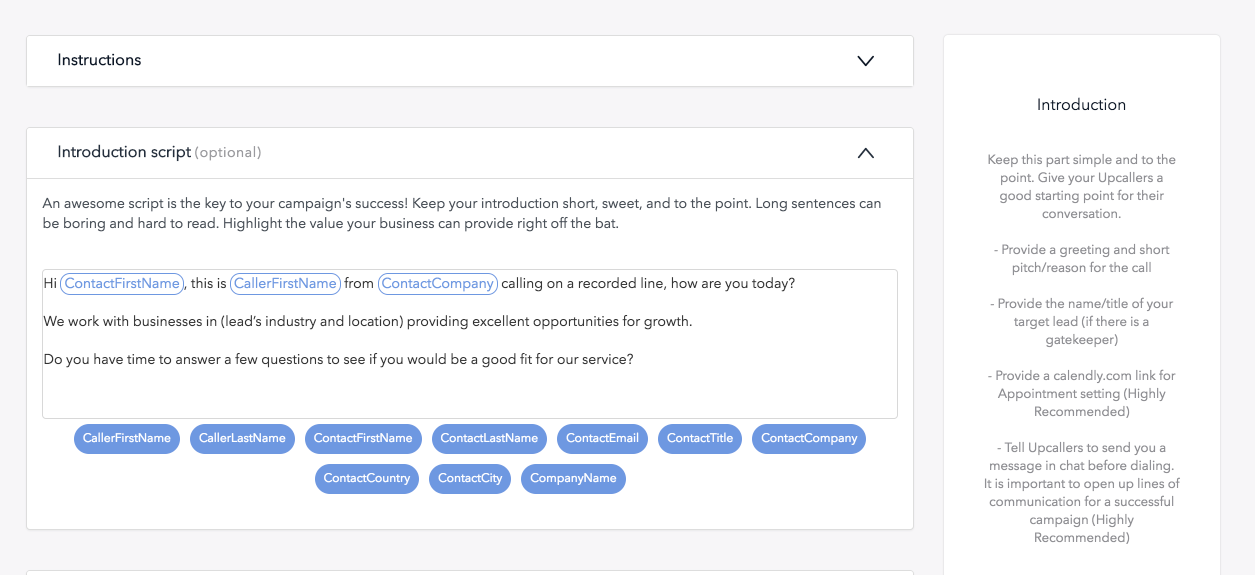 You can also request that your Upcallers leave people a voicemail if no one answers the call. If you have little to no experience with creating a telemarketing script, keep in mind these suggestions that come from the Upcall team: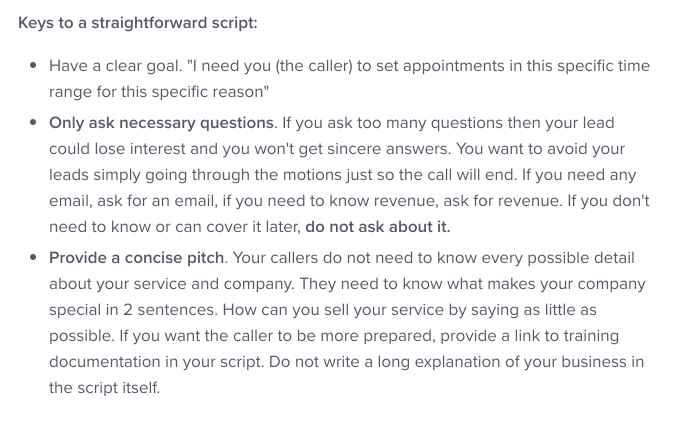 Once you've taken care of your script, you'll want to import your contacts. You can do so using a CSV file.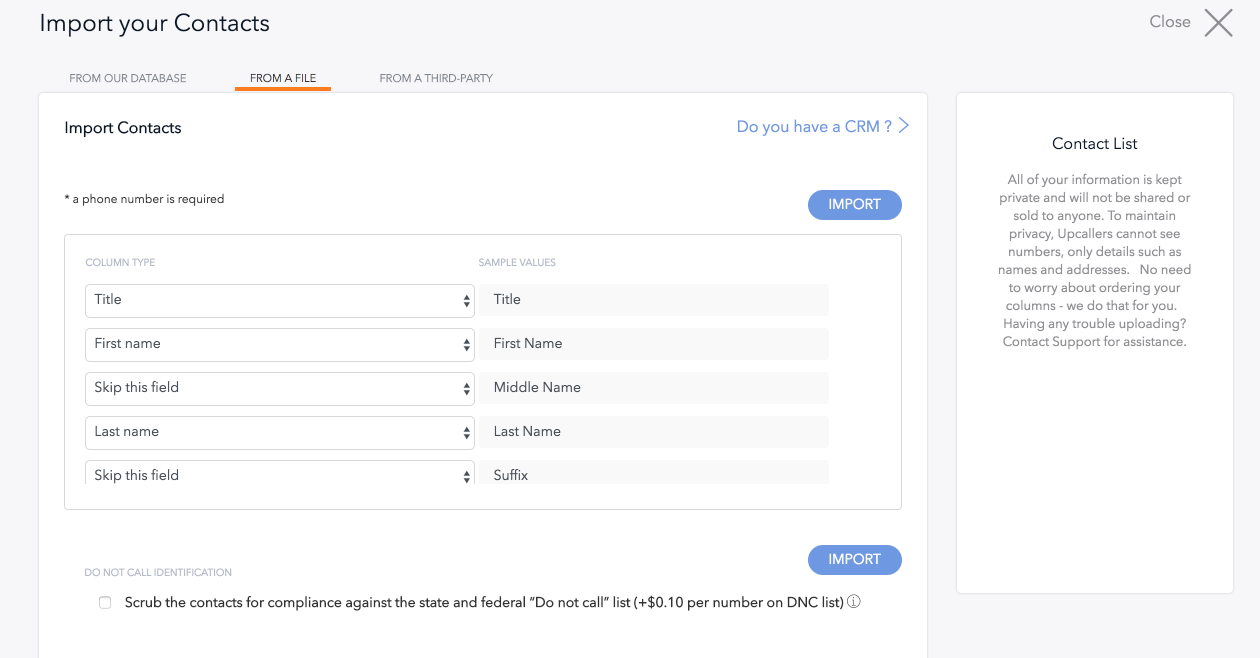 You will need to make sure that the "Column Type" matches the "Sample Values" that are in the CSV file. Since I already had a database, this section was easy for me; however, if you do not already have a list of contacts, you can make use of the "Business Leads" feature provided by Upcall.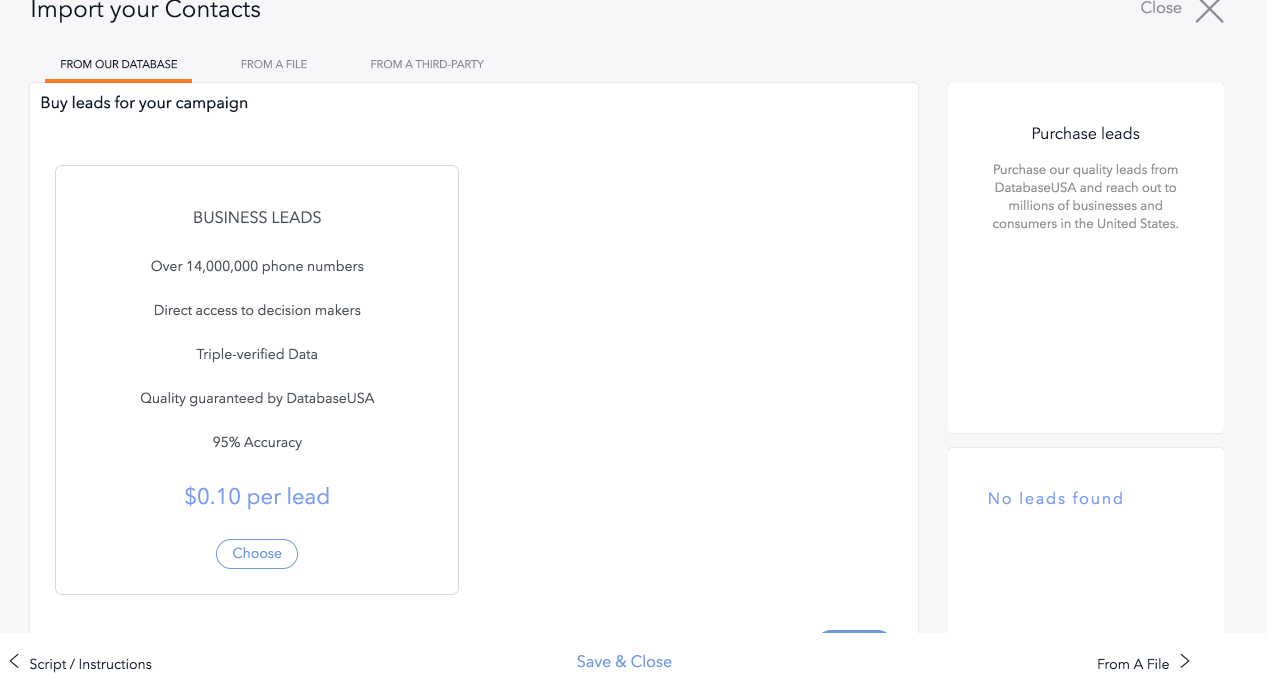 This feature costs about $0.10 per lead and you'll need to test this out to see if it will be useful for what you want to achieve.
You will also need to provide a caller ID, which people will see when they're receiving the call. If you've signed up for the "Business" or "Enterprise" plans, you have the option here of making it so that people see a local caller ID.
In any case, once you've done all of this, your campaign will be good to go.
All you have to do at this point is sit back and wait for Upcallers to engage with your campaign and start calling people. Once your campaign is up and running, Upcallers will be given the chance to review your campaign and decide if they want to work on it. We'll talk later about how you can ensure only the best Upcallers are working on your campaigns.
Monitoring and optimizing campaigns
You can monitor "campaign analytics" using the dashboard.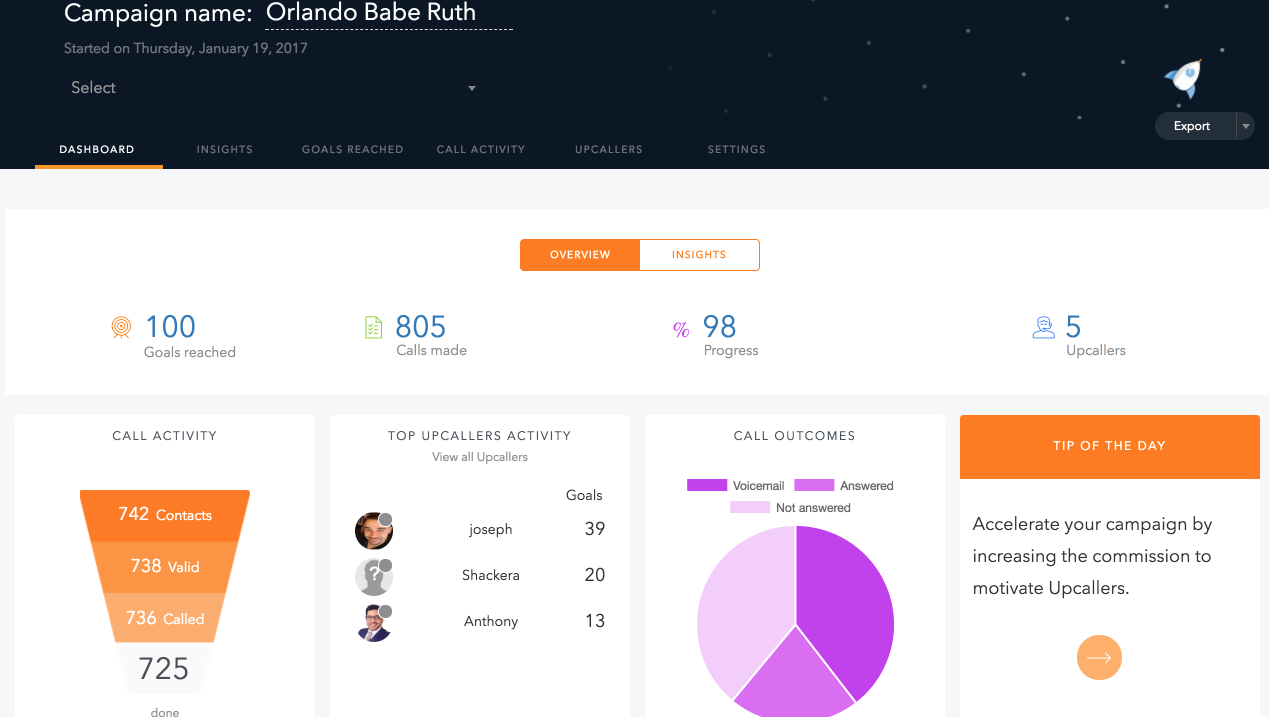 Within the dashboard, you can review the performance of individual Upcallers by going into the "Upcallers" tab.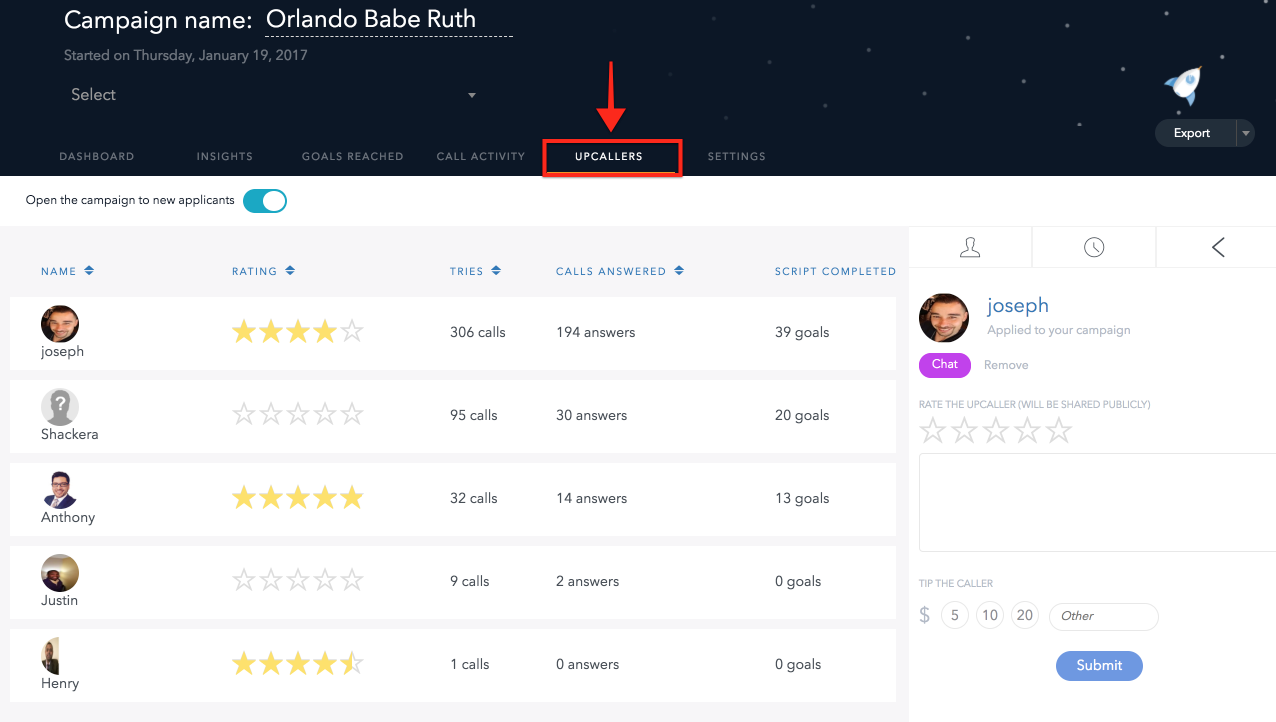 Here you can see who's been performing the best and who should be taken off your campaign. In the beginning stages of a campaign, it is important to pay close attention to this tab because you'll want to encourage those who are doing well and quickly cut those who are doing poorly.
Note: If you want to have a lot of control over the kinds of Upcallers making the calls for you, go into the settings tab and select the "Manage Upcallers" option.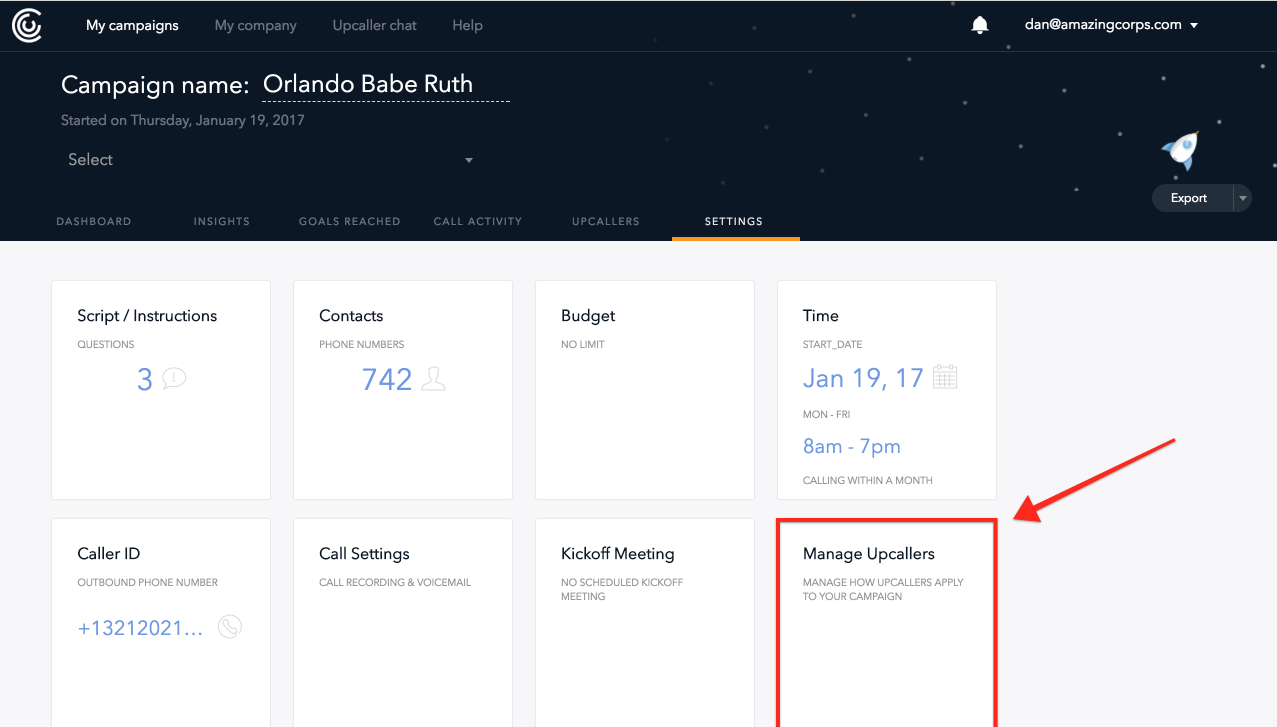 Selecting this option will allow you to make it so that you don't automatically accept Upcallers to work on your campaign.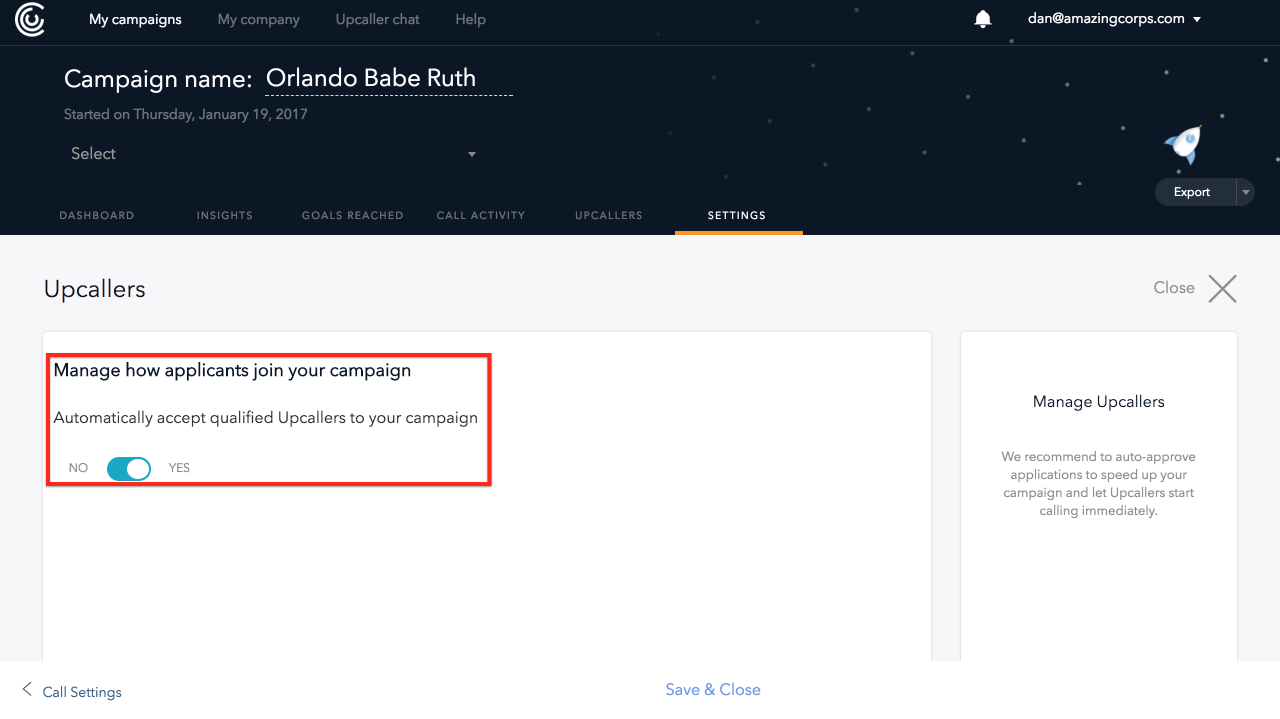 While managing Upcallers yourself may slow down the progress of your campaign, it can help you maintain control over the quality of the calls being made to your contact database.
If you want to attract Upcallers that are more skilled, consider providing some commission, or raising your commission if you already have one, when Upcallers achieve certain results.
To offer commission, go into the settings tab, click the "questions" option, then scroll down to a specific question and select the option that states you'd like a commission paid if that question is successfully answered.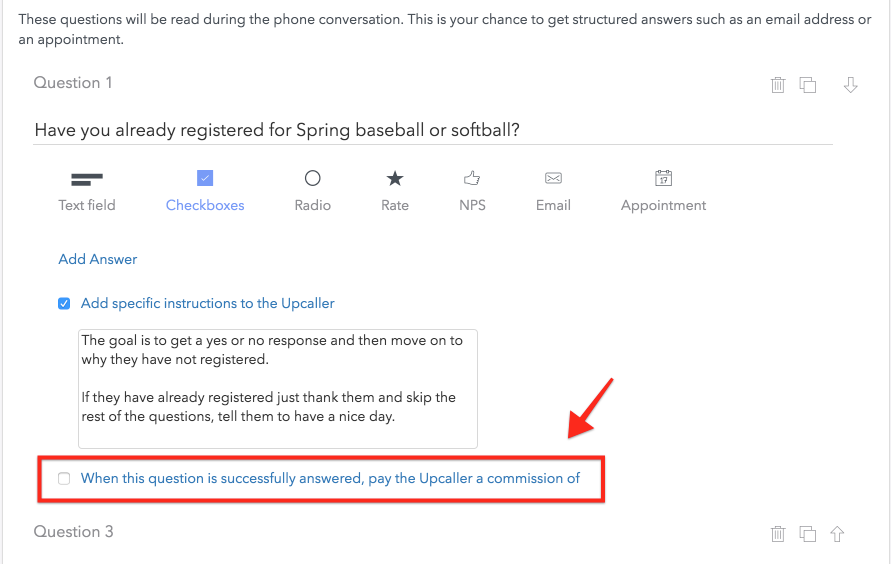 The "Goals Reached" tab lets you listen to calls that have been successful.
The good thing here is that these calls have been recorded, which means you can listen back to them to get a good idea as to how certain objections should be overcome and  what adjustments need to be made to the script in order to maximize results.
The "Call Activity" tab contains a recording of each and every call.
Reviewing the calls in this tab will allow you to work out why success rates aren't as high as they should be, or at the very least how they can be improved.  
You can get a better sense of the objections that are causing your Upcallers to stumble, letting you know how you should go about improving your script and discover any common themes that might be turning off prospects. You can then highlight such themes when "onboarding" Upcallers that will work on your campaign.
Note: You might want to be careful if you're going to be recording the calls, since you often need to let people know that the call is being recorded.
What I could have done better and what Upcall could do better
Even though I managed to generate $6,250 from a $450 spend, there are still some things that I could have done to improve results.
For one, the script could have been improved using the feedback generated by Upcallers. Additionally, I could have set things up where two versions of a script were split tested against each other, making it easier to find a better version of a first draft script.
If I were setting up a campaign for business purposes, it might be better if I had a way to automatically collect leads from my website and then have those leads sent to Upcall. In doing so, I would have a system where I'd have Upcallers constantly reaching out to people that may become potential clients.
When it comes to Upcall, they could improve their dashboard, because it feels like it's just regurgitating information from the other pages. On top of that, it would be better if the platform provided clear pricing information ahead of time. This would make it easier to work out how much I should be budgeting for a campaign with respect to the kind of results I'd like to achieve. (Sort of like what you get with a Facebook Ads or Google AdWords campaign.)
Conclusion
Upcall is a great outbound calling solution that offers a lot of potential for your business. You can set up a campaign in a matter of minutes and have experienced people working on your campaign, which is something that makes the platform stand out. Personally, I have been able to generate some great results with the platform and the fact that these results were generated outside the B2B niche is even more impressive.
You'll get the best results with Upcall when there is an alignment between your script and the people you're calling. The good thing, though, is that you can always work on improving both of these elements for the duration of an outbound calling campaign.
Best of luck!