In 2007, I took a new job at Noble, Inc. As a member of the executive team, we had a lot of success—even during an economic recession—but we kept hitting a revenue ceiling no matter how hard we worked. It took us three years to break through, but when we did, we doubled our revenue while increasing customer satisfaction.
Background
To give some context, Noble Inc. was first founded as an ASI distributor—slapping logos on mugs, hats, pens, and all other types of SWAG from China. Essentially, we were a very successful sales organization that honed in on the pharmaceutical industry as their premier vertical.
Around the same time that I had started working there, the sales team started to receive more and more requests for unique custom educational products as opposed to the off-the-shelf "trash and trinkets" that we had been selling. For instance, a customer may have requested a custom display showing how their drug works as opposed to a regular pen with their logo on it. With a penchant to never say "no," we took on the challenge and were now in the custom design and manufacturing business.
Following the Industry Standard Process
Although our product offerings had changed from off-the-shelf items to custom-designed products, our design and sales process remained the same as it was prior to that shift. It was a long-standing industry standard for the pharmaceutical promotions and educational products space to show the client as many concepts and options as possible with the hope that one would resonate with their specific needs. Every client expected it, and almost every company delivered on it.

1. Initial Sales Meeting
The first meeting would entail our sales rep flipping through a catalog of products with the client (usually a brand manager or a mid-level marketing exec). Prior to creating custom-designed products, our sales rep would use a catalog of pre-existing products that the client could print their logo on. Now they'd flip through a catalog of computer rendered concepts identifying where they could add custom features and parts.
2. Initial Designs
The sales rep would report back to the design team with an email or call listing the client's feedback on the catalog of custom-designed concepts. Our design team would then go to work creating 6–8 variations of the products with customized features and parts for that specific client. One designer may have taken up to two weeks creating the revised life-like CAD renderings for the next meeting.
3. Concept Review
The design and sales team would get back on the line with the client for a follow-up call 2–3 weeks after the initial meeting. Typically, the client would quickly flip through the new concepts nitpicking their flaws—"I don't like that shade of blue" or "the pull tab on that one isn't big enough." These were all flaws that could be easily changed in the next phase of the design process, but the client saw the life-like CAD renderings as final products, and not what they actually were—early concepts that could be iterated on.
4. Refined Designs
Only about 10% of all leads would make it to this phase,finding one or two concepts that might work for their brand and campaign needs. Our design team would take that input to make further revisions and we'd pitch the final design to the client. The client would then need to sell it up their chain of command before approval was given for a purchase order.
Problems
We wasted a massive amount of time and resources trying to win deals from clients who had little interest in purchasing. With a strategy of "throw as many ideas at the wall to see what sticks," clients who may not have had strong intentions to buy in the first place would string us along on the off chance we could hit a homerun concept for them.
If we didn't hit the nail on the head with initial concepts, the deal was likely lost. Clients would see life-like concept renderings as "finished products," not realizing our design team could still work with them to make changes to fit their needs.
We'd find ourselves in large revision rounds, inflating project costs and increasing production time lines. With a focus on showing a large quantity of concepts, the quality and detail of our initial design concepts were lacking. If a client approved a concept, we'd often end up redesigning the entire concept due to a lack of initial consideration for engineering and manufacturing.
Our products weren't solving gut-wrenching problems. Our process was to show a catalog of solutions to the client before we defined what the real problem was. Many times, we'd never even get to the real problem before we created the solution. Clients loved our customer service and our designs, but at the end of the day, they were still facing the same marketing problems that they started with.
Finding A Better Way
In an effort to improve the quality of our final products and client satisfaction ratings, we decided that we had to change our design process. It worked. Our clients were turning into raving fans and the overall quality of our products improved. A funny thing happened along the way—we also doubled our revenue. So, how did we we do it?
Like all of our competition, we made money off of manufacturing and offered our design services for free. We flipped that model on its head by making the design a value-add instead of an expense we were handing out for free.
Charge for Ideas
It's not the most logical solution to improve customer satisfaction, but having our clients pay for initial ideas may have been the most important change in our design process that led to better products, happier customers, and more revenue.
In our original process, a client would never pay a dime until we had finished designing the product for them. By having the client put some skin in the game up front, we were able to weed out the tire-kickers from the customer that were actually interested in purchasing. Initially we only charged $2500 for design concepts, which was a very low commitment for companies with a marketing budget in the millions, but enough to scare off the dead weight.
A few of beautiful things happened once client's have skin in the game:
Clients were more thoughtful about giving us background info, budgets, and time lines- critical information that would determine the success of their project.
Clients gave us better feedback on our concepts, since they were paying for results. Often times they'd even take our sketches to their KOLs (key opinion leaders) and actual patients to give us the best feedback possible.
Clients took time to understand our design process and be invested. This led to a better understanding of expectations and how we'd be delivering on them.
Quality Over Quantity
As mentioned above, charging clients upfront weeded out anyone who was just looking for free ideas with the longshot that one of them was exactly what they needed. This eliminated about half of our initial clients, but that was a good thing. We were able to focus our efforts on the half that were really interested in purchasing while sending the "bad" half of the leads into a nurture program until they were ready to buy.
With essentially 50% more time on our hands, the design team was able to create better designed concepts that were focused on meeting our client's needs, while also being more in tune with our engineering and manufacturing needs.
Find a Real Pain Point
Our focus changed from selling a catalog of products to listening to the client's problems to find a real pain-point that needed to be fixed. We were no longer selling products; we were solving their problems.
A client will typically present their problem as a solution. For instance, they may say, "I need a drill," but what they really need is a hole in the wall. The drill is just the first solution they thought of. As the experts, we may be able to offer a cheaper and better solution to creating that hole, but if we never asked "why," we'd have delivered a drill when a thumbtack would have been sufficient.
Solving for the "why" provided infinitely more opportunity and value than just solving for the "what." Instead of just putting a bandaid on the problem, we were able to solve the underlying causes or the problem, while sometimes saving them time and money. That's a win-win-win.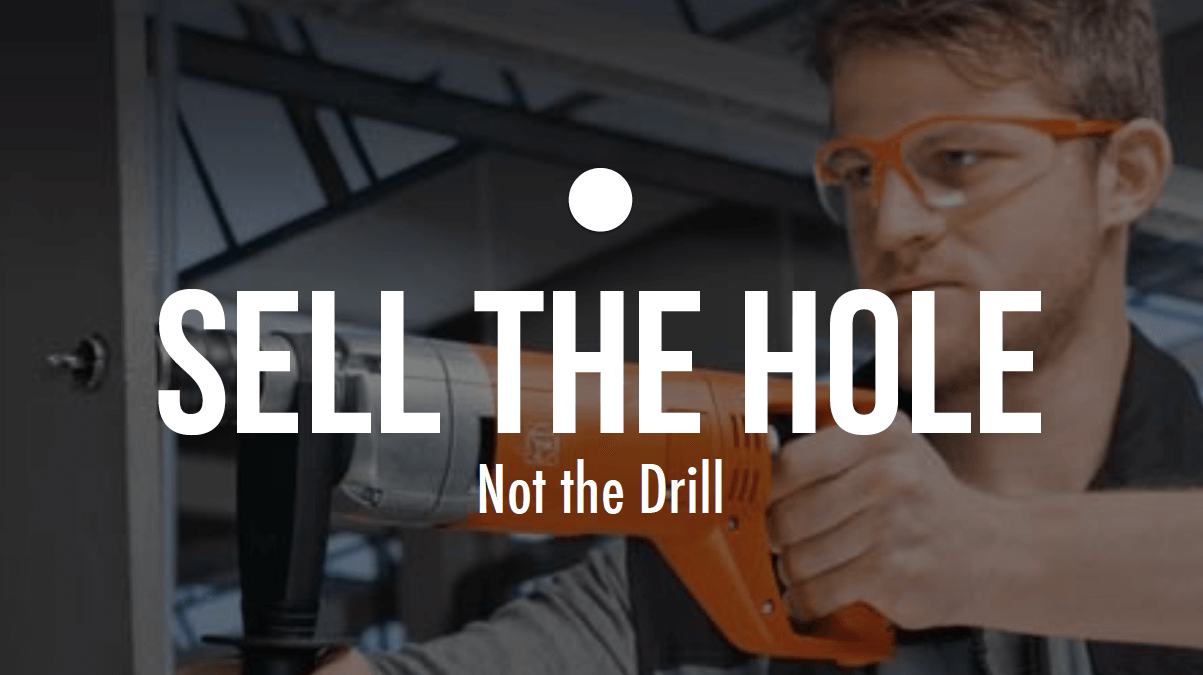 Elongate the Design Process
Our original process from a design concept to a final design was 4 steps. Adding two more steps to our process and vetting concepts up front led to time savings on the back end. Adding steps to the design process also allowed for more client interaction and feedback, which led to a better client relationship and final product. Customers were happier, our products were better, and the timeframe was shorter.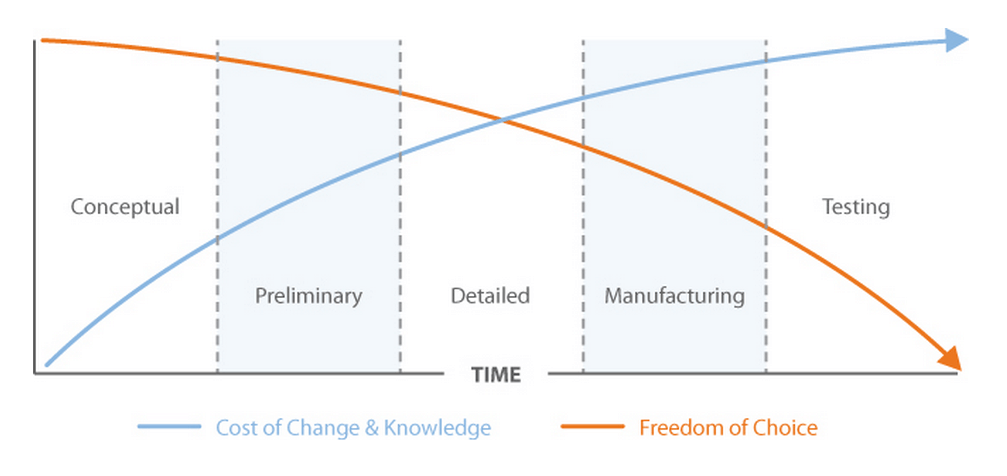 The New Process
So this is what our new process looked like that was better defined, more efficient, and doubled our revenue.
1. Initial Meeting
The rep's sole job was to listen to the customer's needs and ask "why" to get to their real pain point. Our best sales reps would only bring a pen and paper to the initial sales call, a far departure from the catalog of products we used to present.
Naturally, our initial sales calls also got dramatically less "salesy." Their pitch was no longer selling our features, but focussed on how we solved problems.
Tip: It's not always easy to find the root of a problem. If you're having trouble getting to the root, make a conscious effort to ask "why" 5 times.
2. Discovery Meeting
Once we helped the client realize they had a problem, we'd have them pay for us to start solving it. We started off selling this discovery portion for $2500. It gave clients access to a brainstorming call with our team and included work on the product solutions up to refined concepts.
3. Design Brief
The design asked for more info, and we were getting it, but it was often an overwhelming amount of unfiltered notes. To improve the transfer of client info from sales to design, we created a design brief for the sales reps to fill out.
There were a couple key points to the brief we created that made it a success:
Keep it Brief: It was long enough to cover the subject, but short enough to keep us interested. If briefs become too long or wordy, the whole thing gets ignored.
Keep it within Current Work Flow: Our sales reps all loved on their iPads, so we made the design brief iPad friendly. It was a PDF with drop down fields (when applicable), open fields had a 200 word limit, and a "send to project manager" button at the end of the form
Keep it Client Friendly: Our team would use terms like "communication priorities" and "key performance objectives" which may have confused some clients, so each field had a short description and an example of the information we were trying to capture.
Keep it Living: Things inevitably change. Even after a client signed off on the initial Design Brief, we'd continue to make changes to the brief if new information or problems came to light. The brief was the main guidance for gauging the success of concepts, so it was critical that the brief was always up to date and version controlled.
4. Initial Concepts: Sketches, Not Renderings
In our previous design process, we never showed sketches to clients. Showing the client anything less than a polished rendering used to be seen as a liability, we now used it as a competitive advantage. Including the client in the sketching stage had several advantages:
Involving the client in low fidelity sketching, put us all (creatives and non-creatives) on an equal playing field to collaborate in creating and sharing ideas.
We were able to quickly vet the bad ideas from the good, increasing efficiencies and time to market.
Having the client give feedback on sketches helps establish them as a key part of the process and gives them ownership of the ideas to champion it throughout their approval processes.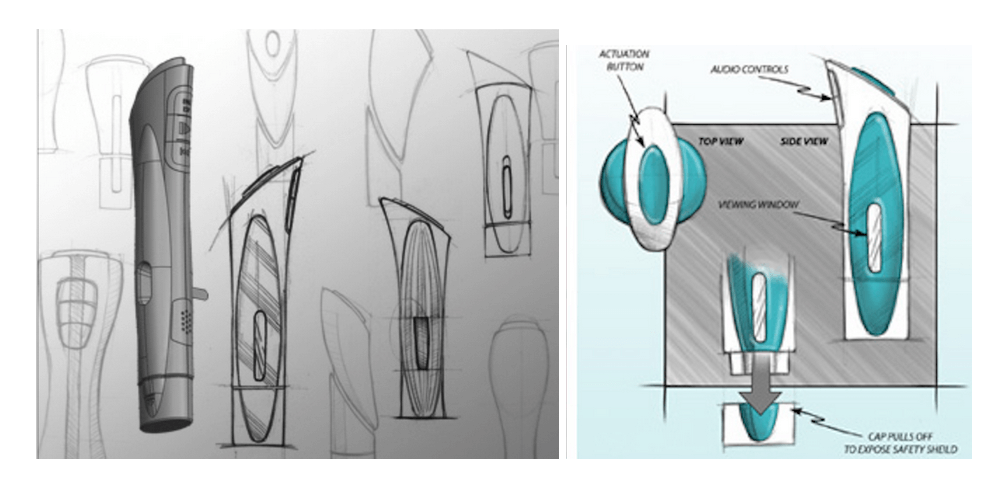 Image is property of Noble, Inc.[/caption]
5. Refined Concepts: Still Sketches!
Once initial ideas were approved, we'd refine the sketches with a bit more polish and color. We may even photoshop on the client's logo and content from existing sales material. This gave the client a lot better feel for the final product, but was still rough enough that it didn't give the perception of being a final product.
Super Secret Design Sauce Tip: Let the client come to the conclusion on design decisions to create ownership and sell the project through their management. Create "left and right bars" (or extremes) when presenting design concepts. Let the client come to conclusion you should merge the two ideas, making it their idea that they want to champion to purchasing.
6. CAD Renderings
Finally, we're at the right stage to invest time into CAD and create a life-like rendering. In the old process, this was done at step two with very little buy-in or thought. Our design team was now turning only three designs into CAD models (as opposed to 6–8), but they had all been vetted by the client and, in some cases, the end user. With a more complete design, we were able to speed up quoting, prototyping, and production as well. More time spent up front meant less time making changes on the back end.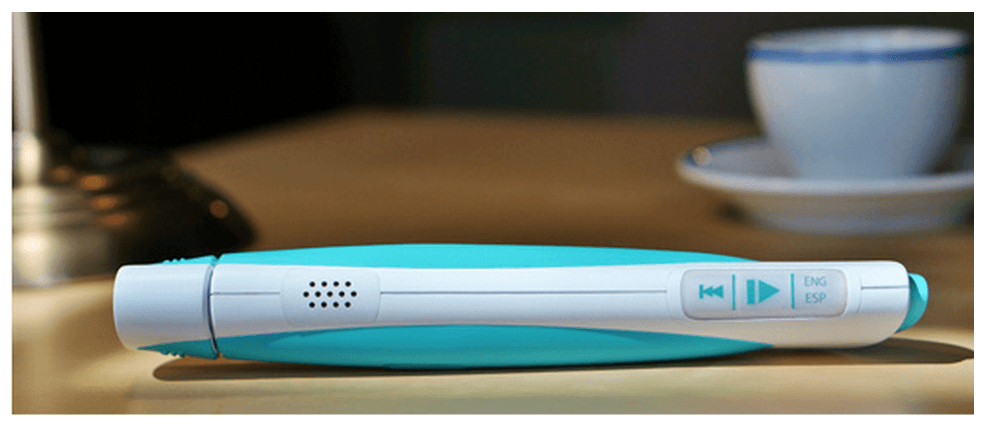 Image is property of Noble, Inc.
7. Gift to Brand Manager
Manufacturing and delivering a product can take 6–9 months. So after the final design is agreed on, we work with the client through several rounds of prototypes and additional approvals. Account managers handle most of that interaction and then tooling (mold making), manufacturing, and shipping takes about 3 months. So there's a long period of updates and logistics after the excitement of creating sketches and approving a prototype.
As a reminder to the client that THEY helped create the product concept, we would send a custom framed picture of the development process… initial sketches, a final rendering and our team's signatures. This reminder of how they were integral to the idea creation would hang on their wall as a badge of honor and success. It also became a conversation piece as other brand managers within the organization would inquire about it, creating some new referrals and leads for us. :)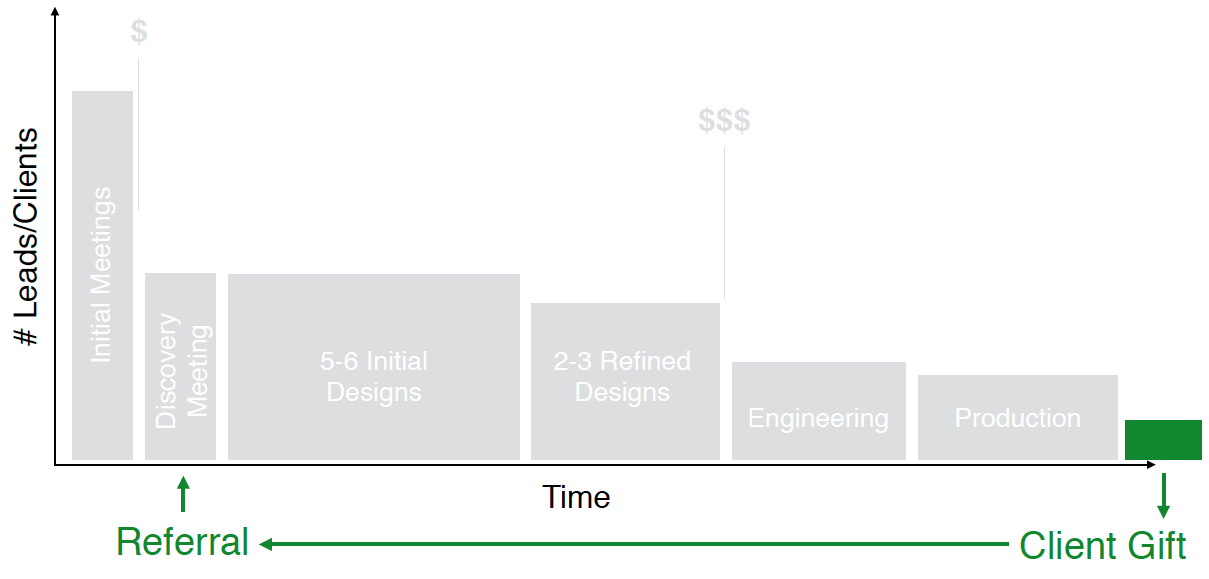 TIP: Every industry is different, so make sure to know your audience. Look at Mailchimp with their free Freddy swag. AirBNB sends free gifts to hosts to give to guests.
Results
We saw tremendous growth over the last two years that I worked at Noble, Inc. The most amazing part was that we had almost the exact same team and the same product. By merely changing our processes, we were able to achieve hockey-stick growth.
Increased from about $8m to over $20m in revenue in just about 2 years
Increased revenue from design services from $0 to over $25,000
Increased average order amount by about 10x
Reduced our time from concept to approval
Made our own preferred vendor category within major pharma companies (and we were often the only ones in it!)
Created the world's first talking training pen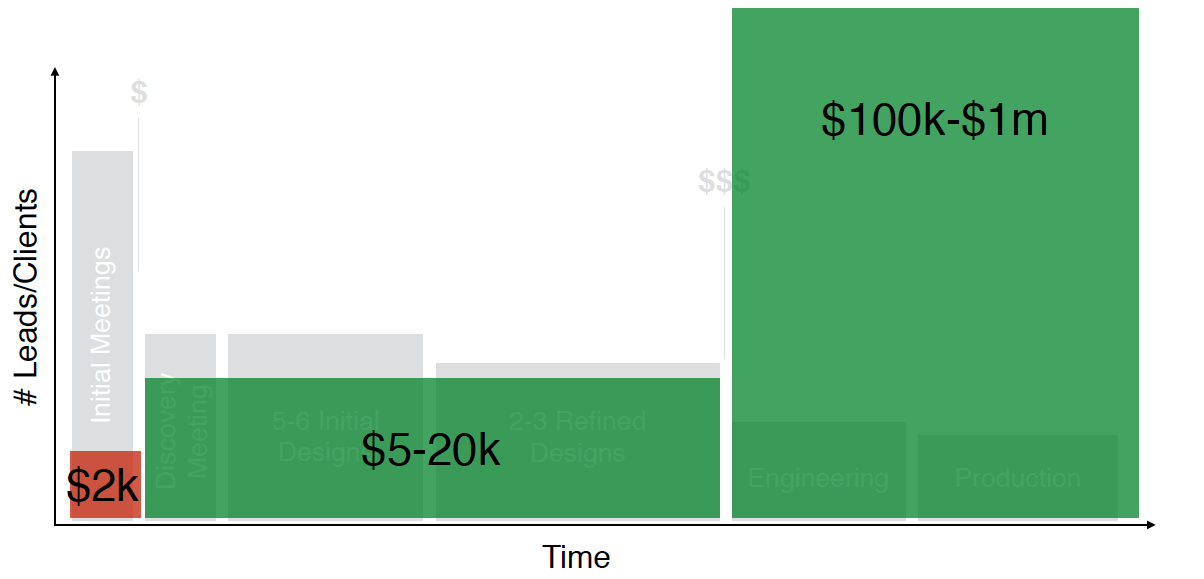 Takeaways
Years of Hard Work Led to Overnight Success
My high school cross country used to shout "put money in the bank" as we ran wind sprints straight uphill in pre-season training. It helped make our efforts tangible and kept us working hard, as we knew we'd have to make "withdrawals" later in the the year on hilly courses. At Noble, Inc., the entire team put in over three years of hard work to finally have enough knowledge and experience to change our processes. Without the experience of grinding day in and day out, we would have never had a breakthrough.
Make Your Own Luck
Success always requires a little bit of luck, but we made our own luck. We pushed to do custom products in a time when most companies settled for stock items. We further capitalized on the changing industry by keeping our ear to the ground and continued to evolve with the industry and our clients.
Never Say "No"
You're not growing to grow if you don't feel uncomfortable. We never said no to a potentially good client who asked us to take on a project bigger than what we were capable of handling. If you have a good team in place, you can always hire or contract the right people to get the job done. It's always going to take a lot of hustle, learning (…and failing), and client management to make an intimidating project a success the first time, but with that experience under your belt every subsequent big project becomes easier.
Parlay your success to more success
You just successfully completed a big intimidating project, so now use it to get an even bigger project. Create a case study to grab the next big client. Don't be afraid to bite off more than you can chew. Continuously iterate on your processes and always reach for the next big deal that you aren't currently equipped to handle!
Listen to Your Customers
Our success at Noble, Inc. literally came from listening to our customers and trying to increase their satisfaction rating. As a high touch B2B business, we had a great design and sales team that was able to communicate and interpret client needs.
Are you tracking your client's satisfaction with your service or product?