Overview
Marketing personalization increases KPIs in nearly every situation, except when you're creepy about it. Being creepy makes your brand goes viral on Twitter for all of the wrong reasons.
You have the tools to create personalization magic. You have so much information about your audience, you can literally include their own headshots in emails you send them.
So why is marketing personalization so hard to get right?
Get the strategies, tactics, and tools to create the delightful personalization experiences your customers deserve without landing yourself and your brand on the wrong side of knowing "just a little too much."
Dan McGaw, CEO of McGaw.io, will explain critical steps to implementing effective personalization programs and will walk you through how to create personalized digital experiences that build trust and bring your customers back for more.
You'll Learn:
Best practices for creating personalization that drives engagement
Key differences between personalization vs. profiling
How to navigate and implement effective email personalization
How to properly implement personalized content distribution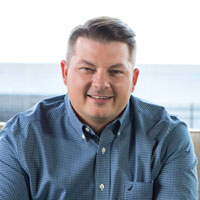 Presented and Hosted by Dan McGaw, CEO of UTM.io and McGaw.io
Dan McGaw is an award-winning entrepreneur and speaker. He is the founder and CEO of McGaw.io, a marketing technology and analytics agency, and the creator of UTM.io, a campaign management, and data governance tool. Named one of the godfathers of the marketing technology stack and one of the original growth hackers, Dan has decades of experience in digital marketing, technology, and analytics. (His team won't let him take this out even though he says it makes him sound old.)
Before founding McGaw.io, Dan succeeded Neil Patel as the head of marketing at Kissmetrics. He was the first employee at Code School, taking the company from $80k MRR to $400k MRR in revenue in just over a year and setting them up for success and their eventual acquisition by Pluralsight. As a volunteer for the SPCA and Orange County Animal Services, Dan used his marketing technology expertise to help 12,000 animals get adopted.