Overview
Who's in charge of your CDP? If you can't answer that question immediately, you're failing.
Without a clear Segment Owner, your strategy may lack direction. This key role ensures alignment and success across all essential stakeholders.
In this webinar, you'll learn:
Why the Segment Owner's role is indispensable in the CDP evaluation process.

How to create essential processes guided by the Segment Owner for CDP implementation success.

How to engage the right stakeholders and avoid the unexpected snags that can derail your strategy.

How to establish shared goals and outcomes that lead to implementation and expected ROI, without over-promising.

Strategies to unite your team under the Segment Owner's guidance for a successful CDP implementation.
Who's steering your CDP strategy? Uncover the critical role of the Segment Owner in our webinar, and take control of your success.
Presented and Hosted By: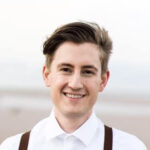 Scott Wilson, Senior Solutions Manager @ McGaw
Scott has over 7 years of experience in marketing technology, covering advertising, SEO, onsite optimization, and technology integrations. He has extensive hands-on experience implementing tracking in Segment and event-based analytics platforms. Bridging the gap between technology and people, he focuses on finding business solutions while building meaningful relationships with teammates and clients.