Fast, Easy Statistical Significance Calculator for Cross-Channel A/B Testing
Quickly and easily determine if your conversions are increasing and whether your A/B test results are statistically significant across any channel with our easy-to-use Chrome extension
Calculate the Statistical Significance of Your A/B Tests
A/B testing is one of the cornerstones of digital marketing. To do it right, you have to ensure your tests are statistically significant or you could choose a false positive. Understanding the statistical significance of each test across all of your channels is even more difficult and time-consuming.
The Effin Amazing A/B Testing Calculator allows you to quickly calculate your conversion rate, see how much a variant is winning by and whether or not your test is statistically significant. Our calculator works on A/B tests for email, websites, mobile apps, PPC ads, and more.
Make smarter, more data-driven business decisions with help from our simple Chrome extension.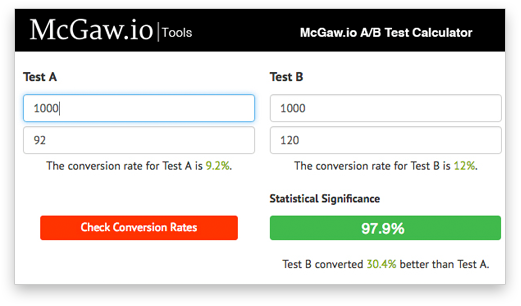 Features

Easy-to-read color-coded bar to show statistical significance

Split test calculator

A/B test calculator

Direct comparison of conversion results

Cross-device compatibility
Measure the Right Metrics Across Any Channel
With Help From Our Chrome Extension
Some marketing tools ignore statistical significance, even though they are setup with A/B testing abilities. Many tools tell you when your test has reached statistical significance for one metric — like button clicks or page views. Most of us have learned, however, that just because someone looks at a page doesn't mean they convert. You need to look at all the conversion metrics to ensure your testing is accurate.
If you aren't measuring multiple metrics when A/B testing, you might be losing money. In one example, A/B testing increased sign-up conversions, but lowered Lifetime Value (LTV) by 40%.
Don't let this happen to you.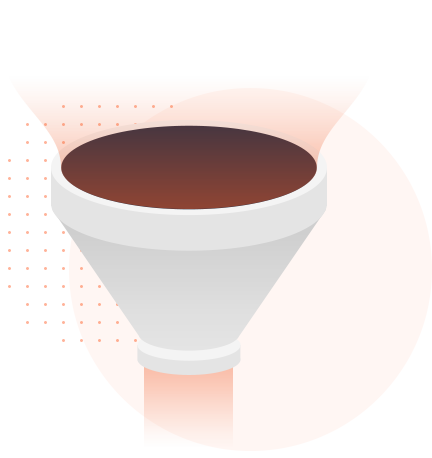 Start making better decisions — and more money — with our comprehensive
A/B Testing Statistical Significance calculator Chrome extension.
FAQs
What exactly is A/B testing?
An A/B test is when you test two versions of your site, email, PPC ad, or other mediums against each other to see which gives you better results. Check out our 1-minute A/B testing video to learn more.
Why do I need to calculate the statistical significance of my A/B tests?
Statistical significance ensures that you can trust the results of your A/B test.
If the sample size of your test is too small, a few people can easily skew the data. Implementing a result from a test that hasn't reached statistical significance means that there's a good chance you're going to get the opposite result as time goes on.
That means wasted resources and lost revenue.
How do I calculate statistical significance on an A/B test?
To test statistical significance on an A/B test, you need to use a probability calculator. These calculators are based on statistics that will help you know if one test has enough volume and distribution to reliably determine the correct outcome.
How much does the A/B Testing Calculator Chrome Extension cost?
It's free! Just provide your email address and you can access the tool anywhere you have Chrome.